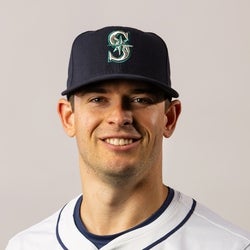 2023 Fantasy Outlook
Solak broke camp as a reserve but spent most of the year bouncing between Triple-A Round Rock and Arlington. Seemingly, he was called up for good when rosters expanded, but his season was cut short in mid-September with a fractured foot. Solak has yet to recapture the promise displayed in his rookie season. He has 85th percentile sprint speed but does not get on base enough to take advantage. The Reds acquired Solak, reportedly to vie for a utility role, but there are openings in Cincinnati's infield and outfield. It requires squinting through very strong prescription glasses, but there is some reason to hold out hope. Solak's strikeout rate is a tick better than the league average and he's exhibited a bit of pop in the minors. The Great American Ballpark is a great hitting venue, but Solak still needs to put the ball with more authority. There is NL-only temptation, but it's best to resist it.
Read Past Outlooks
$Signed a $950,000 contract with the Yankees in June of 2016. Traded to the Rays in February of 2018. Traded to the Rangers in July of 2019. Traded to the Reds in November of 2022.
Prospect Rankings History