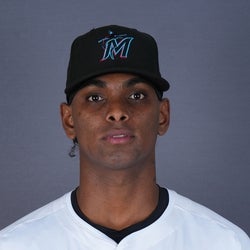 2023 Fantasy Outlook
If you are comfortable chasing upside be damned the risks, Cabrera should be a primary target for you this draft season. We're talking about a righty with above average velocity, a very unique changeup, and three pitches with greater than 30% whiff rates and his four primary offerings holding opposing hitters to a batting average of .182 or less. He made 14 starts for the Marlins, winning six of them around 10 homers and 33 walks in just 71.2 innings of work. That unique changeup is such because it is his primary pitch and he throws it in the low 90's. While it offers little velo separation from his fastball, it is tough to argue with the results of the pitch in 2022. The changeup heavy approach makes him deadly against lefties (.168/.241/.240) but righties were able to get on base due to the walks and take advantage of mistakes (.185/.344/.411.) Cabrera throws the changeup equally to righties and lefties, but gets into trouble with righties when he falls behind and attepts to climb back ahead with his fastball. The pieces are there for a successful 2023 campaign, but some assembly is still required.
Read Past Outlooks
$Signed a contract with the Marlins in July of 2015.
Prospect Rankings History