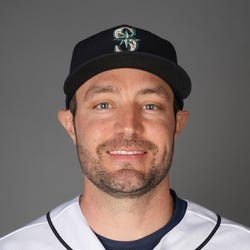 Rest-of-Season Projections
2023 Fantasy Outlook
Pollock was acquired by the White Sox in April and had a .245/.292/.389 slash line with 14 home runs and three stolen bases in 138 games during 2022, though those subpar numbers didn't prevent him from declining his $13 million player option for 2023. The veteran outfielder stayed healthy for the most part but saw his power drop precipitously, as his .144 ISO was one of the lowest marks of his career. He had a career-best 137 wRC+ in 2021, but his numbers dropped across the board last season while his groundball rate jumped to 45.2 percent. Injuries are usually the main concern for Pollock, so it's a bit alarming to see his production dip during a season when he had only one brief stay on the injured list. Now entering his age-35 campaign, it would be optimistic to expect similar injury luck in 2023 given Pollock's history. He got a one-year, $7 million deal with the Mariners and should have an everyday job to start the year, but he could slip into short-side platoon work if he struggles again against righties.
Read Past Outlooks
$Signed a one-year, $7 million contract with the Mariners in January of 2023.

ANALYSIS
Pollock tweaked his leg while attempting to steal a base in Wednesday's game against the Athletics. He's considered day-to-day.
Taylor Trammell
will fill the DH role for the Mariners on Friday versus the Pirates and right-hander
Mitch Keller
.
Read More News
Batting Stats
2023
2022
2021
2020
2019
2018
2017
2023 MLB Game Log

Calculate Stats Over Time
Just click on any two dates.
Scoring
FanDuel
DraftKings
Yahoo DFS
Loading Batting Game Log...
2022 MLB Game Log

Calculate Stats Over Time
Just click on any two dates.
Scoring
FanDuel
DraftKings
Yahoo DFS
Loading Batting Game Log...
2021 MLB Game Log

Calculate Stats Over Time
Just click on any two dates.
Scoring
FanDuel
DraftKings
Yahoo DFS
Loading Batting Game Log...
2020 MLB Game Log

Calculate Stats Over Time
Just click on any two dates.
Scoring
FanDuel
DraftKings
Yahoo DFS
Loading Batting Game Log...
2019 MLB Game Log

Calculate Stats Over Time
Just click on any two dates.
Scoring
FanDuel
DraftKings
Yahoo DFS
Loading Batting Game Log...
2018 MLB Game Log

Calculate Stats Over Time
Just click on any two dates.
Scoring
FanDuel
DraftKings
Yahoo DFS
Loading Batting Game Log...
2017 MLB Game Log

Calculate Stats Over Time
Just click on any two dates.
Scoring
FanDuel
DraftKings
Yahoo DFS
Loading Batting Game Log...
Minor League Game Log

Calculate Stats Over Time
Just click on any two dates.
Loading Minor League Batting Game Log...
Batting Order Slot Breakdown
#1
#2
#3
#4
#5
#6
#7
#8
#9
#1
#2
#3
#4
#5
#6
#7
#8
#9
Left/Right Batting Splits
OPS
PA
HR
RBI
AVG
Since 2021

vs Left

.831
318
19
46
.264
Since 2021

vs Right

.724
725
20
92
.257
2023

vs Left

.391
46
1
4
.122
2023

vs Right

.759
48
3
9
.209
2022

vs Left

.935
133
11
25
.286
2022

vs Right

.593
394
3
31
.231
2021

vs Left

.872
139
7
17
.288
2021

vs Right

.902
283
14
52
.301
More Splits

→

View More Split Stats
Home/Away Batting Splits
OPS
PA
HR
RBI
AVG
Since 2021

Home

.780
518
23
77
.257
Since 2021

Away

.734
525
16
61
.261
2023

Home

.505
53
2
8
.128
2023

Away

.674
41
2
5
.216
2022

Home

.702
266
9
36
.247
2022

Away

.659
261
5
20
.244
2021

Home

.961
199
12
33
.307
2021

Away

.832
223
9
36
.288
More Splits

→

View More Split Stats
Stat Review
How does AJ Pollock compare to other hitters?
This section compares his stats with all batting seasons from the previous three seasons (minimum 400 plate appearances)*. The bar represents the player's percentile rank. For example, if the bar is halfway across, then the player falls into the 50th percentile for that stat and it would be considered average.
* Exit Velocity and Barrels/PA % are benchmarked against 2019 data (min 400 PA) and Hard Hit Rate is benchmarked against last season's data (min 400 PA).
See here for more exit velocity/barrels stats
plus an explanation of current limitations with that data set.
BB/K

Walk to strikeout ratio

BB Rate

The percentage of plate appearances resulting in a walk.

K Rate

The percentage of plate appearances resulting in a strikeout.

BABIP

Batting average on balls in play. Measures how many of a batter's balls in play go for hits.

ISO

Isolated Power. Slugging percentage minus batting average. A computation used to measure a batter's raw power.

AVG

Batting average. Hits divided by at bats.

OBP

On Base Percentage. A measure of how often a batters reaches base. Roughly equal to number of times on base divided by plate appearances.

SLG

Slugging Percentage. A measure of the batting productivity of a hitter. It is calculated as total bases divided by at bats.

OPS

On base plus slugging. THe sum of a batter's on-base percentage and slugging percentage.

wOBA

Weighted on-base average. Measures a player's overall offensive contributions per plate appearance. wOBA combines all the different aspects of hitting into one metric, weighting each of them in proportion to their actual run value.

Exit Velocity

The speed of the baseball as it comes off the bat, immediately after a batter makes contact.

Hard Hit Rate

A measure of contact quality from Sports Info Solutions. This stat explains what percentage of batted balls were hit hard vs. medium or soft.

Barrels/PA

The percentage of plate appearances where a batter had a batted ball classified as a Barrel. A Barrel is a batted ball with similar exit velocity and launch angle to past ones that led to a minimum .500 batting average and 1.500 slugging percentage.

Expected BA

Expected Batting Average.

Expected SLG

Expected Slugging Percentage.

Sprint Speed

The speed of a runner from home to first, in feet per second.

Ground Ball %

The percentage of balls put in play that are on the ground.

Line Drive %

The percentage of balls put in play that are line drives.

Fly Ball %

The percentage of balls put in play that are fly balls.
Advanced Batting Stats
Loading Advanced Batting Stats...
Games By Position
Defensive Stats
Loading Games Played by Position...
Loading MLB Defensive Stats...
Batted Ball Stats
Loading Batted Ball Stats...
Stats Vs Upcoming Pitchers
Our full team depth charts are reserved for RotoWire subscribers.
Subscribe Now
Recent RotoWire Articles Featuring AJ Pollock
See More
Past Fantasy Outlooks
2022
2021
2020
2019
2018
2017
2016
2015
2014
2013
2012
2011
2010
Pollock's 117 games played last year was his most since 2015, but his 422 plate appearances were only third highest since he hit lower in a stacked Dodgers lineup. He posted a career best 137 wRC+, fueled by the second highest average exit velocity and highest barrel% of his career. However, the underlying metrics suggest his .326 BABIP was a bit fortunate. After avoiding the injury bug in the abbreviated 2020 campaign, Pollock had two visits to the IL for hamstring issues, spanning a total of 36 days. His sprint speed dropped to 69th percentile, but Pollock remained efficient on the basepaths, stealing nine bases in 10 tries. Pollock was believed to be in danger of slipping into a platoon role with the Dodgers in 2022, but he should see more of an everyday role with the White Sox as long as he can remain healthy. Pollock's bat is still productive, but injuries persist, and repeating last season's performance will be a challenge.
Granted, it was only two months, but it was still good to see Pollock avoid injury last season. Further, his .881 OPS set a new personal best. The impetus was a spike in power as Pollock blasted more homers than doubles for the first time in his career. However, there was nothing significantly different with the underlying power metrics. In fact, Pollock's average exit velocity on flyballs dropped a tick last season. Further evidence Pollock's power surge was a bit wonky: he doubled on Sept. 1, then his final 10 extra-base hits all left the yard. The point is that if the season were longer, that ratio would have normalized, dropping Pollock's SLG a bit. As such, temper expectations with respect to 2021's power output. Plus, playing 55 of 60 games doesn't mean he's absolved from injury risk. Proceed with caution.
Pollock can't catch a break. He's missed time the past few seasons with groin issues, but most of his injuries have been fluky. He broke his elbow sliding into home in 2016 and hurt his thumb diving for a catch in 2018. The former reared its ugly head last season as Pollock's elbow became infected in late April, requiring surgery to remove a growth plate and screws from a prior surgery, followed by lengthy antibiotic treatment to rid his elbow of the infection. Pollock finally returned after the break. He missed some time here and there, but playing regularly, posting a solid .266/.327/.468 line with five steals in six attempts. The optimist points to Pollock's typical production and considers the infection another fluke. The pessimist insists Pollock is a perennial injury risk. The smart drafter doesn't care, accepts the inevitable injury discount, plans an exit strategy and hopes for the best.
A player's time in their late 20s is supposed to be the time to shine, years where they put up the types of numbers that lead to a large deal in free agency. For Pollock, it's been a three-year period of injuries. He has failed to reach even 470 plate appearances since his breakout season in 2015. The past few seasons we have seen spurts of the athleticism and talent we fell in love with in 2015 around stints on the disabled list that are getting tougher and tougher to overlook. Last year, he began a disturbing trend of expanding his strike zone with a career-worst chase rate that correlated to a career-worst contact rate and overall swinging-strike rate. Now in his 30s, the health troubles are not going to get better so baseline for 450 plate appearances and one lengthy stay on the disabled list while hoping for more. The talent is there, but we were robbed of his peak years by injury.
Pollock dealt with a groin strain again in 2017, which not only cut into his volume of games played, but may have also led him to be less aggressive as a base stealer as the season progressed. After swiping 13 bags in 15 attempts in the first half over 43 games, Pollock went 7-for-11 in the second half in 69 games. Fortunately, as the speed waned, his power increased, as he swatted 11 homers in the second half after hitting three in the first half. Later in the year, Pollock was hitting second in the order against lefties, but dropped to sixth against righties. If that arrangement holds up in 2018, alter the projected balance of runs and RBI expected accordingly, and knock off some power to account for the new humidor in Arizona. At the very least, Pollock still has a balanced skill set and a good supporting cast around him. If he can get close to his previous career high in games played (157) with better health in 2018, Pollock should be a highly valuable fantasy asset.
After a breakout 2015 season in which he registered a handful of MVP votes, Pollock's 2016 was derailed by injury. A fractured elbow sustained toward the end of spring training kept Pollock out until late August. He returned and played in 12 games, but a groin strain shut him down for good. The combination of power and speed, along with the run-scoring that comes with hitting in front of Paul Goldschmidt, made Pollock the source of a lot of fantasy league titles in 2015. Given the natural discounting that follows when a player has been absent for almost a full year, he has the potential to do the same this season. The only real concern is his injury history, considering 2016 and a 2014 season in which he missed significant time due to a broken hand. That risk should be properly cooked into the price, and he could offer first-round value in his age-29 season with a third-round price tag.
Healthy for the entire season after missing significant time in 2014 with a broken hand, Pollock erupted in 2015. He batted .315, belted 20 home runs, scored 111 runs (second in the National League) and drove in 76 more across 157 games. Pollock also finished with 39 doubles and 39 steals, and if he had one more of each, he would have been the only player in the league with 20 homers, 40 doubles and 40 steals. The 27-year-old's breakout performance earned him his first All-Star trip, and he seems primed to return to the mid-summer classic in 2016. The big debate this offseason is whether Pollock is a first-round pick this year. Given the lack of stolen bases in today's game, his all-around package is unique in fantasy, so it seems completely justifiable to take Pollock at the end of the first round, preferably paired with a power bat early in the second round.
Pollock appeared to be in the midst of a breakout when a broken hand, suffered in June, knocked him out of the lineup until rosters expanded in September. The biggest surprise in Pollock's first-half numbers was a level of power that he had never displayed before. Through the first two months of the season, Pollock was hitting .316/.366/.554 with six home runs in 51 games (192 plate appearances). Upon returning in September, Pollock hit .273/.326/.386 with one home run, but he managed to go 6-for-8 in stolen-base opportunities. The power outage after the hand injury is hardly surprising, but it remains to be seen if the spike in April and May is something he will be able to provide again in 2015. Even without an increase in pop, Pollock should play nearly every day as the Diamondbacks' regular center fielder, offering good defense, the ability to mash left-handed pitching (career: .280/.331/.505), and the speed necessary to contribute 25-30 steals if new manager Chip Hale proves to be aggressive on the basepaths.
In his first full major league season, Pollock was solid. He hit .269 with eight home runs and 12 stolen bases, but is another player whose real-life value is mainly in his glove. Pollock is better positioned to start in center field following the trade of Adam Eaton to the White Sox. Depending on the health of Cody Ross, Pollock is a candidate to fall into a platoon after he hit .283/.332/.480 with a .351 wOBA against southpaws last season. If Ross recovers from hip surgery and can produce in a corner spot, Pollock will be forced to compete with Gerardo Parra for playing time, while the duo could form an ideal platoon given Parra's career splits against right-handed pitching.
Although he didn't hit well in his limited chances with the D-Backs, Pollock is a former first-round pick with a combination of speed and on-base skills that should eventually make him a candidate for the team's leadoff role. With the departure of Chris Young, he'll likely enter the mix for an Opening Day roster spot, but it's believed that Pollock will slot into the picture as a reserve option initially with Adam Eaton expected to take over in center field. There's still some debate as to whether Pollock will develop into more than a fourth outfielder in the long run, but he makes contact regularly and runs well enough to steal bases when he gets on, making him an intriguing endgame option in NL-only formats if the path to at-bats becomes clearer.
Pollock tends to be overlooked in most circles because many scouts believe that he lacks a standout tool. Fortunately, he does everything well, and is praised for unquantifiable traits including his work ethic and instincts on the field. Although he's not a speed demon, Pollock is efficient on the basepaths as evidenced by his 36-for-43 stolen-base mark at Mobile last season. Keep in mind that he missed a year of development in 2010 after fracturing a growth plate in his elbow during spring training, but Pollock showed little rust while skipping High-A in 2011. Just 24, the D-Backs will probably give him most of 2012 to finish his minor league development at Triple-A Reno, but his ability to draw walks and drive the ball into the gaps should make him a viable leadoff man and everyday center fielder as early as 2013.
Pollock fractured a growth plate in his right elbow during spring training and actually lost all of the 2010 season before getting back into game action during the Arizona Fall League. In a hitter-friendly environment, Pollock delivered a .313/.389/.406 line while converting all seven of his stolen base attempts. Long term, he projects as an eventual replacement for Chris Young in center field, but the skill set here is one of a gap hitter with good speed and plenty of defensive ability rather than a five-tool talent. Look for him to start 2011 at Double-A Mobile, while the D-Backs have no need to rush him out of the gates following Young's resurgence last season.
Pollock was the second of the D-Backs' two first-round selections in June, on the heels of a very successful collegiate career at Notre Dame. He was quickly signed and assigned to Low-A South Bend, where he put together a .271/.319/.376 line in 255 at-bats during his first taste of professional pitching. He'll either return to the Midwest League to begin the 2010 season there, or possibly move up to High-A Visalia. Given Chris Young's struggles and the organization's willingness to aggressively promote its prospects, Pollock could enter the center field picture in Arizona during the 2011 campaign if his adjustment to wood bats goes smoothly. Long term, he projects as a line-drive hitter with modest power (10-12 homers), but good instincts on the basepaths (20-25 steals) and above average speed.
More Fantasy News