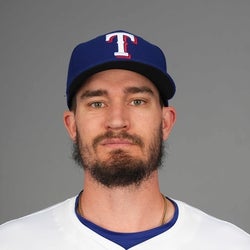 2023 Fantasy Outlook
For a pitcher with a 5.83 ERA in 2021, Heaney had a ton of buzz last spring. Some fantasy players looked at his underlying skills and landing spot with the Dodgers, an organization esteemed for its player development, and envisioned a Robbie Ray-like turnaround. The logic was sound, but Heaney's body failed him once again. He hit the injured list a couple weeks into the season with shoulder trouble and only made it one start into his return before he was back on the shelf with inflammation in the shoulder. Heaney returned again in late July and pitched to a 3.77 ERA, 1.15 WHIP and a whopping 87 strikeouts in his final 57.1 innings spanning 13 appearances. Those strikeouts are sure to tantalize once again, but Heaney is on the wrong side of 30 and has reached 130 innings just once in close to a decade in the big leagues. While certainly not the worst endgame pick in the world, Heaney is not a good bet for volume. He landed with Texas on a two-year, $25 million deal this winter.
Read Past Outlooks
$Signed a two-year, $25 million contract with the Rangers in December of 2022 with an opt-out after the first year.

Deal with Texas announced
Heaney's signing of a two-year, $25 million contract with the Rangers was
formally announced
by the team Friday.
ANALYSIS
Heaney reportedly turned down more money from other clubs in order to sign with Texas, which is close to his native Oklahoma. With the help of a new slider, the left-hander tallied a 3.10 ERA, 1.09 WHIP and 110:19 K:BB ratio over 72.2 innings for the Dodgers in 2022. Heaney will remain a major health risk in 2023 but should be useful in fantasy leagues when on the mound.
Read More News
Pitching Stats
Loading Pitching Stats...
2022
2021
2020
2019
2018
2017
2022 MLB Game Log

Calculate Stats Over Time
Just click on any two dates.
Scoring
FanDuel
DraftKings
Yahoo DFS
FantasyDraft
Head2Head
Loading Pitching Game Log...
2021 MLB Game Log

Calculate Stats Over Time
Just click on any two dates.
Scoring
FanDuel
DraftKings
Yahoo DFS
FantasyDraft
Head2Head
Loading Pitching Game Log...
2020 MLB Game Log

Calculate Stats Over Time
Just click on any two dates.
Scoring
FanDuel
DraftKings
Yahoo DFS
FantasyDraft
Head2Head
Loading Pitching Game Log...
2019 MLB Game Log

Calculate Stats Over Time
Just click on any two dates.
Scoring
FanDuel
DraftKings
Yahoo DFS
FantasyDraft
Head2Head
Loading Pitching Game Log...
2018 MLB Game Log

Calculate Stats Over Time
Just click on any two dates.
Scoring
FanDuel
DraftKings
Yahoo DFS
FantasyDraft
Head2Head
Loading Pitching Game Log...
2017 MLB Game Log

Calculate Stats Over Time
Just click on any two dates.
Scoring
FanDuel
DraftKings
Yahoo DFS
FantasyDraft
Head2Head
Loading Pitching Game Log...
Minor League Game Log

Calculate Stats Over Time
Just click on any two dates.
Loading Minor League Pitching Game Log...
Pitching Appearances Breakdown
How many pitches does Andrew Heaney generally throw?
What part of the game does Andrew Heaney generally pitch?
% Games Reaching Innings Threshold
% Games By Number of Innings Pitched
Left/Right Pitching Splits
BAA
K
BB
H
HR
Since 2020

vs Left

.256
77
23
69
7
Since 2020

vs Right

.238
253
56
184
45
2022

vs Left

.230
21
6
14
1
2022

vs Right

.210
89
13
46
13
2021

vs Left

.260
32
10
33
5
2021

vs Right

.255
118
31
97
24
2020

vs Left

.268
24
7
22
1
2020

vs Right

.236
46
12
41
8
More Splits

→

View More Split Stats
Home/Away Pitching Splits
ERA
WHIP
IP
K/9
BB/9
Since 2020

Home

4.67
1.23
146.1
10.8
2.9
Since 2020

Away

4.84
1.24
122.2
11.3
2.3
2022

Home

3.72
1.09
38.2
12.8
2.8
2022

Away

2.38
1.09
34.0
14.6
1.9
2021

Home

5.95
1.39
75.2
10.1
3.0
2021

Away

5.67
1.22
54.0
10.8
2.7
2020

Home

2.81
1.03
32.0
10.1
2.8
2020

Away

5.97
1.41
34.2
8.8
2.3
More Splits

→

View More Split Stats
Stat Review
How does Andrew Heaney compare to other starting pitchers?
This section compares his stats with all starting pitcher seasons from the previous three seasons (minimum 120 innings)*. The bar represents the player's percentile rank. For example, if the bar is halfway across, then the player falls into the 50th percentile for that stat and it would be considered average.
* Exit Velocity, Barrels/BBE %, Balls Hit 95+ MPH %, and Spin Rate are benchmarked against 2019 data (min 120 IP).
See here for more exit velocity/barrels stats
plus an explanation of current limitations with that data set.
K/BB

Strikeout to walk ratio.

K/9

Average strikeouts per nine innings.

BB/9

Average walks per nine innings.

HR/9

Average home runs allowed per nine innings.

Fastball

Average fastball velocity.

ERA

Earned run average. The average earned runs allowed per nine innings.

WHIP

Walks plus hits per inning pitched.

BABIP

Batting average on balls in play. Measures how many balls in play against a pitcher go for hits.

GB/FB

Groundball to flyball ratio. The higher the number, the more likely a pitcher is to induce groundballs.

Left On Base

The percentage of base runners that a pitcher strands on base over the course of a season.

Exit Velocity

The speed of the baseball as it comes off the bat, immediately after a batter makes contact.

Barrels/BBE

The percentage of batted ball events resulting in a Barrel. A Barrel is a batted ball with similar exit velocity and launch angle to past ones that led to a minimum .500 batting average and 1.500 slugging percentage.

Spin Rate

Spin Rate is the rate of spin on a baseball after it is released. It is measured in revolutions per minute (rpm).

Balls Hit 95+ MPH

The percentage of batted balls hit that met or exceeded the 95 MPH threshold.

Swinging Strike

The percentage of pitches that result in a swing and a miss.
Advanced Pitching Stats
Loading Advanced Pitching Stats...
Loading MLB Defensive Stats...
Our full team depth charts are reserved for RotoWire subscribers.
Subscribe Now
Recent RotoWire Articles Featuring Andrew Heaney
See More
Past Fantasy Outlooks
2022
2021
2020
2019
2018
2017
2016
2015
2014
2013
There is a lot going on in Heaney's profile. Starting with the good: Heaney's 19.2 K-BB% since 2016 ranks 24th among all starters (min. 450 innings, 133 pitchers). He has not slowed down in that regard with a 19.5 K-BB% last year. The 10 pitchers above and below him in K-BB% in that aforementioned span have a 3.66 average ERA. Heaney had a 4.92 ERA over that time frame because of his 1.8 HR/9 (third highest). Home runs have always been an issue for him. The other issue is durability. Heaney has only thrown 499 innings since 2016. Most of the injuries were elbow and shoulder related. With his history out of the way, Heaney is getting a blank slate with the Dodgers. Simply put, Heaney's value hinges on how much trust you put in the Dodgers to keep him healthy and fix his home run issues.
Heaney was a popular breakout pick prior to the 2020 season but posted numbers (4.46 ERA, 4.15 xFIP) that were only marginally better than in his previous campaign. He generates a high spin rate (2436 average rpm) on his sinker, though the rising action on the pitch makes it more akin to a four-seamer. Adding to Heaney's unusual arsenal is a curveball that has minimal break but is nonetheless effective -- the southpaw held hitters to a .203 average on the pitch last season while generating a 37.3 Whiff%. The combination of a walk rate (6.8%) and strikeout rate (25.1%) that were both better than average helped keep Heaney rostered in mixed leagues, but the 29-year-old is still looking for a true breakout campaign and has maintained good health only twice in the last five seasons. He'll have an unquestioned spot in the Angels' rotation in 2021 and should continue to function as a mid-rotation fantasy starter.
Heaney's good health and solid peripherals in 2018 brought hope that a breakout campaign was on the horizon. Instead, elbow irritation delayed the southpaw's debut until May 26, and a shoulder ailment that arose in mid-July wiped out another three weeks of his season. Still, the healthy version of Heaney gave fantasy managers plenty to be excited about, as he posted an excellent 28.9 K% and generated a 14.1 SwStr%. Heaney relies primarily on a sinker that he throws with a league-best 2524 rpm spin rate; not surprisingly, it generates plenty of swings-and-misses as evidenced by last season's 27.7% whiff rate. Problem is, the sinker hardly sinks, leading to Heaney's primary flaw -- a 43.6 FB% and 1.9 HR/9 that were far above league average. Heaney's strikeout ability makes him a viable mid-round target in fantasy drafts, but he'll need to induce more groundballs to ascend to the next level.
After having his 2016 and 2017 seasons essentially wiped out by elbow and shoulder injuries, Heaney pitched 180 innings for the Angels last season. The results were good and the peripherals were even better, with Heaney posting an 18.0 K-BB% that ranked 17th among qualified starters. That was better than the likes of Jose Berrios, David Price and Mike Clevinger. He did struggle with the long ball, especially during the final month of the season (eight home runs in just 28 innings). His velocity was actually up in September even as Heaney pushed past 100 additional innings from 2017. In total, the innings spike was 130.2 frames. That's pretty scary for a player in his second season back from Tommy John surgery, but the good thing is that the injury risk is fully baked in with Heaney going outside the top 150 in early NFBC ADP.
Heaney underwent Tommy John surgery in July of 2016, which caused him to miss a majority of this past season while he recovered from the procedure. The 26-year-old was able to return to the mound in mid-August, but was only able to make five starts until a shoulder impingement shut him down for the rest of the year. At this point in time, Heaney appears to be fully healthy for the first time in over 18 months, as manager Mike Scioscia even admitted that he would have let Heaney make a late-September start if the team had still been in playoff contention. The southpaw has the tools to be a successful pitcher in the big leagues, but he must avoid any more major injuries and do a better job of keeping the ball in the yard after allowing 12 home runs in just 21.2 innings this past year.
Heaney was in prime position to be a cog in the Angels rotation heading into 2016. He was a rock as a major league starter the season before, posting a 3.49 ERA and 1.20 WHIP in 18 starts with Anaheim, leading many to believe that his solid control would help vault him into the third or fourth spot in the rotation. All those auspicious plans came to a halt after just one start, when the left-hander left an April game with forearm tightness. Although it was not initially diagnosed as such, Heaney did in fact have a damaged UCL and ended up undergoing Tommy John surgery in July. Given the timing of the operation, there's a good chance that the 25-year-old won't be game-ready during the 2017 campaign, meaning that fantasy owners can likely wait on him until August or September in case he makes a speedy recovery. In all likelihood, though, Heaney probably won't be back to his full role until the 2018 season.
This is why we don't judge pitchers off of 29 innings. Heaney looked like the scouting reports and minor league track record he put together prior to 2015. He's not a "strikeout pitcher" so his 8.9 K/9 rate in the minors was due more to his polish and pitchability mixed with inferior competition. As such, his strikeout rate could get better after a couple years under his belt. He showed more of a flyball lean in the minors, but he was able to keep his home runs in check. Even if homers are a bigger issue in 2016, he does a great job mitigating walks so the traffic on the bases should be manageable. He threw 184 innings when you factor in his minor league work so he'll be ready for a big workload. Without a premium strikeout rate, his value can come via the large volume of innings. Lock up strikeouts in the front of your rotation and then supplement with Heaney as your fourth-fifth starter and you could get a 200-inning season.
Heaney breezed through both Double-A and Triple-A last season and even earned a brief stint in the Marlins' rotation in late June. He put together an encouraging quality effort in his major league debut, tossing six innings of one-run ball in a loss to the Mets, but struggled in his subsequent opportunities before being relegated to the minors until September. The 6-foot-2, 185-pound lefty is not overpowering and his fastball averaged just 90.4 mph during his first couple of games in the majors, but he continues to miss plenty of bats with 163 strikeouts and 43 walks over a combined 166.2 innings pitched between the majors and minors. After posting a superb 2.77 ERA and 1.14 WHIP over 259.2 innings in his minor league career, Heaney has very little left to prove on the farm. Acquired by the Angels as part of a series of trades in December, Heaney will push for a spot in the Opening Day rotation with his new club this spring.
With Jose Fernandez and Christian Yelich locked into the Opening Day roster, Heaney rises to the top of the Marlins' organizational prospect rankings. He breezed through High-A Jupiter early in 2013, smothering opposing hitters to the tune of a 0.88 ERA with 66 strikeouts over 61.2 innings pitched (12 starts, one relief appearance) to go along with a 1.01 WHIP. Heaney advanced to Double-A Jacksonville for his final six starts and was equally impressive -- 4-1 with a 2.94 ERA over 33.2 innings pitched -- before making a splash in the Arizona Fall League (1.95 ERA in seven starts). Displaying steady command, the lefty works a 93 mph heater, while using his slider and curveball as out pitches. While Heaney is likely headed back to the minors to open the 2014 season, he will find his spot near the top of the Marlins' rotation sooner than later.
Heaney, the ninth overall selection of the 2012 amateur draft, flashed elite strikeout ability in his brief introduction to professional ball. He struck out 30 batters against only six walks in 27.0 innings between rookie ball and Low-A Greensboro. The 23-year-old lefty spent three seasons at Oklahoma State and arrived with the Marlins quite polished. With the experience and the talent, Heaney could move quickly through the Marlins' system in 2013 as the latest rebuilding project is well underway.
More Fantasy News