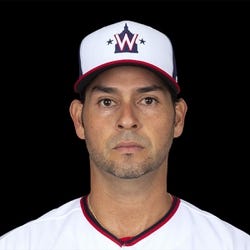 2023 Fantasy Outlook
There was no outlook written for Anibal Sanchez in 2023. Check out the latest news below for more on his current fantasy value.
$Signed a one-year, $2 million contract with the Nationals in March of 2022.

Sanchez (4-6) earned the win Saturday, allowing four runs on five hits and three walks over five innings in a 13-4 victory over the Phillies. He struck out six.
ANALYSIS
Sanchez gave up a leadoff triple to
Kyle Schwarber
to begin the first inning and the latter would come around to score after stealing home later in the inning. Sanchez then went on to retire nine of the next 11 batters he faced before
J.T. Realmuto
kicked off a three-run inning with a leadoff double in the fourth. Sanchez had gone eight straight starts without allowing more than three runs coming into Saturday and has now won four of his last five decisions.
Read More News
Pitching Stats
Loading Pitching Stats...
2022 MLB Game Log

Calculate Stats Over Time
Just click on any two dates.
Scoring
FanDuel
DraftKings
Yahoo DFS
FantasyDraft
Head2Head
Loading Pitching Game Log...
2020 MLB Game Log

Calculate Stats Over Time
Just click on any two dates.
Scoring
FanDuel
DraftKings
Yahoo DFS
FantasyDraft
Head2Head
Loading Pitching Game Log...
2019 MLB Game Log

Calculate Stats Over Time
Just click on any two dates.
Scoring
FanDuel
DraftKings
Yahoo DFS
FantasyDraft
Head2Head
Loading Pitching Game Log...
2018 MLB Game Log

Calculate Stats Over Time
Just click on any two dates.
Scoring
FanDuel
DraftKings
Yahoo DFS
FantasyDraft
Head2Head
Loading Pitching Game Log...
2017 MLB Game Log

Calculate Stats Over Time
Just click on any two dates.
Scoring
FanDuel
DraftKings
Yahoo DFS
FantasyDraft
Head2Head
Loading Pitching Game Log...
Minor League Game Log

Calculate Stats Over Time
Just click on any two dates.
Loading Minor League Pitching Game Log...
Pitching Appearances Breakdown
How many pitches does Anibal Sanchez generally throw?
What part of the game does Anibal Sanchez generally pitch?
% Games Reaching Innings Threshold
% Games By Number of Innings Pitched
Left/Right Pitching Splits
BAA
K
BB
H
HR
Since 2020

vs Left

.253
45
19
56
8
Since 2020

vs Right

.272
45
31
67
16
2022

vs Left

.198
22
11
22
4
2022

vs Right

.232
26
22
33
9
2021

vs Left

0
0
0
0
0
2021

vs Right

0
0
0
0
0
2020

vs Left

.309
23
8
34
4
2020

vs Right

.327
19
9
34
7
More Splits

→

View More Split Stats
Home/Away Pitching Splits
ERA
WHIP
IP
K/9
BB/9
Since 2020

Home

5.22
1.34
70.2
7.5
3.7
Since 2020

Away

5.40
1.57
51.2
5.6
3.8
2022

Home

5.68
1.34
38.0
6.6
4.3
2022

Away

2.59
1.18
31.1
5.7
4.3
2021

Home

0
0
0
0
0
2021

Away

0
0
0
0
0
2020

Home

4.68
1.35
32.2
8.5
3.0
2020

Away

9.74
2.16
20.1
5.3
3.1
More Splits

→

View More Split Stats
Stat Review
How does Anibal Sanchez compare to other starting pitchers?
This section compares his stats with all starting pitcher seasons from the previous three seasons (minimum 120 innings)*. The bar represents the player's percentile rank. For example, if the bar is halfway across, then the player falls into the 50th percentile for that stat and it would be considered average.
* Exit Velocity, Barrels/BBE %, Balls Hit 95+ MPH %, and Spin Rate are benchmarked against 2019 data (min 120 IP).
See here for more exit velocity/barrels stats
plus an explanation of current limitations with that data set.
K/BB

Strikeout to walk ratio.

K/9

Average strikeouts per nine innings.

BB/9

Average walks per nine innings.

HR/9

Average home runs allowed per nine innings.

Fastball

Average fastball velocity.

ERA

Earned run average. The average earned runs allowed per nine innings.

WHIP

Walks plus hits per inning pitched.

BABIP

Batting average on balls in play. Measures how many balls in play against a pitcher go for hits.

GB/FB

Groundball to flyball ratio. The higher the number, the more likely a pitcher is to induce groundballs.

Left On Base

The percentage of base runners that a pitcher strands on base over the course of a season.

Exit Velocity

The speed of the baseball as it comes off the bat, immediately after a batter makes contact.

Barrels/BBE

The percentage of batted ball events resulting in a Barrel. A Barrel is a batted ball with similar exit velocity and launch angle to past ones that led to a minimum .500 batting average and 1.500 slugging percentage.

Spin Rate

Spin Rate is the rate of spin on a baseball after it is released. It is measured in revolutions per minute (rpm).

Balls Hit 95+ MPH

The percentage of batted balls hit that met or exceeded the 95 MPH threshold.

Swinging Strike

The percentage of pitches that result in a swing and a miss.
Advanced Pitching Stats
Loading Advanced Pitching Stats...
Loading MLB Defensive Stats...
Recent RotoWire Articles Featuring Anibal Sanchez
Past Fantasy Outlooks
2022
2021
2020
2019
2018
2017
2016
2015
2014
2013
2012
2011
2010
2009
2008
2007
2006
The veteran right-hander elected to sit out 2021 after not receiving what he believed to be a fair offer, but he's back with the Nationals on a minor-league deal after staging a throwing showcase in March. Sanchez was a key rotation piece for Washington's 2019 World Series run with a 3.85 ERA over 166 innings, but he fell apart during the pandemic-shortened 2020 campaign. Despite not having any MLB success since 2019, the 38-year-old has a solid chance to open 2022 in the starting rotation since Joe Ross (elbow) is on the 60-day IL and Stephen Strasburg (neck) may not be ready for Opening Day.
Julio Teheran threw for interested teams in mid-January of 2021 and Sanchez joined Teheran at the showcase, with some reports suggesting Sanchez still has something left in the tank as he pushes into his late-30s. However, Sanchez remains unsigned at press time.
Sanchez regressed slightly in 2019 after a career resurgence in 2018, but his production was still strong compared to the three years prior to 2018. The 35-year-old recorded a 3.85 ERA and 1.27 WHIP with a 134:58 K:BB over 30 starts last season, although his 5.07 SIERA ranked ninth worst among qualified starters. His rise in ERA can be partially attributed to his 1.19 HR/9 rate, up from 0.99 in 2018 as his hard-hit rate ticked up. Going hand in hand, Sanchez's GB% dropped to 38.0%. Despite Sanchez's slight regression to the mean, he still carried some fantasy value in 2019 through his above-average ERA and ability to compile wins and strikeouts, but the advanced metrics show that his lower ERA is probably not sustainable. The right-hander doesn't turn heads with an 18.8 K%, and the Nationals' bullpen woes could limit his ability to record wins even with the team's potent offense.
Sanchez's surprising 2018 revival halted a four-season slide. He enjoyed the biggest ERA improvement from 2017 among starting pitchers. The veteran posted his lowest HR/9 (0.99) since 2014 thanks to a spike in groundball rate (45.0%), and allowed the lowest average exit velocity among pitchers with 300-plus batted-ball events (83.7 mph). Sanchez also enjoyed his best swinging-strike rate since 2013 (10.5%) and replicated his 2017 K/9 by leaning on his cutter and a better changeup. The change averaged 81.3 mph, increasing the impact of his tepid 91-mph fastball. The 35-year-old inked a two-year, $19 million deal with the Nationals -- an ideal landing spot, as it keeps him in the National League and on a competitive team. Sanchez made many tangible changes, but considering the extreme, exaggerated turnaround, it's understandable to be skeptical. He is best rostered as a pitcher fantasy managers don't have to rely on for every turn.
Detroit declined to pick up the $16 million option on the final year of Sanchez's deal after his ERA rose for a fifth consecutive season. Ironically, he posted his best strikeout rate since 2013, but he also gave up an astounding 26 home runs in just 105.1 innings. He was bad in the rotation as opponents hit .298 against him and he had a 5.76 ERA in 84 innings as a starter. He was even worse out of the bullpen, as opponents hit .350 against him and he had a 9.00 ERA in 21 innings as a reliever. He can still strike batters out in either role, but the collateral damage he puts to your ratios simply is not worth the speculation in most formats. Unless he comes up with a new pitch or a new arm angle, it is going to be another year of ugly numbers.
In some ways, Sanchez is a steady pitcher. His strikeout rate and workload have been relatively stable the last few years, and that is where the spin zone ends. Sanchez has failed to reach 160 innings for three straight seasons, and combining a declining walk rate with an increasing inability to keep the ball in the yard leaves for a toxic fantasy asset. Sanchez's command -- the ability to locate the ball where the catcher wants it -- has waned in recent years, which has led to 59 homers over the past two seasons. Juiced ball or not, Sanchez has to either change his approach or fix his command. Until either happens, keep him at an arm's distance. He is not rosterable in mixed leagues due to lack of durability and unsightly stats, though AL-only players could make a case for dollar days with him.
Sanchez is coming off the worst season of his major league career. His ERA and FIP were double those of his elite 2013 numbers and he came within a hair of recording a 5.00 ERA. The most telling stat of 2015 was his HR/FB rate. After posting below-average rates in 2013 and 2014 (5.8 and 3.1, respectively), Sanchez gave up a homer on 16 percent of his flyballs in 2015. He allowed a career-worst 29 home runs after allowing only 21 in the previous three seasons combined. He did pitch for several months with a rotator cuff injury that he didn't reveal to anyone at the time, so that could be the reason for his poor 2015. There's really nowhere to go but up for Sanchez in 2016 if the rotator cuff is healed. Draft him as a No. 4 or 5 starter, but hope for the Sanchez of old -- a reliable No. 2 hurler who can fire Ks and deliver a great WHIP.
Sanchez missed over two months due to finger and pectoral injuries in 2014, but he was steady when on the mound. His ERA was up nearly a full run from his stellar 2013 campaign (2.57 ERA), but Sanhez's FIP of 2.78 hints that he pitched nearly as well in 2014. Sanchez's K/9 also dropped from the career-best rate he posted in 2013, but he offset that dip by posting personal-best rates in BB/9 (2.14) and HR/9 (0.29). While Sanchez missed a large chunk of the final two months of the season, he was able to return for a scoreless relief appearance in the playoffs, and the pectoral strain isn't expected to be an issue going forward. Even if Sanchez can't bounce-back to the strikeout-per-inning pitcher he was in 2013, his solid production across the board makes him a solid mid-rotation piece for any fantasy squad.
Sanchez took the step from mid-rotation starter to ace in 2013. He posted career-high marks in nearly every category, including wins (14), ERA (2.57), WHIP (1.15) and strikeouts (202). He missed a couple starts in June due to a minor shoulder injury, but that proved to be the only hurdle in his breakout campaign as Sanchez came back even stronger after the injury. The 29-year-old pitcher's ascent towards elite-level production was backed by increased fastball velocity, which climbed from 91.8 mph in 2012 to 93.0 mph last season. His slider and changeup also proved to be more effective than in past years, as he become better at mixing his pitches to keep hitters off balance. His trend of becoming more of a groundball-heavy pitcher continued with a 1.51 GB/FB ratio and noticeable gains were made to keep the ball in the park (0.5 HR/9). Further, both his FIP (2.39) and xFIP (2.91) indicate that the leap Sanchez made on the mound was legitimate. As part of the Tigers' deep staff, Sanchez remains the team No. 3 starter, meaning he won't have the pressures of being relied on as heavily as most team's aces. While some regression could follow his breakout season, Sanchez is well positioned to once again post strong numbers across the board.
Sanchez split the 2012 campaign between the Marlins and Tigers after a midseason trade sent him to Motown. While he took a step back from his breakout 2011 season, Sanchez managed to fall in line close to his career averages, finishing 9-13 with 3.86 ERA and 1.26 WHIP. His strikeout rate dropped from 9.3 K/9 to 7.7 K/9 - a number which is a more fitting result given his career strikeout rate of 7.6 K/9. Despite the drop in strikeouts, Sanchez showed some improvements on the mound, including a career-best walk rate of 2.2 BB/9. His fastball and slider were not as effective as in previous seasons, but Sanchez was able to mix in his changeup more successfully than in years past to keep hitters off balance. After signing a five-year, $80 million deal with Detroit in December, Sanchez will slot in behind Justin Verlander as the Tigers' No. 2 starter in 2013.
For a time in the early part of last season, Sanchez looked like he had become one of the best pitchers in the National League, striking guys out at an elite level and posting an ERA and WHIP to match. A couple of rough outings in the summer heat marred his final numbers, but Sanchez still announced himself as someone to pay attention to. There wasn't much in his peripherals to indicate why his strikeouts spiked the way they did: he threw a few more change-ups instead of sliders, and batters chased a few more of his pitches out of the zone, but really he didn't do anything differently than he did in 2010 – he just did it better. Whether that means a regression is in store or he's found his true level remains to be seen, but Sanchez has struck out better than a batter an inning before in the minors and came close in his 2008 return from shoulder trouble, so this isn't completely uncharted territory for him. At the very least, an improved Marlins' offense should get him into double digits in wins.
Sanchez finally managed to stay healthy for an entire season, and the results last year were as good as the Marlins could have hoped. His slider was nearly as nasty as it had been in his rookie season, and for the first time in his major league career he struck out more than twice as many batters as he walked. He'll never be an ace, but just so long as he can keep taking the mound 30-plus times a year and deliver solid numbers, he'll be plenty useful.
After struggling out of the gate Sanchez developed more shoulder problems, and it appeared as though he'd never recover from his 2007 torn labrum. Some rest and further rehab did the trick though, and in the second half he again looked like the pitcher he was as a rookie, too wild for comfort but difficult to hit. His K/9 rate has improved a great deal since 2006 though, and if he can sustain it north of 7.0 while still breaking bats there's a chance his 2.68 ERA over his last nine starts could be more than a small sample mirage.
Sanchez made it back to the Marlins rotation after his 2007 labrum tear, but he looked nothing like the rookie who electrified baseball with his no-hitter the year before. Florida has him slotted in for a starting job, but if he continues to struggle they have more than enough prospects in the system to shunt Sanchez aside. On the bright side his strikeout rate took a big step forward in his 10 big league starts even as his control regressed, a very good indication that his change-up is as baffling as ever. Don't write him off just yet.
After struggling out of the gate and being sent down to Triple-A Sanchez admitted his shoulder had been bothering him, and the result was June surgery to repair a torn labrum and a lost 2007. His no-hitter as a rookie brought him a lot of notoriety, but his 2006 ERA and WHIP were fueled by a very low BABIP and must be taken with a grain of salt until he proves he can do it again. He's also a pitcher who relies heavily on a great change-up, and if the labrum tear costs him a few miles per hour on his fastball that change-up won't be nearly as effective. You may want to wait and see how he looks in spring training before you consider him even as a long shot pick.
Sanchez spent half the year putting up solid numbers at Double-A before getting called up to the majors and setting the world on fire, including a no-hitter in his 13th career start. His fastball/change-up combo proved utterly baffling to big league hitters, resulting in a batting average allowed of just .217. His walk rate rose and his strikeout rate dropped after his promotion though, so if that hit rate proves to be unsustainable he's likely in for some regression in 2007. Still, he'll be just 23 and has just scratched the surface of his talent. He could just as easily surprise once again.
Sanchez started last season ranked as Boston's fifth best prospect, according to Baseball America, and was traded to Florida in the Josh Beckett deal. He pitched in the Futures Game, World All-Star game and the Carolina League All-Star game, moving from Single-A to Double-A in the process. He's got a mid-90s heater with an excellent changeup, but is still developing command of his curve. The Marlins in the past have aggressively promoted their top pitching prospects from Double-A, so if Sanchez doesn't make the team out of spring training, he still could be up shortly thereafter.
More Fantasy News