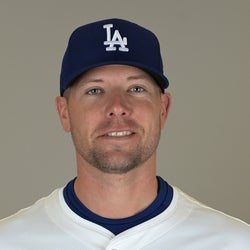 60-Day IL
Injury Shoulder
Est. Return 8/15/2023
2023 Fantasy Outlook
Treinen pitched all of three innings for the Dodgers last April before experiencing discomfort in his right shoulder. The injury sidelined him for four-and-a-half months before he was able to rejoin the club in early September. Unfortunately, the 34-year-old only pitched two more innings for Los Angeles before landing on the IL once more with tightness in the same shoulder. Treinen was able to make it back for the NLDS, but subsequently underwent surgery on his right shoulder labrum and rotator cuff that will likely keep him out for the entire 2023 season.
Read Past Outlooks
$Signed a one-year, $8 million contract extension with the Dodgers in May of 2022.

Treinen was
placed
on the 60-day injured list by the Dodgers on Thursday as he recovers from right labrum and rotator cuff surgery.
ANALYSIS
The move frees up a 40-man roster spot. Treinen is hoping to make it back late in the 2023 season after going under the knife in November, but there's a good chance he'll be out until 2024.
Read More News
Pitching Stats
Loading Pitching Stats...
2022
2021
2020
2019
2018
2017
2022 MLB Game Log

Calculate Stats Over Time
Just click on any two dates.
Scoring
FanDuel
DraftKings
Yahoo DFS
FantasyDraft
Head2Head
Loading Pitching Game Log...
2021 MLB Game Log

Calculate Stats Over Time
Just click on any two dates.
Scoring
FanDuel
DraftKings
Yahoo DFS
FantasyDraft
Head2Head
Loading Pitching Game Log...
2020 MLB Game Log

Calculate Stats Over Time
Just click on any two dates.
Scoring
FanDuel
DraftKings
Yahoo DFS
FantasyDraft
Head2Head
Loading Pitching Game Log...
2019 MLB Game Log

Calculate Stats Over Time
Just click on any two dates.
Scoring
FanDuel
DraftKings
Yahoo DFS
FantasyDraft
Head2Head
Loading Pitching Game Log...
2018 MLB Game Log

Calculate Stats Over Time
Just click on any two dates.
Scoring
FanDuel
DraftKings
Yahoo DFS
FantasyDraft
Head2Head
Loading Pitching Game Log...
2017 MLB Game Log

Calculate Stats Over Time
Just click on any two dates.
Scoring
FanDuel
DraftKings
Yahoo DFS
FantasyDraft
Head2Head
Loading Pitching Game Log...
Minor League Game Log

Calculate Stats Over Time
Just click on any two dates.
Loading Minor League Pitching Game Log...
Pitching Appearances Breakdown
How many pitches does Blake Treinen generally throw?
What part of the game does Blake Treinen generally pitch?
% Games Reaching Innings Threshold
% Games By Number of Innings Pitched
Left/Right Pitching Splits
BAA
K
BB
H
HR
Since 2020

vs Left

.154
53
20
22
2
Since 2020

vs Right

.215
60
14
48
5
2022

vs Left

.000
4
0
0
0
2022

vs Right

.111
2
1
1
1
2021

vs Left

.140
40
15
15
2
2021

vs Right

.207
45
10
31
3
2020

vs Left

.241
9
5
7
0
2020

vs Right

.250
13
3
16
1
More Splits

→

View More Split Stats
Home/Away Pitching Splits
ERA
WHIP
IP
K/9
BB/9
Since 2020

Home

2.79
0.99
51.2
10.6
2.1
Since 2020

Away

2.15
1.05
50.1
9.3
3.9
2022

Home

0.00
0.33
3.0
6.0
3.0
2022

Away

4.50
0.50
2.0
18.0
0.0
2021

Home

2.48
0.96
36.1
11.1
2.0
2021

Away

1.50
1.00
36.0
10.0
4.3
2020

Home

4.38
1.22
12.1
10.2
2.2
2020

Away

3.65
1.30
12.1
5.8
3.6
More Splits

→

View More Split Stats
Stat Review
How does Blake Treinen compare to other relievers?
This section compares his stats with all relief pitcher seasons from the previous three seasons (minimum 30 innings)*. The bar represents the player's percentile rank. For example, if the bar is halfway across, then the player falls into the 50th percentile for that stat and it would be considered average.
* Exit Velocity, Barrels/BBE %, Balls Hit 95+ MPH %, and Spin Rate are benchmarked against 2019 data (min 30 IP).
See here for more exit velocity/barrels stats
plus an explanation of current limitations with that data set.
K/BB

Strikeout to walk ratio.

K/9

Average strikeouts per nine innings.

BB/9

Average walks per nine innings.

HR/9

Average home runs allowed per nine innings.

Fastball

Average fastball velocity.

ERA

Earned run average. The average earned runs allowed per nine innings.

WHIP

Walks plus hits per inning pitched.

BABIP

Batting average on balls in play. Measures how many balls in play against a pitcher go for hits.

GB/FB

Groundball to flyball ratio. The higher the number, the more likely a pitcher is to induce groundballs.

Left On Base

The percentage of base runners that a pitcher strands on base over the course of a season.

Exit Velocity

The speed of the baseball as it comes off the bat, immediately after a batter makes contact.

Barrels/BBE

The percentage of batted ball events resulting in a Barrel. A Barrel is a batted ball with similar exit velocity and launch angle to past ones that led to a minimum .500 batting average and 1.500 slugging percentage.

Spin Rate

Spin Rate is the rate of spin on a baseball after it is released. It is measured in revolutions per minute (rpm).

Balls Hit 95+ MPH

The percentage of batted balls hit that met or exceeded the 95 MPH threshold.

Swinging Strike

The percentage of pitches that result in a swing and a miss.
Advanced Pitching Stats
Loading Advanced Pitching Stats...
Loading MLB Defensive Stats...
Our full team depth charts are reserved for RotoWire subscribers.
Subscribe Now
Recent RotoWire Articles Featuring Blake Treinen
See More
In a loaded Dodgers rotation, Brad Johnson believes Julio Urias doesn't get the hype he deserves and could be a bargain in drafts.
Past Fantasy Outlooks
2022
2021
2020
2019
2018
2017
2016
2015
Treinen enjoyed a renaissance in 2021, leading the majors with 32 holds while posting his best line since 2018. The 33-year-old went 6-5 as the Dodgers setup man with a 1.99 ERA, 0.98 WHIP and seven saves, filling in as the team's closer when Kenley Jansen was unavailable. Treinen allowed just an 83.3-mph average exit velocity that ranked in the top 1% of the league. His strikeout rate was back near 30% after making his slider his primary pitch (35.1%) and throwing his cutter more often (30%), while relying far less on the sinker (27.4%) that he typically threw over 50% of the time each year. This was a huge change that paid off tremendously since hitters were teeing off on the sinker (.308 average or better the past two seasons). Signed with the Dodgers through 2022 with a team option the following year, Treinen will return to high-leverage but his role depends on Los Angeles' free agency plans this offseason.
Treinen has had three wildly different seasons the past three years. He quickly elevated himself from a decent closer to arguably the best in baseball during the 2018 season when he added a cutter to his bag of tricks. The numbers were so good that some regression was expected, but not to the level of terrible that was his final 2019 line. This past season represented a comeback tour of sorts as he pitched in the deep Dodgers bullpen with the main goal being to rebuild his late-leverage value. In the small sample of 2020, his expected stats aligned nicely with his 2018 expected stats, but he eschewed the strikeout for limiting hard contact -- perhaps a lesson learned from 2019. After re-signing with the Dodgers for two years and $17.5 million, Treinen looks primed to enter the year as an insurance policy behind Kenley Jansen. If Jansen slips up, Treinen could step in.
Treinen entered 2019 as a consensus top-two closer in fantasy, but a combination of injuries and ineffectiveness caused him to lose the job midway through the season. Treinen had a career-best 0.78 ERA and 0.83 WHIP in 2018, but last year had a career-worst 4.91 ERA and 1.62 WHIP. First he dealt with elbow trouble, then a rotator cuff strain forced the 31-year-old to miss several weeks. Ultimately, it was a stress reaction in his back that put Treinen on the shelf for good. His K-rate plummeted from 31.8% in 2018 to 22.2%, and his swinging-strike rate fell from an elite 18.0% to 12.5%. The right-hander struggled with command and control; his 13.9 BB% was the 10th worst mark among qualified relievers. Treinen was non-tendered by Oakland, but received a one-year, $10 million deal from the Dodgers. If he can bounce back, he would likely be next in line to close if Kenley Jansen struggles or gets hurt.
Treinen dug in as the Athletics' closer in 2018 and ended up as one of the most valuable relievers in fantasy. His 18.0 swinging-strike percentage ranked third among qualified relievers. He molded a cutter to conquer lefty batters, completing the missing piece of his skill set. Still, it's impossible to bank on him returning as much earned value in 2019; nine wins enhanced his 2018 value, he had an 85.9 left-on-base percentage and a .230 opponents BABIP. The latter two can fluctuate greatly given relievers' small sample sizes. However, even if he gives back some of that, Treinen should find a soft landing. He has a standout sinker, his control has improved greatly and he posted the fourth-lowest barrels-per-PA rate in the majors (min. 150 batted-ball events). After a dominant season in which he built up a long leash in the role, Treinen has a case to be the first closer off the board in 2019 drafts.
Treinen was the Nationals' first choice to close, but he absorbed a 7.11 ERA and a 2.53 WHIP through his first eight games and then spent several months in irrelevant fantasy roles until Washington shipped him to the Athletics. For his new club, he rattled off a 2.13 ERA with 42 strikeouts in 38 innings while converting 13 of 16 save chances. At season's end, he'd increased his swinging-strike rate from 10.5 percent in 2016 to 13.1 percent His sinker, emerging plus-slider and serviceable four-seam fastball gained velocity befitting a stopper. The right-hander should be ready for spring training following October surgery to remove a cyst from his middle pitching finger. It's safe to wonder whether that was hindering his grip last season, considering his elite groundball rate dipped to a still awesome 58.4 percent.
Treinen developed into a true late-inning arm in 2016 after an up-and-down performance in his first two years in the league, leading the Nationals' bullpen with 67 innings while posting a 2.28 ERA. His main step forward was that he was simply adequate against left-handers, yielding a league-average .737 OPS to lefties in 2016 compared to an awful .934 in 2015. Treinen is a classic sinker-slider type of pitcher, with both pitches coming in extremely hard. He tops out at around 97 mph, but that hasn't translated into elite strikeout numbers yet (he posted an above-average 24 percent strikeout rate last season). Instead, he lives on the ground, having improved his groundball rate in every season of his MLB career. His 65.9 percent mark was second to only Zach Britton among pitchers with at least 60 innings in 2016. Treinen is likely to again fill a setup role in 2017 alongside Shawn Kelley and Sammy Solis.
Expected to step into Tyler Clippard's set-up role after the veteran right-hander was traded in the offseason, Treinen struggled to harness his nasty 96 mph sinker in his first full season as a reliever, bouncing between the majors and Triple-A and posting fairly mediocre numbers overall with the Nationals. His main difficulty came against left-handed hitters, who raked him for a .336/.425/.509 slash line and 21:17 K:BB ratio, and until he can find a way to counter them, he'll have trouble providing consistent help out of the bullpen. The Nationals currently have Jonathan Papelbon and Drew Storen filling late-inning roles, although given the volatile way each of their seasons ended, either or both could be in other uniforms before GM Mike Rizzo is done this winter. Depending on what happens around him, Treinen could head into 2016 as staff filler with upside or as someone once again counted on to fill a role he hasn't proven he's ready for yet.
Treinen made a strong impression on the Nationals' coaching staff last spring when he fired a sinking fastball that was regularly clocked in the 95-98 mph range when used as a reliever. Moved back into the rotation at Triple-A and then used as a swingman during his various brief stints in the majors, the 26-year-old did enough to put himself in contention for a regular spot on the Nationals' staff in 2015, posting a superb 0.34 HR/9 rate in 131.1 innings across both levels. Given the organization's rotation depth and the way his sinker plays up in relief, he's likely ticketed for the bullpen long-term. If he sharpens his slider and changeup, he could yet prove he deserves a shot at the rotation.
More Fantasy News