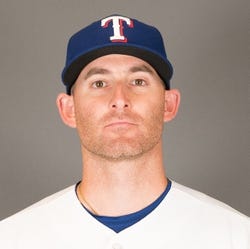 10-Day IL
Injury Oblique
Est. Return 6/10/2023
Rest-of-Season Projections
2023 Fantasy Outlook
Miller signed with the Rangers on a two-year, $10 million contract in March, and he delivered the worst season of his career with minus-1.6 bWAR. He split his playing time relatively evenly between third base, left field and designated hitter, and he finished with a .212/.270/.320 slash line in 81 games. He also spent the final month of the campaign on the injured list with a hip issue. Miller provided an above-average bat over the previous three seasons with a 114 wRC+, but his barrel rate and hard-hit rate both dropped significantly in 2022 (to 7.8 percent and 39.9 percent, respectively). Miller should open 2023 in a utility role and will likely have some opportunities to show he's turned things around, but the Rangers could cut bait if he continues to struggle at the plate, especially since he's not an asset defensively.
Read Past Outlooks
$Signed a two-year contract with the Rangers in March of 2022.

Goes on IL with oblique strain
Miller was
placed on
the 10-day injured list Saturday, retroactive to May 31, with a right oblique strain.
ANALYSIS
Miller suffered the injury a few days ago and seems likely to miss at least a couple of weeks.
Ezequiel Duran
(oblique) has been activated off the IL in a corresponding move and will return to the Rangers' starting lineup Saturday versus the Mariners.
Read More News
Batting Stats
2023
2022
2021
2020
2019
2018
2017
2023 MLB Game Log

Calculate Stats Over Time
Just click on any two dates.
Scoring
FanDuel
DraftKings
Yahoo DFS
Loading Batting Game Log...
2022 MLB Game Log

Calculate Stats Over Time
Just click on any two dates.
Scoring
FanDuel
DraftKings
Yahoo DFS
Loading Batting Game Log...
2021 MLB Game Log

Calculate Stats Over Time
Just click on any two dates.
Scoring
FanDuel
DraftKings
Yahoo DFS
Loading Batting Game Log...
2020 MLB Game Log

Calculate Stats Over Time
Just click on any two dates.
Scoring
FanDuel
DraftKings
Yahoo DFS
Loading Batting Game Log...
2019 MLB Game Log

Calculate Stats Over Time
Just click on any two dates.
Scoring
FanDuel
DraftKings
Yahoo DFS
Loading Batting Game Log...
2018 MLB Game Log

Calculate Stats Over Time
Just click on any two dates.
Scoring
FanDuel
DraftKings
Yahoo DFS
Loading Batting Game Log...
2017 MLB Game Log

Calculate Stats Over Time
Just click on any two dates.
Scoring
FanDuel
DraftKings
Yahoo DFS
Loading Batting Game Log...
Minor League Game Log

Calculate Stats Over Time
Just click on any two dates.
Loading Minor League Batting Game Log...
Batting Order Slot Breakdown
#1
#2
#3
#4
#5
#6
#7
#8
#9
#1
#2
#3
#4
#5
#6
#7
#8
#9
Left/Right Batting Splits
OPS
PA
HR
RBI
AVG
Since 2021

vs Left

.537
103
5
16
.172
Since 2021

vs Right

.725
571
23
71
.229
2023

vs Left

.667
3
0
0
.333
2023

vs Right

.635
53
1
6
.200
2022

vs Left

.516
20
1
3
.158
2022

vs Right

.596
221
6
29
.217
2021

vs Left

.538
80
4
13
.169
2021

vs Right

.842
297
16
36
.244
More Splits

→

View More Split Stats
Home/Away Batting Splits
OPS
PA
HR
RBI
AVG
Since 2021

Home

.696
335
14
43
.217
Since 2021

Away

.695
339
14
44
.222
2023

Home

.796
29
1
3
.250
2023

Away

.472
27
0
3
.167
2022

Home

.550
116
3
11
.198
2022

Away

.625
125
4
21
.224
2021

Home

.772
190
10
29
.225
2021

Away

.776
187
10
20
.228
More Splits

→

View More Split Stats
Stat Review
How does Brad Miller compare to other hitters?
This section compares his stats with all batting seasons from the previous three seasons (minimum 400 plate appearances)*. The bar represents the player's percentile rank. For example, if the bar is halfway across, then the player falls into the 50th percentile for that stat and it would be considered average.
* Exit Velocity and Barrels/PA % are benchmarked against 2019 data (min 400 PA) and Hard Hit Rate is benchmarked against last season's data (min 400 PA).
See here for more exit velocity/barrels stats
plus an explanation of current limitations with that data set.
BB/K

Walk to strikeout ratio

BB Rate

The percentage of plate appearances resulting in a walk.

K Rate

The percentage of plate appearances resulting in a strikeout.

BABIP

Batting average on balls in play. Measures how many of a batter's balls in play go for hits.

ISO

Isolated Power. Slugging percentage minus batting average. A computation used to measure a batter's raw power.

AVG

Batting average. Hits divided by at bats.

OBP

On Base Percentage. A measure of how often a batters reaches base. Roughly equal to number of times on base divided by plate appearances.

SLG

Slugging Percentage. A measure of the batting productivity of a hitter. It is calculated as total bases divided by at bats.

OPS

On base plus slugging. THe sum of a batter's on-base percentage and slugging percentage.

wOBA

Weighted on-base average. Measures a player's overall offensive contributions per plate appearance. wOBA combines all the different aspects of hitting into one metric, weighting each of them in proportion to their actual run value.

Exit Velocity

The speed of the baseball as it comes off the bat, immediately after a batter makes contact.

Hard Hit Rate

A measure of contact quality from Sports Info Solutions. This stat explains what percentage of batted balls were hit hard vs. medium or soft.

Barrels/PA

The percentage of plate appearances where a batter had a batted ball classified as a Barrel. A Barrel is a batted ball with similar exit velocity and launch angle to past ones that led to a minimum .500 batting average and 1.500 slugging percentage.

Expected BA

Expected Batting Average.

Expected SLG

Expected Slugging Percentage.

Sprint Speed

The speed of a runner from home to first, in feet per second.

Ground Ball %

The percentage of balls put in play that are on the ground.

Line Drive %

The percentage of balls put in play that are line drives.

Fly Ball %

The percentage of balls put in play that are fly balls.
Advanced Batting Stats
Loading Advanced Batting Stats...
Games By Position
Defensive Stats
Loading Games Played by Position...
Loading MLB Defensive Stats...
Batted Ball Stats
Loading Batted Ball Stats...
Stats Vs Upcoming Pitchers
Our full team depth charts are reserved for RotoWire subscribers.
Subscribe Now
Recent RotoWire Articles Featuring Brad Miller
See More
Erik Halterman breaks down the competition for AL jobs, including in Minnesota where Nick Gordon likely will spend time at several spots around the diamond this season.
Mike Barner previews Tuesday's Yahoo slate, recommending a Jays stack against the Red Sox.
Erik Siegrist reviews the available talent in the AL as early-season surprise Manuel Margot returns to action in the Tampa Bay outfield.
Rays shortstop Wander Franco will miss five to eight weeks following surgery to repair a broken carpal bone in his wrist.
Bernie Pleskoff examines several National League players whom he thinks deserve some attention, including Christian Walker, first baseman of the Arizona Diamondbacks.
Past Fantasy Outlooks
2022
2021
2020
2019
2018
2017
2016
2015
2014
2013
Miller spent the season in a utility capacity, though injuries and the Phillies lack of production at third base kept him in the lineup enough to post his highest plate appearance total since 2017. The journeyman continued to hit well with the platoon edge but struggled facing southpaws. Even so, circumstances were such he faced lefthanded pitching 21 percent of the time, just a tick below the level for a regular lefthanded batter. Miller's 20 homers marked only the second time he hit more than 13 in a season. However, he only cracked nine doubles, hinting at a few lucky homers. Miller is earmarked for another year filling in at several position. He begins the season with fantasy eligibility at first base and outfield but is likely to add more infield spots as the year unfolds. Contact has always been an issue, but Miller's above average exit velocity on fly balls fuels a sustainably high HR/FB mark.
In recent seasons, Miller has developed a clear and stable skill profile centered around hitting right-handed pitching hard. He saw an increased role per game in 2020, nearly matching his 2019 plate appearances in the shortened season. Miller has proven to be a strong source of power in the past two campaigns by posting ISO of .305 and .218, respectively, backed by strong barrel rates of 12.8% and 13.4%. That leaves little doubt that the ball jumps off Miller's bat. The problem is his fit in the modern game. While his defensive metrics in recent seasons have improved, he has been regarded as a subpar defender at multiple positions across the diamond for the majority of his career. The free agent fits best as a strong-side platoon designated hitter, and not many teams are in the market for such a player entering his age-31 season.
Miller failed to stick with the Rays or Brewers in 2018, and his 2019 campaign didn't get off to a great start either, as he was DFA'd in mid-April by the Indians and failed to make it out of Triple-A for the Yankees. Acquired by the Phillies in mid-June, he was a major-leaguer the rest of the way and looked quite good in a part-time role. He hit .263/.331/.610 with an impressive 12 homers in 130 plate appearances. Despite a 30-HR season in 2016 he'd never displayed that kind of power before, slugging .419 for his career. Still, he showed enough to prove that he still deserves a roster spot. His ability to play all around the diamond makes him a useful bench player. In the right circumstances, he could earn the large side of a platoon due to his career 110 wRC+ against righties. Don't expect that level of power to remain, but Miller could still be playable if at-bats are available.
Miller opened the 2018 season on the strong side of a platoon at first base, but he was designated for assignment by the Rays in June after hitting .256/.322/.429 with five homers across 48 games. The 29-year-old was subsequently traded to Milwaukee, where he hit just .230/.288/.378 with two homers in 27 games before being cut loose at the end of July. Miller failed to latch on elsewhere after parting ways with the Brewers, finishing the year with a .248/.311/.413 line and career-worst 32.7% strikeout rate in just 75 games. He's now been a below-average hitter in each of the past two seasons as measured by wRC+, and while he was an above-average defender at second base in 2018 (7.3 UZR/150), he isn't known for his glove. As such, it's difficult to imagine the veteran will find steady work in the majors in 2019.
After delivering an unexpected 30-homer season in 2016, Miller came crashing back to earth in 2017, slugging a career-low .337 and hitting a measly .201 thanks to a career-worst 27 percent strikeout rate. An abdominal injury in May put him on the DL for the first time last season, and he made a quick return to the shelf thanks to a groin injury he suffered after his return in early June. The Rays deployed Miller as their primary second baseman when he was healthy, causing him to lose eligibility at shortstop for 2018. It's entirely possible that the injuries are to blame for the magnitude of his decline, as it was revealed in October that he underwent core surgery. Most likely, he'll be pushed for playing time in spring training and throughout the season, and it's difficult to rely on him for anything more than a .240 batting average and low double-digit home run total given his overall body of work over five big-league campaigns.
Miller exploded for a career season in 2016, posting personal bests in doubles (29), triples (six), homers (30) and RBI (81). He also handled a move away from his shortstop position graciously after the acquisition of Matt Duffy, and he heads into the spring as the starting first baseman. He saw encouraging bumps in several other metrics as well, including HR/FB (20.4 percent), which he nearly doubled over the previous season, and hard contact rate, which he raised from 30.3 percent to 35.1 percent. It will be intriguing to see if the power surge was simply an outlier or a harbinger of things to come for Miller, who'd previously topped out at 11 homers in 2015. It's notable that his strikeout rate also saw a rise in 2016, with his 24.8 percent figure last season representing a career high, so Miller has room for offering even greater fantasy production if he can make even just a slight improvement in his contact rate.
Miller still strikes out too much (20.3% rate last year) and doesn't make good contact (77 percent), but he turned in a promising year at the plate last season. His 37 extra-base hits ranked ninth among AL shortstops while his 13 stolen bases ranked sixth. Most of his damage came against right-handers as he found himself in a platoon much of the season, posting an .803 OPS against righties vs. a .513 OPS against left-handers. His biggest weakness, though, is in the field. So much so, the Mariners transitioned him to the outfield when his defense at shortstop finally became too much of a liability. He wasn't very good as an outfielder, either. Nevertheless, he gets a fresh start this season as he was shipped to Tampa Bay in November, where he'll return to shortstop. Unless he figures out lefties quickly, he could find himself in a platoon again, but the Rays will likely have more patience with his defense.
Miller entered last season with much optimism after a promising rookie campaign that saw him knock 25 XBH in 76 games. He won the starting shortstop job in spring over the since-departed Nick Franklin but couldn't carry that over to the regular season. He was under the Mendoza Line well into June until a two-week hot streak dug him out of that hole, barely. But he quickly returned to form and by late July lost his starting job to callup Chris Taylor. After a solid strikeout rate (15.5 percent) as a rookie, Miller couldn't stop whiffing last year. His strikeout rate spiked to 23.2% while his contact rate dropped to 74 percent. In 61 more at-bats than in 2013, he posted just four more extra-base hits. He will have to win the starting job in spring training again, assuming the Mariners don't upgrade at shortstop before then. Taylor has a better glove, but Miller has a much more potent bat, potentially at least.
Miller began last season at Double-A Jackson, was promoted to Triple-A Tacoma by late May and a month later found himself in Seattle for good. The quick rise was partly due to his crushing both of his minor-league stops and partly due to the Mariners' desperation for a shortstop who could produce more than the all-glove, no-bat Brendan Ryan. The left-handed Miller held his own as the team's leadoff hitter, flashing league-average power with a .153 ISO and mirroring his solid minor-league contact and strikeout rates. His walk rate dipped dramatically to 7.2 percent, which caused his OBP to take a big hit, however. He'll look for improvement in that area in 2014, as he will with his defense at shortstop, which is a work in progress.
Seattle's 2011 second-round pick, Miller has excellent plate discipline, though he does not project for much power. He handled High-A High Desert last season (.931 OPS) before a promotion to Double-A Jackson where his bat proved not to be just a product of the hitter-friendly California League. He could end up moving from shortstop where he struggled with range and errors last season. But the Mariners are getting quite a backlog at second base (Dustin Ackely, Nick Franklin), so a position switch isn't necessarily a given even though that's the conventional wisdom.
More Fantasy News