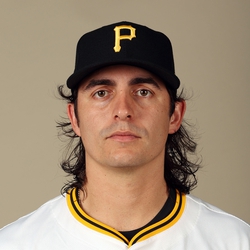 Rest-of-Season Projections
2023 Fantasy Outlook
Honeywell's career has been sabotaged by a multitude of arm injuries since he was considered one of the best pitching prospects in baseball a few years back. The 27-year-old suffered a stress reaction in the back of his right elbow during spring training last year and was ultimately limited to 20.1 ineffective minor-league innings. Honeywell was healthy and pitched well in the Dominican Winter League, which convinced the Padres to sign him to a split contract. He still has options left, so Honeywell figures to begin 2023 at Triple-A El Paso, with the hope that he can stay healthy and show the Pads he's worthy of another big-league opportunity.
Read Past Outlooks
$Signed a one-year, $725,000 contract with the Padres in January of 2023.

Makes Opening Day pitching staff
ANALYSIS
Honeywell makes the Padres even after a mixed Cactus League season that saw him register a 6.50 ERA that came with a 24:6 K:BB over 18 innings. The former top prospect will likely be a multi-inning bullpen option for the Padres to start 2023, and he isn't likely to see much time in high-leverage situations until he shows he can be trusted.
Read More News
Pitching Stats
Loading Pitching Stats...
2023 MLB Game Log

Calculate Stats Over Time
Just click on any two dates.
Scoring
FanDuel
DraftKings
Yahoo DFS
Loading Pitching Game Log...
2022 MLB Game Log

Calculate Stats Over Time
Just click on any two dates.
Scoring
FanDuel
DraftKings
Yahoo DFS
Loading Pitching Game Log...
2021 MLB Game Log

Calculate Stats Over Time
Just click on any two dates.
Scoring
FanDuel
DraftKings
Yahoo DFS
Loading Pitching Game Log...
Minor League Game Log

Calculate Stats Over Time
Just click on any two dates.
Loading Minor League Pitching Game Log...
Pitching Appearances Breakdown
How many pitches does Brent Honeywell generally throw?
What part of the game does Brent Honeywell generally pitch?
% Games Reaching Innings Threshold
% Games By Number of Innings Pitched
Left/Right Pitching Splits
BAA
K
BB
H
HR
Since 2021

vs Left

.293
12
5
17
4
Since 2021

vs Right

.187
21
9
14
3
2023

vs Left

.275
12
5
14
3
2023

vs Right

.188
17
6
12
2
2022

vs Left

0
0
0
0
0
2022

vs Right

0
0
0
0
0
2021

vs Left

.429
0
0
3
1
2021

vs Right

.182
4
3
2
1
More Splits

→

View More Split Stats
Home/Away Pitching Splits
ERA
WHIP
IP
K/9
BB/9
Since 2021

Home

3.63
1.27
17.1
9.3
3.6
Since 2021

Away

4.58
1.30
17.2
7.6
3.6
2023

Home

2.51
1.26
14.1
8.8
3.8
2023

Away

4.41
1.16
16.1
8.3
2.8
2022

Home

0
0
0
0
0
2022

Away

0
0
0
0
0
2021

Home

9.00
1.33
3.0
12.0
3.0
2021

Away

6.75
3.00
1.1
0.0
13.5
More Splits

→

View More Split Stats
Stat Review
How does Brent Honeywell compare to other relievers?
This section compares his stats with all relief pitcher seasons from the previous three seasons (minimum 30 innings)*. The bar represents the player's percentile rank. For example, if the bar is halfway across, then the player falls into the 50th percentile for that stat and it would be considered average.
* Exit Velocity, Barrels/BBE %, Balls Hit 95+ MPH %, and Spin Rate are benchmarked against 2019 data (min 30 IP).
See here for more exit velocity/barrels stats
plus an explanation of current limitations with that data set.
K/BB

Strikeout to walk ratio.

K/9

Average strikeouts per nine innings.

BB/9

Average walks per nine innings.

HR/9

Average home runs allowed per nine innings.

Fastball

Average fastball velocity.

ERA

Earned run average. The average earned runs allowed per nine innings.

WHIP

Walks plus hits per inning pitched.

BABIP

Batting average on balls in play. Measures how many balls in play against a pitcher go for hits.

GB/FB

Groundball to flyball ratio. The higher the number, the more likely a pitcher is to induce groundballs.

Left On Base

The percentage of base runners that a pitcher strands on base over the course of a season.

Exit Velocity

The speed of the baseball as it comes off the bat, immediately after a batter makes contact.

Barrels/BBE

The percentage of batted ball events resulting in a Barrel. A Barrel is a batted ball with similar exit velocity and launch angle to past ones that led to a minimum .500 batting average and 1.500 slugging percentage.

Spin Rate

Spin Rate is the rate of spin on a baseball after it is released. It is measured in revolutions per minute (rpm).

Balls Hit 95+ MPH

The percentage of batted balls hit that met or exceeded the 95 MPH threshold.

Swinging Strike

The percentage of pitches that result in a swing and a miss.
Prospect Rankings History
Advanced Pitching Stats
Loading Advanced Pitching Stats...
Loading MLB Defensive Stats...
Our full team depth charts are reserved for RotoWire subscribers.
Subscribe Now
Recent RotoWire Articles Featuring Brent Honeywell
See More
Past Fantasy Outlooks
2021
2020
2019
2018
2017
2016
2015
Honeywell has not thrown a competitive pitch in a professional baseball game in three seasons. He tore his UCL in 2018, fractured his elbow in 2019 and had to have nerve decompression surgery in 2020. We've never had a pitcher make it back to the major leagues who has had both Tommy John surgery and subsequently dealt with an elbow fracture. Honeywell is trying to change that history, and if he does so, it will likely be done as a reliever. We don't know if Honeywell will still use his famous screwball, but he has enough stuff without it to work as a serviceable reliever should his arm hold up. He was pitching in the taxi squad camp in 2020, so there is a glimmer of hope for him yet.
Honeywell has now lost two full seasons due to injury, but he finally got a bit of good news last June when he went under the knife to fix an elbow fracture: doctors checked on the integrity of his prior Tommy John repair and determined that his UCL was not damaged. The importance of that cannot be overstated, as the track record of starting pitchers coming back successfully from two reconstructive elbow surgeries is slim. The hope is that Honeywell will be able to begin a throwing program in January. Before undergoing TJS in February of 2018, Honeywell was one of the most hyped pitching prospects in all of the minors, one who threw five pitches including a rare screwball. Two years is a short lifetime in baseball, so it's hard to know what to expect in 2020. What we can reasonably expect: his workload will be extremely limited, certainly in terms of innings and possibly his in-game pitch counts as well.
There's always a first to fall, and last year, it was Honeywell. The screwballer left a Feb. 22 bullpen session with discomfort and less than 24 hours later, the severity of his situation became evident. He had Tommy John surgery less than a week after suffering the injury and missed the entirety of the season. Honeywell resumed throwing in July and would seem on track to be available for a sizable chunk of 2019, though every recovery is different. With a pitcher like Honeywell who throws so many different pitches, he's a greater unknown than most coming back from elbow reconstruction. When we do finally see Honeywell, it should be as a true starter -- the Rays ushered in the opener but Honeywell seems destined to head up the Tampa Bay rotation behind Blake Snell for years to come.
If the minor leagues were like college, then Honeywell took 50 credits his senior year when he only needed 30 to graduate with honors. The fact that the Rays seemed intent on not promoting their top pitching prospect became a bit of a running joke in prospect circles toward the end of the year, although it shouldn't have come as a surprise given Tampa Bay's well-established slow-and-low approach with pitching prospects. Honeywell certainly thought he deserved a promotion, and his frustration boiled over to the point that he ended up getting a team-issued four-game suspension in late August. A .365 BABIP inflated his ERA, but his 2.84 FIP illustrates how dominant he was as a 22-year-old in the International League. His deep repertoire and plus command separates him from most pitching prospects, but he lacks the plus-plus offering that most frontline starters possess. He suffered a torn UCL early in camp this year and will likely need Tommy John surgery, so he should be avoided in all redraft leagues. Honeywell remains a top 100 prospect for dynasty leagues.
Honeywell continues to enjoy a virtually seamless progression through the Rays organization, posting a combined 2.34 ERA and 1.03 WHIP over 20 starts between High-A Charlotte and Double-A Montgomery. His strikeouts were slightly down upon his ascension to the latter, but he otherwise was essentially producing at the same clip as he had against a lower level of competition. He has five pitches at his disposal and strong command of all of them, led by his plus screwball. His second best offering is a low-90s fastball, which also grades out as plus due to his command of the pitch and its late movement. All told, the ingredients of a high-end No. 3 starter are all present. The Rays are known for taking it slow with pitching prospects, but unique talents like Blake Snell and Honeywell can move at a more traditional pace, so we could see the Rays No. 2 prospect make his big league debut sometime this summer.
It is pretty easy to fall in love with Honeywell as a prospect, but it is important to have realistic expectations. He has three above-average pitches to go with above-average command, but he doesn't have the one or two great pitches typically necessary for a pitcher to profile at the front of a rotation. Of course, in the lower levels of the minors, just having two above-average pitches and above-average command is enough to dominate most hitters, so it is no surprise that Honeywell posted a 3.18 ERA, 1.05 WHIP, and 129 strikeouts in 130.1 innings between Low-A and High-A as a 20-year-old. He covered two levels in 2015, but it would not be surprising to see him spend all of 2016 at Double-A unless he pulls a Blake Snell and shatters expectations, which seems unlikely. In the end, Honeywell is probably a No. 3 or No. 4 starter who could debut in the big leagues in late 2017.
Honeywell came out of the 2014 draft and did well in his rookie debut. He's an unusual pitcher in that he throws a screwball, which is a pitch that is just about extinct in the major leagues. He throws in the low-to-mid-90s, and has the aforementioned screwball to keep batters guessing as he did when striking out 40 batters in 33.2 innings in 2014. He was ranked the fifth best prospect in the Appalachian League by Baseball America, and should be on watch lists in deep dynasty leagues.
More Fantasy News