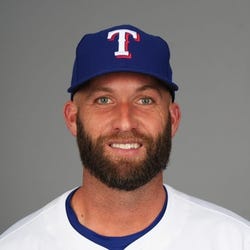 Day-To-Day
Injury Forearm
2023 Fantasy Outlook
The Dodgers acquired an injured Duffy in July of 2021 with the expectation that he could contribute during the stretch run that season, but the veteran hurler was unable to recover from his forearm issue in time to pitch for the club. Los Angeles re-signed the lefty for 2022, but the injury persisted and Duffy was shut down in September after hurling just 6.2 minor-league rehab innings. He'll be 34 years old and over 18 months removed from his last appearance on a big-league mound by the time spring training rolls around, so his primary focus will likely be proving that his arm is healthy. Duffy has had enough big-league success for an organization to bring him aboard as a low-risk, moderate-reward addition, but given the time off and lingering concerns about his forearm, he may be better suited to a long-relief role at this point in his career.
Read Past Outlooks
RANKS
#

Overall
$Signed a one-year, minor-league contract with the Rangers in January of 2023.

ANALYSIS
Duffy's $7 million club option for 2023 was declined by the Dodgers in November after he was unable to pitch at all in 2022 due to forearm issues. The left-hander did pitch well in 2021 with a 2.51 ERA over 61 innings for Kansas City, and if he can stay reasonably healthy, he could be a significant asset for the Texas pitching staff. For fantasy purposes he carries at least as much risk as potential reward, however.
Read More News
Pitching Stats
Loading Pitching Stats...
2022
2021
2020
2019
2018
2017
2022 MLB Game Log

Calculate Stats Over Time
Just click on any two dates.
Scoring
FanDuel
DraftKings
Yahoo DFS
FantasyDraft
Head2Head
Loading Pitching Game Log...
2021 MLB Game Log

Calculate Stats Over Time
Just click on any two dates.
Scoring
FanDuel
DraftKings
Yahoo DFS
FantasyDraft
Head2Head
Loading Pitching Game Log...
2020 MLB Game Log

Calculate Stats Over Time
Just click on any two dates.
Scoring
FanDuel
DraftKings
Yahoo DFS
FantasyDraft
Head2Head
Loading Pitching Game Log...
2019 MLB Game Log

Calculate Stats Over Time
Just click on any two dates.
Scoring
FanDuel
DraftKings
Yahoo DFS
FantasyDraft
Head2Head
Loading Pitching Game Log...
2018 MLB Game Log

Calculate Stats Over Time
Just click on any two dates.
Scoring
FanDuel
DraftKings
Yahoo DFS
FantasyDraft
Head2Head
Loading Pitching Game Log...
2017 MLB Game Log

Calculate Stats Over Time
Just click on any two dates.
Scoring
FanDuel
DraftKings
Yahoo DFS
FantasyDraft
Head2Head
Loading Pitching Game Log...
Minor League Game Log

Calculate Stats Over Time
Just click on any two dates.
Loading Minor League Pitching Game Log...
Left/Right Pitching Splits
BAA
K
BB
H
HR
Since 2020

vs Left

.218
25
5
17
4
Since 2020

vs Right

.241
97
39
88
12
2022

vs Left

0
0
0
0
0
2022

vs Right

0
0
0
0
0
2021

vs Left

.217
16
3
10
3
2021

vs Right

.228
49
19
42
3
2020

vs Left

.219
9
2
7
1
2020

vs Right

.254
48
20
46
9
More Splits

→

View More Split Stats
Home/Away Pitching Splits
ERA
WHIP
IP
K/9
BB/9
Since 2020

Home

4.05
1.46
46.2
8.3
3.1
Since 2020

Away

3.44
1.15
70.2
10.1
3.6
2022

Home

0
0
0
0
0
2022

Away

0
0
0
0
0
2021

Home

2.45
1.36
25.2
8.8
2.5
2021

Away

2.55
1.10
35.1
10.2
3.8
2020

Home

6.00
1.57
21.0
7.7
3.9
2020

Away

4.33
1.19
35.1
9.9
3.3
More Splits

→

View More Split Stats
Advanced Pitching Stats
Loading Advanced Pitching Stats...
Loading MLB Defensive Stats...
Our full team depth charts are reserved for RotoWire subscribers.
Subscribe Now
Recent RotoWire Articles Featuring Danny Duffy
See More
Past Fantasy Outlooks
2022
2021
2020
2019
2018
2017
2016
2015
2014
2013
2012
2011
2010
Duffy was pacing for a career year before he was sidelined with a left forearm flexor strain. At the time, he posted a 1.94 ERA and 1.13 WHIP, albeit aided via an 81 percent LOB% and four percent HR/FB mark over 41.2 frames. His 21.2 percent K-BB% showed it wasn't all good luck. After convalescing for a month, Duffy returned to record a 3.72 ERA and 1.40 WHIP as his K-BB% dipped to 8.5 percent over those 19.1 innings. He returned to the IL after aggravating his left flexor. While there, he was traded to the Dodgers, but he was shut down after a setback in early September. While his early skills increase is intriguing, Duffy remains a health and performance risk. He's teased being a useful starter but has yet to exhibit consistency. Counting on Duffy is taking on unnecessary risk. He's best suited as a speculative pick in waiver/FAAB leagues or as a very deep reserve in draft and hold formats.
The veteran left-hander's 4.95 ERA and 1.33 WHIP during 2020 are similar to his numbers from the previous two seasons, and the 4.75 FIP indicates it was fairly reflective of his actual performance. Duffy did post his best strikeout rate (23.1%) since 2016 last season, but he also had the highest HR/9 (1.6) of his career. He's set to earn $15.5 million in the final year of his contract in 2021, and the Royals are likely hoping for a strong start that generates some interest on the trade market. Duffy's strikeout totals bring some fantasy potential, but the wins and rate stats lag behind significantly and limit the value of the strikeouts. He's poised to begin the season in the starting rotation and his spot should be fairly secure given Kansas City's other options, but there's a decent chance he doesn't finish the year with the club.
Duffy's career year was in 2016. The Royals rewarded his efforts with a new five-year deal, and 2019 was the third year of that deal in which Duffy failed to achieve anything close to what he did in that 2016 season. His workload, his strikeout rate and his FIP were all at or near his career worsts in 2019 despite the fact three of his four pitches had positive pitch values. He has struck out over 20 percent of the hitters he faced the past four seasons, but that is essentially where his fantasy value is as a pitcher. The Royals do not provide him with a lot of run support, and he has permitted his fair share of runs in each of the past two seasons. He has lost two miles per hour off the fastball that earned him his current deal, and that is unlikely to return in his 30s. Unless he is moved to a contending team, he is essentially a one-category pitcher, and those strikeouts come with ratio risk.
After he had surgery to remove loose bodies from his left elbow after the 2017 season, the hope was that Duffy would return to his 2016 form. Unfortunately, that didn't come to fruition as left shoulder tendinitis led to Duffy's worst season since his 2011 rookie campaign. Right-handed batters gave him even more trouble than normal while lefty swingers were much more productive. To be fair, some of the splits disparity from previous seasons emanated from a bloated BABIP versus left-handers, but in general, Duffy's velocity remained down with worse control. Of note is he reintroduced a curve, which was basically dormant since 2014. It was his most effective pitch though he only threw it 10% of the time. Don't target him, but the cost will likely be right to see if a healthy Duffy can return to some level of prominence.
His performance when on the field was solid, but Duffy's 2017 season was marred by injuries and a DUI arrest. The lefty missed more than a month in the middle of the campaign with an oblique issue and later battled elbow inflammation. Surgery was ultimately deemed necessary to remove loose bodies from the elbow, but Duffy was expected to have a normal offseason. Duffy's strikeout rate fell from 25.7 percent to 21.4 percent last year, coinciding with a two-mph drop in average fastball velocity, but nevertheless he shaved nearly 40 points off his FIP thanks to sharp control and a reduction in home-run rate. He continues to post dramatic platoon splits, with righties beating up on him (.329 wOBA last season) while lefties flounder (.199 wOBA), and at this point it seems he may never figure out right-handers, but there is some hope that Duffy's velocity and K-rate will rebound with better health in 2018.
Duffy had a breakout season in transitioning to the rotation from the bullpen after two months, showing excellent skills in 26 starts. There was some slowdown in September as his velocity tailed off and home runs became a big issue (nine in 36 innings). Duffy enjoyed career-bests in strikeout rate, walk rate, and swinging-strike rate, though some of his control gains with the fastball seemed to come at the expense of his command with the pitch yielding career-worsts in home run rate and hard-contact rate. An excellent slider and changeup hid the declining velocity until September (though his 94.5 mph average in Sept. is nothing to sneeze at). He has a great foundation with premier velocity and two swing-and-miss secondaries. If his finish was more fatigue from a career-high 179.7 innings pitched than the league figuring him out, then there's a lot more success to come. The homer issue preaches some caution, but there's still upside to bid on.
Duffy has been with Kansas City for parts of five seasons with nearly all of his appearances coming as a starting pitcher. In that time, he's 24-30 with a 3.80 ERA and a 1.36 WHIP, and his strikeout rate has declined each of the previous four seasons. He has done some limited work in the bullpen, and his stuff has looked better in that role than it has as a starting pitcher. Kansas City does not currently have the pitching depth that would allow Duffy to move to the bullpen to help set up Wade Davis in 2016, but that could change in the near future. He's mostly a fastball/breaking ball type of pitcher and the lack of a good changeup leaves him susceptible to righties, who have hit 40 of the 44 home runs against him in his career. Duffy is endgame material as is, but a potential move to the bullpen reduces his value.
Opportunity knocked for Duffy early in the 2014 season, as a spot in the starting rotation opened up in early May after Bruce Chen hit the disabled list with a bulging disc in his back. The left-handed Duffy took the reins and never looked back, finishing the season with a 9-12 record, 2.53 ERA and 1.11 WHIP. A career-low .239 BABIP may have helped him out a bit, in addition to the fact that he stranded 77.2% of baserunners, but the southpaw was able to provide fantasy utility in most formats nonetheless. Potential fantasy owners may want to exercise caution before reaching too far for Duffy, however, as a 4.42 xFIP suggests that his ERA may be a bit understated, though he'll likely continue to catch breaks in the spacious Kauffman Stadium with an exceptional defensive unit behind him. He threw a career-high 149.1 innings in 2014 (with an extra 4.2 in the postseason), and should expect to surpass that workload in the upcoming year, provided he stays healthy, but keep in mind he did undergo Tommy John surgery once already in June 2012.
Duffy underwent Tommy John surgery early in the 2012 season and finally made it back to the mound for the Royals around the start of the second half last season. However, he made just five starts before landing back on the disabled list with tightness in his forearm. Rather than try to push him into a second return during the 2013 season, the club opted to shut him down for the duration of the year with the assumption that he would be fully rested and rehabbed by the time spring training opened in 2014. Duffy has a solid four-pitch arsenal and high strikeout potential, but command has always seemed to be a bit of an issue. Though he posted a K/BB over 2.50 throughout his time in the minors, he failed to produce one over 1.71 during his 133 innings at the major league level. Of course, that could have also had something to do with his arm troubles leading up to surgery. If all goes well during spring training, he should slot in as the team's third or fourth starter when the regular season begins.
Duffy's 2-2 record with a 3.90 ERA and a 1.6 K/BB through 27.2 innings in 2012 were almost irrelevant as he was plagued with elbow problems early on and eventually shut down at the beginning of May to have Tommy John surgery. He is still in the midst of his recovery and likely won't be ready until some time around midseason in 2013. However, at just 24 years old and loaded with promise, he is obviously a pitcher to monitor when looking for help in the second half. Throughout his time in the minors, he exhibited tremendous strikeout potential, often posting a double-digit K/9 and finishing off hitters with either his 95 mph fastball or an even more impressive looping curve. With the prospect of him coming back to the rotation with his arm even stronger, Duffy could be one of those sneaky second-half sleepers that that can boost a fantasy rotation and lift you up in at least three of the standard pitching categories.
Duffy made his big league debut in 2011, after spending the first month of the season at Triple-A Omaha. A starter, he had 87 strikeouts and 51 walks with a 5.64 ERA over 105.1 innings. Armed with a fastball that sits in the low-to-mid 90s, Duffy struck out over a batter per inning at nearly every stop in the minors, often with good control and command of his pitches. At the major league level he's going to need to rediscover that control as his walk rate was 4.36 BB/9IP in his rookie season. Only 23 years old, Duffy should be snapped up in keeper leagues and by those speculating for strikeouts in deeper leagues.
Duffy made a bizarre departure from the Royals in March to "reassess his life priorities" before returning to the team three months later. Upon his return, Duffy was effective, posting a 2.74 ERA over 62.1 minor-league innings. The Royals plan to give him a chance to pitch his way into the Opening Day rotation this spring, but he's yet to pitch an inning above the Double-A level.
Duffy is a left-handed starting pitcher with outstanding upside. His command and his ability to throw strikes set him apart from most prospects his age. He went 9-3 with a 2.98 ERA in High-A in last season and his 125:41 K:BB ratio over 126.2 innings pitched is excellent. Duffy was selected for the Futures Game and he should be considered an up-and-coming pitcher in the Royals' rotation. He must increase his stamina so he can get deeper than the fifth inning. It is likely he will spend 2010 between Double-A and Triple-A preparing for a debut as a starting pitcher late in the season or in 2011. Duffy should be considered in keeper leagues and is someone to watch very carefully.
More Fantasy News