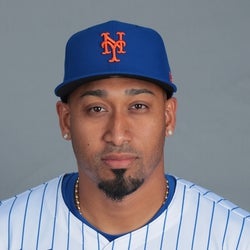 Out
Injury Knee
Est. Return 11/16/2023
2023 Fantasy Outlook
Diaz made the best of a contract year, as no relief pitcher in 2022 came close to his 50.2% strikeout rate, 25.2% SwStr%, 17.1 K/9 or 42.6% K-BB%. His 1.31 ERA ranked fourth among qualified relievers, while his 0.90 FIP and 1.11 SIERA were also the best in the league. Diaz's name was scattered across many Statcast leaderboards, as he posted a 99th percentile rating, or better, in multiple pitching metrics. However, he was "merely" league average in HardHit% and BB%. One main reason why Diaz was so good last season can be attributed to a pitch mix change. He threw his fastball far less often - a roughly 20% difference from his most recent seasons - while using his slider as his primary offering (58% pitch usage) for the first time in his career. Diaz allowed just 17 hits - 16 of which were singles - on his slider for a .114 BA on the pitch. Expect the soon-to-be 29-year-old to be among the top two closers drafted in 2023 now that the Mets re-signed him for 5 years at $102 million.
Read Past Outlooks
$Signed a five-year, $102 million contract with the Mets in November of 2022. Contract includes $20 million team option for 2028.

Undergoes successful surgery
Diaz underwent successful
surgery
to repair his patellar tendon Thursday.
ANALYSIS
Diaz tore his tendon during a celebration on the field after Puerto Rico's victory over the Dominican Republic in Wednesday's World Baseball Classic matchup. He is expected to begin a rehab program in a week, but he is a long shot to pitch at any point in 2023.
Read More News
Pitching Stats
Loading Pitching Stats...
2022
2021
2020
2019
2018
2017
2022 MLB Game Log

Calculate Stats Over Time
Just click on any two dates.
Scoring
FanDuel
DraftKings
Yahoo DFS
FantasyDraft
Head2Head
Loading Pitching Game Log...
2021 MLB Game Log

Calculate Stats Over Time
Just click on any two dates.
Scoring
FanDuel
DraftKings
Yahoo DFS
FantasyDraft
Head2Head
Loading Pitching Game Log...
2020 MLB Game Log

Calculate Stats Over Time
Just click on any two dates.
Scoring
FanDuel
DraftKings
Yahoo DFS
FantasyDraft
Head2Head
Loading Pitching Game Log...
2019 MLB Game Log

Calculate Stats Over Time
Just click on any two dates.
Scoring
FanDuel
DraftKings
Yahoo DFS
FantasyDraft
Head2Head
Loading Pitching Game Log...
2018 MLB Game Log

Calculate Stats Over Time
Just click on any two dates.
Scoring
FanDuel
DraftKings
Yahoo DFS
FantasyDraft
Head2Head
Loading Pitching Game Log...
2017 MLB Game Log

Calculate Stats Over Time
Just click on any two dates.
Scoring
FanDuel
DraftKings
Yahoo DFS
FantasyDraft
Head2Head
Loading Pitching Game Log...
Minor League Game Log

Calculate Stats Over Time
Just click on any two dates.
Loading Minor League Pitching Game Log...
Pitching Appearances Breakdown
How many pitches does Edwin Diaz generally throw?
What part of the game does Edwin Diaz generally pitch?
% Games Reaching Innings Threshold
% Games By Number of Innings Pitched
Left/Right Pitching Splits
BAA
K
BB
H
HR
Since 2020

vs Left

.138
120
32
33
6
Since 2020

vs Right

.213
135
23
60
2
2022

vs Left

.101
53
9
9
3
2022

vs Right

.202
65
9
25
0
2021

vs Left

.165
44
14
18
2
2021

vs Right

.223
45
9
25
1
2020

vs Left

.146
23
9
6
1
2020

vs Right

.217
25
5
10
1
More Splits

→

View More Split Stats
Home/Away Pitching Splits
ERA
WHIP
IP
K/9
BB/9
Since 2020

Home

1.10
0.87
90.1
15.5
3.4
Since 2020

Away

4.01
1.18
58.1
15.3
3.2
2022

Home

0.74
0.82
36.2
17.4
2.9
2022

Away

2.13
0.87
25.1
16.7
2.1
2021

Home

1.38
0.77
39.0
13.4
3.0
2021

Away

6.85
1.52
23.2
11.8
3.8
2020

Home

1.23
1.30
14.2
16.6
5.5
2020

Away

1.93
1.18
9.1
20.3
4.8
More Splits

→

View More Split Stats
Stat Review
How does Edwin Diaz compare to other relievers?
This section compares his stats with all relief pitcher seasons from the previous three seasons (minimum 30 innings)*. The bar represents the player's percentile rank. For example, if the bar is halfway across, then the player falls into the 50th percentile for that stat and it would be considered average.
* Exit Velocity, Barrels/BBE %, Balls Hit 95+ MPH %, and Spin Rate are benchmarked against 2019 data (min 30 IP).
See here for more exit velocity/barrels stats
plus an explanation of current limitations with that data set.
K/BB

Strikeout to walk ratio.

K/9

Average strikeouts per nine innings.

BB/9

Average walks per nine innings.

HR/9

Average home runs allowed per nine innings.

Fastball

Average fastball velocity.

ERA

Earned run average. The average earned runs allowed per nine innings.

WHIP

Walks plus hits per inning pitched.

BABIP

Batting average on balls in play. Measures how many balls in play against a pitcher go for hits.

GB/FB

Groundball to flyball ratio. The higher the number, the more likely a pitcher is to induce groundballs.

Left On Base

The percentage of base runners that a pitcher strands on base over the course of a season.

Exit Velocity

The speed of the baseball as it comes off the bat, immediately after a batter makes contact.

Barrels/BBE

The percentage of batted ball events resulting in a Barrel. A Barrel is a batted ball with similar exit velocity and launch angle to past ones that led to a minimum .500 batting average and 1.500 slugging percentage.

Spin Rate

Spin Rate is the rate of spin on a baseball after it is released. It is measured in revolutions per minute (rpm).

Balls Hit 95+ MPH

The percentage of batted balls hit that met or exceeded the 95 MPH threshold.

Swinging Strike

The percentage of pitches that result in a swing and a miss.
Advanced Pitching Stats
Loading Advanced Pitching Stats...
Loading MLB Defensive Stats...
Our full team depth charts are reserved for RotoWire subscribers.
Subscribe Now
Recent RotoWire Articles Featuring Edwin Diaz
See More
Past Fantasy Outlooks
2022
2021
2020
2019
2018
2017
2016
2015
Diaz was the highest-leveraged reliever in baseball as measured by gmLI, which measures a pitcher's average Leverage Index upon entering a game. He rarely gave up hard contact, as his 21.3% hard hit percentage was fifth-best among qualified relievers and in the 99th percentile. This was a vast improvement over his 48.1% hard hit percentage in 2019, which was third-worst. Diaz was 32-for-38 in save chances with a 3.45 ERA (2.84 SIERA) and 1.05 WHIP over 62.2 innings. He averaged a career best 98.8 mph on his fastball, though his slider carried a .119 XBA and .164 XSLG as his put-away pitch. Most importantly, Diaz maintained his ability to miss bats with a 12.8 K/9 and 16.5% SwStr%. The soon-to-be 28-year-old is entering his final year of arbitration before he becomes a free agent in 2023. He's poised to close another season for the Mets and be drafted among the top 10 options for saves.
Diaz's 2019 campaign, which saw his ERA spike from 1.96 to 5.59, served as a valuable reminder that even the best relievers in baseball aren't particularly reliable from season to season. The righty looked like he was in line for another disappointing season at the start of last year, when he allowed runs in two of his first three appearances. He allowed just three total earned runs the rest of the way, however, finishing the year with a stellar 1.75 ERA, a number he backed up with a career-high 45.5 K%. It wasn't all positive for his fantasy profile, however, as his early struggles combined with his poor 2019 season meant he was removed from the closer role for most of the year and wound up finishing with just six saves. While he may not have his manager's full faith heading into 2021, he's clearly closer material most of the time, making him a risky but very high-ceiling option during draft season.
Diaz struck out 39% of the hitters he faced in 2019 and had a 30 K-BB%, both of which are elite rates for any relief pitcher. The problem was what happened with the other 61% of hitters he faced last season. Despite having both velocity and a strikeout rate in the 99th percentile last season, Diaz was in the second percentile of hard-hit rate and the 11th percentile of exit velocity by batters. Those type of outcomes are what drove his .281 BABIP from his record-breaking 2018 season up to .377 this past season. Both his fastball and slider had negative run values for the first time in his career, and that mainly came from his inconsistent command of both pitches. Diaz's struggles were a great reminder of two things: reliever volatility, and the difference between command and control. He threw strikes, but not where they needed to be. Elite seasons are often followed up by steps backward. Jump back in on Diaz.
Diaz ended 2018 as the top closer and looks to be one of the first off the board in 2019 after an offseason trade to the Mets. Here's the thing: amassing another 61 save chances with 57 conversions is a long shot. Last year, Diaz tied for the second-most saves in history. Even with comparable skills, 15-20 fewer is a fair expectation. Speaking of skills, they're elite. His 18.9 SwStr% was bested by only Josh Hader, and just barely at that. His K-BB% was tops in the league. Diaz throws a 98-mph fastball almost two-thirds of the time, complemented by a 90-mph slider. There's really nothing to point to in terms of luck as Diaz's BABIP, HR/FB and LOB% were all within expected ranges. The skills, hence strikeouts and ratios, are real and repeatable and thus worthy of chasing aggressively. Just don't count on another 50-save season.
The road was a bit rocky for Diaz in 2017, with the Mariners temporarily relieving him of closer duties on a couple occasions, but when it was all said and done Diaz tied for fourth in the American League in saves. He converted 21 of 23 save opportunities in the second half and struck out 32 percent of the batters he faced overall using a combination of high-90s fastballs and high-80s sliders. Diaz can be his own worst enemy with the walks, and the uptick in home runs last season is a concern, although he was better in that regard down the stretch (two homers allowed in his final 30.1 innings). His stuff is electric most of the time and there aren't any proven options behind him in the Seattle bullpen, so Diaz should be given every chance to remain in the closer role throughout 2018. However, he's not exactly a "safe" investment given the slip in performance from 2016 and the general year-to-year unpredictability of major-league relievers.
Seattle's save chances were dominated in the first half by Steve Cishek. However, after Cishek landed on the disabled list, Diaz, once a top starting pitching prospect, took the reins and never looked back. He dazzled in the bullpen over the final two-plus months, going 18-for-21 in save chances. Diaz ranked sixth in second-half K/9 (14.3) among arms with 20-plus appearances, behind Ken Giles, Kenley Jansen, Dellin Betances, Craig Kimbrel and Aroldis Chapman. On the season, he finished fourth among relievers with an 18.5 swinging-strike percentage. While his his walk rate was a sparkling 2.6 BB/9, he has bouts of inefficiency and must aim to get ahead in more at-bats. Still, the right-hander, who turns 23 in March, boasts outstanding peripherals (33.6 K-BB%) and electric stuff. Even with some correction perhaps coming, Diaz could deliver numbers befitting a top-five fantasy closer at a discount relative to bigger names.
It is a sad state of affairs when a pitcher who finished the previous season with a 4.57 ERA in 104.1 innings at Double-A has a claim as the best prospect in a farm system, but that is where the Mariners are at. Diaz is not nearly as bad as that ERA suggests — he had a 1.70 ERA in 37 innings at High-A Bakersfield before his promotion and his 3.22 FIP at Double-A Jackson suggests he was pretty unlucky in Southern League play. His 145:46 K:BB in 141.1 innings illustrates his potential to be an average or better bat misser with an average command profile in the big leagues, essentially serving as a true No. 3 starter who should benefit from playing half his games in Safeco Field. Diaz should spend most, if not all of his age-22 season at Triple-A Tacoma, potentially getting some late-season spot starts with the Mariners, but more likely figuring into the rotation plans in 2017.
A third-round pick out of Puerto Rico in the 2012 draft, Diaz held his own at Low-A Clinton last year as a 20-year-old after dominating in rookie ball in 2013. He has a low-to-mid-90s fastball, a good slider, and a developing changeup. His control needs some work, but he has plenty of time to hone those skills. He will also continue to fill out. His 6-foot-2, 178-pound frame is about 20 pounds more than his draft weight, but he's bound to get bigger and stronger still. The organization's co-starting pitcher of the year in 2014 (along with Jordan Pries), Diaz is a ways away, but he has plenty of upside and is worth keeping an eye on.
More Fantasy News