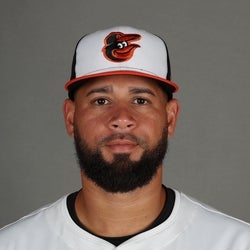 2023 Fantasy Outlook
Sanchez offers power from the catcher position, solid defense and durability. He struggles to make contact making his batting average a liability for fantasy purposes. Sanchez was traded to Minnesota before the start of last season and the change in parks didn't impact his power as he was 92nd percentile in hard-hit rate and 97th percent in max exit velocity, per Baseball Savant. He hit more ground balls (43.8%) which likely contributed to a career low .172 ISO. He may have worn down in the second half with the Twins needing him to play more due to injuries ( .187/.289/.331). Sanchez is durable as he's just one of five catchers with over 1,500 plate appearances since 2019. At age 31, he's unlikely to reach 30 homers again or hit above .250, but he offers power and decent counting stats from the catcher position which can often offset the batting average risk.
Read Past Outlooks
$Signed a one-year, $9 million contract with the Twins in June of 2022.

Sanchez continues to look for a MLB opportunity despite a lackluster performance at the World Baseball Classic,
Randy Miller of the Newark Star-Ledger
reports. "I think Gary will sign with somebody," former Yankee teammate
Luis Severino
said. "He's been waiting to see the best option."
ANALYSIS
Sanchez went 0-for-5 with three strikeouts and one walk for the Dominican Republic in the WBC. While it was a very small sample size, it didn't create any buzz for him in free agency. He'll likely need to sign a Triple-A contract and play in the minors initially this season.
Read More News
Batting Stats
2022
2021
2020
2019
2018
2017
2022 MLB Game Log

Calculate Stats Over Time
Just click on any two dates.
Scoring
FanDuel
DraftKings
Yahoo DFS
FantasyDraft
Head2Head
Loading Batting Game Log...
2021 MLB Game Log

Calculate Stats Over Time
Just click on any two dates.
Scoring
FanDuel
DraftKings
Yahoo DFS
FantasyDraft
Head2Head
Loading Batting Game Log...
2020 MLB Game Log

Calculate Stats Over Time
Just click on any two dates.
Scoring
FanDuel
DraftKings
Yahoo DFS
FantasyDraft
Head2Head
Loading Batting Game Log...
2019 MLB Game Log

Calculate Stats Over Time
Just click on any two dates.
Scoring
FanDuel
DraftKings
Yahoo DFS
FantasyDraft
Head2Head
Loading Batting Game Log...
2018 MLB Game Log

Calculate Stats Over Time
Just click on any two dates.
Scoring
FanDuel
DraftKings
Yahoo DFS
FantasyDraft
Head2Head
Loading Batting Game Log...
2017 MLB Game Log

Calculate Stats Over Time
Just click on any two dates.
Scoring
FanDuel
DraftKings
Yahoo DFS
FantasyDraft
Head2Head
Loading Batting Game Log...
Minor League Game Log

Calculate Stats Over Time
Just click on any two dates.
Loading Minor League Batting Game Log...
Batting Order Slot Breakdown
#1
#2
#3
#4
#5
#6
#7
#8
#9
#1
#2
#3
#4
#5
#6
#7
#8
#9
Left/Right Batting Splits
OPS
PA
HR
RBI
AVG
Since 2020

vs Left

.691
295
13
38
.187
Since 2020

vs Right

.679
782
36
101
.198
2022

vs Left

.554
126
3
13
.165
2022

vs Right

.697
345
13
48
.219
2021

vs Left

.835
130
8
19
.230
2021

vs Right

.686
310
15
35
.193
2020

vs Left

.641
39
2
6
.100
2020

vs Right

.616
127
8
18
.155
More Splits

→

View More Split Stats
Home/Away Batting Splits
OPS
PA
HR
RBI
AVG
Since 2020

Home

.715
538
27
70
.200
Since 2020

Away

.648
551
22
69
.190
2022

Home

.577
220
5
21
.186
2022

Away

.731
251
11
40
.222
2021

Home

.839
211
15
31
.223
2021

Away

.629
229
8
23
.186
2020

Home

.759
107
7
18
.187
2020

Away

.415
71
3
6
.092
More Splits

→

View More Split Stats
Stat Review
How does Gary Sanchez compare to other hitters?
This section compares his stats with all batting seasons from the previous three seasons (minimum 400 plate appearances)*. The bar represents the player's percentile rank. For example, if the bar is halfway across, then the player falls into the 50th percentile for that stat and it would be considered average.
* Exit Velocity and Barrels/PA % are benchmarked against 2019 data (min 400 PA) and Hard Hit Rate is benchmarked against last season's data (min 400 PA).
See here for more exit velocity/barrels stats
plus an explanation of current limitations with that data set.
BB/K

Walk to strikeout ratio

BB Rate

The percentage of plate appearances resulting in a walk.

K Rate

The percentage of plate appearances resulting in a strikeout.

BABIP

Batting average on balls in play. Measures how many of a batter's balls in play go for hits.

ISO

Isolated Power. Slugging percentage minus batting average. A computation used to measure a batter's raw power.

AVG

Batting average. Hits divided by at bats.

OBP

On Base Percentage. A measure of how often a batters reaches base. Roughly equal to number of times on base divided by plate appearances.

SLG

Slugging Percentage. A measure of the batting productivity of a hitter. It is calculated as total bases divided by at bats.

OPS

On base plus slugging. THe sum of a batter's on-base percentage and slugging percentage.

wOBA

Weighted on-base average. Measures a player's overall offensive contributions per plate appearance. wOBA combines all the different aspects of hitting into one metric, weighting each of them in proportion to their actual run value.

Exit Velocity

The speed of the baseball as it comes off the bat, immediately after a batter makes contact.

Hard Hit Rate

A measure of contact quality from Sports Info Solutions. This stat explains what percentage of batted balls were hit hard vs. medium or soft.

Barrels/PA

The percentage of plate appearances where a batter had a batted ball classified as a Barrel. A Barrel is a batted ball with similar exit velocity and launch angle to past ones that led to a minimum .500 batting average and 1.500 slugging percentage.

Expected BA

Expected Batting Average.

Expected SLG

Expected Slugging Percentage.

Sprint Speed

The speed of a runner from home to first, in feet per second.

Ground Ball %

The percentage of balls put in play that are on the ground.

Line Drive %

The percentage of balls put in play that are line drives.

Fly Ball %

The percentage of balls put in play that are fly balls.
Advanced Batting Stats
Loading Advanced Batting Stats...
Games By Position
Defensive Stats
Loading Games Played by Position...
Loading MLB Defensive Stats...
Batted Ball Stats
Loading Batted Ball Stats...
Stats Vs Upcoming Pitchers
Recent RotoWire Articles Featuring Gary Sanchez
See More
Past Fantasy Outlooks
2022
2021
2020
2019
2018
2017
2016
2015
2014
2013
2012
2011
It has been five seasons since Sanchez was hitting 33 bombs with a .278 average. He always had a strikeout rate around 30%, but the league is shifting him into a part-time role. Back in 2017, the league only shifted him 37% of the time, but that number grew to 75% this past season. Since he pulls the ball over 50% of the time, his BABIP has dropped from .304 to .230 this past season. At least before 2021 he was able to rely on his power, but that fell off this past season with his avgEV down to a career low and his Barrel% and HR/FB at three-year lows. If he doesn't return to his previous power levels, he might be maxed out around 25 homers. In on-base and points leagues, he's not as much of a drain with an 11.8 BB% last season helping prop up his value. A second breakout will only happen if he starts spraying the ball around the yard, but he's had seven seasons to make that adjustment and he hasn't done it yet. Why would he start now?
Sanchez endured a miserable 2020 campaign, notching nearly three times as many strikeouts (64) as hits (23) and finishing with a putrid .193 xBA. His offensive and defensive failures were so pronounced that he was relegated to a backup role in the postseason, starting only two of the Yankees' seven playoff games. Sanchez's lone saving grace was his undeniable power; his 50.0% hard-hit rate, 17.4% barrel rate and 91.8 mph average exit velocity each ranked in the 89th percentile or higher among MLB hitters, and he placed third among big-league catchers with 10 regular-season home runs. There aren't many backstops who can match Sanchez's power, but given his 2020 struggles, the Yankees may reconsider his role with the club moving forward. The potential homer total will be tempting, but fantasy managers must realize the extent to which Sanchez can drain a squad's batting average.
Sanchez had a strong bounce-back season in 2019, recovering the power production that appeared lost for a lot of 2018 while finding some middle ground with his batting average after two radical swings the prior two seasons. He will earn his walks when willing to accept them from pitchers that do not want to challenge him. He will also pile up his strikeouts as the next time he shortens up on a swing will be the first time. His career average exit velocity is an impressive 91 mph and 43% of his batted balls are classified as Hard Hit, and he attempts to generate that outcome with every swing. Sanchez had a .474 expected weighted on base average on contact with the baseball in 2019, which was the highest figure in all of MLB. The risk with Sanchez isn't the production, it is the expectation of production. Unlike some Yankee fans, you can accept him for what he is rather than what he is not.
Raise your hand if you were surprised Sanchez has had a balky left shoulder since 2017. He finally underwent a debridement procedure in November to clean up the tissue causing irritation. There's no telling how this affected Sanchez last season, but his .186/.291/.406 line was shocking in light of what he did the previous two campaigns. Sanchez's defense also suffered with a league-leading 18 passed balls, despite only 76 games behind the dish. He had two DL stints after straining then aggravating his groin. Aside from the likely impact of the assorted injuries, Sanchez hit into some seriously bad luck. His Statcast data, specifically exit velocity and barrels, were nearly identical to 2017, with decidedly poorer results. His .304 wOBA was nearly 40 points below his expected .343 mark. There's some added injury risk, but Sanchez is arguably the same guy he was this time last year when he was the consensus top backstop, a top-40 overall player.
Coming off one of the most spectacular debuts, especially for a catcher, projecting Sanchez's power for 2017 was a challenge. As it turned out, using his MLEs (major league equivalencies) did the trick nicely. Sanchez's 40 percent HR/FB mark from 2016 fell to a still outstanding, but more sustainable 25 percent. If there was a downside to Sanchez's 2017 season, it was tying Yasmani Grandal for the league lead with 18 passed balls. However, blocking pitches is down on a receiver's list of skills and Sanchez fared much better with the more important framing and throwing metrics. Still, with a new skipper in the Bronx, Sanchez's high passed ball total, along with his well-publicized woes with throws to the plate in the playoffs, could result in him seeing more time at designated hitter. Fortunately, for fantasy owners, that's a good thing, assuming he still catches 20 games, which he should. Sanchez is the clear top fantasy backstop and a top-30 overall player. Drafting him in the early rounds is more a question of strategy than valuation.
Well that's one way to make an entrance. Despite playing just one game in the majors before Aug. 3, Sanchez played his way into Rookie of the Year contention with one of the best 50-game stretches to begin a career of all time. The catcher hit 11 home runs in a 15-game span and ended with 20 homers and 42 RBI -- absurd numbers considering he played in just 53 contests. Though he seemed to run out of steam a bit at the end, hitting just .222 in September while striking out in more than one-third of his at-bats, the rookie still finished with a 1.032 OPS. It's highly unlikely his 60-homer pace will be sustainable over the course of a full season, but Sanchez will immediately jump toward the top of the list among the best -- if not the best -- offensive catchers next season, when he'll be just 24 years old.
Sanchez has long been looked at as a top prospect, yet he'll be turning just 23 over the offseason and could finally be inching closer to getting his first real test in the majors. The catcher made his first appearance at the Triple-A level after a midseason promotion and posted impressive numbers in 35 games, bouncing back after a disappointing 2014 campaign. His prospect rating fell a bit after a steady decline in the power department, but Sanchez tied a career high with 18 long balls across both Double-A and Triple-A. With the offseason trade of John Ryan Murphy, there is now an opening for the major league backup job, a position for which Sanchez will likely compete with Austin Romine in spring training.
Sanchez feels like he has been on the prospect landscape forever. Yet, he will only be 22 years old when he presumably gets his first taste of Triple-A at some point in the 2015 season. That said, 2014 can only be described as a disappointment for the former top prospect in the Yankees' system. He hit 13 home runs with a .270/.338/.406 slash line in 110 games at Double-A Trenton. To put that in perspective, former pseudo catching prospect for the Yankees and current bust with the Mariners, Jesus Montero, hit .317/.370/.539 with nine home runs in 44 games at Double-A Trenton as a 19-year-old in 2009. For a player who probably won't be able to stick at catcher, Sanchez isn't hitting enough to be an average first baseman or designated hitter. He still has enough raw power to keep him on the map, but he is now a fringe top-5 prospect in the system.
Sanchez is likely the Yankees' No. 1 prospect again thanks in part to a disappointing 2013 season from Mason Williams. He's shown good power throughout his minor league career and held his own in a 23-game stint with Double-A Trenton late in 2013. It seems unlikely that Sanchez will stick behind the plate, and he still needs to develop more discipline as a hitter, but there's a ton of upside in his bat, even if he ends up as a first baseman. The Yankees will have more time to sort out their plan with Sanchez after signing Brian McCann to a long-term deal during the offseason.
Sanchez seemed to put the attitude issues that plagued him in 2011 behind him, and put together a very solid season in 2012, hitting .290 with 18 homers across two levels. Sanchez has huge raw power that is starting to show in games, and while he needs to make a few mechanical adjustments to make his swing more efficient, the hit tool definitely appears to be there. Behind the plate, Sanchez has a good arm, but he's not terribly agile and it's still an open question as to whether he'll stick at catcher for the long term. Sanchez is still young for the level he's playing at, and regardless of whether he stays at catcher or not, he should be an impact bat in the majors with an ETA of 2015.
Sanchez came into the season at Low-A Charleston with very high expectations, and when he got off to a slow start, Sanchez was sent back to Tampa in early June to get his mind right. He was a different player after returning to Charleston, putting up seven homers in a nine-game stretch in late July through early August, and twice winning South Atlantic League Player of the Week honors. Sanchez shows fantastic power, but continues to struggle with his defense, though he has an excellent arm behind the plate. Sanchez remains a top-50 prospect on most lists, and 2012 will be a key year in his development as he faces more advanced pitching at High-A and demonstrates whether he'll be able to remain behind the plate. He's got the hitting tools to be worth picking up in your minor league draft regardless of where he ends up playing, though.
Despite not turning 18 until after the season, Sanchez hit .329/.393/.543 between the rookie league Yankees and short-season Staten Island. He obviously still needs a lot of development, but he has the physical tools to be a good backstop, and scouts believe he has above-average power to all fields. Add his name to the impressive array of minor league catching talent the Yankees have assembled.
More Fantasy News