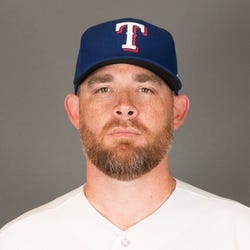 2023 Fantasy Outlook
There was no outlook written for Ian Kennedy in 2023. Check out the latest news below for more on his current fantasy value.
#

Overall
$Signed a one-year, $5 million contract with the Diamondbacks in March of 2022. Diamondbacks declined $4 million team option for 2023 in November of 2022.

ANALYSIS
Kennedy got hit around quite a bit last season, recording a 5.36 ERA and 1.57 WHIP over 50.1 innings out of the bullpen, so it's not much of a surprise to see Arizona let him walk. Kennedy will turn 38 in December, so the possibility of retirement is certainly on the table.
Read More News
Pitching Stats
Loading Pitching Stats...
2022
2021
2020
2019
2018
2017
2022 MLB Game Log

Calculate Stats Over Time
Just click on any two dates.
Scoring
FanDuel
DraftKings
Yahoo DFS
FantasyDraft
Head2Head
Loading Pitching Game Log...
2021 MLB Game Log

Calculate Stats Over Time
Just click on any two dates.
Scoring
FanDuel
DraftKings
Yahoo DFS
FantasyDraft
Head2Head
Loading Pitching Game Log...
2020 MLB Game Log

Calculate Stats Over Time
Just click on any two dates.
Scoring
FanDuel
DraftKings
Yahoo DFS
FantasyDraft
Head2Head
Loading Pitching Game Log...
2019 MLB Game Log

Calculate Stats Over Time
Just click on any two dates.
Scoring
FanDuel
DraftKings
Yahoo DFS
FantasyDraft
Head2Head
Loading Pitching Game Log...
2018 MLB Game Log

Calculate Stats Over Time
Just click on any two dates.
Scoring
FanDuel
DraftKings
Yahoo DFS
FantasyDraft
Head2Head
Loading Pitching Game Log...
2017 MLB Game Log

Calculate Stats Over Time
Just click on any two dates.
Scoring
FanDuel
DraftKings
Yahoo DFS
FantasyDraft
Head2Head
Loading Pitching Game Log...
Minor League Game Log

Calculate Stats Over Time
Just click on any two dates.
Loading Minor League Pitching Game Log...
Pitching Appearances Breakdown
How many pitches does Ian Kennedy generally throw?
What part of the game does Ian Kennedy generally pitch?
% Games Reaching Innings Threshold
% Games By Number of Innings Pitched
Left/Right Pitching Splits
BAA
K
BB
H
HR
Since 2020

vs Left

.244
53
23
47
14
Since 2020

vs Right

.266
68
21
75
16
2022

vs Left

.253
19
10
19
4
2022

vs Right

.292
25
12
38
7
2021

vs Left

.231
28
10
21
6
2021

vs Right

.205
34
7
24
6
2020

vs Left

.259
6
3
7
4
2020

vs Right

.371
9
2
13
3
More Splits

→

View More Split Stats
Home/Away Pitching Splits
ERA
WHIP
IP
K/9
BB/9
Since 2020

Home

4.16
1.28
62.2
8.6
3.3
Since 2020

Away

5.43
1.48
58.0
9.5
3.3
2022

Home

4.61
1.32
27.1
6.6
3.3
2022

Away

6.26
1.87
23.0
9.4
4.7
2021

Home

3.00
1.09
33.0
10.1
2.7
2021

Away

3.47
1.11
23.1
9.6
2.7
2020

Home

15.43
3.43
2.1
11.6
11.6
2020

Away

7.71
1.46
11.2
9.3
1.5
More Splits

→

View More Split Stats
Stat Review
How does Ian Kennedy compare to other relievers?
This section compares his stats with all relief pitcher seasons from the previous three seasons (minimum 30 innings)*. The bar represents the player's percentile rank. For example, if the bar is halfway across, then the player falls into the 50th percentile for that stat and it would be considered average.
* Exit Velocity, Barrels/BBE %, Balls Hit 95+ MPH %, and Spin Rate are benchmarked against 2019 data (min 30 IP).
See here for more exit velocity/barrels stats
plus an explanation of current limitations with that data set.
K/BB

Strikeout to walk ratio.

K/9

Average strikeouts per nine innings.

BB/9

Average walks per nine innings.

HR/9

Average home runs allowed per nine innings.

Fastball

Average fastball velocity.

ERA

Earned run average. The average earned runs allowed per nine innings.

WHIP

Walks plus hits per inning pitched.

BABIP

Batting average on balls in play. Measures how many balls in play against a pitcher go for hits.

GB/FB

Groundball to flyball ratio. The higher the number, the more likely a pitcher is to induce groundballs.

Left On Base

The percentage of base runners that a pitcher strands on base over the course of a season.

Exit Velocity

The speed of the baseball as it comes off the bat, immediately after a batter makes contact.

Barrels/BBE

The percentage of batted ball events resulting in a Barrel. A Barrel is a batted ball with similar exit velocity and launch angle to past ones that led to a minimum .500 batting average and 1.500 slugging percentage.

Spin Rate

Spin Rate is the rate of spin on a baseball after it is released. It is measured in revolutions per minute (rpm).

Balls Hit 95+ MPH

The percentage of batted balls hit that met or exceeded the 95 MPH threshold.

Swinging Strike

The percentage of pitches that result in a swing and a miss.
Advanced Pitching Stats
Loading Advanced Pitching Stats...
Loading MLB Defensive Stats...
Recent RotoWire Articles Featuring Ian Kennedy
Past Fantasy Outlooks
2022
2021
2020
2019
2018
2017
2016
2015
2014
2013
2012
2011
2010
2009
2008
Kennedy was invited to the Rangers camp last spring as an insurance policy with potential closers Jose Leclerc and Jonathan Hernandez shelved with elbow injuries and Matt Bush a perennial injury risk. Kennedy not only earned a spot on the opening day roster, but he was also installed as Texas' closer. Kennedy needed a May IL visit for a hamstring issue, but he otherwise notched 16 saves before being shipped to Philadelphia at the trade deadline where he notched 10 more saves. Kennedy's 3.20 ERA and 1.10 WHIP benefited from a .244 BABIP and 91.9% LOB mark. His 3.71 SIERA and 4.45 xFIP are more telling, as are 12 homers in 56.1 frames. While the league is getting smarter with reliever deployments, some clubs still hang their hat on "he's a proven closer", so Kennedy could continue to find ninth-inning work. However, his skills are such he could lose the job, so buyer beware.
Kennedy came into the 2019 season having started 289 of the 291 games he had appeared in as a major leaguer. He surprised us all when we went out and compiled an effective 30-save season for Kansas City in 2019, and conversely let many down in 2020 when he failed to save a game and pitched ineffectively around injury. It would best be served to just wipe 2020 off the ledger for Kennedy and focus on what he did as a reliever in 2019 when he eliminated his changeup and went fastball-cutter-curve. At 36 years old, it is unrealistic to ask Kennedy to go back into the rotation after pitching in relief the previous two years, and he proved what he is capable of in 2019. He is going to land a one-year contract this winter as long as the body is healthy as many a bullpen could use his experience. To an extent, 2019 is repeatable.
Kennedy stepped into the closer role for Kansas City early in 2019 after Brad Boxberger and Wily Peralta both failed to secure the job, and he performed admirably, finishing the year with 30 saves (only four blown saves) to go along with a 3.41 ERA, 1.28 WHIP and 73:17 K:BB over 63.1 innings. Kennedy gained close to three ticks on his fastball with the move to relief, and saw a big corresponding jump in his strikeout rate (27.4%, 21.8% for career). He also shaved his walk rate, and when it was all said and done, Kennedy ranked top 15 among qualified relievers by FIP. Oddly enough, the 34-year-old fared better against left-handed hitters, holding lefties to a .226 BAA compared to .298 BAA when facing right-handed batters. After proving that he's capable of handling the ninth inning, and with the team reluctant to eat money in a trade, Kennedy should be expected to remain the Royals' closer to open 2020.
After an awful second season in Kansas City, Kennedy appeared to be turning things around to begin 2018. In his first seven starts of the season, the veteran compiled a 2.92 ERA and 8.5 K/9 across 37 frames. Then the bottom fell out. He gave up at least five earned runs in four of his next five starts, raising his ERA to a lofty 6.08 mark, and wound up missing time due to a strained oblique. His numbers at the end of the season were mediocre at best: 4.66 ERA, 1.38 WHIP, 7.9 K/9, 1.5 HR/9. His 4.65 FIP suggests that his numbers paint a pretty accurate picture of his 2018 performance. Kennedy's best days are behind him, that's no secret. He talked early in the offseason about possibly attempting to reinvent himself as a reliever. It will be interesting to see how his stuff plays out of the bullpen.
2017 was a trying year for Kennedy, as the right-hander struggled to stay healthy and saw a drop off in nearly every statistic from 2016. While Kennedy managed to make 30 starts for an eighth consecutive season, injuries and ineffectiveness limited him to just 154 innings after he flirted with 200 in his first season with the Royals. On top of that, he saw his ERA balloon to 5.38, his worst mark in any season with at least 40 innings pitched. His 5.65 FIP suggests his poor ERA wasn't a case of bad luck, as his K/9 dip below 8.0 for the first time since 2010, he issued walks at a 3.6 BB/9 clip and gave up a career-worst 2.0 HR/9. Still, with three years and $49 million left on his contract, his job in the Royals' starting rotation figures to be safe so long as he stays healthy.
First, the bad news. For the second straight season, Kennedy finished with a HR/9 rate north of 1.5 as he was absolutely crushed on the road (21 homers allowed in 108.2 innings). His groundball rate sunk to 33.2 percent while his flyball and hard-hit rates jumped considerably -- his hard-hit rate was the fourth-worst among qualifiers, which bodes poorly for his chances of reversing the trend. The right-hander saw a dip in strikeouts and now has gone four straight seasons without a winning record. On the plus side, Kennedy has proven durable, making 30-plus starts in seven straight seasons, and his job is safe with four years remaining on his deal (and little depth in the Kansas City rotation). His 22.5 percent strikeout rate was strong and his ratios were plenty useful last season even with all the homers. There may not seem to be much room for growth from his 36th-ranked finish among starters last season, but Kennedy probably won't be priced any higher than an SP4 or SP5.
When Kennedy was with Arizona, the idea of him going to Petco Park full time would have been a dream. He put up a 3.55 ERA in 624 innings with the Diamondbacks through 2012 and his 1.1 HR/9 kept him from being consistently great. He held it in check at 0.8 HR/9 for his incredible 2011 season: 2.88 ERA, 1.09 WHIP in 222 innings. He took a major step back with Arizona in 2013, and that led the D-backs to flip him to the Padres. The expected improvement from Petco did not materialize for Kennedy, as his 4.28 ERA in 2015 was the second-worst full season effort of his career. While the ratios have been disappointing, Kennedy has mitigated some of the damage with a 9.2 K/9 over 427 innings with San Diego. His flyball tendencies may play better at cavernous Kauffman Stadium after he signed with Kansas City in the offseason -- Petco surprisingly skewed favorable for power last year -- and Kennedy could benefit greatly from the Royals' strong outfield defense.
Upon his arrival in San Diego at the 2013 trade deadline, Kennedy's woes with the Diamondbacks extended to his new club, but he turned over a new leaf in his first full season with the Padres, reestablishing himself as a strikeout king. He concluded the year with the first 200-punchout campaign of his career - 207, to be exact, matching Zack Greinke for 11th-most in MLB - which he supplemented with a 13-13 record, 3.63 ERA, and 1.29 WHIP in 201 innings (33 starts). Surprisingly, taking the mound half of the time in Petco Park wasn't the catalyst for a career-best 0.7 HR/9, as Kennedy served up 10 long balls in 100.2 innings at home. In any case, he'll again team with fellow starters Andrew Cashner and Tyson Ross following a season in which the Padres' rotation recorded a 3.55 ERA, good for ninth-best in the majors.
Just two seasons removed from consideration for the National League Cy Young award, Kennedy's walk and strikeout rates had reversed course to career worsts in his four years as a full-time starter -- 7.8 K/9 and 3.5 BB/9 -- before the Diamondbacks dealt the righty to San Diego at the July 31 trade deadline. Both marks actually bumped up with his new squad, but an exchange of the launching pad that is Chase Field for cavernous Petco Park resulted in a fair 4.24 ERA in 57.1 innings (10 starts) as a Padre. Considering his career line in the latter venue -- 90:27 K:BB ratio and .198 BAA in 71 frames -- a bounce-back campaign could be in the offing for the 29-year-old.
Although Kennedy was able to carry similar peripherals to his breakout 2011 season (8.1 K/9, 2.4 BB/9), the results included an ERA that was more than a run higher and a home-run rate that swung back to his 2010 level (1.2 HR/9). A closer look at Kennedy's arsenal reveals that opposing hitters made more powerful contact against three of his four pitches, including his four-seam fastball (.291 BAA, .511 SLGA). Pitching half of his games at Chase Field, Kennedy's flyball tendencies will be more damaging than they would be elsewhere, but his walk rate appears to have stabilized at a strong enough point where the 2012 line is a baseline for his overall performance going forward.
Kennedy made strides in his second full season with the D-Backs and solidified his place as the ace of the team's rotation. In addition to pushing his strikeout rate to 8.0 K/9IP, Kennedy's control improved to his Triple-A levels from 2008. Don't expect him to consistently maintain a sub-3.00 ERA while pitching half of his games at Chase Field, but Kennedy has a five-pitch arsenal including a very good two-seam fastball that mitigates some of the risk he presents as a flyball pitcher. The growth he showed in 2011 is largely sustainable as even a regression back toward his 2010 home-run rate (1.2 HR/9IP) will yield limited fallout since he's proven capable of missing bats a good clip and limiting the free passes.
Of the D-Backs starters that were on the roster from April through October, Kennedy was the most consistent from start to finish. The Yankees were never willing to give him a legitimate chance to stick in their rotation, but he survived his first full big league campaign at age 25 and surprisingly racked up 194 innings over 32 starts after a shoulder aneurysm limited him to 23.2 innings in 2009. Kennedy missed enough bats (7.8 K/9IP) to survive serving up 26 long balls and issuing his fair share of free passes (3.3 BB/9IP). If you look closely, a .265 BABIP reveals at least some good fortune behind the sub-4.00 ERA and it's easy to see where his 4.33 FIP might be more telling of what to expect in his second season with Arizona, but there were signs of growth in the second half including a drop in home-run rate (0.76 HR/9IP) and fewer walks (3.1 BB/9IP).
An aneurysm in his shoulder cost Kennedy most of the 2009 season, but he recovered in plenty of time for the Arizona Fall League, where he racked up a 28:5 K:BB ratio in 29.2 innings and gave up just one home run. Couple that with his career Triple-A numbers (2.14 ERA, 131 strikeouts in 126.1 innings) and you'll understand why the D-Backs coveted him when they were a part of the three-team trade that also brought Edwin Jackson to the desert in December. Kennedy is expected to take over the No. 4 starter spot for his new team.
Kennedy had an opportunity to stake a permanent claim for a rotation spot with the Yankees when the team was ravaged by injuries last season, but a strained lat knocked him out of action from late May until early August, and he didn't pitch well enough around the injury to stick when he was finally healthy for good later in the year. After being demoted back to Triple-A, Kennedy was very sharp while he finished with a 72:17 K:BB ratio over 69 innings there. The Yankees' offseason free-agent spending binge seems to suggest that Kennedy might be traded to another organization, which would likely provide a much faster track to the majors. Keeper league owners should patiently wait for the change of scenery to take place.
Kennedy made a meteoric rise from High-A to the majors in 2007, overshadowed by the dominance of fellow prospect Joba Chamberlain who made the same leap even faster. Kennedy didn't make the Yankees' postseason roster because of a late-season back ailment, but in his three big league starts, he showed considerable poise in high-pressure situations with the Yankees chasing down a playoff berth in September. It's possible that a numbers crunch will bump Kennedy back to Triple-A to start the season, but look for him to spend most of his season in New York, especially if Chamberlain stays in the bullpen.
More Fantasy News