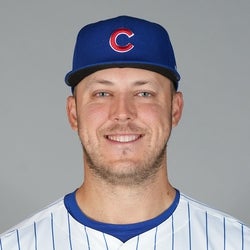 Rest-of-Season Projections
2023 Fantasy Outlook
Taillon tied his career high with 32 starts while logging 177.1 innings, his second most ever. His strikeout rate dropped, but Taillon compensated with a 4.4% walk rate, its lowest since his rookie season. For the second straight year, a high number of flyballs led to an above average flyball rate, but the low walk rate along with the resultant low BABIP minimized damage. Taillon tweaks his pitch mix every year, reintroducing a cutter to increase his arsenal to six pitches. Taillon's two best offerings are a curve and slider, but he backed off usage of both, perhaps due to being a two-time Tommy John surgery recoveree. Unless Taillon is comfortable reworking his repertoire another year removed from going under the knife in 2019, home runs will remain an issue, although he gets a modest park upgrade after signing a four-year deal with the Cubs. His low strikeout rate is more akin to a fantasy streamer than staff anchor.
Read Past Outlooks
$Signed a four-year, $68 million contract with the Cubs in December of 2022.

Taillon allowed four runs on six hits across 4.2 innings and didn't factor into the decision in Saturday's 8-5 loss to the Reds. He walked one and struck out five.
ANALYSIS
For the fifth straight start, Taillon failed to complete five innings, and he's allowed four earned runs or more in four consecutive outings. On the heels of another poor showing, the righty is now sitting on an 8.04 ERA overall, and while he's been the victim of some bad luck (.378 BABIP, 48.9 percent strand rate), Taillon hasn't helped himself by serving his pitches up on a platter for hitters. According to
BaseballSavant.com
, Taillon ranks in the 13th percentile among all pitchers in barrel rate allowed (career-worst 11.7 percent, up from 8.3 percent in 2022).
Read More News
Pitching Stats
Loading Pitching Stats...
2023
2022
2021
2020
2019
2018
2017
2023 MLB Game Log

Calculate Stats Over Time
Just click on any two dates.
Scoring
FanDuel
DraftKings
Yahoo DFS
Loading Pitching Game Log...
2022 MLB Game Log

Calculate Stats Over Time
Just click on any two dates.
Scoring
FanDuel
DraftKings
Yahoo DFS
Loading Pitching Game Log...
2021 MLB Game Log

Calculate Stats Over Time
Just click on any two dates.
Scoring
FanDuel
DraftKings
Yahoo DFS
Loading Pitching Game Log...
2020 MLB Game Log

Calculate Stats Over Time
Just click on any two dates.
Scoring
FanDuel
DraftKings
Yahoo DFS
Loading Pitching Game Log...
2019 MLB Game Log

Calculate Stats Over Time
Just click on any two dates.
Scoring
FanDuel
DraftKings
Yahoo DFS
Loading Pitching Game Log...
2018 MLB Game Log

Calculate Stats Over Time
Just click on any two dates.
Scoring
FanDuel
DraftKings
Yahoo DFS
Loading Pitching Game Log...
2017 MLB Game Log

Calculate Stats Over Time
Just click on any two dates.
Scoring
FanDuel
DraftKings
Yahoo DFS
Loading Pitching Game Log...
Minor League Game Log

Calculate Stats Over Time
Just click on any two dates.
Loading Minor League Pitching Game Log...
Pitching Appearances Breakdown
How many pitches does Jameson Taillon generally throw?
What part of the game does Jameson Taillon generally pitch?
% Games Reaching Innings Threshold
% Games By Number of Innings Pitched
Left/Right Pitching Splits
BAA
K
BB
H
HR
Since 2021

vs Left

.243
138
62
141
27
Since 2021

vs Right

.254
185
25
199
28
2023

vs Left

.351
12
10
20
4
2023

vs Right

.286
20
1
22
1
2022

vs Left

.235
65
22
69
11
2022

vs Right

.253
86
10
99
15
2021

vs Left

.225
61
30
52
12
2021

vs Right

.247
79
14
78
12
More Splits

→

View More Split Stats
Home/Away Pitching Splits
ERA
WHIP
IP
K/9
BB/9
Since 2021

Home

3.80
1.16
187.0
8.9
2.0
Since 2021

Away

5.15
1.27
166.0
7.5
2.4
2023

Home

8.27
1.78
16.1
10.5
2.8
2023

Away

7.80
1.60
15.0
7.8
3.6
2022

Home

3.47
1.14
90.2
8.7
1.6
2022

Away

4.36
1.12
86.2
6.5
1.7
2021

Home

3.26
1.05
80.0
8.7
2.4
2021

Away

5.60
1.40
64.1
8.8
3.2
More Splits

→

View More Split Stats
Stat Review
How does Jameson Taillon compare to other starting pitchers?
This section compares his stats with all starting pitcher seasons from the previous three seasons (minimum 120 innings)*. The bar represents the player's percentile rank. For example, if the bar is halfway across, then the player falls into the 50th percentile for that stat and it would be considered average.
* Exit Velocity, Barrels/BBE %, Balls Hit 95+ MPH %, and Spin Rate are benchmarked against 2019 data (min 120 IP).
See here for more exit velocity/barrels stats
plus an explanation of current limitations with that data set.
K/BB

Strikeout to walk ratio.

K/9

Average strikeouts per nine innings.

BB/9

Average walks per nine innings.

HR/9

Average home runs allowed per nine innings.

Fastball

Average fastball velocity.

ERA

Earned run average. The average earned runs allowed per nine innings.

WHIP

Walks plus hits per inning pitched.

BABIP

Batting average on balls in play. Measures how many balls in play against a pitcher go for hits.

GB/FB

Groundball to flyball ratio. The higher the number, the more likely a pitcher is to induce groundballs.

Left On Base

The percentage of base runners that a pitcher strands on base over the course of a season.

Exit Velocity

The speed of the baseball as it comes off the bat, immediately after a batter makes contact.

Barrels/BBE

The percentage of batted ball events resulting in a Barrel. A Barrel is a batted ball with similar exit velocity and launch angle to past ones that led to a minimum .500 batting average and 1.500 slugging percentage.

Spin Rate

Spin Rate is the rate of spin on a baseball after it is released. It is measured in revolutions per minute (rpm).

Balls Hit 95+ MPH

The percentage of batted balls hit that met or exceeded the 95 MPH threshold.

Swinging Strike

The percentage of pitches that result in a swing and a miss.
Advanced Pitching Stats
Loading Advanced Pitching Stats...
Loading MLB Defensive Stats...
Our full team depth charts are reserved for RotoWire subscribers.
Subscribe Now
Recent RotoWire Articles Featuring Jameson Taillon
See More
Past Fantasy Outlooks
2022
2021
2020
2019
2018
2017
2016
2015
2014
2013
2012
2011
Taillon was a mystery heading into the season. He underwent Tommy John surgery in 2019 and opted out of the truncated campaign, but he was able to rehab at the Pirates alternate site. Pittsburgh dealt Taillon to the Yankees in the offseason, and he broke camp in the rotation. With only 37.1 innings on his ledger since 2019, Taillon compiled 144.1 frames, posting a career high 23.2% K%. Taillon's normal 50% groundball rate dropped to 33%, resulting in a career worst 1.50 HR/9. Even battling gopheritis, Taillon managed a 4.30 ERA, which was encouraging considering the long layoff and league change. Taillon was shelved for three weeks down the stretch with a right ankle tendon injury, requiring surgery after the season. He made a start early in spring training, and it appears he'll be ready by Opening Day. The injury and 2021's bloated ERA presents a buying opportunity as Taillon is likely to revert to his groundball ways, reducing homers.
Taillon's career should become a movie if he comes out on the other side of everything with a success story. In the past six years, he has gone through two Tommy John surgeries as well as a bout of testicular cancer. He has spent more time in rehab than on the pitching mound, and 2020 was no different. Taillon had his second TJS in mid-August of 2019, so pitching in 2020 was never really on the table for him anyhow. In between injuries, he has pitched well to the Pittsburgh pitching script and still gets his strikeouts while being stingy with walks. He added a new slider in 2018, and was throwing it as his primary pitch before is elbow gave out again in the summer of 2019. Most pitchers do not return to their previous form until two years post-surgery, so expect some bumps in the road with Taillon, especially early on. Look at Chris Bassitt in 2019 -- first half vs. second half -- if you want a roadmap.
If you are reading this for research in a redraft league, you may stop now. If you are in a keeper league or dynasty league, you may still want to move on. Taillon had his second Tommy John surgery on Aug. 14, 2019 and it has already been said that he will not pitch in 2020. The list of pitchers making successful comebacks to consistent productivity after two TJ surgeries is quite small. Nathan Eovaldi and Daniel Hudson are the two most recent examples, but even Eovaldi's success was one year before he fell back into the dumps last season. Taillon will return as a 29-year-old in 2021, and may see his future in the bullpen.
After he showed signs of a breakout in 2017, everything came together for Taillon in 2018. The only thing keeping him from the elite is a strikeout rate a little low for a fantasy ace. That said, last season his SwStr% improved to 10.7 after sitting at 8.2 the previous year. His K% rose only 1.5 points to 22.8, but if he maintains last year's swinging-strike mark, his whiff total could increase a bit. Taillon cut his walk rate down to a stingy 5.9%. He added a slider to his arsenal, which was most effective as a swing-and-miss pitch versus righties. Honing sequencing could help sync up Taillon's K% and SwStr%. He's reducing his changeup usage, which is good as it's his worst pitch. It's rare a pitcher possesses the combination of durability and a solid floor with the potential for another level. This could be your last chance to roster Taillon at a non-ace price.
After what Taillon went through last summer, it feels unfair to be critical of his season. Fortunately, despite an unsightly 4.44 ERA and 1.48 WHIP, there are lot of positives. On May 8, Taillon was sporting a 3.31 ERA and 1.33 WHIP when he was treated for testicular cancer. After returning on June 12, his ratios soared to 4.85 and 1.54 the rest of the way. A 3.48 xFIP and 3.89 FIP suggest Taillon incurred some bad luck on the field, not just off it. The culprit was a .352 BABIP, from a high line drive rate. His 21.3 percent strikeout rate was on par with his career mark, though a 7.8 percent walk rate was a little high. A 47.3 percent groundball rate helped him allow only 11 homers in 133.2 innings. Expecting a BABIP regression is reasonable, though it still should be a little high as a groundball pitcher. If the market penalizes him for last season, take advantage.
Taillon made an impressive major league debut for anyone in 2016, let alone a pitcher coming off Tommy John surgery. The 25-year-old right-hander hadn't pitched at any level since 2013 thanks to a plethora of injuries and ailments. He stayed healthy in 2016 and showed why Pittsburgh drafted him with the second pick in the 2010 draft, ahead of Manny Machado. Taillon began the campaign with Triple-A Indianapolis, crafting a 2.04 ERA and a stunning 61:6 K:BB in 61.2 innings covering 10 starts, and never looked back after debuting with the Pirates in early June. He perfected a two-seam fastball in spring training and used that 94.2 mph weapon 39.7 percent of the time - as it was particularly effective against left-handed batters. Perhaps most impressively, he posted a 85:17 K:BB as a rookie and registered a 3.38 ERA and 1.12 WHIP in 104 innings. Armed with a 12-to-6 curveball and pinpoint accuracy, Taillon just needs to stay healthy to stake his claim as Pittsburgh's ace in 2017.
Taillon will attempt to come back from the Tommy John surgery he underwent last April and hernia surgery last July. The right-hander completed fall instructs healthy and is expected to be ready for spring training. He'll start 2016 pitching for Triple-A Indianapolis with a shot at a midseason promotion, but remember that Taillon has only tossed 384 innings since his 2010 draft date and has yet to dominate any level. Pittsburgh would gladly welcome Taillon — who has swing-and-miss stuff — as a fourth or fifth starter, but fantasy owners might want to temper expectations.
Taillon, the second overall pick in the 2010 first-year player draft, underwent Tommy John surgery in April of 2013. He was expected to serve as a midseason Super 2 callup in the order of Gerrit Cole but instead faced the long 12-to-18 month rehab process. Pittsburgh will take a conservative approach with its top pitching prospect in 2015. Taillon has thrown just 382 innings in parts of three minor league seasons, including only 37 at Triple-A. The righty has yet to dominate at any level for an extended period of time and the Pirates will almost certainly give him substantial Triple-A time before a possible big-league promotion. Taillon remains a prized keeper league property, one which fantasy owners need to keep a close eye on throughout his rehab process.
The second overall pick in the 2010 draft, Taillon gave a glimpse of his potential in the WBC, striking out David Wright and Ryan Braun in four innings of one-run ball for Team Canada. He spent most of 2013 with Double-A Altoona and posted an uninspiring 4-7 record with a 3.67 ERA and 1.34 WHIP, but a 106:36 K:BB ratio in 110.1 innings highlighted his elite prospect status. Pittsburgh then promoted the 22-year-old to Triple-A in August, where he registered a 3.89 ERA, 1.37 WHIP and 37:16 K:BB ratio while limiting batters to a .218 batting average. Pirates GM Neal Huntington expects Taillon to open with Triple-A Indianapolis in 2014, but once the organization is satisfied that Taillon's changeup is as effective as his plus fastball and curve, he will make his major-league debut.
Taillon persevered through an up-and-down Low-A season in 2012 well enough to earn a late promotion to Double-A. The hard-throwing righty compiled a 3.82 ERA and 1.17 WHIP in 125 innings for Bradenton, including a 98:37 K:BB ratio. In three Altoona starts, Taillon limited opponents to three runs in 17 frames with 18 strikeouts and one walk. His potential is tremendous. It's easy to forget that Taillon went straight from high school to the minor leagues, but he's still learning on the fly. He's far from a finished product but has the stuff to be a staff ace. The 21-year-old will likely begin 2013 in Altoona. Pittsburgh remains conservative with its promotions, but it's possible Taillon could see his first major league action in September.
Taillon's numbers might not reflect his effectiveness because the organization instructed him to command his fastball at the risk of whiffing hitters with breaking balls. Once the Bucs are comfortable with his control, the kid gloves will come off and his repertoire will be in full effect. Taillon pitched well in his professional debut for Low-A West Virginia, compiling a 3.98 ERA and 1.215 WHIP in 92.2 innings. More impressively, he put up a 97:22 K:BB ratio. Taillon will test his stuff at High-A Bradenton with a possible promotion to Double-A Altoona by summer's end. He's a cerebral pitcher who might be overshadowed by 2011 No. 1 pick, Gerrit Cole, but his future appears extremely bright. He could be pushing for a spot in Pittsburgh's rotation by 2013.
It's not likely the No. 2 overall pick in the 2010 draft will be pitching in the big leagues for at least two or three years, but dynasty owners will want to consider adding him right away. Taillon comes out of high school with a fastball that sits around 94 mph and sometimes hits the high-90s. His ceiling is thought to be higher than any other hurler in last summer's draft, though time will tell. The Pirates are expected to start him out at Low-A West Virginia in 2011. Since he didn't sign until deadline day, the 6-foot-6 righty never pitched in the Bucs' organization, though he did take part in the Florida Instructional League. Taillon has drawn comparisons to Josh Beckett. Pittsburgh hasn't developed a front-line starter for many years but is hoping Taillon finally fits the bill.
More Fantasy News