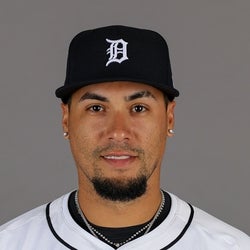 Rest-of-Season Projections
2023 Fantasy Outlook
Everyone remembers the infamous ceremonial first pitch by 50-Cent years ago, yes? Baez absolutely would have swung at that pitch in 2022. The first year Tiger led the league with a 49% out of zone swing rate last season chasing anything and everything thrown toward home plate and only Luke Voit had a worse swinging strike rate baseball last season. Perhaps the pressures of a big free agent in a new home fell upon him as this was easily the worst season of his career as he struggled to adjust to the spaciousness of Comerica Park after so many years in the Friendly Comfines in Chicago as he hit .220 with 7 homers at home compared to .253 with 10 homers on the road this past season. Despite his lack of selectiveness, he did surprisingly well with runners in scoring position hitting .296 with a .496 slugging percentage which allowed him to drive in 47 of his 67 RBIs on the season.However, a .212 average with a .260 OBP with the bases empty, which they often were in Detroit, impacted his abilities to score runs and steal bases. The second year rebound many free agents have seen should come into play here with Baez as he reduces his impulse to swing his way out of his struggles. He has never been the most disciplined hitter, but 2022 was as bad as we have ever seen from him and not the new reality.
Read Past Outlooks
$Signed a six-year, $140 million contract with the Tigers in November of 2021.

Baez went 2-for-4 with a triple in Friday's 3-0 loss to the White Sox.
ANALYSIS
The Tigers had only six hits as a team and just two extra-base hits. It was a good effort all the same for Baez, who has struggled to get going this season. The shortstop has a .565 OPS over his last 10 games and just a .599 OPS for the year, which is well below his career .757 mark. He could still get hot at some point, but fantasy managers can't be blamed for turning to other middle infield options.
Read More News
Batting Stats
2023
2022
2021
2020
2019
2018
2017
2023 MLB Game Log

Calculate Stats Over Time
Just click on any two dates.
Scoring
FanDuel
DraftKings
Yahoo DFS
Loading Batting Game Log...
2022 MLB Game Log

Calculate Stats Over Time
Just click on any two dates.
Scoring
FanDuel
DraftKings
Yahoo DFS
Loading Batting Game Log...
2021 MLB Game Log

Calculate Stats Over Time
Just click on any two dates.
Scoring
FanDuel
DraftKings
Yahoo DFS
Loading Batting Game Log...
2020 MLB Game Log

Calculate Stats Over Time
Just click on any two dates.
Scoring
FanDuel
DraftKings
Yahoo DFS
Loading Batting Game Log...
2019 MLB Game Log

Calculate Stats Over Time
Just click on any two dates.
Scoring
FanDuel
DraftKings
Yahoo DFS
Loading Batting Game Log...
2018 MLB Game Log

Calculate Stats Over Time
Just click on any two dates.
Scoring
FanDuel
DraftKings
Yahoo DFS
Loading Batting Game Log...
2017 MLB Game Log

Calculate Stats Over Time
Just click on any two dates.
Scoring
FanDuel
DraftKings
Yahoo DFS
Loading Batting Game Log...
Minor League Game Log

Calculate Stats Over Time
Just click on any two dates.
Loading Minor League Batting Game Log...
Batting Order Slot Breakdown
#1
#2
#3
#4
#5
#6
#7
#8
#9
#1
#2
#3
#4
#5
#6
#7
#8
#9
Left/Right Batting Splits
OPS
PA
HR
RBI
AVG
Since 2021

vs Left

.847
339
16
49
.285
Since 2021

vs Right

.670
1019
35
132
.234
2023

vs Left

.664
51
2
4
.217
2023

vs Right

.566
171
1
23
.228
2022

vs Left

.834
144
5
24
.301
2022

vs Right

.618
446
12
43
.217
2021

vs Left

.926
144
9
21
.291
2021

vs Right

.773
402
22
66
.256
More Splits

→

View More Split Stats
Home/Away Batting Splits
OPS
PA
HR
RBI
AVG
Since 2021

Home

.696
651
28
91
.238
Since 2021

Away

.730
707
23
90
.255
2023

Home

.564
108
2
18
.216
2023

Away

.610
114
1
9
.236
2022

Home

.603
275
7
26
.220
2022

Away

.729
315
10
41
.253
2021

Home

.845
268
19
47
.266
2021

Away

.781
278
12
40
.264
More Splits

→

View More Split Stats
Stat Review
How does Javier Baez compare to other hitters?
This section compares his stats with all batting seasons from the previous three seasons (minimum 400 plate appearances)*. The bar represents the player's percentile rank. For example, if the bar is halfway across, then the player falls into the 50th percentile for that stat and it would be considered average.
* Exit Velocity and Barrels/PA % are benchmarked against 2019 data (min 400 PA) and Hard Hit Rate is benchmarked against last season's data (min 400 PA).
See here for more exit velocity/barrels stats
plus an explanation of current limitations with that data set.
BB/K

Walk to strikeout ratio

BB Rate

The percentage of plate appearances resulting in a walk.

K Rate

The percentage of plate appearances resulting in a strikeout.

BABIP

Batting average on balls in play. Measures how many of a batter's balls in play go for hits.

ISO

Isolated Power. Slugging percentage minus batting average. A computation used to measure a batter's raw power.

AVG

Batting average. Hits divided by at bats.

OBP

On Base Percentage. A measure of how often a batters reaches base. Roughly equal to number of times on base divided by plate appearances.

SLG

Slugging Percentage. A measure of the batting productivity of a hitter. It is calculated as total bases divided by at bats.

OPS

On base plus slugging. THe sum of a batter's on-base percentage and slugging percentage.

wOBA

Weighted on-base average. Measures a player's overall offensive contributions per plate appearance. wOBA combines all the different aspects of hitting into one metric, weighting each of them in proportion to their actual run value.

Exit Velocity

The speed of the baseball as it comes off the bat, immediately after a batter makes contact.

Hard Hit Rate

A measure of contact quality from Sports Info Solutions. This stat explains what percentage of batted balls were hit hard vs. medium or soft.

Barrels/PA

The percentage of plate appearances where a batter had a batted ball classified as a Barrel. A Barrel is a batted ball with similar exit velocity and launch angle to past ones that led to a minimum .500 batting average and 1.500 slugging percentage.

Expected BA

Expected Batting Average.

Expected SLG

Expected Slugging Percentage.

Sprint Speed

The speed of a runner from home to first, in feet per second.

Ground Ball %

The percentage of balls put in play that are on the ground.

Line Drive %

The percentage of balls put in play that are line drives.

Fly Ball %

The percentage of balls put in play that are fly balls.
Advanced Batting Stats
Loading Advanced Batting Stats...
Games By Position
Defensive Stats
Loading Games Played by Position...
Loading MLB Defensive Stats...
Batted Ball Stats
Loading Batted Ball Stats...
Stats Vs Upcoming Pitchers
Our full team depth charts are reserved for RotoWire subscribers.
Subscribe Now
Recent RotoWire Articles Featuring Javier Baez
See More
Past Fantasy Outlooks
2022
2021
2020
2019
2018
2017
2016
2015
2014
2013
2012
Baez's skill set is prone to volatility in small samples, and we saw that in 2020 with the middle infielder bottoming out at .203/.238/.360 in the abbreviated campaign. He is not particularly interested in taking a walk (career 4.8 BB%) and Baez can safely be described as a free swinger (career 29.3 K%). He rebounded in 2021, particularly after a deadline move to the Mets, although there were the usual peaks and valleys. The Tigers decided Baez's volatility and low-OBPs ways could be forgiven and brought the shortstop in on a six-year, $140 million deal to spearhead the rebuild. Baez played enough at second base opposite Francisco Lindor following the move to New York to retain multi-position eligibility in 2022, and both Baez and manager A.J. Hinch showed a willingness to run last season. Baez is less palatable in OBP leagues, but standard roto players should be happy to add Baez as a fourth- or fifth-round building block.
With poor plate skills, Baez has always had detractors, but even his staunchest naysayers couldn't have envisioned the depths to which he sunk last year. His already poor walk and strikeout rates worsened. He was always able to compensate with a high BABIP, but a drop in average exit velocity, hard-hit rate and barrels torpedoed his 2020 mark over 80 points from recent seasons. The result was Mario Mendoza with a bit of pop. Baez's hit distribution was along his career lines; he just didn't hit the ball with his usual authority. There's no telling how much of Baez's struggles were a sample-size anomaly or due to the unique conditions last summer. An extended track record of success, even with deficiencies, is more reliable than two months in trying conditions. Baez's draft cost will no doubt reflect the poor season, but that paves the way for a significant return on investment for those less risk-averse.
Baez is an established star in MLB; he is a two-time All-Star and was the NL MVP runner-up in 2018. But is he a good second- or third-round fantasy draft pick in 2020? He missed most of September with a left thumb injury and was not a top-40 fantasy hitter in 2019. His K-rate ticked back up to 27.8%, which was the eighth-worst mark among qualified hitters. Baez has shown he can hit for a good-to-great average even with his swing-and-miss issues, as he's never hit below .273 in a full season, but there's always a chance the variance pendulum swings to the other side and we get a sub-.260 season. It's important to note that his efficiency on the basepaths took a hit, with Baez going 11-for-18 on SB attempts (61%) after going 21-for-30 in 2018 (70%). There's no doubt he'll play every day, but there are safer and arguably better options in his price range.
It may have been tough to envision Baez having an MVP-caliber campaign in 2018, but that's exactly what occurred, as he made major strides in the contact department and finished among the best hitters in fantasy baseball. Mainly a super utility player before last year, Baez played in 160 games and piled up a career-high 606 at-bats. The added opportunities helped him set career bests in every category. His patience actually got worse (5.9 BB% to 4.5 BB%), but he still got to his prodigious power with ease, increasing his extra-base hit total from 49 to 83 while leading the NL in RBI. He was one of five players to hit .290 with 30-plus HR and 20-plus SB. Manager Joe Maddon likes shuffling his infielders, so Baez may not have a regular home on the diamond again in 2019. However, if Addison Russell struggles again, Baez should once again retain eligibility at shortstop in addition to second base. He figures to hold down a regular spot in the middle of the order.
Baez took another step forward at the plate last season, setting new career-highs in homers (23), runs (75), RBI (75) and slugging percentage (.480) while topping 500 plate appearances for the first time in his big-league career. The knock on him has always been the volume of swing-and-miss in his game, and while that remained an issue in 2017 (28.3 strikeout percentage), he showed a more discerning eye and drew walks at 5.9 percent clip. In order to take another step forward at the plate, Baez needs to improve his swinging-strike rate after he ranked second among qualified MLB hitters (19.2 percent) in 2017. Defensively, he's an above-average option at both middle-infield spots, and he spent more time than usual at shortstop last season while Addison Russell was on the shelf due to injury. A slight drop in playing time could occur in 2018 if Russell is healthy, leaving Baez to start regularly against lefties and part-time against righties as the Cubs mix and match at the keystone.
Baez became a fixture in the Cubs' lineup in 2016, showing an improved eye (career-low 24.0 percent strikeout rate) and punishing left-handed pitching at a .311/.375/.475 clip. Thanks to his excellent defensive work, Baez emerged as a regular against righties, and while his .258/.288/.401 split line leaves plenty of room for improvement, he dropped his strikeout rate (v. RHP) from 31.7 percent in 2015 to 26.4 percent last season. Still only 24 years old, Baez has the tools necessary to become an elite offensive contributor in the middle infield. Although he struggled during the World Series, Baez's performance in the NLCS garnered MVP honors in that series, and his home run in Game 1 of the NLDS against the Giants helped spark the team's run to its first World Series title since 1908. With further improvement to his plate discipline, Baez could approach 20 homers and 20 steals in 2017, even if he's technically in a utility role to open the season.
After hitting an embarrassing .169 with 95 strikeouts in 213 at-bats in his first major league season in 2014, it wasn't shocking that Baez started 2015 in the minors. While his 76:21 K:BB in 281 at-bats with Triple-A Iowa was no great shakes, it was an improvement over what he showed in 2014. More importantly, management felt he was ready for a return engagement in the majors, and he played nearly every day over the last month of the season. Strangely, the power-hitting infielder hit just one home run in 76 at-bats with the Cubs (though he had one more in the postseason), but he batted .289 and played all over the infield. Starlin Castro is out of the picture, but the Cubs signed Ben Zobrist to anchor the top of the lineup, so Baez's outlook remains cloudy. That said, he is too talented not to be valued as a strong middle-infield option in drafts, though owners will need to be patient as the playing time sorts itself out.
Baez struggled in his two-month stint with the Cubs in 2014, hitting just .169 with a whopping 95 strikeouts in 213 at-bats, but he's still the frontrunner to win the job at second base this spring. Baez blasted seven home runs in his first 19 games with the Cubs, but he only hit two more in his next 33 games. Still, with 69 home runs and 41 stolen bases in the last two years, the 22-year-old Baez has the potential to be a special big leaguer - provided that he can get his bat on the ball. With Starlin Castro at short, Baez at second, and Addison Russell waiting in the wings, the Cubs have an embarrassment of riches in the middle infield, and that doesn't even include Arismendy Alcantara, who can play multiple positions. The Cubs optioned Baez to Triple-A Iowa in March, as he struggled to improve his approach during Cactus League play. If he rakes upon returning to the PCL, Baez could quickly push his way back into the starting job at second base for the Cubs.
Although there are a lot of good contenders for the honor, Baez is the brightest jewel in the Cubs' minor league system. After mastering High-A Daytona with 17 home runs in 299 at-bats, he was even better with Double-A Tennessee, finishing with 20 home runs and 54 RBI in just 218 at-bats. Oh, and he totaled 20 stolen bases at the two levels for good measure. The 2011 first-rounder is just 21, but he already appears to be ready for the majors – aside from that unpleasant 40:147 BB:K ratio last year – and with Starlin Castro struggling to hit at the big-league level, Baez could be pushing the incumbent shortstop as early as this season.
The ninth overall pick in the 2011 first-year player draft, Baez broke out in 213 Low-A at-bats with a .333/.383/.596 line. He also stole 20 bases and was caught only three times. The 19-year-old (he turned 20 on December 1) didn't fare as well at High-A, with a .644 OPS in 80 at-bats, and he drew only 14 walks in 293 combined at-bats at both levels. He also missed much of the Arizona Fall League with a broken thumb. Nonetheless, he's expected to be ready for spring training and should move through the team's system quickly. Because Starlin Castro is entrenched at shortstop, Baez might have to slide over to third base (something with which the team experimented in the AFL before he got hurt). But the team still prefers Baez as a shortstop, so it's a problem they'll have to work out when he gets to the majors, probably in 2014.
The ninth overall pick in last year's draft, Baez projects as a power-hitting infielder who can steal a base and hit for average. With Starlin Castro presumably having the shortstop position locked down in Chicago for years to come, Baez is likely to shift over to third base. Expect the 19-year-old to get a taste of Low-A this year and move through the team's system rapidly if he's up to the task.
More Fantasy News