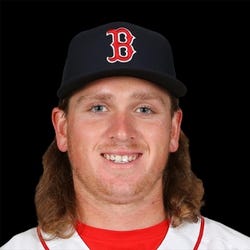 Rest-of-Season Projections
2023 Fantasy Outlook
Groome has thus far been unable to meet the lofty expectations that come with being the 12th overall pick in the 2016 MLB Draft. He was at least healthy last season, logging a professional-high 144 innings between Double-A and Triple-A. That's almost as much as he compiled over the previous six years combined, as his 2018 campaign was wiped out by Tommy John surgery and 2020 was a loss due to Covid-19. Groome's 2022 surface numbers (a 3.44 ERA and 1.33 WHIP) aren't exactly eye-opening, and they came with a paltry 8.8 K/9 -- the first time as a pro he's failed to reach a strikeout per inning. A drop in velocity is largely to blame, as Groome's fastball now typically sits in the 89-92 mph range rather than in the mid-90s as was the case before the TJ surgery. A trade to San Diego will give the lefty a bit of a clean slate, but it's hard to envision him as more than a back-end starter given the diminished velocity and lack of a true plus-pitch.
Read Past Outlooks
$Signed a one-year contract with the Padres in March of 2023.

Groome was
optioned
to Triple-A El Paso by the Padres on Monday.
ANALYSIS
Groome showed some flashes of brilliance in Arizona during the Cactus League with a 1.29 ERA, but he also registered a 13:10 K:BB, which showed that the command still has some work to be done. The 2016 first-round pick could be an option for San Diego before the end of the year.
Read More News
Pitching Stats
Loading Pitching Stats...
Minor League Game Log

Calculate Stats Over Time
Just click on any two dates.
Loading Minor League Pitching Game Log...
Prospect Rankings History
Advanced Pitching Stats
Loading Advanced Pitching Stats...
Loading MLB Defensive Stats...
Our full team depth charts are reserved for RotoWire subscribers.
Subscribe Now
Recent RotoWire Articles Featuring Jay Groome
See More
Past Fantasy Outlooks
Groome is a high-pedigree prospect, drafted 12th overall in the 2016 draft. He signed for $3.65 million -- a franchise record for a drafted pitcher-- thanks to a combination of physical traits and unusual polish for a high-school prospect. At 6-foot-6 and 220 pounds, there's no doubt that Groome has the size to make it as a starter at the big-league level. However, the southpaw has been slow to develop, mostly because he dealt with back and forearm problems before ultimately being forced to undergo Tommy John surgery in the spring of 2018. Injuries combined with the lost 2020 campaign have limited Groome to no more than 55 innings in a single season and only 66 total frames in organized ball since being drafted. Now 22, Groome was added to the 40-man roster this offseason, though he's still likely at least a year away from the big leagues as he looks to refine his repertoire and control.
He only posted a 6.70 ERA in 44.1 innings (he missed 10 weeks with a lat injury) in the Sally League, but there are scouts who covered the league who say Groome was the best pitcher they saw all season. At his best he features a mid-90s fastball and one of the best curveballs in the minors. He has struggled with his command and his changeup is still a work in progress. However, as a lefty with excellent size (6-foot-6, 220 pounds) and a couple monster pitches, his dynasty-league owners would be wise to exercise patience. His father was arrested on gun and drug charges in mid July, and Groome proceeded to post a 9.00 ERA over the following four starts, so it's possible that he was distracted over that stretch. Without a strong support system from his family, there is an extra level of risk with Groome that is not present with most high-end pitching prospects. He ended the year on the shelf with a forearm strain, so staying healthy and building up his innings will be imperative in 2018.
Groome was selected out of Barnegat Township (N.J.) with the 12th overall pick in the 2016 draft. Some evaluators felt the left-hander was the top talent in the draft, but questions about his makeup cropped up during his senior year of high school, precipitating a draft-day slide. The Red Sox were happy to land the 6-foot-6, 220-pound Groome, whose easy delivery and preternatural curve give him a good base from which to build something special -- a potential No. 2 starter with the stuff to overshoot that projection. The fastball sits in the 93-95 mph range, topping out at 97, and could achieve greater velocity as he adds weight. At 18 years old, he already owns of one of the best curveballs in the minors, and along with his fastball he could bring two 70-grade pitches to the table as he moves up the ladder. He will work on refining his third pitch (a changeup) in the coming season. His command, which wavered during his outings in the Gulf Coast League and the one appearance at short-season Lowell, will also need to improve.
More Fantasy News