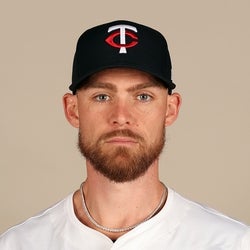 Rest-of-Season Projections
2023 Fantasy Outlook
Staumont got the Royals first two saves of 2022, but he only finished with three all season as control woes and injuries quickly put an end to a promising looking start. While the right-hander's 96 mph fastball was excellent, his secondary offerings were crushed, as opposing batters teed off on his curveball and sinker. After improving his control in 2021, his walk rate jumped 6.3 percentage points last season to 16.5%, which would have been one of the worst rates among relievers if he pitched enough innings to qualify. It doesn't help that his first-pitch strike percentage (54%) keeps trending in the wrong direction. A neck strain and biceps tendinitis required two separate trips to the IL and limited Staumont to just 37.2 innings. There's some upside here, especially if Staumont gets his curve back on track, but are you willing to bet on someone with a career 1.37 WHIP?
Read Past Outlooks
#

Overall
$Signed a one-year, $1.03 million contract with the Royals in January of 2023.

Serving as Monday's opener
ANALYSIS
Staumont struggled in Friday's appearance against the Nationals, allowing four runs on three hits and two walks while striking out one in one inning. He's served exclusively as a reliever in the majors but will begin Monday's game on the mound, while
Mike Mayers
expects to serve as the primary pitcher.
Read More News
Pitching Stats
Loading Pitching Stats...
2023 MLB Game Log

Calculate Stats Over Time
Just click on any two dates.
Scoring
FanDuel
DraftKings
Yahoo DFS
Loading Pitching Game Log...
2022 MLB Game Log

Calculate Stats Over Time
Just click on any two dates.
Scoring
FanDuel
DraftKings
Yahoo DFS
Loading Pitching Game Log...
2021 MLB Game Log

Calculate Stats Over Time
Just click on any two dates.
Scoring
FanDuel
DraftKings
Yahoo DFS
Loading Pitching Game Log...
2020 MLB Game Log

Calculate Stats Over Time
Just click on any two dates.
Scoring
FanDuel
DraftKings
Yahoo DFS
Loading Pitching Game Log...
2019 MLB Game Log

Calculate Stats Over Time
Just click on any two dates.
Scoring
FanDuel
DraftKings
Yahoo DFS
Loading Pitching Game Log...
Minor League Game Log

Calculate Stats Over Time
Just click on any two dates.
Loading Minor League Pitching Game Log...
Pitching Appearances Breakdown
How many pitches does Josh Staumont generally throw?
What part of the game does Josh Staumont generally pitch?
% Games Reaching Innings Threshold
% Games By Number of Innings Pitched
Left/Right Pitching Splits
BAA
K
BB
H
HR
Since 2021

vs Left

.234
59
32
45
3
Since 2021

vs Right

.198
80
37
51
7
2023

vs Left

.219
10
3
7
0
2023

vs Right

.220
14
10
9
1
2022

vs Left

.281
21
15
18
1
2022

vs Right

.247
22
14
19
2
2021

vs Left

.208
28
14
20
2
2021

vs Right

.165
44
13
23
4
More Splits

→

View More Split Stats
Home/Away Pitching Splits
ERA
WHIP
IP
K/9
BB/9
Since 2021

Home

5.14
1.35
63.0
9.4
4.9
Since 2021

Away

3.58
1.33
60.1
10.9
5.2
2023

Home

6.52
1.66
9.2
7.4
8.4
2023

Away

4.35
1.26
10.1
13.9
3.5
2022

Home

7.84
1.74
20.2
10.5
6.5
2022

Away

4.76
1.76
17.0
10.1
7.4
2021

Home

3.03
1.01
32.2
9.4
2.8
2021

Away

2.73
1.12
33.0
10.4
4.6
More Splits

→

View More Split Stats
Stat Review
How does Josh Staumont compare to other relievers?
This section compares his stats with all relief pitcher seasons from the previous three seasons (minimum 30 innings)*. The bar represents the player's percentile rank. For example, if the bar is halfway across, then the player falls into the 50th percentile for that stat and it would be considered average.
* Exit Velocity, Barrels/BBE %, Balls Hit 95+ MPH %, and Spin Rate are benchmarked against 2019 data (min 30 IP).
See here for more exit velocity/barrels stats
plus an explanation of current limitations with that data set.
K/BB

Strikeout to walk ratio.

K/9

Average strikeouts per nine innings.

BB/9

Average walks per nine innings.

HR/9

Average home runs allowed per nine innings.

Fastball

Average fastball velocity.

ERA

Earned run average. The average earned runs allowed per nine innings.

WHIP

Walks plus hits per inning pitched.

BABIP

Batting average on balls in play. Measures how many balls in play against a pitcher go for hits.

GB/FB

Groundball to flyball ratio. The higher the number, the more likely a pitcher is to induce groundballs.

Left On Base

The percentage of base runners that a pitcher strands on base over the course of a season.

Exit Velocity

The speed of the baseball as it comes off the bat, immediately after a batter makes contact.

Barrels/BBE

The percentage of batted ball events resulting in a Barrel. A Barrel is a batted ball with similar exit velocity and launch angle to past ones that led to a minimum .500 batting average and 1.500 slugging percentage.

Spin Rate

Spin Rate is the rate of spin on a baseball after it is released. It is measured in revolutions per minute (rpm).

Balls Hit 95+ MPH

The percentage of batted balls hit that met or exceeded the 95 MPH threshold.

Swinging Strike

The percentage of pitches that result in a swing and a miss.
Prospect Rankings History
Advanced Pitching Stats
Loading Advanced Pitching Stats...
Loading MLB Defensive Stats...
Our full team depth charts are reserved for RotoWire subscribers.
Subscribe Now
Recent RotoWire Articles Featuring Josh Staumont
See More
Past Fantasy Outlooks
Staumont had his most successful season to date, going 4-3 with five saves and 16 holds for Kansas City over a career-high 64 appearances. The right-hander finished with a 2.88 ERA (3.89 xERA) and career-best 1.07 WHIP over 65.2 innings. Staumont's control woes persisted, but his 10.2% walk rate was his best yet and a huge improvement over last year's 14.3% clip. He was far less hittable (5.9 H/9) than years past, but continued to give up plenty of hard contact when batters did connect. Ultimately, Staumont ran hot and cold throughout the season, opening 2021 with a 0.68 ERA in April before struggling for a two-month stretch (5.09 ERA) prior to the All-Star break. He finished the year strong, however, recording a 1.93 ERA over the final three months. Royals manager Mike Matheny likes to be fluid with his bullpen usage, so Staumont should continue to receive a mix of saves and holds in his high-leverage role.
Staumont made 23 relief appearances last season, allowing earned runs in three outings on the way to a 2.45 ERA. However, his WHIP was 1.40 due to a generous 14.3 BB%. Staumont avoided more damage via a 33.0 K%, fueled by a fastball averaging 98.4 mph, touching triple-digits. Staumont was also lucky, allowing just two homers in 25 innings despite a low 28.6% groundball rate. His 4.71 xFIP reflects this good fortune. Still just 27 years old, Staumont wouldn't be the first to fix control woes at this point of his career, and in fact took a step in the right direction despite his high BB%, throwing 63.3% strikes last season compared to 60.4% in 2019. The Royals re-signed Greg Holland, but they could trade Holland at some point, or he could pitch his way out of the ninth. If that happens, Staumont will be among the top candidates to step in. He certainly has a closer arsenal.
A second-round pick in 2015, Staumont reached the majors last season and finished with a 3.72 ERA in 16 appearances. The estimators say he deserved an ERA closer to 6.00. While Staumont has always had good stuff -- a fastball that averages 96 mph and a swing-and-miss curveball -- he has absolutely no idea where those pitches are going. The right-hander walked the ballpark in the minors, never once posting a walk rate below 15% on the farm. He had his lowest walk rate ever last season after reaching the majors, but 11.4% is still poor, especially when it comes with a modest 17.1 K% and 1.86 HR/9. There is more of a strikeout punch here than he showed in his debut, but Staumont will likely always be a WHIP liability given his control issues. If he's all over the place in the spring, the Royals could send Staumont back down to begin the 2020 campaign.
Staumont didn't get his first big-league callup in 2018, but his numbers for Triple-A Omaha dramatically improved, as he cut his ERA from 6.28 to 3.51. He was helped by a move to the bullpen. Such a move makes sense for a pitcher with control problems as severe as Staumont's -- his ugly 15.8% walk rate last season was actually tied for the lowest he's put up at any stop thus far in his professional career. Despite his problems finding the strike zone, he still has some potential thanks to a strong 31.3% strikeout rate. Like most rebuilding teams, the Royals are short on established arms at the back of their bullpen, and it's possible Staumont is given a chance at some point this year, though it would be a surprise to see him jump into the closer role.
Staumont has an 80-grade fastball, a plus curveball, shaky command, and no reliable third pitch. He could probably skip Triple-A and thrive in the Royals' bullpen for all of 2017, as his stuff is that good. However, the move to a full-time relief role should be put on hold for at least another year, given how tantalizing his tools are. In addition to having two monster pitches, he has a starter's body and is entering his age-23 season while already having 50.1 innings at Double-A under his belt. If his changeup can become at all serviceable and he can develop fringe-average command, Staumont could be a No. 2 starter. He showed some encouraging signs down the stretch, posting a 1.84 ERA and 49:10 K:BB in 29.1 innings over his final five starts -- two of which came in the Texas League playoffs.
More Fantasy News