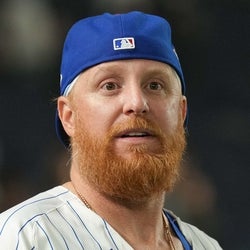 2023 Fantasy Outlook
Turner was on his way to avoiding the IL for the second straight season when he was felled by an abdominal strain just after the break. He played sparingly over the final two weeks after fouling a ball off his left shin. Turner continued to produce at an above-average clip in 2022, posting a 123 wRC+, but his .438 slugging percentage was his lowest since 2013. Turner maintained a high 43.4% fly ball rate, but he posted a low 7.7% HR/FB as his fly ball velocity dropped to its lowest level since 2018. Turner's strikeout and walk rates remained stellar, he's just lost some bat speed in his twilight years. Turner's defense is league average according to defensive runs saved, but his range is decreasing. That shouldn't be much of an immediate concern after he signed with the Red Sox, as he should see most of his time at designated hitter with Rafael Devers locked in at third base. Turner is still a mixed-league asset but be ready to pull the plug if his already waning power is slow to show itself.
Read Past Outlooks
$Signed a one-year, $8.3 million contract with the Red Sox in December of 2022. Contract includes $13.4 million player option ($6.7 million buyout) for 2024. Contract worth an additional $200,000 for 480, 500, 520, 540 and 560 plate appearances reached.

ANALYSIS
Turner is checking back into the Red Sox's starting nine for the first time since taking a pitch to the face in a March 6 game. Fortunately for Turner, he able to avoid any facial fractures, though he sustained a laceration that required several stitches and caused him to pause baseball activities for a few days. He was able to resume activity just over a week ago and made it through batting practice Friday without incident, so the Red Sox will be comfortable easing him back into the lineup in a non-defensive role. Turner is expected to see the majority of his starts out of the DH spot this season so long as
Rafael Devers
is healthy.
Read More News
Batting Stats
2022
2021
2020
2019
2018
2017
2022 MLB Game Log

Calculate Stats Over Time
Just click on any two dates.
Scoring
FanDuel
DraftKings
Yahoo DFS
FantasyDraft
Head2Head
Loading Batting Game Log...
2021 MLB Game Log

Calculate Stats Over Time
Just click on any two dates.
Scoring
FanDuel
DraftKings
Yahoo DFS
FantasyDraft
Head2Head
Loading Batting Game Log...
2020 MLB Game Log

Calculate Stats Over Time
Just click on any two dates.
Scoring
FanDuel
DraftKings
Yahoo DFS
FantasyDraft
Head2Head
Loading Batting Game Log...
2019 MLB Game Log

Calculate Stats Over Time
Just click on any two dates.
Scoring
FanDuel
DraftKings
Yahoo DFS
FantasyDraft
Head2Head
Loading Batting Game Log...
2018 MLB Game Log

Calculate Stats Over Time
Just click on any two dates.
Scoring
FanDuel
DraftKings
Yahoo DFS
FantasyDraft
Head2Head
Loading Batting Game Log...
2017 MLB Game Log

Calculate Stats Over Time
Just click on any two dates.
Scoring
FanDuel
DraftKings
Yahoo DFS
FantasyDraft
Head2Head
Loading Batting Game Log...
Minor League Game Log

Calculate Stats Over Time
Just click on any two dates.
Loading Minor League Batting Game Log...
Batting Order Slot Breakdown
#1
#2
#3
#4
#5
#6
#7
#8
#9
#1
#2
#3
#4
#5
#6
#7
#8
#9
Left/Right Batting Splits
OPS
PA
HR
RBI
AVG
Since 2020

vs Left

.780
381
15
58
.263
Since 2020

vs Right

.832
929
29
133
.288
2022

vs Left

.734
148
3
21
.275
2022

vs Right

.809
384
10
60
.279
2021

vs Left

.818
177
10
30
.258
2021

vs Right

.837
435
17
57
.286
2020

vs Left

.775
56
2
7
.244
2020

vs Right

.894
110
2
16
.330
More Splits

→

View More Split Stats
Home/Away Batting Splits
OPS
PA
HR
RBI
AVG
Since 2020

Home

.857
601
26
96
.290
Since 2020

Away

.771
702
16
93
.271
2022

Home

.864
250
11
44
.296
2022

Away

.716
282
2
37
.260
2021

Home

.811
289
13
40
.270
2021

Away

.851
323
14
47
.285
2020

Home

1.045
62
2
12
.365
2020

Away

.664
97
0
9
.253
More Splits

→

View More Split Stats
Stat Review
How does Justin Turner compare to other hitters?
This section compares his stats with all batting seasons from the previous three seasons (minimum 400 plate appearances)*. The bar represents the player's percentile rank. For example, if the bar is halfway across, then the player falls into the 50th percentile for that stat and it would be considered average.
* Exit Velocity and Barrels/PA % are benchmarked against 2019 data (min 400 PA) and Hard Hit Rate is benchmarked against last season's data (min 400 PA).
See here for more exit velocity/barrels stats
plus an explanation of current limitations with that data set.
BB/K

Walk to strikeout ratio

BB Rate

The percentage of plate appearances resulting in a walk.

K Rate

The percentage of plate appearances resulting in a strikeout.

BABIP

Batting average on balls in play. Measures how many of a batter's balls in play go for hits.

ISO

Isolated Power. Slugging percentage minus batting average. A computation used to measure a batter's raw power.

AVG

Batting average. Hits divided by at bats.

OBP

On Base Percentage. A measure of how often a batters reaches base. Roughly equal to number of times on base divided by plate appearances.

SLG

Slugging Percentage. A measure of the batting productivity of a hitter. It is calculated as total bases divided by at bats.

OPS

On base plus slugging. THe sum of a batter's on-base percentage and slugging percentage.

wOBA

Weighted on-base average. Measures a player's overall offensive contributions per plate appearance. wOBA combines all the different aspects of hitting into one metric, weighting each of them in proportion to their actual run value.

Exit Velocity

The speed of the baseball as it comes off the bat, immediately after a batter makes contact.

Hard Hit Rate

A measure of contact quality from Sports Info Solutions. This stat explains what percentage of batted balls were hit hard vs. medium or soft.

Barrels/PA

The percentage of plate appearances where a batter had a batted ball classified as a Barrel. A Barrel is a batted ball with similar exit velocity and launch angle to past ones that led to a minimum .500 batting average and 1.500 slugging percentage.

Expected BA

Expected Batting Average.

Expected SLG

Expected Slugging Percentage.

Sprint Speed

The speed of a runner from home to first, in feet per second.

Ground Ball %

The percentage of balls put in play that are on the ground.

Line Drive %

The percentage of balls put in play that are line drives.

Fly Ball %

The percentage of balls put in play that are fly balls.
Advanced Batting Stats
Loading Advanced Batting Stats...
Games By Position
Defensive Stats
Loading Games Played by Position...
Loading MLB Defensive Stats...
Batted Ball Stats
Loading Batted Ball Stats...
Stats Vs Upcoming Pitchers
Our full team depth charts are reserved for RotoWire subscribers.
Subscribe Now
Recent RotoWire Articles Featuring Justin Turner
See More
Past Fantasy Outlooks
2022
2021
2020
2019
2018
2017
2016
2015
2014
2013
2012
2011
2010
Turner was able to stay mostly healthy in 2021 and reach his highest plate appearance total since 2016. As a result he was able to provide fantasy managers with useful power and batting average while chipping in a few steals. Everything was in line with previous seasons besides his batting average being dragged down by a 10-year low .292 BABIP. He is slowing down as seen by his lowest time-to-first speed and near-low sprint speed. While he didn't miss much time in 2021, Turner was hitting .304/.391/.512 before knee (July) and groin (August) injuries slowed him down. After returning from the first injury, he hit .237/.314/.408 over the rest of the season. When Turner is healthy, he provides some of the best power and average numbers in the league. The problem is that he's rarely 100% healthy.
His decision to celebrate with his teammates post positive COVID test overshadowed the accomplishment for many, but Turner finally won his championship with Los Angeles. He'd been a big part of the Dodgers' NL dominance before that, anchoring the lineup with six straight seasons with well-above-average batting lines. Turner showed few signs of slowing down in 2020, with his xBA, xSLG and xwOBA all ranking in the top 10% of the league. His strikeout rate was 14.9%, a near match for his 14.6% career mark. Missed time is part of the deal; Turner has appeared in more than 135 games only once in his career, and that was back in 2016. Now 36, Turner should not be expected to play every single day even when he's healthy, as he's focused on the ultimate goal of hoisting the World Series trophy at the end of the year. Turner remains a great hitter, but with no speed and limited counting-stat upside.
Last season was a tale of two halves for Turner. The third baseman did not hit a home run until his 29th game of the season and reached the break with a modest 10 round trippers, though he sat with a solid .294 average and .375 on-base percentage. Turner then turned on the power in the second half, slugging 17 long balls and posting an 11.2 AB/HR -- 10th best in the majors among players with 150 or more plate appearances -- despite missing most of September with ankle and back injuries. Turner has been hampered by various injuries over the past three seasons, but he has proven his hitting prowess when healthy, finishing 12th among qualified players with a .388 wOBA during that three-year span. He turned 35 in November and his injury history is a concern, but Turner's sample size of success is large enough to inspire confidence in another season of solid production at the hot corner in 2020.
Turner has often been nicked up the past two seasons, but the 34-year-old has shown little evidence of decline when he's been on the field. Turner's plate approach remains exceptional, as he's ranked in the top 10 in both BB/K and contact rate among all hitters with at least 400 plate appearances since 2017. Although a wrist issue was the major culprit for his low games total in 2018, Turner's power didn't suffer as a result. He posted a career-best 45% hard-hit rate last season and finished 15th among all qualified hitters in average flyball distance, per Statcast. While the slew of injuries he's endured in recent years could eventually take their toll, Turner at least enters 2019 with his health intact. The usual caveats apply in offsetting a player of his ilk with the appropriate amount of safety, but if Turner can merely re-emerge as the 130-game player he was in 2017, he should contend for a top-10 finish among fantasy third basemen.
Cast off by several clubs earlier in his career (including the Mets, if you hadn't heard), Turner has blossomed into one of the game's premier hitters, posting wRC+ marks over 140 in three of the past four seasons (123 in the other). His .322 batting average ranked fifth among qualified hitters last season, and he broke the 20-homer threshold for a second straight season despite not hitting his first long ball until Apr. 29 and later missing nearly three weeks with a hamstring injury. Turner walked more than he struck out, finishing second behind only Joey Votto in BB/K, while maintaining a top-30 hard-hit rate. He boosted his flyball rate to almost 48 percent (from 40 percent), so the pop seems here to stay along with the stellar average. There is some injury risk at 33 years old -- Turner has averaged 129 games played per season over his last four -- but there is virtually no performance risk.
Turner picked a great time to register his first full season in the majors, playing a career-high 151 games, stepping to the dish 622 times, and blowing away the 439 plate appearances recorded the previous season. Given that 2014's .404 BABIP is an outlier, last season's .293 landed on the low end of Turner's career range, despite a typical line drive rate and hard-hit percentage. One reason for the depressed BABIP was that he hit more flyballs than ever but since that resulted in 27 homers, no one is complaining. Baselining Turner for 2017 is tricky since we don't know if he'll maintain that elevated flyball rate. Then there's the issue of health. While there are countless examples of players losing the injury prone tag, Turner needs to stay on the field for another 150 games before he's absolved. When healthy, solid plate skills render Turner a solid floor; pay for that, not for the 2016 level of production.
Leg and knee issues limited Turner to 385 at-bats in 2015, but when in the lineup, he was again effective for the club, batting a solid .294/.370/.491. His 16 home runs bested his previous career high by nine long balls and his 60 RBI were also a career best. Perhaps it's the way he plays with all-out effort, but despite being a relatively young 31, Turner doesn't appear to be a guy we can count on for 500+ at-bats. He'll likely continue to need a day or two off per week, someone limiting his fantasy value, but after notching back-to-back solid seasons at the plate, Turner looks to be a guy we can rely on for solid production when he's in the lineup. Headed into 2016, the Dodgers appear set to roll with Corey Seager at shortstop, freeing up a likely return to the Opening Day third base job for Turner. Expect though to see the club bring in someone who can spell him from time to time.
Turner has spent time in four different organizations (Reds, Orioles, Mets, and Dodgers) in his career that dates back to 2006. He hit for average in the minor leagues, but had hit .260/.323/.361 in over 926 plate appearances at the major league level heading into 2014, with little hint of upside. Naturally, he hit .340/.404/.493 in 322 plate appearances in 2014. When one sees an 80-point jump in batting average, it's natural to want to look at the BABIP column and there, we find a .404 BABIP for Turner in 2014. Over the past six seasons, even with that .404 number factored in, Turner has a .322 BABIP. To say the utility infielder is due for some regression is an understatement. He is in for a Chris Johnson-like regression in 2015 and that's unfortunate for his current fantasy owners because he doesn't do much else at the plate. Roster carefully.
Turner reprised his role as backup infielder in 2013, seeing at least 12 games at all four infield spots in between injury-related absences. His strikeout and contact rates dropped, which doesn't bode for future success as his mild rise in batting average was propelled by an inflated BABIP. Turner's 2011 numbers appear to be the outlier this point, and he will no longer play for the Mets after being non-tendered during the offseason, but he could still get a chance to earn a utility role with another club.
Thanks to improved health at third base with David Wright, Turner saw nearly 300 fewer plate appearances in 2012 while his walk rate (4.9%) dipped back closer to his more recent minor league results. Although his .392 slugging percentage was an improvement, 2011 is probably as good as it gets now that he is 28 years old and is not even guaranteed steady at-bats even if one of the Mets' regular infielders lands on the disabled list. You can probably do worse than Turner when looking at $1 options in the endgame of NL-only leagues, but others will gamble and do much better because of his limited ceiling.
Turner started 2011 at Triple-A Buffalo, but was up by the third week of the year and saw action in a surprising 117 games. He replaced David Wright at third while Wright was out, earning National League Rookie of the Month honors in May, before seeing most of his action at second. Turner struggled for a large portion of the last four months of the season, but excelled with runners in scoring position. Daniel Murphy should open the year as the starting second baseman, however, pushing Turner back into a utility role.
Turner opened 2010 as an Oriole, but was waived and claimed by the Mets in May. He turned out to be one of Triple-A Buffalo's best players with a .333 average, a .906 OPS, 11 home runs and 58 runs in 84 games. Turner will be in the mix for the second base job in spring training, but is likely to start the year back in the minors.
Turner does most things well, but no single tool stands out. He pushed his way to a September callup and he could win a utility infielder role out of camp. If there is an injury in the middle infield he could be primed for some playing time, but he doesn't warrant much fantasy praise.
More Fantasy News