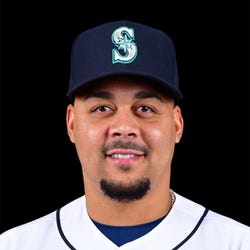 2023 Fantasy Outlook
There was no outlook written for Justus Sheffield in 2023. Check out the latest news below for more on his current fantasy value.
RANKS
#

Overall
$Signed a one-year contract with the Mariners in March of 2022.

Sent outright to Triple-A
Sheffield cleared waivers and was outrighted to Triple-A Tacoma
by the Mariners
on Thursday.
ANALYSIS
Sheffield got the boot off the 40-man roster last week to open up a 40-man roster spot for
Tommy La Stella
. A former top prospect, Sheffield holds a career 5.47 ERA in 186 innings (33 starts, 15 relief appearances) at the major-league level. It's certainly notable that he didn't draw much interest from other MLB teams on the waiver wire leading into what will be his age-27 campaign.
Read More News
Pitching Stats
Loading Pitching Stats...
2022 MLB Game Log

Calculate Stats Over Time
Just click on any two dates.
Scoring
FanDuel
DraftKings
Yahoo DFS
FantasyDraft
Head2Head
Loading Pitching Game Log...
2021 MLB Game Log

Calculate Stats Over Time
Just click on any two dates.
Scoring
FanDuel
DraftKings
Yahoo DFS
FantasyDraft
Head2Head
Loading Pitching Game Log...
2020 MLB Game Log

Calculate Stats Over Time
Just click on any two dates.
Scoring
FanDuel
DraftKings
Yahoo DFS
FantasyDraft
Head2Head
Loading Pitching Game Log...
2019 MLB Game Log

Calculate Stats Over Time
Just click on any two dates.
Scoring
FanDuel
DraftKings
Yahoo DFS
FantasyDraft
Head2Head
Loading Pitching Game Log...
2018 MLB Game Log

Calculate Stats Over Time
Just click on any two dates.
Scoring
FanDuel
DraftKings
Yahoo DFS
FantasyDraft
Head2Head
Loading Pitching Game Log...
Minor League Game Log

Calculate Stats Over Time
Just click on any two dates.
Loading Minor League Pitching Game Log...
Pitching Appearances Breakdown
How many pitches does Justus Sheffield generally throw?
What part of the game does Justus Sheffield generally pitch?
% Games Reaching Innings Threshold
% Games By Number of Innings Pitched
Left/Right Pitching Splits
BAA
K
BB
H
HR
Since 2020

vs Left

.214
35
18
31
3
Since 2020

vs Right

.309
82
49
132
14
2022

vs Left

.143
4
2
2
1
2022

vs Right

.241
3
4
7
0
2021

vs Left

.266
17
12
21
2
2021

vs Right

.332
46
31
84
12
2020

vs Left

.154
14
4
8
0
2020

vs Right

.283
33
14
41
2
More Splits

→

View More Split Stats
Home/Away Pitching Splits
ERA
WHIP
IP
K/9
BB/9
Since 2020

Home

5.28
1.50
73.1
7.5
3.8
Since 2020

Away

5.74
1.71
69.0
7.3
4.7
2022

Home

5.19
1.62
8.2
6.2
5.2
2022

Away

0.00
0.33
3.0
3.0
3.0
2021

Home

6.80
1.71
41.0
7.0
4.8
2021

Away

6.86
1.98
39.1
7.1
4.8
2020

Home

2.66
1.10
23.2
8.7
1.5
2020

Away

4.73
1.46
26.2
8.1
4.7
More Splits

→

View More Split Stats
Stat Review
How does Justus Sheffield compare to other relievers?
This section compares his stats with all relief pitcher seasons from the previous three seasons (minimum 30 innings)*. The bar represents the player's percentile rank. For example, if the bar is halfway across, then the player falls into the 50th percentile for that stat and it would be considered average.
* Exit Velocity, Barrels/BBE %, Balls Hit 95+ MPH %, and Spin Rate are benchmarked against 2019 data (min 30 IP).
See here for more exit velocity/barrels stats
plus an explanation of current limitations with that data set.
K/BB

Strikeout to walk ratio.

K/9

Average strikeouts per nine innings.

BB/9

Average walks per nine innings.

HR/9

Average home runs allowed per nine innings.

Fastball

Average fastball velocity.

ERA

Earned run average. The average earned runs allowed per nine innings.

WHIP

Walks plus hits per inning pitched.

BABIP

Batting average on balls in play. Measures how many balls in play against a pitcher go for hits.

GB/FB

Groundball to flyball ratio. The higher the number, the more likely a pitcher is to induce groundballs.

Left On Base

The percentage of base runners that a pitcher strands on base over the course of a season.

Exit Velocity

The speed of the baseball as it comes off the bat, immediately after a batter makes contact.

Barrels/BBE

The percentage of batted ball events resulting in a Barrel. A Barrel is a batted ball with similar exit velocity and launch angle to past ones that led to a minimum .500 batting average and 1.500 slugging percentage.

Spin Rate

Spin Rate is the rate of spin on a baseball after it is released. It is measured in revolutions per minute (rpm).

Balls Hit 95+ MPH

The percentage of batted balls hit that met or exceeded the 95 MPH threshold.

Swinging Strike

The percentage of pitches that result in a swing and a miss.
Prospect Rankings History
Advanced Pitching Stats
Loading Advanced Pitching Stats...
Loading MLB Defensive Stats...
Our full team depth charts are reserved for RotoWire subscribers.
Subscribe Now
Recent RotoWire Articles Featuring Justus Sheffield
See More
Past Fantasy Outlooks
2022
2021
2020
2019
2018
2017
2016
2015
The 25-year-old lefty broke camp last season as a member of the rotation, but after posting a 6.48 ERA in 73.2 innings over his 15 starts, the Mariners opted to use him out of the bullpen when he returned to the roster in September following a seven-week stint on the injured list with a forearm strain. Sheffield didn't fare any better in a limited sample of relief appearances, so Seattle will continue to develop him a starter with the hope that a full offseason of recovery will translate to better results in 2022. Even when he was a more serviceable starter for the big club in 2020, Sheffield relied heavily on weak contact to get outs rather than making bats miss, so his fantasy upside may not be especially high even if things break right for him.
Sheffield's second stint in an MLB rotation went far better than his first, as he trimmed his ERA from 5.50 to 3.58. His 4.4% HR/FB rate suggests he was helped by a fair amount of luck, but the rest of his numbers did still depict at least a solid back-end starter or even a mid-rotation arm. His 50.6% groundball rate was strong, though his 8.6 BB% wasn't much better than average and his 20.7 K% was a few ticks below. His standout slider, which he threw more than a third of the time, remained his best pitch despite dropping from 84.3 to 81.9 mph, and he leaned more heavily into the groundball profile by switching from a four-seamer to a two-seamer. It will take something else to make him a true frontline starter (still possible given that he's just 24 years old), but a groundball-heavy arm who isn't a total zero in the strikeout department is a useful option, especially in a pitcher-friendly park.
Sheffield joined a big-league rotation for the first time toward the end of his first season with the Mariners but didn't have much success. The young lefty's 22.0 K% and 10.7 BB% didn't suggest that he deserved much better than his 5.50 ERA, though he did at least keep the ball on the ground, posting a 52.3 GB%. The most concerning aspect of his season was that he opened the year at Triple-A, where he logged 88 innings in 2018, but was so bad that he needed to be demoted to Double-A, where he shined before his big-league promotion. Sheffield is still just 23 and has a plus slider, but his lack of efficiency, particularly in a repeat tour of Triple-A, doesn't portend success in his first full season in the majors. At this point, Seattle will break camp with him in the rotation unless he is dreadful in spring training, but his command really needs to improve for him to be a positive fantasy contributor.
Sheffield might be best suited for a high-leverage relief role, but after getting traded to the rebuilding Mariners, he should get a fair audition in the rotation. He headlined that November trade that sent James Paxton to the Yankees. The industry consensus is that Seattle valued Sheffield and the rest of the haul more than most, so it would be a mistake to assume that trade validates him as a high-end pitching prospect. The 5-foot-10, 195-pound southpaw has a couple nasty pitches -- mid-90s fastball with life, plus high-80s slider -- but his changeup, command and pitchability all lag behind, hence the speculation he may be better suited getting outs in the eighth and ninth innings. The Mariners will likely send Sheffield back to Triple-A until they gain an extra year of control in late April and perhaps for several months as he works on smoothing his rough edges. He will be worth a flyer when he debuts, but is not stash-worthy in most formats.
The fact that we all immediately think of the same handful of guys (Tim Lincecum, Johnny Cueto, Sonny Gray, Marcus Stroman) when trying to list recent pitchers under six feet tall who have experienced prolonged success in big-league rotations tells us how rare they really are. Sheffield, a 5-foot-11 lefty, has a chance to join that unique company in the coming years. He has a plus mid-90s fastball with late life, an above-average slider and an average changeup, but his command still needs some work. A strained oblique limited him to 98 innings -- the lowest full-season total of his career. This led to an assignment to the Arizona Fall League, where he logged a 3.10 ERA, 0.84 WHIP and 22 strikeouts over 20.1 innings. Many evaluators who saw him in the AFL said that was the best they had ever seen him pitch. He will start the year at Triple-A, and while he won't be rushed to the majors, he could get there on merit sometime this summer.
Sheffield came over to the Bronx Bombers from the Indians along with Clint Frazier as the second piece in the Andrew Miller deal. The southpaw has a live arm and finished the season on a high note. The 20-year-old posted a 1.73 ERA and 27:10 K:BB in 26 innings with High-A Tampa to end the 2016 campaign. Opposing batters hit a putrid .157 against him over that span. In fact, Sheffield has averaged more than one strikeout per inning throughout his brief time in the minors. Sheffield's control could use a bit of work. though: He walked 53 batters in 125.1 innings last year. In addition, he does not have the prototypical size of a future frontline rotation anchor at 5-foot-10, 195 pounds. Still, Sheffield possesses four pitches and has the tools to contribute in the big leagues as early as 2018. He should begin the 2017 season in Double-A Trenton.
After a red-hot finish to the season, Sheffield's 2015 numbers leave very little to be desired. The 19-year-old southpaw distinguished himself as the top pitching prospect in the Indians' offense-heavy farm system, but despite the gaudy strikeout totals in the lower levels, Sheffield probably only has the upside of a No. 3 starter in the big leagues. He has a mid-90s fastball, but neither his curveball or changeup project to be elite pitches. That said, the fact that he already has three above-average offerings with solid command separates him from most pitchers below Double-A, so his numbers should remain impressive at High-A in 2016. The elephant in the room is that Sheffield measures in at 5-foot-10, 196 pounds, and will likely always be discounted slightly due to his height until he shows he can succeed against big league hitters. Still, this is a starter's profile, and one worth monitoring in most dynasty formats.
Based just on pure stuff and control/command, Sheffield, the 31st pick in the 2014 draft, profiles as a No. 3 starter in the big leagues. However, whether fair or unfair, the first thing that should be noted with the 18-year-old lefty is his height, or lack thereof, as Sheffield measures in at 5-foot-10. He appears to be able to make it work, featuring three plus pitches (fastball, curveball, changeup), but his height will be a bugaboo that follows him throughout his rise up the organizational ladder. Teams can always find a place for a bat-misser from the left side, but Sheffield's worth in dynasty leagues is tied to his ability to stick as a starter. Fortunately, he has a thick frame (196 pounds), so he should be able to log the requisite innings. Sheffield will likely start 2015 in short season ball, meaning he won't be in the big leagues until approximately 2018.
More Fantasy News