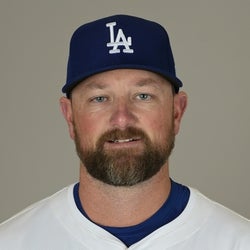 Rest-of-Season Projections
2023 Fantasy Outlook
Yates completed the long road back from Tommy John surgery in making his Braves debut last August but unfortunately made just nine appearances before returning to the injured list with more elbow troubles. The good news is that it seems to have been just a speed bump, with Yates expected to be ready to go in 2023. The veteran right-hander's velocity was back to normal in 2022 and so was the bite on his signature splitter. Yates is behind Raisel Iglesias and probably at least A.J. Minter in the Braves' saves pecking order, but he could still have some deep-league fantasy value if he regains the form which made him one of the best relievers in baseball from 2018-19.
Read Past Outlooks
$Signed a two-year, $8.25 million contract with the Braves in November of 2021. Contract includes $5.75 million team option for 2024.

Yates (1-0) picked up the win in Wednesday's victory over the Reds, walking one and striking out one in a scoreless eighth inning.
ANALYSIS
The veteran right-hander hasn't had a regular spot in a big-league bullpen since 2019 due to injuries, tossing only 11.1 big-league innings over the last three seasons, but Yates won a spot in the Atlanta bullpen in camp and recorded his first MLB win since 2018 on Wednesday. The 36-year-old has been far from sharp though, posting a 5.79 ERA and 4:6 K:BB through 4.2 innings to begin the season, and he's unlikely to see consistent high-leverage work without improving his control.
Read More News
Pitching Stats
Loading Pitching Stats...
2023
2022
2021
2020
2019
2018
2017
2023 MLB Game Log

Calculate Stats Over Time
Just click on any two dates.
Scoring
FanDuel
DraftKings
Yahoo DFS
Loading Pitching Game Log...
2022 MLB Game Log

Calculate Stats Over Time
Just click on any two dates.
Scoring
FanDuel
DraftKings
Yahoo DFS
Loading Pitching Game Log...
2021 MLB Game Log

Calculate Stats Over Time
Just click on any two dates.
Scoring
FanDuel
DraftKings
Yahoo DFS
Loading Pitching Game Log...
2020 MLB Game Log

Calculate Stats Over Time
Just click on any two dates.
Scoring
FanDuel
DraftKings
Yahoo DFS
Loading Pitching Game Log...
2019 MLB Game Log

Calculate Stats Over Time
Just click on any two dates.
Scoring
FanDuel
DraftKings
Yahoo DFS
Loading Pitching Game Log...
2018 MLB Game Log

Calculate Stats Over Time
Just click on any two dates.
Scoring
FanDuel
DraftKings
Yahoo DFS
Loading Pitching Game Log...
2017 MLB Game Log

Calculate Stats Over Time
Just click on any two dates.
Scoring
FanDuel
DraftKings
Yahoo DFS
Loading Pitching Game Log...
Minor League Game Log

Calculate Stats Over Time
Just click on any two dates.
Loading Minor League Pitching Game Log...
Pitching Appearances Breakdown
How many pitches does Kirby Yates generally throw?
What part of the game does Kirby Yates generally pitch?
% Games Reaching Innings Threshold
% Games By Number of Innings Pitched
Left/Right Pitching Splits
BAA
K
BB
H
HR
Since 2021

vs Left

.111
11
8
4
2
Since 2021

vs Right

.230
20
11
14
3
2023

vs Left

.111
9
6
3
2
2023

vs Right

.209
16
8
9
1
2022

vs Left

.111
2
2
1
0
2022

vs Right

.278
4
3
5
2
2021

vs Left

0
0
0
0
0
2021

vs Right

0
0
0
0
0
More Splits

→

View More Split Stats
Home/Away Pitching Splits
ERA
WHIP
IP
K/9
BB/9
Since 2021

Home

3.77
1.47
14.1
11.3
8.2
Since 2021

Away

3.75
1.42
12.0
9.8
5.3
2023

Home

4.35
1.84
10.1
11.3
10.5
2023

Away

2.00
0.89
9.0
12.0
3.0
2022

Home

2.25
0.50
4.0
11.3
2.3
2022

Away

9.00
3.00
3.0
3.0
12.0
2021

Home

0
0
0
0
0
2021

Away

0
0
0
0
0
More Splits

→

View More Split Stats
Stat Review
How does Kirby Yates compare to other relievers?
This section compares his stats with all relief pitcher seasons from the previous three seasons (minimum 30 innings)*. The bar represents the player's percentile rank. For example, if the bar is halfway across, then the player falls into the 50th percentile for that stat and it would be considered average.
* Exit Velocity, Barrels/BBE %, Balls Hit 95+ MPH %, and Spin Rate are benchmarked against 2019 data (min 30 IP).
See here for more exit velocity/barrels stats
plus an explanation of current limitations with that data set.
K/BB

Strikeout to walk ratio.

K/9

Average strikeouts per nine innings.

BB/9

Average walks per nine innings.

HR/9

Average home runs allowed per nine innings.

Fastball

Average fastball velocity.

ERA

Earned run average. The average earned runs allowed per nine innings.

WHIP

Walks plus hits per inning pitched.

BABIP

Batting average on balls in play. Measures how many balls in play against a pitcher go for hits.

GB/FB

Groundball to flyball ratio. The higher the number, the more likely a pitcher is to induce groundballs.

Left On Base

The percentage of base runners that a pitcher strands on base over the course of a season.

Exit Velocity

The speed of the baseball as it comes off the bat, immediately after a batter makes contact.

Barrels/BBE

The percentage of batted ball events resulting in a Barrel. A Barrel is a batted ball with similar exit velocity and launch angle to past ones that led to a minimum .500 batting average and 1.500 slugging percentage.

Spin Rate

Spin Rate is the rate of spin on a baseball after it is released. It is measured in revolutions per minute (rpm).

Balls Hit 95+ MPH

The percentage of batted balls hit that met or exceeded the 95 MPH threshold.

Swinging Strike

The percentage of pitches that result in a swing and a miss.
Advanced Pitching Stats
Loading Advanced Pitching Stats...
Loading MLB Defensive Stats...
Our full team depth charts are reserved for RotoWire subscribers.
Subscribe Now
Recent RotoWire Articles Featuring Kirby Yates
See More
Past Fantasy Outlooks
2022
2021
2020
2019
2018
2017
2016
2015
Yates signed a two-year deal with an option for a third with Atlanta just before the lockout. This was a long-term play for Atlanta. Yates had Tommy John surgery in late May of 2021 and chances are we won't see him until the final third of the 2022 season. This signing was similar to what Seattle recently did with Ken Giles and made trendy when Tampa Bay reset Nathan Eovaldi's career path after his second Tommy John in the middle part of the last decade. Like Eovaldi, this is the second TJS for Yates as he had his first one in 2006. Yates' work in 2018-19 was incredible, but by the time he returns to the mound, that could be three-plus years in the rearview mirror. At best, he's an ultra-late dart throw in draft and hold or deep keeper leagues.
Yates' 2020 campaign provided another lesson in the volatility of closers and the riskiness of chasing saves early in fantasy drafts. After ascending to stardom in 2019, Yates was a consensus top-three closer heading into last season. Instead of anchoring fantasy managers' relief corps, however, the Hawaii native lasted all of six outings before going down for the year with an elbow injury. Yates underwent surgery in August to remove two bone chips from his elbow. The sample size on the field is too small to gather any meaningful data from, but there is at least some reason for optimism in knowing that Yates was still able to miss bats (32.0 K%) during his limited time on the mound and that the elbow has been cleaned up. He's worth a look based on his 2018-19 dominance, especially after landing in Toronto where Yates is the clear No. 1 option.
Yates did in 2019 what only four other relievers have done this decade: save at least 40 games while striking out at least 100 batters, joining Edwin Diaz, Kenley Jansen, Craig Kimbrel and Greg Holland. The bad news? Only Jansen and Kimbrel did it in consecutive years. As great as Diaz was in 2018, he didn't come close to doing it again in 2019, and that should be fresh in your mind as you figure out how to draft Yates in 2020. He doesn't have the electric fastball, but how he tunnels it with his amazing splitter makes both pitches harmonize in a wonderful duet. He pitched with elite skills in 2018 without the full-time closer role, but had both in 2019. He is no longer a bargain and will cost you full freight to add to your roster. Not bad for a reliever who was designated for assignment by the Rays, Yankees and Angels before striking gold in San Diego. The splitter completely turned around his career.
Yates was already on his way to a career year when the Padres dealt Brad Hand at the trade deadline, and he deservedly took over as the closer after that. He was not as effective after the All-Star break as he was before, but still set career bests across the board. A 31-year-old righty, Yates relies on a 95-mph fastball to get ahead in the count and gets whiffs with his splitter and hard slider. He will open 2019 in the same role he finished last year, but could wind up on the trade block himself if the Padres can't keep pace in the NL West, given his age and the fact he is only under team control for two more seasons. Chances are, he would not work as a closer if he were dealt to a contender. He was getting drafted as a top-15 reliever on average in December, with drafters putting a lot of faith in a player with just 14 career saves. That aggression is somewhat understandable given his dominance last season and the general lack of trustworthy closers.
The Padres claimed Yates off waivers after he was designated for assignment by the Angels in April. He proceeded to make 61 appearances for San Diego last season, pushing his strikeout rate to a gaudy 38.5 percent while providing decent ratios (3.97 ERA, 1.11 WHIP). An extreme flyball pitcher, Yates continues to give up too many home runs, and his career 1.81 HR/9 is showing no signs of improving. Mixing a mid-90s fastball, slider and changeup, Yates' ability to miss bats appears to be sustainable, but he needs to cut back on the number of mistakes he makes with his slider. He did not allow a hit all season with his changeup, which generated whiffs at an excellent clip (26.6 percent), and gives him a weapon that could allow him to become more effective at getting lefties out. It's not out of the question to think that he could be given a chance at closing in San Diego at some point if Brad Hand were to get traded.
Yates' ability to strike batters out is unquestionable, but the other facets of pitching got him traded twice over the offseason. The 29-year-old eventually landed in the Yankees organization, where he initially broke camp with the major league bullpen. However, he was shipped back to Triple-A Scranton/Wilkes-Barre in late June after posting a paltry 5.72 ERA and 4.4 BB/9 across 26.2 innings pitched. He dominated the minor league competition, but his return to the big leagues didn't provide any more success, as he sported a 4.09 ERA and a 4.9 BB/9 over 11 innings scattered across the final two months of the season. The right-hander's strikeout rate was impeccable as always (10.9 K/9), but his lack of control and propensity to give up home runs doesn't bode well going forward. He was claimed off waivers by the Angels in October, so he could garner a low-leverage role in their relatively weak relief corps. That being said, until he can harness his control, Yates is unlikely to be consistently entrusted with high-leverage situations.
Yates made the Rays' Opening Day roster thanks to a strong spring training in which he registered a 2.45 ERA and 11:3 K/BB ratio in 11 innings. His regular season didn't go as well. The 28-year-old saw playing time in four different months and his 4.15 ERA in April was easily his best mark in any individual month. He eventually finished with a brutal 7.97 ERA in 20.1 innings, with most of his time coming after a September callup. At his best, Yates is an excellent strikeout pitcher, evidenced by 11.9 K/9 in the minors and at his worst he deals with serious command issues, with a 4.2 BB/9. He also missed significant time in May and June due to a chest injury, which likely didn't feel great even after he returned. He'll have to battle to secure a role with the Yankees during spring training after coming over in a January trade, but even if he makes the team, he unlikely to work into a fantasy-relevant role.
The undersized reliever had a nice debut for the Rays in 2014. He struck out 27 percent of the batters he faced and held opposing batters to a .241 average. Over the past two seasons at Triple-A Durham, Yates served as the team's closer and struck out 128 batters and permitted just 48 hits in 86.2 innings. Despite the big numbers, Yates does not have top-shelf stuff and relies more on sequencing and a deceptive delivery for his effectiveness. He should work the middle innings of relief so he could vulture some wins while helping with strikeouts in deep AL-only leagues.
More Fantasy News