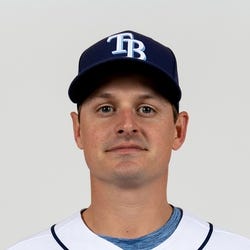 2023 Fantasy Outlook
There was no outlook written for Kyle Crick in 2023. Check out the latest news below for more on his current fantasy value.
$Signed a one-year, minor-league contract with the Rays in February of 2023.

Getting NRI from Tampa Bay
Crick (elbow) signed a minor-league contract Saturday with the Rays that includes an invitation to major-league spring training,
Marc Topkin of the Tampa Bay Times
reports.
ANALYSIS
Crick held a free-agent showcase for interested teams in late January and apparently grabbed the attention of the Rays' evaluators. He missed most of the 2022 season because of an elbow injury but should be back to full strength leading into camp. The 30-year-old reliever has posted a career 3.56 ERA with 201 strikeouts in 187.1 total major-league innings.
Read More News
Pitching Stats
Loading Pitching Stats...
2022
2021
2020
2019
2018
2017
2022 MLB Game Log

Calculate Stats Over Time
Just click on any two dates.
Scoring
FanDuel
DraftKings
Yahoo DFS
FantasyDraft
Head2Head
Loading Pitching Game Log...
2021 MLB Game Log

Calculate Stats Over Time
Just click on any two dates.
Scoring
FanDuel
DraftKings
Yahoo DFS
FantasyDraft
Head2Head
Loading Pitching Game Log...
2020 MLB Game Log

Calculate Stats Over Time
Just click on any two dates.
Scoring
FanDuel
DraftKings
Yahoo DFS
FantasyDraft
Head2Head
Loading Pitching Game Log...
2019 MLB Game Log

Calculate Stats Over Time
Just click on any two dates.
Scoring
FanDuel
DraftKings
Yahoo DFS
FantasyDraft
Head2Head
Loading Pitching Game Log...
2018 MLB Game Log

Calculate Stats Over Time
Just click on any two dates.
Scoring
FanDuel
DraftKings
Yahoo DFS
FantasyDraft
Head2Head
Loading Pitching Game Log...
2017 MLB Game Log

Calculate Stats Over Time
Just click on any two dates.
Scoring
FanDuel
DraftKings
Yahoo DFS
FantasyDraft
Head2Head
Loading Pitching Game Log...
Minor League Game Log

Calculate Stats Over Time
Just click on any two dates.
Loading Minor League Pitching Game Log...
Pitching Appearances Breakdown
How many pitches does Kyle Crick generally throw?
What part of the game does Kyle Crick generally pitch?
% Games Reaching Innings Threshold
% Games By Number of Innings Pitched
Left/Right Pitching Splits
BAA
K
BB
H
HR
Since 2020

vs Left

.222
14
14
14
0
Since 2020

vs Right

.179
33
20
17
0
2022

vs Left

.286
4
4
6
0
2022

vs Right

.125
15
7
4
0
2021

vs Left

.147
9
7
5
0
2021

vs Right

.196
12
12
9
0
2020

vs Left

.375
1
3
3
0
2020

vs Right

.235
6
1
4
0
More Splits

→

View More Split Stats
Home/Away Pitching Splits
ERA
WHIP
IP
K/9
BB/9
Since 2020

Home

4.81
1.64
24.1
7.8
6.7
Since 2020

Away

2.95
1.17
21.1
11.0
6.8
2022

Home

4.76
2.12
5.2
7.9
7.9
2022

Away

3.60
0.90
10.0
12.6
5.4
2021

Home

5.87
1.63
15.1
7.6
7.0
2021

Away

2.00
0.89
9.0
8.0
7.0
2020

Home

0.00
0.90
3.1
8.1
2.7
2020

Away

3.86
3.43
2.1
15.4
11.6
More Splits

→

View More Split Stats
Stat Review
How does Kyle Crick compare to other relievers?
This section compares his stats with all relief pitcher seasons from the previous three seasons (minimum 30 innings)*. The bar represents the player's percentile rank. For example, if the bar is halfway across, then the player falls into the 50th percentile for that stat and it would be considered average.
* Exit Velocity, Barrels/BBE %, Balls Hit 95+ MPH %, and Spin Rate are benchmarked against 2019 data (min 30 IP).
See here for more exit velocity/barrels stats
plus an explanation of current limitations with that data set.
K/BB

Strikeout to walk ratio.

K/9

Average strikeouts per nine innings.

BB/9

Average walks per nine innings.

HR/9

Average home runs allowed per nine innings.

Fastball

Average fastball velocity.

ERA

Earned run average. The average earned runs allowed per nine innings.

WHIP

Walks plus hits per inning pitched.

BABIP

Batting average on balls in play. Measures how many balls in play against a pitcher go for hits.

GB/FB

Groundball to flyball ratio. The higher the number, the more likely a pitcher is to induce groundballs.

Left On Base

The percentage of base runners that a pitcher strands on base over the course of a season.

Exit Velocity

The speed of the baseball as it comes off the bat, immediately after a batter makes contact.

Barrels/BBE

The percentage of batted ball events resulting in a Barrel. A Barrel is a batted ball with similar exit velocity and launch angle to past ones that led to a minimum .500 batting average and 1.500 slugging percentage.

Spin Rate

Spin Rate is the rate of spin on a baseball after it is released. It is measured in revolutions per minute (rpm).

Balls Hit 95+ MPH

The percentage of batted balls hit that met or exceeded the 95 MPH threshold.

Swinging Strike

The percentage of pitches that result in a swing and a miss.
Advanced Pitching Stats
Loading Advanced Pitching Stats...
Loading MLB Defensive Stats...
Our full team depth charts are reserved for RotoWire subscribers.
Subscribe Now
Recent RotoWire Articles Featuring Kyle Crick
See More
Past Fantasy Outlooks
2021
2020
2019
2018
2017
2016
2015
2014
2013
Crick's velocity was down in summer camp and he was on the injured list with a shoulder strain before the end of July. The right-hander returned to make five appearances before a lat strain put him back on the shelf for good. His brief time on the field can be considered something of a success based on the 1.59 ERA. His strikeout and walk rates remained closely in line with his 2019 marks, while Crick did not allow a homer after serving up 1.84 HR/9 the season prior. The bad news is the velocity never returned after his IL stint; Crick never averaged better than 91.2 mph on his fastball in an appearance following his activation. His year-over-year decline in average fastball velocity was more than four mph. If the oomph is back after a full offseason of rest, Crick should have little trouble reclaiming a high-leverage role in the Pittsburgh bullpen.
The closer role in Pittsburgh should be an open audition. Crick has the fastball velocity to be part of that discussion, but has little else to establish the high ground in that competition. He allowed 1.8 homers per nine innings last year with an 11.5 K-BB%, which is simply unusable in high-leverage situations. He has improved his strikeout rate each of the past three seasons from 20.9% to 25.5% to 27%, but the walk rate was a career-worst 15.5% last season leading to a 1.55 WHIP. All in all, he really struggled with the new baseball last year; these homer issues were not prevalent in 2018 so perhaps the high walks were tied to a fear of challenging batters. Look for changes in Bradenton this February before aggressively pursuing him as a potential closer for March drafts.
The best way to combat regression is with improving skills, which is exactly what Crick did last season. In 2018, his 3.06 ERA was considerably lower than the estimators, largely due to a fortunate .233 BABIP. Last season, Crick's BABIP corrected to .268 -- not out of line for what's expected from a flyball pitcher in a power-suppressing venue like PNC Park. An improved K% and BB% resulted in a solid 16.5 K-BB%, more than double 2017's 8.2 mark. Crick's actual 2.39 ERA was again significantly better than the corresponding 3.14 FIP and 4.00 xFIP, mostly due to a fortunate 80.5% left-on-base rate. Even if his ERA incurs a correction this season, he should still be useful in deep leagues using holds as the Pirates should again deploy him in high-leverage scenarios. Plus, this will be just his third season since making the conversion to relief, so Crick could improve further if he deploys his 96-mph fastball/82-mph slider combo more effectively.
On the surface, it looks like Crick's conversion to the bullpen was a success. However, a closer look suggests the transformation isn't complete. His 3.06 ERA was considerably lower then his 3.90 FIP and 5.30 xFIP. The same issue plaguing Crick as a starter -- walks -- persisted in his 32.1 innings of relief last season. This was masked by a .233 BABIP that should regress in a larger sample. Further, Crick only fanned 28 in that span, compared to 17 walks. Crick's minor-league history portends a higher strikeout rate, including 39 in 29.1 frames for Triple-A Sacramento before he was called up on June 22. With a fastball averaging 96 mph, Crick has the stuff to be a high-leverage reliever, perhaps even with ninth-inning duties. However, until he gets the free passes under control, he's just a flier in the deepest of leagues.
The Giants ditched their project of trying to turn Crick into a reliever and used him as a starter in all 23 of his appearances for Double-A Richmond last season. The former first-round pick has been generally considered a bust as he's failed to control his electric stuff in the minors, posting a rate of 5.1 BB/9 or higher in all six of his minor league seasons. With a strikeout rate of 7.1 K/9 in 2016 (well below his usual double-digit marks), it appeared that Crick was trying to dial back his pitches in an effort to limit the free passes, but that approach proved unsuccessful as he still issued 67 walks in 109 innings. Despite his continued failures, the righty will only be 24 years old to begin the 2017 season, and the Giants are hoping he can figure things out down the road.
Things have gone from bad to worse with the Giants' former top pitching prospect. Control issues continue to plague the hard-throwing righty. While his 3.29 ERA and 10.4 K/9 are positives, they came at the expense of a horrid 9.4 BB/9 (a rate that has risen over the past three seasons). It got so bad that the Giants decided to give up on trying to make him a big league starter, moving him to the bullpen in an effort to salvage his career as a late-inning reliever. That didn't help matters as Crick posted a 3.92 ERA and an 11.8 BB/9 in 20.2 innings as a reliever. He still has the stuff so there is always a chance he figures out his control issues at some point, but right now, it is looking like Crick will turn out to be a bust. Given the way his career is trending, the Giants' plan to have him make his major league debut in 2016 is looking like a long shot. Crick will try to figure out his issues in the minors to start the year.
At this point, it's surprising minor-league hitters ever take the bat off their shoulder against Crick. Since he was drafted in 2011, strikeouts and walks have accounted for 41 to 48% of the hitters he has faced, and while evaluators can't help but take notice of his strikeout-inducing stuff, he has yet to improve his walk rate. In fact, the 15.3% walk rate he posted as a 21-year-old at Double-A Richmond in 2014 was his highest mark in three years of full-season ball. Of the ten highest walk rates among MLB pitchers who pitched 60-plus innings last season, only four (Daisuke Matsuzaka, Ubaldo Jimenez, Tony Cingrani and Francisco Liriano) belonged to pitchers who started a game, and none approached Crick's mark. At this point, it may be wise to view "2016 Giants closer" as his new ceiling.
Arguably the Giants' top prospect, Crick held true to that title in 2013, posting a 1.57 ERA (2.37 FIP) with an impressive 12.5 K/9 in 68.2 innings with High-A San Jose. He did have an issue with his control (5.1 BB/9), and that is something he will have to fix before making it to the majors, even if it means taking a little bit off his stuff and taking a slight cut in his strikeout rate. Crick should start the year at Double-A Richmond with a chance for a September callup if he continues to dominate minor league hitters.
Crick was the Giants' first-round pick in 2011, and he had a successful season in Low-A Augusta with a 2.51 ERA (3.15 FIP). The 20-year-old right-hander features a fastball that averages 92-94 mph and can touch 98 mph along with a slider, curveball and changeup. Scouts have said all of his secondary pitches need some work, and his control has been an issue (5.4 BB/9). Despite being raw, his potential is off the charts as his fastball has the ability to miss bats (10.4 K/9). Crick looks to be headed to High-A for 2013, and could reach the majors by 2015 is he can improve his control.
More Fantasy News