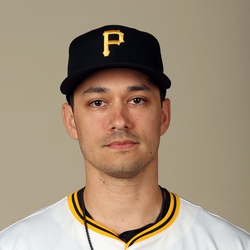 2023 Fantasy Outlook
How long can Gonzales remain a part of a big-league rotation while allowing this much contact? That's a question which could be answered as soon as this season. While the veteran lefty has never been a pitcher who relies on whiffs, his 13.2 K% in 2022 was startlingly low. No other qualified starter finished within three points of that mark; Dallas Keuchel matched that figure in 2021 and pitched himself out of the league one year later. That represents the downside for Gonzales, who lacks the strong groundball rates Keuchel could fall back on, and the upside for a pitcher whose fastball averaged 88.7 mph isn't particularly high, either. That said, it's not all doom and gloom for the southpaw. Pitcher-friendly T-Mobile Park helps limit the damage in his home starts, and his 6.4 BB% helped keep his ERA to a passable 4.13. That's enough to keep Gonzales a viable endgame play in deeper leagues as long as he has a rotation spot, but a further drop in strikeouts could cost him that role.
Read Past Outlooks
$Signed a four-year, $30 million contract extension with the Mariners in February of 2020. Contract includes team option for 2025.

Gonzales will
begin
the Mariners' AL Wild Card Series versus the Blue Jays as a member of the taxi squad.
ANALYSIS
Gonzales will be ineligible to pitch in the series unless he gets added to the active roster. The 30-year-old wrapped up the 2022 campaign with a 4.13 ERA and 1.33 WHIP and will provide the Mariners with an additional depth option.
Read More News
Pitching Stats
Loading Pitching Stats...
2022
2021
2020
2019
2018
2017
2022 MLB Game Log

Calculate Stats Over Time
Just click on any two dates.
Scoring
FanDuel
DraftKings
Yahoo DFS
FantasyDraft
Head2Head
Loading Pitching Game Log...
2021 MLB Game Log

Calculate Stats Over Time
Just click on any two dates.
Scoring
FanDuel
DraftKings
Yahoo DFS
FantasyDraft
Head2Head
Loading Pitching Game Log...
2020 MLB Game Log

Calculate Stats Over Time
Just click on any two dates.
Scoring
FanDuel
DraftKings
Yahoo DFS
FantasyDraft
Head2Head
Loading Pitching Game Log...
2019 MLB Game Log

Calculate Stats Over Time
Just click on any two dates.
Scoring
FanDuel
DraftKings
Yahoo DFS
FantasyDraft
Head2Head
Loading Pitching Game Log...
2018 MLB Game Log

Calculate Stats Over Time
Just click on any two dates.
Scoring
FanDuel
DraftKings
Yahoo DFS
FantasyDraft
Head2Head
Loading Pitching Game Log...
2017 MLB Game Log

Calculate Stats Over Time
Just click on any two dates.
Scoring
FanDuel
DraftKings
Yahoo DFS
FantasyDraft
Head2Head
Loading Pitching Game Log...
Minor League Game Log

Calculate Stats Over Time
Just click on any two dates.
Loading Minor League Pitching Game Log...
Pitching Appearances Breakdown
How many pitches does Marco Gonzales generally throw?
What part of the game does Marco Gonzales generally pitch?
% Games Reaching Innings Threshold
% Games By Number of Innings Pitched
Left/Right Pitching Splits
BAA
K
BB
H
HR
Since 2020

vs Left

.250
70
20
90
14
Since 2020

vs Right

.248
204
78
286
53
2022

vs Left

.280
27
14
42
7
2022

vs Right

.268
76
36
152
23
2021

vs Left

.210
29
5
30
6
2021

vs Right

.242
79
37
95
23
2020

vs Left

.269
14
1
18
1
2020

vs Right

.202
49
5
39
7
More Splits

→

View More Split Stats
Home/Away Pitching Splits
ERA
WHIP
IP
K/9
BB/9
Since 2020

Home

3.68
1.09
208.0
6.6
2.1
Since 2020

Away

4.13
1.33
183.0
5.8
2.5
2022

Home

3.58
1.15
103.0
5.3
2.0
2022

Away

4.84
1.58
80.0
4.7
3.0
2021

Home

3.97
1.12
77.0
7.5
2.7
2021

Away

3.93
1.22
66.1
6.0
2.6
2020

Home

3.21
0.79
28.0
8.7
0.6
2020

Away

2.95
1.01
36.2
7.9
1.0
More Splits

→

View More Split Stats
Stat Review
How does Marco Gonzales compare to other starting pitchers?
This section compares his stats with all starting pitcher seasons from the previous three seasons (minimum 120 innings)*. The bar represents the player's percentile rank. For example, if the bar is halfway across, then the player falls into the 50th percentile for that stat and it would be considered average.
* Exit Velocity, Barrels/BBE %, Balls Hit 95+ MPH %, and Spin Rate are benchmarked against 2019 data (min 120 IP).
See here for more exit velocity/barrels stats
plus an explanation of current limitations with that data set.
K/BB

Strikeout to walk ratio.

K/9

Average strikeouts per nine innings.

BB/9

Average walks per nine innings.

HR/9

Average home runs allowed per nine innings.

Fastball

Average fastball velocity.

ERA

Earned run average. The average earned runs allowed per nine innings.

WHIP

Walks plus hits per inning pitched.

BABIP

Batting average on balls in play. Measures how many balls in play against a pitcher go for hits.

GB/FB

Groundball to flyball ratio. The higher the number, the more likely a pitcher is to induce groundballs.

Left On Base

The percentage of base runners that a pitcher strands on base over the course of a season.

Exit Velocity

The speed of the baseball as it comes off the bat, immediately after a batter makes contact.

Barrels/BBE

The percentage of batted ball events resulting in a Barrel. A Barrel is a batted ball with similar exit velocity and launch angle to past ones that led to a minimum .500 batting average and 1.500 slugging percentage.

Spin Rate

Spin Rate is the rate of spin on a baseball after it is released. It is measured in revolutions per minute (rpm).

Balls Hit 95+ MPH

The percentage of batted balls hit that met or exceeded the 95 MPH threshold.

Swinging Strike

The percentage of pitches that result in a swing and a miss.
Advanced Pitching Stats
Loading Advanced Pitching Stats...
Loading MLB Defensive Stats...
Our full team depth charts are reserved for RotoWire subscribers.
Subscribe Now
Past Fantasy Outlooks
2022
2021
2020
2019
2018
2017
2016
2015
2014
Gonzales is the type of pitcher who gets better results than his stuff would indicate but could fall off a cliff quickly. This past season saw him win double-digit games for the third time in his career with a fourth consecutive season with an ERA of 4.00 or lower. The big difference with this last season was the underlying skills were much different and should provide pause for 2022. He is still a pitcher who survives by working the periphery of the zone and messing with timing, but the 1.8 HR/9 last season is unsightly, and the abnormally-high 82.2 LOB% and abnormally-low .239 BABIP are what led to him posting an ERA 1.1 runs below his 5.06 FIP. His HR/FB rate was higher than in any other full season, but it's a reminder of what can go wrong when someone who has below-average stuff across the board isn't sharp as an extreme flyball pitcher. This selection will not feel good, so it's probably best to let someone else make this roster move.
Gonzales parlayed the highest strikeout and lowest walk rate of his career into his best season ever. His resultant 20.6 K-BB% ranked 16th among qualified starters. While this is impressive, it's not commensurate with his elite ratios. Gonzales altered his pitch mix, throwing more cutters and sinkers in lieu of fewer changeups. It's unclear if the tweak is the reason or if it's a sample-size effect, but Gonzales' curveball, cutter and sinker all missed more bats. If he's able to maintain his strikeout gains, not only does that directly boost his fantasy production, but it also softens the variance he's experienced the past few seasons. In addition, more whiffs will offset the likely increase of his career-low 2.5 BB%. If the room wants to chase 2020's surface stats, don't get in the way, but if there's pause, don't hesitate to draft Gonzales. At worst, he can be streamed at home.
Gonzales illustrates pitching volatility. His ERAs the past two seasons are nearly identical: 4.00 in 2018 and 3.99 last season. The thing is, he was a significantly better pitcher two years ago but was unlucky. In 2019, the luck happened to reverse. To wit, Gonzales' 2018 xFIP was 3.59 with a 3.81 SIERA. Last year they were 5.11 and 5.08, respectively. Driving the difference was a drop in strikeouts combined with poorer control along with an uptick in HR/9. His 2019 K-BB% was 10.5%, down six points from the prior campaign. While variance affects all hurlers, it tends to manifest more on those with low strikeout rates and Gonzales' 17% mark was well below average. Now over three years removed from Tommy John surgery, Gonzales is durable, the prototypical innings eater. His volatility is a mixed-league risk, but his better skills at home render the southpaw an option in leagues conducive to streaming.
Gonzales enjoyed a bounce-back season with Seattle thanks in part to a new cutter that gave him another weapon to attack righties. Righties crushed him in St. Louis in 2017 to the tune of .346/.388/.566, so Gonzales added a cutter and that slash line improved to .266/.309/.418 last season. His 4.00 ERA feels out of place for a pitcher with a 1.22 WHIP and a 16.5 K-BB%. Gonzales does not have another level when it comes to strikeouts, but the improving walk rate is encouraging for him since he averages more than a hit allowed per inning. As long as he can limit his walks, the extra hits get offset. The innings spike looks greater than it was -- Gonzales logged 126.1 innings between the minors and majors in 2017 in his first season back from Tommy John surgery. There is some concern for a letdown in 2019, but Gonzales has job security and a favorable home park, so he's at least in the mix as a streamer.
Gonzales returned from Tommy John surgery last season, making 11 appearances (eight starts) with the Mariners after coming over from St. Louis in a July trade. The results were ugly, but the top estimators point to the lefty being at least a run better than his ERA would suggest (5.06 FIP, 4.46 xFIP, 4.48 SIERA). His strikeout rate was modest at 7.2 K/9 and Gonzales had trouble with the long ball (1.80 HR/9), but he posted a strong walk rate for the year (2.5 BB/9) and his numbers at Triple-A were solid. Gonzales was excellent in seven relief innings (24.1 K-BB percentage) and he finished strong overall, posting a 2.81 ERA in September. As things stand, Gonzales appears likely to serve as Seattle's swingman to open 2018. That puts him just an injury away from starts, and of course the top two arms in the Mariners' rotation (James Paxton and Felix Hernandez) have dealt with a slew of injuries in recent years.
After missing 2016 due to Tommy John surgery, Gonzales is unlikely to be back pitching in games until a month or two into the 2017 season. He will almost certainly spend time at Triple-A Memphis once healthy due to the fact that he is yet to impress in the majors and seemed to take a step back in the minors before he went under the knife. Over 14 starts with Memphis in 2015 (when he most recently pitched), Gonzales really struggled to retire the opposition, as batters hit .317 with him on the mound. He was much better at Triple-A in 2014, and it is possible his elbow was already an issue during his struggles in 2015. His stuff profiles better at the back of a big league rotation than in the bullpen, so he should continue to be developed as a starter, but given the Cardinals' rotation depth it is unclear when he will get a legitimate look in that role as long as he remains in this organization.
Gonzales' proximity to the big leagues is the selling point and his lack of upside is a reason to look elsewhere in dynasty leagues. He will never be more than a No. 3 starter, and of course he's far from a lock to actualize that ceiling. Assuming Carlos Martinez is over the shoulder issues that plagued him at the end of the year, Gonzales, Tim Cooney and Tyler Lyons are all on the outside looking in on the rotation heading into spring training. Gonzales had his own shoulder issues in the first half of last season, which may have contributed to his shaky run in the Pacific Coast League, but he will nonetheless be relying more on stuff and reputation than tangible success. Meanwhile, Cooney and Lyons can both point to successful, albeit brief runs in the MLB rotation last season, so Gonzales should enter camp as an underdog to serve as the first choice to fill in if someone in the rotation goes down with an injury.
Gonzales was terrific for the Cardinals when called upon in 2014, posting a 4.12 ERA in seven starts and striking out 39 in 43.2 innings. His xFIP of 2.94 shows just how good he was and going into his age-23 season, there's a lot for Cardinals fans and fantasy owners to be excited about. Arguably the organization's top pitching prospect entering 2014, Gonzales has a legitimate shot to crack the Cardinals' rotation in 2015 following the departure of Shelby Miller. He'll have to beat out fellow phenom Carlos Martinez along with oft-injured Jaime Garcia. Gonzales clearly has the talent to do so and if he gets the chance, he could be a great fantasy asset. However, the Cardinals could choose to develop Gonzales the same way they have Martinez, who was relegated to bullpen duties despite arguably being St. Louis' best pitcher last spring.
Gonzales was the Cardinals' first-round pick out of Gonzaga University in the 2013 draft. The lefty is a high-floor pitcher, but he doesn't have a ton of upside and could work his way to the majors late this season. In his first season as a professional, Gonzales posted a 2.70 ERA in 23.1 innings, striking out 23 while walking eight. It's an extremely small sample size, and the Cardinals will have a much better idea of what they have in the 22-year-old after a few months in Double-A, where he should start the 2014 season.
More Fantasy News