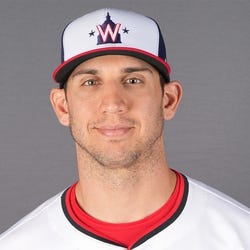 2023 Fantasy Outlook
A shoulder injury sidelined Barnes for two months, limiting him to just 44 appearances and 39.2 innings. Before the injury, the 32-year-old had a 7.94 ERA and 1.71 WHIP with 12 walks across 17 innings, as it appeared his late 2021 collapse carried over into the new season. However, Barnes turned his season around after returning from injury. From August 4 onward, he delivered a 1.59 ERA, 1.24 WHIP and 20:9 K:BB over 22.2 innings, including six of his eight saves on the season. He didn't allow an earned run over his final 12 appearances, which interestingly corresponded with throwing more fastballs and less curves. Barnes' curveball has always been his primary strikeout pitch, but it wasn't as effective last year and his K-rate declined significantly, from 37.8% in 2021 to just 19.3%. That may not completely eliminate him from seeing save chances in 2023, but there are better bets for saves in Boston's pen.
Read Past Outlooks
$Signed a two-year, $16.5 million contract extension with the Red Sox in July of 2021. Traded to the Marlins in January of 2023. Contract includes $8 million team option ($2.25 million buyout) for 2024.

Barnes walked one and struck out one in a scoreless sixth inning during Wednesday's Grapefruit League game against the Cardinals.
ANALYSIS
The right-hander was the first reliever in the game for the Marlins after
Trevor Rogers
hit the showers, which in the spring is a spot generally reserved for high-leverage options. Barnes' 6:4 K:BB through 4.2 innings in camp isn't exactly sharp, however, and it's an ominous sign for a pitcher who's posted a walk rate above 11.0 percent in four of the last five seasons. Miami isn't expected to go into 2023 with a set closer, instead mixing and matching among four different late-inning arms, but
Dylan Floro
still seems to be ahead of Barnes in the pecking order from the right side.
Read More News
Pitching Stats
Loading Pitching Stats...
2022
2021
2020
2019
2018
2017
2022 MLB Game Log

Calculate Stats Over Time
Just click on any two dates.
Scoring
FanDuel
DraftKings
Yahoo DFS
FantasyDraft
Head2Head
Loading Pitching Game Log...
2021 MLB Game Log

Calculate Stats Over Time
Just click on any two dates.
Scoring
FanDuel
DraftKings
Yahoo DFS
FantasyDraft
Head2Head
Loading Pitching Game Log...
2020 MLB Game Log

Calculate Stats Over Time
Just click on any two dates.
Scoring
FanDuel
DraftKings
Yahoo DFS
FantasyDraft
Head2Head
Loading Pitching Game Log...
2019 MLB Game Log

Calculate Stats Over Time
Just click on any two dates.
Scoring
FanDuel
DraftKings
Yahoo DFS
FantasyDraft
Head2Head
Loading Pitching Game Log...
2018 MLB Game Log

Calculate Stats Over Time
Just click on any two dates.
Scoring
FanDuel
DraftKings
Yahoo DFS
FantasyDraft
Head2Head
Loading Pitching Game Log...
2017 MLB Game Log

Calculate Stats Over Time
Just click on any two dates.
Scoring
FanDuel
DraftKings
Yahoo DFS
FantasyDraft
Head2Head
Loading Pitching Game Log...
Minor League Game Log

Calculate Stats Over Time
Just click on any two dates.
Loading Minor League Pitching Game Log...
Pitching Appearances Breakdown
How many pitches does Matt Barnes generally throw?
What part of the game does Matt Barnes generally pitch?
% Games Reaching Innings Threshold
% Games By Number of Innings Pitched
Left/Right Pitching Splits
BAA
K
BB
H
HR
Since 2020

vs Left

.181
63
30
29
3
Since 2020

vs Right

.242
86
25
66
11
2022

vs Left

.217
17
9
13
1
2022

vs Right

.256
17
12
23
1
2021

vs Left

.156
28
12
10
2
2021

vs Right

.230
56
8
31
6
2020

vs Left

.167
18
9
6
0
2020

vs Right

.250
13
5
12
4
More Splits

→

View More Split Stats
Home/Away Pitching Splits
ERA
WHIP
IP
K/9
BB/9
Since 2020

Home

4.14
1.32
63.0
10.9
3.9
Since 2020

Away

3.98
1.23
54.1
12.1
4.6
2022

Home

5.14
1.67
21.0
7.3
4.3
2022

Away

3.38
1.18
18.2
8.2
5.3
2021

Home

4.50
1.22
32.0
12.9
3.1
2021

Away

2.78
0.97
22.2
15.1
3.6
2020

Home

0.90
0.90
10.0
11.7
5.4
2020

Away

6.92
1.77
13.0
12.5
5.5
More Splits

→

View More Split Stats
Stat Review
How does Matt Barnes compare to other relievers?
This section compares his stats with all relief pitcher seasons from the previous three seasons (minimum 30 innings)*. The bar represents the player's percentile rank. For example, if the bar is halfway across, then the player falls into the 50th percentile for that stat and it would be considered average.
* Exit Velocity, Barrels/BBE %, Balls Hit 95+ MPH %, and Spin Rate are benchmarked against 2019 data (min 30 IP).
See here for more exit velocity/barrels stats
plus an explanation of current limitations with that data set.
K/BB

Strikeout to walk ratio.

K/9

Average strikeouts per nine innings.

BB/9

Average walks per nine innings.

HR/9

Average home runs allowed per nine innings.

Fastball

Average fastball velocity.

ERA

Earned run average. The average earned runs allowed per nine innings.

WHIP

Walks plus hits per inning pitched.

BABIP

Batting average on balls in play. Measures how many balls in play against a pitcher go for hits.

GB/FB

Groundball to flyball ratio. The higher the number, the more likely a pitcher is to induce groundballs.

Left On Base

The percentage of base runners that a pitcher strands on base over the course of a season.

Exit Velocity

The speed of the baseball as it comes off the bat, immediately after a batter makes contact.

Barrels/BBE

The percentage of batted ball events resulting in a Barrel. A Barrel is a batted ball with similar exit velocity and launch angle to past ones that led to a minimum .500 batting average and 1.500 slugging percentage.

Spin Rate

Spin Rate is the rate of spin on a baseball after it is released. It is measured in revolutions per minute (rpm).

Balls Hit 95+ MPH

The percentage of batted balls hit that met or exceeded the 95 MPH threshold.

Swinging Strike

The percentage of pitches that result in a swing and a miss.
Advanced Pitching Stats
Loading Advanced Pitching Stats...
Loading MLB Defensive Stats...
Our full team depth charts are reserved for RotoWire subscribers.
Subscribe Now
Recent RotoWire Articles Featuring Matt Barnes
See More
Past Fantasy Outlooks
2022
2021
2020
2019
2018
2017
2016
2015
2014
2013
2012
Barnes was one of the best relievers in baseball over the first half of 2021 with a 2.61 ERA, 0.90 WHIP, 14.9 K/9 and 19 saves over 38 innings. His line was so impressive that it earned him a two-year extension with Boston that he signed mid-season. Just a few months later, Barnes couldn't be trusted in high-leverage and failed to make the Red Sox initial playoff roster. So what happened? The 31-year-old fell apart after the All-Star break, struggling to a 6.48 ERA and 1.62 WHIP while making two trips to the COVID-19 IL - one of which resulted in a pair of negative test results. To make matters worse, Barnes accidentally cut off the tip of his thumb in late-September. There's a lot to like in his profile including a 13.8 K/9 good for seventh among qualifying relievers. However, Barnes' path to saves in 2022 depends on Boston's high-leverage plans, as the team seemed content using a committee at the end of 2021.
The veteran right-hander began 2020 in a setup role in front of Brandon Workman, but he took over as closer after Workman was traded in August. Barnes had a 4.30 ERA, 1.39 WHIP, 30.4% strikeout rate and 13.7% walk rate and ended up going 9-for-13 in save opportunities with four holds. The strikeouts continue to be a strength and walks a weakness, and he got worse in both categories during the shortened season. Home runs were also a big issue, as the 1.57 HR/9 was his highest since 2015. Barring an acquisition in free agency, Barnes is the favorite for the closer's gig entering spring training and has the strikeouts to provide significant value, but his high walk rate limits that potential for both the Red Sox and fantasy managers.
If Barnes could reduce his walk rate, he would be an elite closer. As is, he is an elite reliever because he generates more strikeouts than some starting pitchers do with his nasty breaking ball and fastball and is tough to hit. His strikeout rate has improved each of the past five seasons, and the elite strikeout rate is what helps offset the damage the walks would normally lead to for another reliever who pitches in high leverage as often as Barnes does. However, as great as Barnes' stuff is, he still had 1.4 runners on base every inning last year, and closers cannot live long with those types of ratios. Boston's undoing in 2019 was its bullpen, and even then, Barnes got just four saves as the Red Sox tried in vain to replace Craig Kimbrel. He is one skill away from tripling his fantasy value, but he's been in that situation for three seasons now. Draft him more for what he is than what he could be.
Unless you play in a league scoring holds, you likely aren't familiar with Barnes' exploits last season. Not only did he register 25 holds, tied for eighth-most in the league, he punched out 96, tying him for ninth among relievers. Barnes would have ranked higher had he not missed most of September with hip inflammation. Barnes' season was fueled by an impressive, career-best 14.5 SwStr%. However, the swing and miss came at a cost as Barnes' control suffered, resulting in a 12.7% walk rate, fueling a high 1.26 WHIP. The Red Sox bullpen is in flux, but it's tough to see them entering the season with Barnes in the ninth. Middle relievers have become increasingly relevant in the current fantasy landscape, and a player like Barnes can be useful. Best of all he should be affordable since his cost is kept in check with few expecting he will ever graduate to ninth-inning duties.
For the second straight season, Barnes led the Red Sox's bullpen in innings with 69.2, recording 21 holds, the most on the club. The hard-throwing right-hander improved his strikeout rate to 28.9 percent while dropping his walk rate to a still-high 9.8 percent. Bagging his changeup while throwing his slider and curve more helped garner more swinging strikes. Barnes pitched a little better than his 3.88 ERA as evidenced by a 3.27xFIP and 3.33 FIP. One reason is a bloated 14 percent HR/FB. On the surface, it appears Barnes faded late, registering a 5.39 ERA in September, but a 2.39 xFIP suggests otherwise. For the month, Barnes peripherals were an eye-popping 15.8 K/9 and 0.9 BB/9. He was victimized by three long balls in 9.2 innings, so don't sweat the perceived swoon. With Craig Kimbrel handling the ninth, Barnes returns to the primary setup role.
Barnes was a full-time reliever in 2016 after pitching as both a starter and reliever in 2015 -- he admitted to problems going back and forth between the two roles. In the bullpen, Barnes was Boston's leader in innings (66.2 over 62 games) and showed improvement, dropping his HR/9 rate while striking out 9.6 batters per nine innings. While his 4.05 ERA doesn't scream effective relief, it was skewed by an awful month of August (10.13 ERA in 13 appearances). And he showed some moxie, bouncing back in September, posting a 1.29 ERA over his final 10 outings. Apart from the one bad month, Barnes was a trusted member of the bullpen. His power fastball can be a weapon, but he'll need to command it better (4.2 BB/9). Boston's bullpen has some moving pieces but Barnes will be back in 2017, pitching in a middle-relief role.
Barnes served the organization as both a starter and reliever in 2015. In 43 innings at the major league level, Barnes permitted 56 hits, 28 runs and nine homers (nearly two per nine innings). Being yanked between roles didn't help, and Barnes admitted difficulty in transitioning from a career starter to first-time reliever — he didn't know when to throw his secondary stuff and never got to work on those pitches like a starter would do between starts. He would often fall behind hitters, who were waiting on his fastball. A midseason return to Triple-A Pawtucket as a starter proved to be beneficial. He got to work on pitches and improve his fastball command. When he returned to Boston as a reliever in September, Barnes allowed just one run in 10.1 innings. The plan for him in 2016 is to pitch solely as a reliever, and he's got the power arm that will play in the bullpen, possibly as a late-inning reliever.
Barnes had a late start to the season after a sore shoulder cropped up in spring training. Once he got on the field for Triple-A Pawtucket, it looked like the shoulder was still an issue as Triple-A hitters easily handled him. Barnes wasn't commanding his pitches consistently, particularly his average secondary stuff, limiting the effectiveness of his plus fastball. It came together for him in the second half when he walked fewer batters and elicited more swings-and-misses. Despite the late start to the season, Barnes bumped up his innings count. It was also promising to see his fastball velocity increase toward the end of the season. He earned himself a September callup to Boston and worked out of the bullpen during the final month of the season. The Red Sox still consider him a starter with a three-pitch mix, so don't expect Barnes to receive consideration for a place in the Boston bullpen on Opening Day. A return to Triple-A is likely for Barnes, who will continue to work on the secondary stuff (curveball and changeup) while developing the mix needed to get through orders multiple times. With Brandon Workman moving to the bullpen full-time and the trades of Allan Webster and Rubby De La Rosa, Barnes moves to the top of the list of depth starters for Boston.
Barnes opened the 2013 season at Double-A Portland following a dominant stretch at both levels of A-ball in 2012. The move up turned out to be a stern test for Barnes, whose pitch efficiency suffered against advanced hitters. His BB/9 rate increased from 2.2 to 3.8 between the two levels and he averaged just 4.5 innings per start. The 6-foot-4 righty was hurt by big innings and an inconsistent ability to throw his secondary stuff for strikes. He finished out his season with a promotion to Triple-A Pawtucket, where his one start was a successful one. The key for Barnes entering 2014 is throwing his secondary offerings for strikes. He commands his low-to-mid 90s fastball well, but neither the changeup nor curveball are considered above average at this point.
Barnes quickly became Boston's top pitching prospect in 2012, moving through the Low-A South Atlantic League in just one month before being promoted to High-A Salem. As we have seen before with top pitching prospects, they can get by with a good heater in Low-A, but the need to establish secondary offerings, like a changeup and curveball, is the key to continue their ascent. After his promotion, he was definitely challenged more by the advanced hitters. Barnes logged 119.2 innings in his first professional season, and the organization will build off that. Continued work on the secondary pitches is Barnes' main objective entering 2013, which will likely start at High-A.
Barnes was taken in the first-round of the pitching-rich 2011 draft with the 19th overall pick by the Red Sox. As a college pitcher at the University of Connecticut, the Red Sox had ample opportunity to scout him. Because he signed close to the deadline, Barnes didn't make his professional debut last year, so he might be a smidge behind some of his contemporaries. But he's also polished enough to advance pretty quickly through the lower levels of the minors. He frequently works in the 93-95 mph range with his fastball and he throws four pitches (fastball, change, curveball, slider) regularly.
More Fantasy News