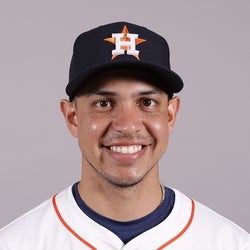 Rest-of-Season Projections
2023 Fantasy Outlook
Dubon started 2022 with the Giants but was traded to the Astros in May, and he appeared in a career-high 104 games between the two clubs. He had most of his playing time in center field but also saw at least semi-regular action at shortstop and second base and provides solid defense across the board, which is really the only reason he's remained on a big-league roster. Dubon hit .214/.252/.313 with five home runs and two stolen bases last season, and at this point an offensive breakout seems unlikely as he enters his age-28 season. His defense in center field and the middle infield has value off the bench, but he shouldn't be expected to be a fantasy asset.
Read Past Outlooks
$Signed a one-year, $1.4 million contract with the Astros in January of 2023.

Dubon went 0-for-4 with a run scored Wednesday against the Blue Jays.
ANALYSIS
Dubon didn't put together an impressive performance on the field, but he drew his second start at shortstop this season. He has seen most of his playing time at second base but has been forced back to a bench role due to the return of
Jose Altuve
. Meanwhile,
Jeremy Pena
has been the locked-in starting shortstop and has performed just above league average based on wRC+. That likely means Dubon will be stuck in a reserve role for the foreseeable future, though his defensive versatility could help him pick up additional playing time.
Read More News
Batting Stats
2023 MLB Game Log

Calculate Stats Over Time
Just click on any two dates.
Scoring
FanDuel
DraftKings
Yahoo DFS
Loading Batting Game Log...
2022 MLB Game Log

Calculate Stats Over Time
Just click on any two dates.
Scoring
FanDuel
DraftKings
Yahoo DFS
Loading Batting Game Log...
2021 MLB Game Log

Calculate Stats Over Time
Just click on any two dates.
Scoring
FanDuel
DraftKings
Yahoo DFS
Loading Batting Game Log...
2020 MLB Game Log

Calculate Stats Over Time
Just click on any two dates.
Scoring
FanDuel
DraftKings
Yahoo DFS
Loading Batting Game Log...
2019 MLB Game Log

Calculate Stats Over Time
Just click on any two dates.
Scoring
FanDuel
DraftKings
Yahoo DFS
Loading Batting Game Log...
Minor League Game Log

Calculate Stats Over Time
Just click on any two dates.
Loading Minor League Batting Game Log...
Batting Order Slot Breakdown
#1
#2
#3
#4
#5
#6
#7
#8
#9
#1
#2
#3
#4
#5
#6
#7
#8
#9
Left/Right Batting Splits
OPS
PA
HR
RBI
AVG
Since 2021

vs Left

.772
204
7
23
.282
Since 2021

vs Right

.586
450
5
34
.235
2023

vs Left

.874
37
0
0
.382
2023

vs Right

.704
165
2
11
.287
2022

vs Left

.765
94
4
15
.267
2022

vs Right

.455
171
1
9
.185
2021

vs Left

.728
73
3
8
.250
2021

vs Right

.609
114
2
14
.234
More Splits

→

View More Split Stats
Home/Away Batting Splits
OPS
PA
HR
RBI
AVG
Since 2021

Home

.616
314
6
31
.238
Since 2021

Away

.670
340
6
26
.260
2023

Home

.618
90
0
4
.282
2023

Away

.829
112
2
7
.321
2022

Home

.645
144
5
18
.227
2022

Away

.470
121
0
6
.198
2021

Home

.563
80
1
9
.208
2021

Away

.726
107
4
13
.265
More Splits

→

View More Split Stats
Stat Review
How does Mauricio Dubon compare to other hitters?
This section compares his stats with all batting seasons from the previous three seasons (minimum 400 plate appearances)*. The bar represents the player's percentile rank. For example, if the bar is halfway across, then the player falls into the 50th percentile for that stat and it would be considered average.
* Exit Velocity and Barrels/PA % are benchmarked against 2019 data (min 400 PA) and Hard Hit Rate is benchmarked against last season's data (min 400 PA).
See here for more exit velocity/barrels stats
plus an explanation of current limitations with that data set.
BB/K

Walk to strikeout ratio

BB Rate

The percentage of plate appearances resulting in a walk.

K Rate

The percentage of plate appearances resulting in a strikeout.

BABIP

Batting average on balls in play. Measures how many of a batter's balls in play go for hits.

ISO

Isolated Power. Slugging percentage minus batting average. A computation used to measure a batter's raw power.

AVG

Batting average. Hits divided by at bats.

OBP

On Base Percentage. A measure of how often a batters reaches base. Roughly equal to number of times on base divided by plate appearances.

SLG

Slugging Percentage. A measure of the batting productivity of a hitter. It is calculated as total bases divided by at bats.

OPS

On base plus slugging. THe sum of a batter's on-base percentage and slugging percentage.

wOBA

Weighted on-base average. Measures a player's overall offensive contributions per plate appearance. wOBA combines all the different aspects of hitting into one metric, weighting each of them in proportion to their actual run value.

Exit Velocity

The speed of the baseball as it comes off the bat, immediately after a batter makes contact.

Hard Hit Rate

A measure of contact quality from Sports Info Solutions. This stat explains what percentage of batted balls were hit hard vs. medium or soft.

Barrels/PA

The percentage of plate appearances where a batter had a batted ball classified as a Barrel. A Barrel is a batted ball with similar exit velocity and launch angle to past ones that led to a minimum .500 batting average and 1.500 slugging percentage.

Expected BA

Expected Batting Average.

Expected SLG

Expected Slugging Percentage.

Sprint Speed

The speed of a runner from home to first, in feet per second.

Ground Ball %

The percentage of balls put in play that are on the ground.

Line Drive %

The percentage of balls put in play that are line drives.

Fly Ball %

The percentage of balls put in play that are fly balls.
Prospect Rankings History
Advanced Batting Stats
Loading Advanced Batting Stats...
Games By Position
Defensive Stats
Loading Games Played by Position...
Loading MLB Defensive Stats...
Batted Ball Stats
Loading Batted Ball Stats...
Stats Vs Upcoming Pitchers
Our full team depth charts are reserved for RotoWire subscribers.
Subscribe Now
Recent RotoWire Articles Featuring Mauricio Dubon
See More
Past Fantasy Outlooks
2022
2021
2020
2019
2018
2017
2016
2014
Dubon played in 74 games at the major-league level last season, posting a .240/.278/.377 slash line with five home runs and 22 RBI. He's a natural middle infielder, but he has also seen time at center field. Both Dubon and Thairo Estrada are out of options, so winning a utility role out of camp will be key for each of them remaining in the Giants' organization. It's unlikely either of them will be able to supplant more veteran players like Tommy La Stella (Achilles), Brandon Crawford or Evan Longoria for a regular role in the infield.
Dubon was ticketed for a utility role, playing mostly at second base, and after impressing the Giants in summer camp, some center field. By season's end, Dubon took over as the regular center fielder. Since he also played eight games at both second base and shortstop, he may qualify at three spots in some formats. Considered a line drive/gap hitter who makes decent contact, Dubon added a couple ticks of exit velocity and several degrees of launch angle, but it did not alter his power as only nine of his 43 hits were of the extra-base variety. In addition, he was successful on only two of five stolen-base attempts. Dubon offers a bankable batting average floor with the ability to muster low-teens homers and steals with ample playing time. He could also fall back into a super-utility role. If it appears Dubon will play every day, his multiple-position eligibility puts him in play as an endgame pick in mixed formats.
The Brewers traded Dubon away at the deadline despite their shortstop (Orlando Arcia) being one of the weaker players in their lineup and despite getting nothing more than a few months of Drew Pomeranz in return, suggesting that the league as a whole didn't have a particularly high opinion of the 25-year-old. However, Dubon performed capably in his first 30 career games, hitting .274/.306/.434 with four homers and three steals, and appears to have an everyday role at second base heading into this season. Playing time will make Dubon relevant in deeper leagues, but he might not do enough at the plate to have broader appeal. Scouts see Dubon as someone who should hit for a decent average while stealing a handful of bases but who isn't likely to hit for much power. Unless that power comes around, Dubon's fantasy utility will be capped.
Dubon reached Triple-A for the first time in 2017 and posted a .739 OPS over 58 games. However, he showed he was capable of much more in 2018, posting a .922 OPS over 27 games and putting himself in the conversation for a spot on the big-league roster. Unfortunately for him and the Brewers, Dubon tore his ACL in May and was lost for the rest of the season. The good news for both parties is his recovery has gone as expected, and he will be ready for spring training. He is not a true burner, but Dubon has above-average speed and excellent instincts that could lead to 20-steal seasons. It's unlikely he will show as much pop as he did last season -- he can thank the hitter-friendly conditions in the PCL for that -- but he does own a career .300 batting average at the minor-league level. He will open the year at Triple-A, but his ability to play shortstop and second base should result in him debuting in the majors sometime this season.
2017 marked Dubon's first year with the Brewers after coming over in an offseason trade, and although he did not hit nearly as well as he did the year before, he still impressed in the speed department, stealing 30 bases for the third season in a row and finishing with a career-best 38 swipes. It's unlikely he will ever do much in the power categories, but his speed and ability to handle both the shortstop and second base positions make him a virtual lock to get a shot in the big leagues. The Brewers added him to their 40-man roster over the offseason, so that will likely happen at some point in 2018. However, the team is relatively deep at the two middle infield spots, so his season figures to begin at the Triple-A level, and several things would need to occur for him to see regular playing time for the big club.
Dubon's path to MLB was hastened this offseason when the Red Sox traded him to the Brewers in the deal that returned relief pitcher Tyler Thornburg. With Boston, Dubon was blocked in the middle infield, and even the organization's experiment with him at third base was fraught with traffic. There should be a quicker path to the majors as a shortstop, his best position, in the Milwaukee organization. Dubon is a high-contact guy who performed well at both High-A and Double-A (.840 OPS). More attention would have been paid to his productive year had Dubon not spent time with more heralded prospects, Yoan Moncada and Andrew Benintendi. He actually showed some power in Double-A, clubbing six homers in 62 games with the Sea Dogs, but there's nothing in his past to suggest the power is here to stay. His defense and speed (30-of-37 steals) are enough to get him to the majors. Whether he continues to hit is the major question entering 2017.
Dubon, 21, has been a good contact hitter since joining the Red Sox organization, and he continued along the same path in 2015. He began the season at Low-A Greenville, registering a hit in 14 of his first 16 games on his way to a .301/.354/.428 slash line in 58 games for the Drive, including 22 multi-hit games. He fell off some after a promotion to High-A Salem, experiencing the predictable challenges and a big drop off in power moving up a level. He was hitting just .231 at Salem in late July, but showed signs of adjustment, going on a .328 tear in August / September. Dubon also showed off his speed, swiping 30 bags in 37 stolen-base attempts. Defensively, Dubon has the arm to handle shortstop and should get back there full time after Boston parted with Javier Guerra in the Craig Kimbrel trade. Dubon will start at High-A Salem this season with a promotion to Double-A Portland expected later in the season.
Dubon, a native of Honduras who moved to California in 2009, was drafted in the 26th round of the 2013 draft. He's a skinny kid, but has a frame that projects some growth. Dubon's got some refining to do in the field, but has plenty of arm to play shortstop. At the plate, he shows surprising pop. Dubon stays back and generates good bat speed. He's just beginning to develop an approach.
More Fantasy News