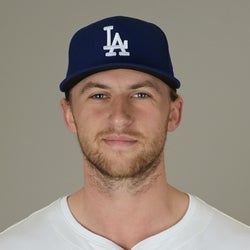 Rest-of-Season Projections
2023 Fantasy Outlook
Kopech returned to a big-league mound in 2021 for the first time in three years and excelled as a reliever, and he continued that success in the starting rotation last year. The right-hander made only 19 starts while he dealt with knee and shoulder issues, but when available he pitched well with a 3.54 ERA, 1.19 WHIP and 105:57 K:BB across 119.1 innings. He unsurprisingly saw his velocity drop 2.5 mph from his year out of the bullpen, and with it his strikeout rate dropped from 36.1 percent to 21.3 percent. The underlying numbers are a bit less encouraging, as he had a 4.83 xFIP and .223 BABIP, which could indicate he's due for some regression. Kopech continues to rely heavily on his fastball and slider and may not be able to take that next step until he's able to mix in an effective third pitch more often, which has eluded him to this point.
Read Past Outlooks
$Signed a one-year contract with the White Sox in January of 2023.

Kopech allowed two runs on three hits and a walk while striking out nine over seven innings in a no-decision versus the Tigers on Sunday.
ANALYSIS
After a bumpy 10-strikeout effort versus the Angels on Monday, Kopech was back on track with a strong start. He limited the damage to a
Spencer Torkelson
two-run home run in the fourth inning. This was the third time in his last four starts that Kopech went at least seven innings, and he's had at least nine strikeouts in all of those efforts. For the season, he's at a 4.33 ERA, 1.18 WHIP and 79:32 K:BB through 68.2 innings. The right-hander's 4.2 BB/9 is still concerning, but he's shown enough strikeout potential, especially recently, to garner fantasy interest. He's lined up to make his next start at home versus the Marlins.
Read More News
Pitching Stats
Loading Pitching Stats...
2023
2022
2021
2020
2019
2018
2023 MLB Game Log

Calculate Stats Over Time
Just click on any two dates.
Scoring
FanDuel
DraftKings
Yahoo DFS
Loading Pitching Game Log...
2022 MLB Game Log

Calculate Stats Over Time
Just click on any two dates.
Scoring
FanDuel
DraftKings
Yahoo DFS
Loading Pitching Game Log...
2021 MLB Game Log

Calculate Stats Over Time
Just click on any two dates.
Scoring
FanDuel
DraftKings
Yahoo DFS
Loading Pitching Game Log...
2020 MLB Game Log

Calculate Stats Over Time
Just click on any two dates.
Scoring
FanDuel
DraftKings
Yahoo DFS
Loading Pitching Game Log...
2019 MLB Game Log

Calculate Stats Over Time
Just click on any two dates.
Scoring
FanDuel
DraftKings
Yahoo DFS
Loading Pitching Game Log...
2018 MLB Game Log

Calculate Stats Over Time
Just click on any two dates.
Scoring
FanDuel
DraftKings
Yahoo DFS
Loading Pitching Game Log...
Minor League Game Log

Calculate Stats Over Time
Just click on any two dates.
Loading Minor League Pitching Game Log...
Pitching Appearances Breakdown
How many pitches does Michael Kopech generally throw?
What part of the game does Michael Kopech generally pitch?
% Games Reaching Innings Threshold
% Games By Number of Innings Pitched
Left/Right Pitching Splits
BAA
K
BB
H
HR
Since 2021

vs Left

.193
157
55
77
15
Since 2021

vs Right

.208
130
58
111
24
2023

vs Left

.174
41
18
19
5
2023

vs Right

.219
38
14
30
10
2022

vs Left

.214
62
30
39
5
2022

vs Right

.186
43
27
46
10
2021

vs Left

.176
54
7
19
5
2021

vs Right

.235
49
17
35
4
More Splits

→

View More Split Stats
Home/Away Pitching Splits
ERA
WHIP
IP
K/9
BB/9
Since 2021

Home

3.35
1.02
150.1
10.1
3.9
Since 2021

Away

4.29
1.38
107.0
10.0
4.0
2023

Home

4.31
1.16
39.2
11.3
4.8
2023

Away

4.34
1.21
29.0
9.0
3.4
2022

Home

3.01
0.98
68.2
7.3
3.9
2022

Away

4.26
1.48
50.2
8.7
4.8
2021

Home

3.00
0.95
42.0
13.3
3.0
2021

Away

4.28
1.39
27.1
13.5
3.3
More Splits

→

View More Split Stats
Stat Review
How does Michael Kopech compare to other starting pitchers?
This section compares his stats with all starting pitcher seasons from the previous three seasons (minimum 120 innings)*. The bar represents the player's percentile rank. For example, if the bar is halfway across, then the player falls into the 50th percentile for that stat and it would be considered average.
* Exit Velocity, Barrels/BBE %, Balls Hit 95+ MPH %, and Spin Rate are benchmarked against 2019 data (min 120 IP).
See here for more exit velocity/barrels stats
plus an explanation of current limitations with that data set.
K/BB

Strikeout to walk ratio.

K/9

Average strikeouts per nine innings.

BB/9

Average walks per nine innings.

HR/9

Average home runs allowed per nine innings.

Fastball

Average fastball velocity.

ERA

Earned run average. The average earned runs allowed per nine innings.

WHIP

Walks plus hits per inning pitched.

BABIP

Batting average on balls in play. Measures how many balls in play against a pitcher go for hits.

GB/FB

Groundball to flyball ratio. The higher the number, the more likely a pitcher is to induce groundballs.

Left On Base

The percentage of base runners that a pitcher strands on base over the course of a season.

Exit Velocity

The speed of the baseball as it comes off the bat, immediately after a batter makes contact.

Barrels/BBE

The percentage of batted ball events resulting in a Barrel. A Barrel is a batted ball with similar exit velocity and launch angle to past ones that led to a minimum .500 batting average and 1.500 slugging percentage.

Spin Rate

Spin Rate is the rate of spin on a baseball after it is released. It is measured in revolutions per minute (rpm).

Balls Hit 95+ MPH

The percentage of batted balls hit that met or exceeded the 95 MPH threshold.

Swinging Strike

The percentage of pitches that result in a swing and a miss.
Prospect Rankings History
Advanced Pitching Stats
Loading Advanced Pitching Stats...
Loading MLB Defensive Stats...
Our full team depth charts are reserved for RotoWire subscribers.
Subscribe Now
Recent RotoWire Articles Featuring Michael Kopech
See More
Past Fantasy Outlooks
2022
2021
2020
2019
2018
2017
2016
2015
Kopech was a giant unknown heading into the 2021 season. When last we saw him, he left his final start after his promotion from the minors with an injury in 2018 which required Tommy John surgery to fix. He missed the 2019 season rehabbing, and opted out of the 2020 season due to health concerns. He came into 2021 as a reliever, something he had never done as a professional, and absolutely flourished in the role from a real baseball perspective. His success did not exactly translate into much fantasy success outside of his strikeout total, but he quickly reminded us what his right arm is capable of doing when it is healthy. Now the question will be: can he transition back to the rotation? If so, what will it look like? An effective third pitch has thus far eluded him, and that challenge along with the jump in workload may just make him a risk you let others take.
Kopech threw one clean five-pitch inning last spring during Cactus League play, which marks his lone game action in over two years. He needed Tommy John surgery in September 2018 after a brief cup of coffee and opted out of the 2020 season due to the pandemic. He will be 30 months removed from TJS this spring. New pitching coach Ethan Katz said in December that Kopech is feeling great and the team expects him to compete for a rotation spot in camp. Kopech's arm should be healthy and fresh, but considering he has been unable to build up his workload, the White Sox will probably have to devise a creative way of managing him this season. Kopech has an 80-grade fastball, plus slider, improving changeup and shaky control. He is the type of pitching prospect who could dominate any team over six innings or get chased by any team before making it out of the third inning.
Since 2000, of six starting pitchers who had their first Tommy John surgery in September, as Kopech did in 2018, the average innings pitched in the season that began 18 months later was 101.2. Two of the six (Mike Hampton, Scott Mathieson) did not make it back at all during what should have been their comeback years. Kopech has an 80-grade fourseam fastball with elite spin and will flash a plus slider and plus changeup. However, his command and control are fringe-average at best. Considering command is often the last thing to return for pitchers coming off TJS, we should not panic if he is wild in spring training or even the first couple months of the season. He is undeniably a flyball pitcher, so home runs will sometimes follow his walks and hit batsmen. This is not the year to expect quality ratios, but there will be a lot of strikeouts if he is lucky enough to avoid setbacks when he starts to ramp up.
Chicago's tantalizing fireballer grinded his way to a late-season MLB debut, battling control issues at Triple-A for much of the season. The excitement was short lived, as he required Tommy John surgery in mid-September. Kopech gave up a run on 11 hits and one walk while hitting five batters and striking out nine over 11 innings in his first three MLB starts (two were cut short by rain). He was pummeled in his final start, which also included a rain delay before he tore his UCL. There is a lot of noise in his tiny MLB sample -- elbow issues resulted in his velocity ticking down in each successive start and only one was unaffected by rain -- but in his debut outing his 96.8 mph four-seamer averaged 2,629 rpm -- Justin Verlander led qualified starters at 2,618 rpm. He also flashed a plus slider and plus changeup. Kopech will miss all of 2019 and with a normal recovery he will be fully healthy for spring training in 2020 -- 17-plus months removed from the surgery.
Last year Kopech's doubters thought he would end up as a high-leverage reliever, but now he seems more likely to wind up on the cover of GQ than in a big-league bullpen. There are reasonable arguments for a couple other hurlers (Forrest Whitley and Alex Reyes), but Kopech will be ranked by most as the top pitching prospect in the game this offseason. In addition to his famed 80-grade fastball, which he can dial up to triple digits with ease, Kopech made massive strides with his slider and changeup. Both secondaries now project as plus offerings, and with improving command, a future No. 1 starter is coming into focus. The White Sox kept him at Double-A for most of 2017, but rewarded his improvement with a three-start run at Triple-A to close out the year. He will return to Charlotte, but he should spend the bulk of 2018 in the big-league rotation. His immediate floor is a high-strikeout ratio risk, but if he throws enough strikes, he could be an SP2 on a per-start basis.
Kopech made headlines in 2016, both bad and good. The bad was breaking his hand in spring training while getting into an altercation with a teammate, delaying his start to the season until July. Between this incident and missing 50 games of development in 2015 due to testing positive for a banned substance, there were some makeup questions dogging him. Once the 6-foot-3 right-hander started pitching, the good headlines started. His calling card is an overpowering fastball that touches triple digits. He breezed through Carolina League hitters, striking out 82 in 52 innings (14.2 K/9) and was clearly one of the top prospects in the Arizona Fall League. It is easy to see why the White Sox insisted Kopech be part of the deal for Chris Sale. Commanding the heater (5.0 BB/9 in 2016) in addition to improving the secondary offerings and building up innings (134.2 in three seasons) make up his to-do list for 2017.
Kopech is one of Boston's better pitching prospects at the lower levels of the organization, projecting as a No. 2 starter if it all clicks for him. He was given a challenging assignment to Low-A Greenville to start the season and was successful at that level, finishing 4-5 with a 2.63 ERA while striking out 70 in 65 innings. The bad news is that Kopech was suspended 50 games for testing positive for Oxilofrine, a stimulant in violation of the Minor League Drug Prevention and Treatment Program. The suspension wiped out the rest of his regular season, leaving him only an option of working out at team's training facility in Fort Myers. He was able to work on a few things there, in particular his off-speed stuff and ironing out his mechanics. Kopech participated in the Fall Instructional League, making up for some lost development time. His major areas of focus in 2016 are repeating his delivery, commanding his fastball and refining the secondary stuff. He'll likely open at Greenville.
Kopech was the second of Boston's two first-round picks in the 2014 draft. Coming out of high school, he was immediately assigned to the Gulf Coast League, where he held opponents to a measly .216 average and .255 slugging percentage. His problems with control and command were evident -- nine walks in 13.2 innings -- but his mid-90s heater (touching 97-98 mph) was effective against other rookies. Kopech has a lot of moving parts to his delivery, but has already worked to correct some of that. His secondary pitches are works in progress, but his raw stuff gives him a high ceiling if it can be harnessed. The Red Sox may challenge him at Low-A Greenville in 2015 for his first full-season assignment.
More Fantasy News