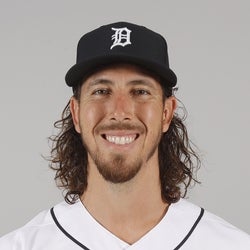 2023 Fantasy Outlook
There was no outlook written for Michael Lorenzen in 2023. Check out the latest news below for more on his current fantasy value.
#

Overall
$Signed a one-year, $7 million contract with the Angels in November of 2021.

Ends year with quality start
Lorenzen allowed three hits and three walks while striking out seven over six scoreless innings in a no-decision versus the Athletics on Tuesday.
ANALYSIS
Lorenzen wasn't able to complete six innings in any of his four September starts after returning from a shoulder strain. He got to that mark with one of his best performances of the year Tuesday, as no Oakland hitter got past second base on his watch. Lorenzen worked as a starter full-time for the first season since 2015, posting a 4.24 ERA, 1.28 WHIP and 85:44 K:BB over 97.2 innings in his 18 starts this year. He could remain in the Angels' rotation in 2023 if he signs a new contract with the team.
Read More News
Pitching Stats
Loading Pitching Stats...
2022
2021
2020
2019
2018
2017
2022 MLB Game Log

Calculate Stats Over Time
Just click on any two dates.
Scoring
FanDuel
DraftKings
Yahoo DFS
FantasyDraft
Head2Head
Loading Pitching Game Log...
2021 MLB Game Log

Calculate Stats Over Time
Just click on any two dates.
Scoring
FanDuel
DraftKings
Yahoo DFS
FantasyDraft
Head2Head
Loading Pitching Game Log...
2020 MLB Game Log

Calculate Stats Over Time
Just click on any two dates.
Scoring
FanDuel
DraftKings
Yahoo DFS
FantasyDraft
Head2Head
Loading Pitching Game Log...
2019 MLB Game Log

Calculate Stats Over Time
Just click on any two dates.
Scoring
FanDuel
DraftKings
Yahoo DFS
FantasyDraft
Head2Head
Loading Pitching Game Log...
2018 MLB Game Log

Calculate Stats Over Time
Just click on any two dates.
Scoring
FanDuel
DraftKings
Yahoo DFS
FantasyDraft
Head2Head
Loading Pitching Game Log...
2017 MLB Game Log

Calculate Stats Over Time
Just click on any two dates.
Scoring
FanDuel
DraftKings
Yahoo DFS
FantasyDraft
Head2Head
Loading Pitching Game Log...
Minor League Game Log

Calculate Stats Over Time
Just click on any two dates.
Loading Minor League Pitching Game Log...
Pitching Appearances Breakdown
How many pitches does Michael Lorenzen generally throw?
What part of the game does Michael Lorenzen generally pitch?
% Games Reaching Innings Threshold
% Games By Number of Innings Pitched
Left/Right Pitching Splits
BAA
K
BB
H
HR
Since 2020

vs Left

.234
64
43
66
8
Since 2020

vs Right

.224
76
32
69
8
2022

vs Left

.233
39
27
37
6
2022

vs Right

.217
46
17
44
5
2021

vs Left

.226
10
9
14
2
2021

vs Right

.261
11
5
12
0
2020

vs Left

.246
15
7
15
0
2020

vs Right

.220
19
10
13
3
More Splits

→

View More Split Stats
Home/Away Pitching Splits
ERA
WHIP
IP
K/9
BB/9
Since 2020

Home

2.81
1.03
86.1
8.8
3.1
Since 2020

Away

6.45
1.66
74.0
6.9
5.5
2022

Home

2.77
1.13
48.2
8.7
3.7
2022

Away

5.69
1.43
49.0
7.0
4.4
2021

Home

2.25
0.88
16.0
6.2
2.8
2021

Away

9.69
2.00
13.0
6.9
6.2
2020

Home

3.32
0.92
21.2
10.8
2.1
2020

Away

6.00
2.25
12.0
6.8
9.0
More Splits

→

View More Split Stats
Stat Review
How does Michael Lorenzen compare to other starting pitchers?
This section compares his stats with all starting pitcher seasons from the previous three seasons (minimum 120 innings)*. The bar represents the player's percentile rank. For example, if the bar is halfway across, then the player falls into the 50th percentile for that stat and it would be considered average.
* Exit Velocity, Barrels/BBE %, Balls Hit 95+ MPH %, and Spin Rate are benchmarked against 2019 data (min 120 IP).
See here for more exit velocity/barrels stats
plus an explanation of current limitations with that data set.
K/BB

Strikeout to walk ratio.

K/9

Average strikeouts per nine innings.

BB/9

Average walks per nine innings.

HR/9

Average home runs allowed per nine innings.

Fastball

Average fastball velocity.

ERA

Earned run average. The average earned runs allowed per nine innings.

WHIP

Walks plus hits per inning pitched.

BABIP

Batting average on balls in play. Measures how many balls in play against a pitcher go for hits.

GB/FB

Groundball to flyball ratio. The higher the number, the more likely a pitcher is to induce groundballs.

Left On Base

The percentage of base runners that a pitcher strands on base over the course of a season.

Exit Velocity

The speed of the baseball as it comes off the bat, immediately after a batter makes contact.

Barrels/BBE

The percentage of batted ball events resulting in a Barrel. A Barrel is a batted ball with similar exit velocity and launch angle to past ones that led to a minimum .500 batting average and 1.500 slugging percentage.

Spin Rate

Spin Rate is the rate of spin on a baseball after it is released. It is measured in revolutions per minute (rpm).

Balls Hit 95+ MPH

The percentage of batted balls hit that met or exceeded the 95 MPH threshold.

Swinging Strike

The percentage of pitches that result in a swing and a miss.
Advanced Pitching Stats
Loading Advanced Pitching Stats...
Loading MLB Defensive Stats...
Recent RotoWire Articles Featuring Michael Lorenzen
Past Fantasy Outlooks
2022
2021
2020
2019
2018
2017
2016
2015
Lorenzen's outlook has been particularly tricky over the past couple years, as he's been talked up as a potential starter, closer and part-time outfielder during his time with the Reds. Finally a free agent this offseason, he signed a one-year, $7 million deal with the Angels and is now expected to work out of the rotation. He came up as a starter in 2015 with 21 starts and a 5.40 ERA, but he found success out of the bullpen over the past five years with a 3.65 ERA. Lorenzen struggled last season with a 16.8 percent strikeout rate and 11.2 percent walk rate that led to a 5.59 ERA, but his 4.17 FIP leaves significant room for improvement. Departing the hitter-friendly Great American Ball Park will also help his outlook. Lorenzen remains somewhat of a question mark given his transition back to the rotation after five years, but his career 19.9 percent strikeout rate doesn't seem likely to significantly improve while working as a starter, which could limit his upside.
Lorenzen is a riddle wrapped up in an enigma. Is he a potential closer? Is he a part-time outfielder? Is he a starting pitcher? He's currently projected to have a chance to win a spot in the starting rotation this spring after closing out the 2020 regular season as a starter, and that's his stated desire. Lorenzen did well in a cameo version last season, but previous iterations as a starter didn't fare well. With a full offseason and spring training to stretch out, he should be able to handle the workload, and it's fair to suggest that he's a different pitcher now than when he first arrived in the majors. He posted a swinging strike rate north of 14% for the second season in a row, whereas before he had trouble finishing off hitters. With those K's also come more walks unfortunately, as he walked 12.0% of the hitters he faced in 2020. He's best drafted as an endgame player or streamer.
Lorenzen has earned a lot of acclaim for his ability as a two-way player, but that doesn't do justice to how much he improved as a pitcher in 2019. The fifth year player turned in his best season under the tutelage of pitching coach Derek Johnson (a common refrain). He added velocity, and saw his K% rate spike from 15.7 to 24.8, while lowering his BB% from 9.9 to 8.2. Barring a big offseason acquisition for the bullpen, Lorenzen is the best in-house alternative if the Reds decide to move away from Raisel Iglesias as the closer, and was successful when used in the role, converting seven save chances. As they continue to improve their offense, they might use Lorenzen less as a hitter, however. As he had more at-bats, he became less effective, turning in a good-for-a-pitcher line of .208/.283/.313 in 53 plate appearances, although he trailed only Aaron Judge in average exit velocity (95.7 mph).
The first thing everyone mentions with Lorenzen is his hitting, and we'll follow suit. The right-hander was a two-way player in college and clearly has retained some of those hitting skills, posting a .290/.333/.710 line with four homers in 34 at-bats. He's the rare pitcher who is used as a pinch hitter not only in extra-inning affairs, but also as a primary option. But his primary position is as a pitcher, and unfortunately in that department the Reds still aren't quite sure what they have on their hands. He was out for nearly two months with a shoulder injury, and after returning he was really wild, turning in walk rates over 10% each month until September. He made three starts in late September, with decent but not great results (four earned runs over 13.2 innings with a 5:5 K:BB). Lorenzen is hoping to impress new manager David Bell and earn a rotation spot in spring training.
Lorenzen was the reliever that Reds manager Bryan Price trusted the most to get games to closer Raisel Iglesias, though that didn't always manifest itself in a traditional setup role. That was especially true early in the season when the Reds were off to a good start, and the games were critical enough to identify key situations early in the game -- notably once in the third inning against the Pirates. The Reds initially envisioned multiple relievers sharing in the save chances, but instead Iglesias colllected 28 of their 33 saves, with Lorenzen getting just two. He faltered badly in the second half, posting a 6.32 ERA after the All-Star break. Pitching as a starter no longer seems to be in the offing for Lorenzen, despite some musings midseason last year, so expect more of the same from him in 2018.
Rebuilding clubs often need to push prospects into big league situations sooner than they otherwise would. Lorenzen, who struggled in the majors in 2015 and missed the first two and a half months of 2016, definitely fell into that category. The Reds needed any help they could get and so the 24-year-old was sent to the majors as soon as his elbow healed up. After two years experimenting as a starter, Lorenzen was moved back to the bullpen and looked much sharper in the role. His average fastball velocity moved up to 96.2 mph, he struck out 48 batters in 50 innings and he cut his ERA nearly in half from the year before. The Reds have decided not to mess with success -- they will keep Lorenzen in the bullpen in 2017. He may see some high-leverage relief work, but Drew Storen and Raisel Iglesias will be the top candidates for save opportunities.
Most pitching prospects need to spend significant chunks of time at each minor league stop on the prospect ladder in order to be fully ready to contribute at the big league level. This is especially important if the prospect in question isn't that polished to begin with. All of this applies to Lorenzen, who was thrown into the Reds' rotation in late April, but appears to have not been ready for the task. Lorenzen played the outfield and pitched relief in college before the Reds converted him to starting. While Lorenzen had a 1.88 ERA in six Triple-A starts, his strikeout ratio was a microscopic 4.0 K/9, a harbinger for his struggles against major league hitters. Lorenzen could benefit from spending a half-season in Louisville in 2016, but it's uncertain whether he'll get it given the lack of veteran starting pitchers in the organization.
Lorenzen doesn't fit the mold of most prospects. Many organizations were interested in the Cal-State Fullerton attendee as an outfielder, but the Reds drafted him in the supplemental first round in 2013 as a relief pitcher, then converted him into a starter beginning at the Arizona Fall League. He got pounded there, but that frequently happens in a high-offense environment against many advanced hitting prospects, especially with pitchers with less experience like Lorenzen. The Reds quickly got him out of High-A Bakersfield, instead allowing him to develop at a higher level in Double-A Pensacola, albeit at a much friendlier ballpark for pitchers. He blossomed there, posting a 3.13 ERA over 120.2 innings while allowing just nine homers all season. The one question is whether Lorenzen can convert his stuff (94 mph fastball, good slider) into a better strikeout rate as he becomes more experienced. Thus, the Reds aren't likely to promote Lorenzen aggressively to the majors in order to get him to learn how to employ his range of pitches better.
More Fantasy News