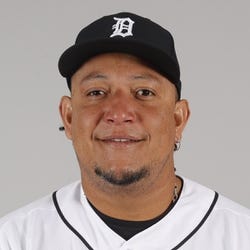 Rest-of-Season Projections
2023 Fantasy Outlook
It appears that 2023 will be the end of the road for Cabrera's storied career, though his fantasy utility mostly evaporated a few seasons ago. The veteran will turn 40 in April, and with the Tigers on the hook to pay $32 million in the final season of the eight-year, $248 million deal signed by Cabrera back in 2014, it's no surprise that he wants to give it a go one final time. Cabrera batted a respectable .254 in 2022, though he dipped to just five home runs and 43 RBI. The home runs were his fewest since 2018, when he played in only 38 games due to injuries and hit three long balls. His 43 RBI were his fewest since tallying 35 during the condensed 2020 campaign. As further evidence of his decline, Cabrera saw his ISO fall to career-worst .063. By comparison, he registered a .276 ISO in 2012 and a .288 ISO in 2013, when he won back-to-back MVP awards. Cabrera's power is all but gone, and as a player who's never really been a stolen base threat, there's not much fantasy appeal here. He's a lock to enter the Hall of Fame in a few years and was once a fantasy force, but present-day Cabrera can't be counted on for much production.
Read Past Outlooks
$Signed an eight-year, $152.3 million contract extension with the Tigers in March of 2018.

Cabrera went 3-for-3 with a double, two RBI and a run scored in Tuesday's loss against the Rangers.
ANALYSIS
Cabrera set a season high with three hits against the Rangers, snapping a 2-for-24 stretch. His fifth-inning double was also his first extra-base hit since April 12. Overall, it's been a tough year for the 40-year-old Cabrera. He's now slashing just .196/.272/.239 with seven RBI and no home runs through 103 plate appearances.
Read More News
Batting Stats
2023
2022
2021
2020
2019
2018
2017
2023 MLB Game Log

Calculate Stats Over Time
Just click on any two dates.
Scoring
FanDuel
DraftKings
Yahoo DFS
Loading Batting Game Log...
2022 MLB Game Log

Calculate Stats Over Time
Just click on any two dates.
Scoring
FanDuel
DraftKings
Yahoo DFS
Loading Batting Game Log...
2021 MLB Game Log

Calculate Stats Over Time
Just click on any two dates.
Scoring
FanDuel
DraftKings
Yahoo DFS
Loading Batting Game Log...
2020 MLB Game Log

Calculate Stats Over Time
Just click on any two dates.
Scoring
FanDuel
DraftKings
Yahoo DFS
Loading Batting Game Log...
2019 MLB Game Log

Calculate Stats Over Time
Just click on any two dates.
Scoring
FanDuel
DraftKings
Yahoo DFS
Loading Batting Game Log...
2018 MLB Game Log

Calculate Stats Over Time
Just click on any two dates.
Scoring
FanDuel
DraftKings
Yahoo DFS
Loading Batting Game Log...
2017 MLB Game Log

Calculate Stats Over Time
Just click on any two dates.
Scoring
FanDuel
DraftKings
Yahoo DFS
Loading Batting Game Log...
Minor League Game Log

Calculate Stats Over Time
Just click on any two dates.
Loading Minor League Batting Game Log...
Batting Order Slot Breakdown
#1
#2
#3
#4
#5
#6
#7
#8
#9
#1
#2
#3
#4
#5
#6
#7
#8
#9
Left/Right Batting Splits
OPS
PA
HR
RBI
AVG
Since 2021

vs Left

.686
292
4
37
.274
Since 2021

vs Right

.639
779
16
88
.241
2023

vs Left

.612
31
0
4
.250
2023

vs Right

.509
81
0
3
.183
2022

vs Left

.690
111
1
14
.289
2022

vs Right

.599
322
4
29
.243
2021

vs Left

.698
150
3
19
.269
2021

vs Right

.702
376
12
56
.251
More Splits

→

View More Split Stats
Home/Away Batting Splits
OPS
PA
HR
RBI
AVG
Since 2021

Home

.694
531
9
71
.270
Since 2021

Away

.611
540
11
54
.231
2023

Home

.570
51
0
5
.209
2023

Away

.512
61
0
2
.196
2022

Home

.750
211
4
26
.306
2022

Away

.501
222
1
17
.206
2021

Home

.672
269
5
40
.252
2021

Away

.730
257
10
35
.261
More Splits

→

View More Split Stats
Stat Review
How does Miguel Cabrera compare to other hitters?
This section compares his stats with all batting seasons from the previous three seasons (minimum 400 plate appearances)*. The bar represents the player's percentile rank. For example, if the bar is halfway across, then the player falls into the 50th percentile for that stat and it would be considered average.
* Exit Velocity and Barrels/PA % are benchmarked against 2019 data (min 400 PA) and Hard Hit Rate is benchmarked against last season's data (min 400 PA).
See here for more exit velocity/barrels stats
plus an explanation of current limitations with that data set.
BB/K

Walk to strikeout ratio

BB Rate

The percentage of plate appearances resulting in a walk.

K Rate

The percentage of plate appearances resulting in a strikeout.

BABIP

Batting average on balls in play. Measures how many of a batter's balls in play go for hits.

ISO

Isolated Power. Slugging percentage minus batting average. A computation used to measure a batter's raw power.

AVG

Batting average. Hits divided by at bats.

OBP

On Base Percentage. A measure of how often a batters reaches base. Roughly equal to number of times on base divided by plate appearances.

SLG

Slugging Percentage. A measure of the batting productivity of a hitter. It is calculated as total bases divided by at bats.

OPS

On base plus slugging. THe sum of a batter's on-base percentage and slugging percentage.

wOBA

Weighted on-base average. Measures a player's overall offensive contributions per plate appearance. wOBA combines all the different aspects of hitting into one metric, weighting each of them in proportion to their actual run value.

Exit Velocity

The speed of the baseball as it comes off the bat, immediately after a batter makes contact.

Hard Hit Rate

A measure of contact quality from Sports Info Solutions. This stat explains what percentage of batted balls were hit hard vs. medium or soft.

Barrels/PA

The percentage of plate appearances where a batter had a batted ball classified as a Barrel. A Barrel is a batted ball with similar exit velocity and launch angle to past ones that led to a minimum .500 batting average and 1.500 slugging percentage.

Expected BA

Expected Batting Average.

Expected SLG

Expected Slugging Percentage.

Sprint Speed

The speed of a runner from home to first, in feet per second.

Ground Ball %

The percentage of balls put in play that are on the ground.

Line Drive %

The percentage of balls put in play that are line drives.

Fly Ball %

The percentage of balls put in play that are fly balls.
Advanced Batting Stats
Loading Advanced Batting Stats...
Games By Position
Defensive Stats
Loading Games Played by Position...
Loading MLB Defensive Stats...
Batted Ball Stats
Loading Batted Ball Stats...
Stats Vs Upcoming Pitchers
Our full team depth charts are reserved for RotoWire subscribers.
Subscribe Now
Recent RotoWire Articles Featuring Miguel Cabrera
See More
Past Fantasy Outlooks
2022
2021
2020
2019
2018
2017
2016
2015
2014
2013
2012
2011
2010
2009
2008
2007
2006
2005
2004
2003
The Tigers have rightfully turned to a youth movement around the diamond, though Cabrera's regular presence as the designated hitter and at first base served as one exception in 2021. Not only was Cabrera a near full-time player, he also hit exclusively third or fourth in the order. That helped mask a further decline in skill. Though he still has a relatively strong contact profile to go along with an above-average barrel rate and average exit velocity, Cabrera's decline in power has come primarily from his inability to lift the ball. His 48.2 GB% was the highest mark of his career across a full season and resulted in an abysmal .129 ISO and .386 slugging percentage. Looking ahead to 2022, Cabrera is not only at risk of a further dip in skill as he enters his age-39 season, but he also could shift to a lower spot in the order as the Tigers are set to welcome Javier Baez and likely Riley Greene and Spencer Torkelson to their everyday lineup.
Cabrera exclusively served as a designated hitter for the first time in his career in 2020, and he had a .250/.329/.417 slash line with 10 home runs and 35 RBI in 57 games. The double-digit home runs were a welcome sight during the shortened season, especially since he had only 15 homers in 174 contests over the previous two campaigns. Cabrera traded some batting average for that power, as it was only the second time in his career he hit below the .280 mark. He has three years and $94 million remaining on his contract before mutual options in 2024 and 2025, so he's unlikely to be going anywhere in the foreseeable future. The veteran slugger could provide limited fantasy value if he can replicate his 27-homer pace from 2020 with a decent average, but that's likely a best-case scenario as he enters his 19th season in the majors.
Cabrera will be 37 shortly after Opening Day, so it is mind blowing to see that the aging player is still due another $132 million on his contract. He has four more seasons where he will make at least $30 million until his employer is afforded the option to buy out his deal. Cabrera, around his injuries, has one fewer homer over the past two seasons than he had in the 2017 season alone. He can hit for a strong average in his sleep as he has hit below .280 just twice in his 17-year career. The larger issue is that the power that was once a mainstay in his stat line is gone. He has exceeded 20 HR just once in the past five seasons, and the decline in homers has suppressed his ability to drive in runners. The aging curve accelerates from here, so hitting .280 with 20 homers would be an accomplishment for him in 2020. On draft day, when someone nominates him for $1, let someone else cling to the glory days.
This is going to be a pivotal season for Cabrera as he makes the likely transition to full-time designated hitter. If he can shake the injury bug, Cabrera has a good chance to follow in the footsteps of David Ortiz and Nelson Cruz and be a top fantasy contributor well into his late 30s. Before having his season truncated in mid-June with surgery on his biceps tendon, Cabrera was showing signs of reverting to his dominant form. His contact rate returned to normal levels after a down 2017 while his hard-hit rate remained elite. Cabrera's homers were down as he was toting a career-low 20 percent flyball rate, but his HR/FB was in sync with his career mark, so a second-half spike was possible. Not playing the field could keep Cabrera healthy and productive as his skills are still intact. There's going to be a huge discount on the future Hall of Famer with a ton of profit potential for those willing to incur some risk.
A top-10 overall fantasy earner in 2016, Cabrera finished outside of the top 300 last season, barely earning positive value in 130 games. His strikeout and walk rates both went in the wrong direction (20.8 percent and 10.2 percent, respectively), but even so it's difficult to fathom a 67-point drop in batting average, 64-point drop in OBP and 86-point drop in wOBA. Complicating matters is the now widely accepted belief that the hard-hit data and exit velocity numbers coming out of Comerica Park were warped due to "hot" technology; it's unwise to put much stock into Cabrera's hard-hit or barrel rates or any of the expected numbers from Statcast. What we know is that Cabrera was dealing with two herniated disks in his back last season. Assuming he's healthier after a full offseason of rest and rehabilitation -- he did not have surgery in the offseason -- Cabrera seems likely to bounce back, but to what extent is a real question for a player nearing his 35th birthday.
All of a sudden, Cabrera is 34 years old. You would never know it by his statistical production as 2016 was another tremendous year at the plate. He continues to be the best slugger in the game who rarely gets himself out. After playing just 119 games in 2015 due to ankle and calf injuries, Cabrera stayed relatively healthy last season. He also reversed several minor worrisome trends at the plate as his isolated power bounced back to career norms (to .247 from .196 in 2015) and he hit 38 home runs to end a three-year decline in homers. While he's entering his mid-30s, his injury track record is strong, having played fewer than 150 games just once in his career. He's so good at what he does he is almost boring at this point, but spending a first rounder on him is money in the bank.
Cabrera had been incredibly durable since his debut in 2003, but that all changed in 2015. Miggy struggled out of the gate following offseason ankle surgery and hit the disabled list at the start of July because of a Grade 3 calf strain. He still won the American League batting title upon his return, but there's reason to be concerned about a drop in power in his game. Cabrera's ISO last season (.196) was well below his career average (.241). Some of that can be attributed to his injury, but not all — his drop in power had already shown its face in 2014 (.211 ISO with too many homers turned into doubles). Miggy will continue to deliver in most standard sabermetric categories, but may be less valuable in standard 5x5 roto leagues, especially if those balls that used to go for homers continue to drop in as doubles. He will still come with a hefty price tag, so buyer beware. Cabrera is valuable, but may not deliver a decent return on a high-end investment.
For most players, a slash line of .313/.371/.524 with 25 homers, 191 hits, 109 RBI, 101 runs and an All-Star berth would be considered a career-defining campaign, but for a back-to-back AL MVP award winner, it was considered a down year. Cabrera undoubtedly took a slight step back in 2014, as his .895 OPS was the lowest since he joined the Tigers in 2008. His ISO dropped to .211, which was the lowest since his 2003 debut season. On a positive note, Cabrera continued to hit the ball on a line most of the season, posting a career-best 24.8% line-drive rate while also posting a contact rate above 80.0% for the seventh consecutive season. He also finished the regular season on a tear, hitting .379/.409/.709 with eight homers and 18 RBI in September. There were some obvious reasons for Cabrera's statistical dip. The Tigers' slugger saw his HR/FB rate dip to a career-low 14.0%, well below the 23.0 and 25.4% he posted in 2012 and 2013, respectively. He also dealt with a lingering bone spur in his ankle for much of the season, which eventually led to offseason surgery in late October. Cabrera's surgery was more serious than anticipated, as he had two screws inserted to stabilize a stress fracture in the navicular bone. He won't be evaluated again until late January, and depending on those results, his availability for Opening Day could be in question. Assuming Cabrera makes a full recovery by spring training, he'll remain one of the premier options at first base as he enters his age-32 season.
In what has become the norm, Cabrera put together another season for the ages in 2013, besting even his 2012 Triple Crown campaign. Cabrera finished last season hitting .348/.442/.636 with 44 homers, 137 RBI and 103 runs. His 1.078 OPS was easily a career best as he paced the rest of the majors by a wide margin in the category. His plate discipline improved dramatically, bouncing back from a dip in walk rate during the 2012 season (9.8 percent), to 13.8 percent last year. And the scary part is Miggy's season could have been even better if not for a lingering groin injury, which sapped his production at the plate in September and during the postseason. After the Tigers were ousted from the playoffs, Cabrera was diagnosed with a groin tear. He underwent surgery in late October to repair the injury, but is fully expected to be ready for spring training. To help prevent future injury risk, the Tigers are expected to slide Cabrera back over to first base following the trade of Prince Fielder to Texas in November. At age 30, Cabrera is still in the prime of his career. Barring an unforeseen setback, fantasy owners will once again want to target Cabrera near the top of the draft.
Cabrera had a banner year in 2012, taking home the AL MVP while completing the first Triple Crown in 45 years. The Tigers slugger led all of baseball in homers (44), RBI (139), slugging percentage (.606) and OPS (.999) while trailing only the Giants' Buster Posey in batting average (.330). The only offensive area where he saw any drop off was OBP (.393), as his walk rate fell from 16 percent in 2011 to 10 percent last season. Cabrera himself said the drop in walks was due to the presence of Prince Fielder behind him in the lineup, as pitchers were forced to throw more strikes than in previous seasons - given Cabrera's success hitting the ball it's hard to complain about the decline in free passes. All of his success on offense came while switching from first to third base on defense, which only amplified Cabrera's fantasy value. Entering his age-30 season, Cabrera is primed for another monster season. His high floor and position eligibility at third base should make him one of the few names considered for the first overall pick on draft day.
The 2011 campaign was more of the same for Cabrera, as he once again compiled MVP-caliber numbers. The big (6-foot-4, 240) slugger took home his first batting title, hitting .344 with 30 home runs and 105 RBI. While his power numbers were down slightly from 2010, Cabrera still managed to post the second-highest slugging percentage (.568) of his career. He also vastly improved his eye, posting a 108:89 BB:K ratio, easily a personal best. Another plus with Cabrera is his durability - he has appeared in 150 or more games in each of his eight full seasons in the majors. The only cause of concern that comes with Cabrera is a lingering trial date for a DUI arrest in 2010, but he isn't expected to miss any regular season action if convicted. The 29-year-old first baseman has been one of the best bets in fantasy for a while now and should be for years to come. Don't hesitate to build your squad around him.
Cabrera put together another banner campaign in 2010. He compiled Triple Crown caliber numbers, leading the American League in RBI (126) while finishing second in batting average (.328) and third in homers (38). The Tigers slugger has been the model of consistency throughout his career, compiling seven consecutive seasons of 30-plus home runs and 100-plus RBI. At 28, he's just now in the prime of his career, so it's entirely possible we haven't even seen the best from him yet. Outside of Albert Pujols there might not be a better or safer fantasy first baseman.
Cabrera put it all together in his second year with the Tigers, finishing in the top 10 of the American League in batting average (.324), home runs (34), RBI (103), on-base percentage (.396) and slugging percentage (.547). He even managed to show improved skills with his glove at first base, quieting many doubters that have him fast-tracked to the DH spot. He battled some off-field issues during the stretch run, but that incident appears to behind him and the Tigers. Turning 27 just a couple of weeks after Opening Day, it's reasonable to believe Cabrera hasn't even reached his prime yet. With his current standing as one of the best hitters in the game and the possibility he could get better, Cabrera should continue to be drafted with the utmost confidence.
Cabrera got off to a slow start last year leaving some to question if the Tigers made a mistake signing him to a long-term deal. Those early season struggles can probably be attributed to learning the new pitchers in the AL because by the time mid-season came around Cabrera was back to mashing. He launched 26 of his home runs after the month of June and finished the season with career highs in home runs and RBI. If he can continue that production to start this season he'll be on pace to easily exceed the 37 home runs he hit last year. The move to first base should also help to keep Cabrera healthy. There's even more to like about Cabrera when you realize he is only 26 and is just entering the prime years of his career. Draft him with confidence.
Cabrera set new career highs (barely) in home runs and RBI in 2007, while hitting .320 or better with a .560 or better SLG for the third straight season, but that still wasn't enough for the Marlins to break with tradition and actually retain one of their young stars through his arbitration years. Cabrera's new home in Comerica Park isn't particularly hitter-friendly but it's still an improvement over Dolphin Stadium, and it will be much harder for AL hurlers to pitch around Cabrera with the likes of Gary Sheffield and Magglio Ordonez lurking behind him in the order. The 25-year-old was also reported to be taking his offseason training more seriously this winter, which could make his weight 'problems' a thing of the past. Despite his Hall of Fame-caliber numbers to date, the best is still yet to come for Cabrera.
On the surface, Cabrera's year might be considered a bit of a disappointment. After consecutive 33 home run seasons, he managed only 26 long balls in 2006. His other numbers, however, showed continued skill growth. The Marlins superstar set career highs in batting average, OBP, SLG, walks and doubles, and he posted his lowest strikeout total since A-ball. He'll still only be 24 at the beginning of 2007, and there's still time for him to add 40+ HR power to his fantasy arsenal and truly challenge Albert Pujols for NL roto supremacy.
Cabrera continued to blossom in 2005, posting nearly identical counting stats to the year before while adding a dozen doubles and 30 points of batting average. He'll move back to the infield this season, where he's more comfortable, and scary as it is to contemplate (if you're an NL East pitcher, anyway) at 23 he probably hasn't hit his ceiling yet.
At the ripe old age of 21, Cabrera is already an All-Star caliber bat and the heart of the Marlins offense. The only possible downside here is if Florida keeps switching positions on him (a move to first has been rumored) and messes with his head. Otherwise, he should keep opposing pitchers terrified for years to come.
Cabrera, the Marlins' best prospect entering 2003, came up from Double-A to save their season after Mike Lowell broke his thumb. Over 40% of his hits in the majors went for extra bases (a number comparable to Albert Pujols' rookie year) -- while his plate discipline needs work, his bat is absolutely electric, and he should be a perennial All-Star contender by 2006 at the latest.
Cabrera was the youngest position player in the High-A Florida State League, a situation Cabrera is used to as he was the youngest player in the Midwest League the year before. He's also a monster Double-A season waiting to happen in 2003, as he led the FSL (a pitcher's league) with 43 doubles. A future All-Star third baseman who should start making Mike Lowell nervous in 2004.
More Fantasy News