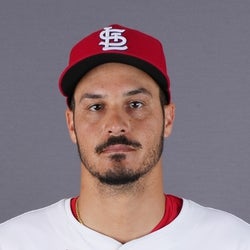 Rest-of-Season Projections
2023 Fantasy Outlook
Save for the pandemic season, Arenado has totaled at least 30 homers with 100 RBI every season since 2015. He posted seasons with a higher wOBA in Colorado, but his 151 wRC+ was the best of his career. Arenado's defense was again stellar. The main differences between last season and his first with St. Louis were fewer strikeouts and more walks along with better BABIP fortune. His batted ball and Statcast numbers were virtually identical. Arenado missed a career high 14 games, but most were when he served a short suspension, was on the restricted list and on paternity leave so durability remains high. Arenado had a chance to opt out of his contract, but he declined. Playing in Busch Stadium could hurt his numbers towards the end of the remaining five years he has left on his contract, but there is currently no indication of a decline. What Arenado lacks in speed, he makes up for in reliability.
Read Past Outlooks
$Signed a three-year, $96.05 million contract extension with the Rockies in February of 2019. Traded to the Cardinals in February of 2021. Exercised $35.03 million player option for 2022 in November of 2021. Exercised five-year, $144 million player option in October of 2022.

ANALYSIS
It's a routine day off for the star third baseman, who has gone 0-for-10 since his 12-game hit streak was snapped earlier this week.
Brendan Donovan
will handle third base while Arenado gets some rest.
Read More News
Batting Stats
2023
2022
2021
2020
2019
2018
2017
2023 MLB Game Log

Calculate Stats Over Time
Just click on any two dates.
Scoring
FanDuel
DraftKings
Yahoo DFS
Loading Batting Game Log...
2022 MLB Game Log

Calculate Stats Over Time
Just click on any two dates.
Scoring
FanDuel
DraftKings
Yahoo DFS
Loading Batting Game Log...
2021 MLB Game Log

Calculate Stats Over Time
Just click on any two dates.
Scoring
FanDuel
DraftKings
Yahoo DFS
Loading Batting Game Log...
2020 MLB Game Log

Calculate Stats Over Time
Just click on any two dates.
Scoring
FanDuel
DraftKings
Yahoo DFS
Loading Batting Game Log...
2019 MLB Game Log

Calculate Stats Over Time
Just click on any two dates.
Scoring
FanDuel
DraftKings
Yahoo DFS
Loading Batting Game Log...
2018 MLB Game Log

Calculate Stats Over Time
Just click on any two dates.
Scoring
FanDuel
DraftKings
Yahoo DFS
Loading Batting Game Log...
2017 MLB Game Log

Calculate Stats Over Time
Just click on any two dates.
Scoring
FanDuel
DraftKings
Yahoo DFS
Loading Batting Game Log...
Minor League Game Log

Calculate Stats Over Time
Just click on any two dates.
Loading Minor League Batting Game Log...
Batting Order Slot Breakdown
#1
#2
#3
#4
#5
#6
#7
#8
#9
#1
#2
#3
#4
#5
#6
#7
#8
#9
Left/Right Batting Splits
OPS
PA
HR
RBI
AVG
Since 2021

vs Left

.951
291
24
60
.275
Since 2021

vs Right

.803
1214
49
184
.271
2023

vs Left

1.048
44
4
9
.289
2023

vs Right

.675
188
5
27
.257
2022

vs Left

.939
124
11
25
.250
2022

vs Right

.879
496
19
78
.303
2021

vs Left

.931
123
9
26
.295
2021

vs Right

.778
530
25
79
.245
More Splits

→

View More Split Stats
Home/Away Batting Splits
OPS
PA
HR
RBI
AVG
Since 2021

Home

.788
738
32
117
.260
Since 2021

Away

.873
767
41
127
.282
2023

Home

.787
120
4
18
.291
2023

Away

.694
112
5
18
.233
2022

Home

.858
304
14
50
.282
2022

Away

.923
316
16
53
.303
2021

Home

.722
314
14
49
.228
2021

Away

.885
339
20
56
.279
More Splits

→

View More Split Stats
Stat Review
How does Nolan Arenado compare to other hitters?
This section compares his stats with all batting seasons from the previous three seasons (minimum 400 plate appearances)*. The bar represents the player's percentile rank. For example, if the bar is halfway across, then the player falls into the 50th percentile for that stat and it would be considered average.
* Exit Velocity and Barrels/PA % are benchmarked against 2019 data (min 400 PA) and Hard Hit Rate is benchmarked against last season's data (min 400 PA).
See here for more exit velocity/barrels stats
plus an explanation of current limitations with that data set.
BB/K

Walk to strikeout ratio

BB Rate

The percentage of plate appearances resulting in a walk.

K Rate

The percentage of plate appearances resulting in a strikeout.

BABIP

Batting average on balls in play. Measures how many of a batter's balls in play go for hits.

ISO

Isolated Power. Slugging percentage minus batting average. A computation used to measure a batter's raw power.

AVG

Batting average. Hits divided by at bats.

OBP

On Base Percentage. A measure of how often a batters reaches base. Roughly equal to number of times on base divided by plate appearances.

SLG

Slugging Percentage. A measure of the batting productivity of a hitter. It is calculated as total bases divided by at bats.

OPS

On base plus slugging. THe sum of a batter's on-base percentage and slugging percentage.

wOBA

Weighted on-base average. Measures a player's overall offensive contributions per plate appearance. wOBA combines all the different aspects of hitting into one metric, weighting each of them in proportion to their actual run value.

Exit Velocity

The speed of the baseball as it comes off the bat, immediately after a batter makes contact.

Hard Hit Rate

A measure of contact quality from Sports Info Solutions. This stat explains what percentage of batted balls were hit hard vs. medium or soft.

Barrels/PA

The percentage of plate appearances where a batter had a batted ball classified as a Barrel. A Barrel is a batted ball with similar exit velocity and launch angle to past ones that led to a minimum .500 batting average and 1.500 slugging percentage.

Expected BA

Expected Batting Average.

Expected SLG

Expected Slugging Percentage.

Sprint Speed

The speed of a runner from home to first, in feet per second.

Ground Ball %

The percentage of balls put in play that are on the ground.

Line Drive %

The percentage of balls put in play that are line drives.

Fly Ball %

The percentage of balls put in play that are fly balls.
Advanced Batting Stats
Loading Advanced Batting Stats...
Games By Position
Defensive Stats
Loading Games Played by Position...
Loading MLB Defensive Stats...
Batted Ball Stats
Loading Batted Ball Stats...
Stats Vs Upcoming Pitchers
Our full team depth charts are reserved for RotoWire subscribers.
Subscribe Now
Recent RotoWire Articles Featuring Nolan Arenado
See More
Past Fantasy Outlooks
2022
2021
2020
2019
2018
2017
2016
2015
2014
2013
2012
2011
To put Arenado's first season with St. Louis in perspective, his .255/.312/.494 translates to .285/.342/.576 with Colorado. His power was nearly the same, but his average and on-base dropped more than solely due to park factors. Arenado's contact rate was a bit above his career level, though he was less aggressive. Arenado's batted ball profile points to his .249 BABIP being a tad snake bit, so a higher average in his second season with the Redbirds is in the cards. Arenado's defense remained stellar as he captured his fifth consecutive National League Platinum Glove. Now on the other side of 30-years-old, Arenado's plate discipline, batted ball and power skills are stable, though scaled down away from Coors Field. He's no longer a first round/$30 mainstay, but Arenado is still one of the safer and more productive options at a spot with a steep drop after the top 10 or 12 at the position.
Arenado's stock was already down after he played through a shoulder injury in 2020, but an offseason trade to St. Louis means a major ADP tumble for the long-time top-20 stalwart. His numbers in Colorado (.322/.376/.609) were obviously much better than on the road (.263/.322/.471), but many of the best players to leave Coors Field -- DJ LeMahieu, Matt Holliday, Andres Galaraga -- had significant success with their next franchise. Arenado is such a talent, but his shoulder injury still looms as a potential issue. The 2020 season was easily the worst of his career with a career-worst BA and OBP and SLG lows that we had not seen from him since the 2013 season, and that came while playing hurt. He did not have surgery after ending the year on the shelf with AC joint inflammation and a left shoulder bone bruise, so there's a chance the issue could recur or continue to hinder his in-game performance.
Arenado has been the model of consistency in Major League Baseball, hitting between .287 and .315 with 37-42 homers and 110-plus RBI in each of the last five seasons. He hit exactly .315 against both lefties and righties in 2019. Of course, Coors Field helps, but Arenado was well above average on the road last season, slashing .277/.346/.521, up from .248/.325/.447 in 2018. The barrel rates and exit velocity numbers aren't going to wow anyone, but it doesn't really matter with a player with this track record, in this park. Those lower on Arenado will say he is approaching the downward slope of the aging curve, and while he signed an eight-year, $260 million extension last February, there's still a threat of him being shipped out of Colorado. The biggest knock against him is the lack of speed; rotisserie players are justified in wanting at least a little speed from a first-round hitter.
With nothing worse than 37 home runs, 110 RBI, 104 runs or a .287 average in the past four seasons, Arenado is one of the more bankable four-category pillars around. A 20-RBI downturn was the main culprit behind Arenado finishing a tick below the elite fantasy hitters last season, but a return to the top-five ranks in his age-28 campaign is feasible in light of his favorable home park and sound health record. Coming off a postseason berth, the Rockies could look to supplement an offense that ranked 25th in the majors in wRC+ (87), which would stave off any further downturn in Arenado's run and RBI counts. Arenado would help his own cause with some slight improvement against same-handed pitching (.267/.339/.483 line in 2018), but even that probably won't be necessary for him to meet his draft-day price given his unparalleled excellence versus lefties (an MLB-best 207 wRC+ the past two seasons) and otherworldly production at Coors Field.
For the third consecutive season, Arenado finished as a top-six fantasy earner among hitters. He's averaging 40 homers and 131 RBI over the past three years, and his batting average has seen steady growth as Arenado has learned to be more patient (9.1 percent walk rate last season) and work the ball the other way when he has to. There was a notable dip against right-handers in 2017, with his OPS against righties falling more than 100 points to .843, but his bounce-back against lefties more than made up for it. He remains a Gold Glove defender at third base, so he's on the field every day, plus he's productive away from Coors Field (.283/.355/.531 on the road last season). Arenado makes consistent contact, is just entering his age-27 campaign and his home park gives him an excellent floor for fantasy production. Thinking Arenado won't return first-round value again seems silly at this point.
Arenado managed to one-up himself yet again and at just 25 years old, it seems like sky's the limit. The All-Star smashed a league-leading 41 home runs, drove in 133 runs and even reached the century mark in runs scored. He managed to cut down on his strikeouts and draw twice as many walks as he did the previous season. As one would imagine, the third baseman's numbers were better at Coors Field than away from it (1.030 OPS at home vs. .832 OPS on the road), but 16 home runs, 48 RBI and 48 runs scored away from Denver is certainly nothing to scoff at. The Gold Glover is a lock to be a first-round draft pick. Even if doesn't replicate his 2016 campaign to a tee, Arenado will be a highly valuable asset in 2017 and for years to come.
Arenado broke out in 2015 and rode his sweet swing to a National League-leading 42 home runs and 130 RBI and his first All-Star appearance. And although Arenado was a far superior overall hitter at Coors Field (.960 OPS compared to .835 on the road), he actually hit 22 of his 42 home runs on the road. Additionally, he is an impatient hitter, and his aggressiveness was particularly exploited on the road (.296 OBP). However, his combination of good contact skills, big-time power and 81 games per year at Coors Field make him a surefire first-round pick in drafts this year. Arenado has also steadily increased his flyball rate every year in the majors — a key factor in his power explosion. Only four third basemen hit 30 home runs in 2015 and only three managed 100 RBI, so even if Arenado cannot match last year's breakout performance, he will finish high on the leaderboards.
A broken finger and bout with pneumonia may have limited Arenado to 111 games in 2014, but it didn't prevent him from surpassing the production from his rookie season in nearly every meaningful category. In addition to the defensive wizardry that earned him his second Gold Glove, Arenado noticed a 122-point rise in OPS while also upping his walk rate and trimming his strikeout rate from a season earlier. As is typical for most Rockies batters, Arenado did the bulk of his damage at Coors Field, where he slashed .303/.344/.584 and swatted 16 of his 18 home runs. Those skewed splits figure to persist throughout his career, but given his pedigree as a former top hitting prospect, the still-developing Arenado should see continued improvement in both his plate discipline and road performance as he enters his age-24 season. Those expected developments -- along with some better luck on the health front -- would surely lead to another jump in his counting stats, perhaps vaulting Arenado into the top tier of fantasy third basemen in 2015.
Arenado got the call to the big leagues in late April and never looked back, holding down the everyday job at third base while delivering a sterling 2.7 WAR mark. Much of that value derived from his defense, as Arenado disputed earlier scouting reports suggesting he was slow-footed by finishing second among NL third basemen in UZR and accruing a number of highlight-reel plays on his way to a Gold Glove Award. Arenado's work in the batter's box wasn't quite as sublime as his play in the field, but the 22-year-old acquitted himself well with a .267/.301/.405 line. Prior to reaching the majors, Arenado was universally recognized as one of the best hitting prospects in all of baseball, making further improvement from last season's offensive marks a relatively safe assumption. As he matures, Arenado figures to add further power, while the hitting environment of Coors Field should allow him to maintain a consistently high batting average. A breakout might not fully metastasize next season, but Arenado should at least get things trending in that direction.
Arenado did not have the smashing success most projected for him in 2012 after he entered spring training fresh off earning Arizona Fall League MVP honors. While the .285/.337/.428 line he delivered at Double-A was nothing to scoff at, he mustered just 12 home runs in 516 at-bats, leaving some questions about his long-term viability as a power bat. Still, Arenado is just 21 years old and already boasts elite plate discipline and contact skills while markedly improving his defense at third base, allaying concerns that he would eventually need to move to first base. Arenado will likely open the season at Triple-A Colorado Springs, and if he continues to demonstrate that he can get on base at a high clip and hit for extra bases, he should get some run with the Rockies later in 2013.
Arenado capped off an impressive age-20 season in the California League by earning MVP honors in the Arizona Fall League. A good defender at a premium position, the right-handed hitting third baseman could fill an immediate need for the Rockies before the end of 2012. Keep in mind, however, that he'll almost certainly open the year at Double-A Tulsa and spend another half season of development in the minors before a promotion to Colorado is considered. While both of his 2011 stops were hitter-friendly environments, his power and contact skills (88 percent in the AFL, 90 percent at High-A) project him as a middle-of-the-order bat and potential star soon after his big league arrival.
Arenado, Colorado's second round pick in 2009, had a strong season at Low-A Asheville with 12 home runs and a .858 OPS. His 41 doubles will likely turn into more home runs as he grows. He doesn't walk much, but it's somewhat offset by his lack of strikeouts. A strong season at High-A could put him on the fast track to the majors.
More Fantasy News