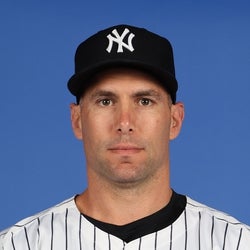 2023 Fantasy Outlook
Goldschmidt's underlying metrics were actually better in 2021, but last season he teamed up with Lady Luck to take home the National League MVP. The only skill-based metric Goldschmidt improved from the prior campaign was a return to a double-digit walk rate. His HR/FB ticked up four points despite a slight drop in fly ball average exit velocity. His .368 BABIP was its highest since 2015, despite the third lowest average exit velocity over that span. His .261 xBA and .482 xSLG were both his second lowest since 2015. Despite all this, everything came together, and Goldschmidt posted a 177 wRC+, the best of his career. The take home message is expect regression, likely to a level lower than his 2021 season. Goldschmidt is still a solid fantasy producer with a high batting average floor and plus power along with a handful of steals, just don't pay for his magical 2022 season.
Read Past Outlooks
$Signed a five-year, $130 million contract extension with the Cardinals in March of 2019.

Goldschmidt
was named
the 2022 National League MVP on Thursday.
ANALYSIS
Goldschmidt -- a seven-time All-Star -- earned his first MVP award after mashing 35 home runs and tallying over 100 RBI and runs in a single season for the first time since 2017. Paired with strong plate discipline, he also managed a 177 wRC+ -- the highest mark in the National League and third-highest among all hitters. In total, Goldschmidt earned 380 points in voting, well out-pacing
Manny Machado
, who finished second with 291.
Read More News
Batting Stats
2022
2021
2020
2019
2018
2017
2022 MLB Game Log

Calculate Stats Over Time
Just click on any two dates.
Scoring
FanDuel
DraftKings
Yahoo DFS
FantasyDraft
Head2Head
Loading Batting Game Log...
2021 MLB Game Log

Calculate Stats Over Time
Just click on any two dates.
Scoring
FanDuel
DraftKings
Yahoo DFS
FantasyDraft
Head2Head
Loading Batting Game Log...
2020 MLB Game Log

Calculate Stats Over Time
Just click on any two dates.
Scoring
FanDuel
DraftKings
Yahoo DFS
FantasyDraft
Head2Head
Loading Batting Game Log...
2019 MLB Game Log

Calculate Stats Over Time
Just click on any two dates.
Scoring
FanDuel
DraftKings
Yahoo DFS
FantasyDraft
Head2Head
Loading Batting Game Log...
2018 MLB Game Log

Calculate Stats Over Time
Just click on any two dates.
Scoring
FanDuel
DraftKings
Yahoo DFS
FantasyDraft
Head2Head
Loading Batting Game Log...
2017 MLB Game Log

Calculate Stats Over Time
Just click on any two dates.
Scoring
FanDuel
DraftKings
Yahoo DFS
FantasyDraft
Head2Head
Loading Batting Game Log...
Minor League Game Log

Calculate Stats Over Time
Just click on any two dates.
Loading Minor League Batting Game Log...
Batting Order Slot Breakdown
#1
#2
#3
#4
#5
#6
#7
#8
#9
#1
#2
#3
#4
#5
#6
#7
#8
#9
Left/Right Batting Splits
OPS
PA
HR
RBI
AVG
Since 2020

vs Left

1.174
311
21
65
.369
Since 2020

vs Right

.865
1233
51
168
.290
2022

vs Left

1.327
136
11
29
.411
2022

vs Right

.893
513
24
86
.294
2021

vs Left

1.063
138
8
30
.350
2021

vs Right

.832
541
23
69
.279
2020

vs Left

1.031
37
2
6
.286
2020

vs Right

.886
179
4
13
.313
More Splits

→

View More Split Stats
Home/Away Batting Splits
OPS
PA
HR
RBI
AVG
Since 2020

Home

.955
752
40
121
.310
Since 2020

Away

.889
802
32
113
.298
2022

Home

1.092
319
22
67
.347
2022

Away

.877
330
13
48
.290
2021

Home

.848
325
14
45
.286
2021

Away

.909
354
17
54
.301
2020

Home

.879
108
4
9
.276
2020

Away

.865
118
2
11
.310
More Splits

→

View More Split Stats
Stat Review
How does Paul Goldschmidt compare to other hitters?
This section compares his stats with all batting seasons from the previous three seasons (minimum 400 plate appearances)*. The bar represents the player's percentile rank. For example, if the bar is halfway across, then the player falls into the 50th percentile for that stat and it would be considered average.
* Exit Velocity and Barrels/PA % are benchmarked against 2019 data (min 400 PA) and Hard Hit Rate is benchmarked against last season's data (min 400 PA).
See here for more exit velocity/barrels stats
plus an explanation of current limitations with that data set.
BB/K

Walk to strikeout ratio

BB Rate

The percentage of plate appearances resulting in a walk.

K Rate

The percentage of plate appearances resulting in a strikeout.

BABIP

Batting average on balls in play. Measures how many of a batter's balls in play go for hits.

ISO

Isolated Power. Slugging percentage minus batting average. A computation used to measure a batter's raw power.

AVG

Batting average. Hits divided by at bats.

OBP

On Base Percentage. A measure of how often a batters reaches base. Roughly equal to number of times on base divided by plate appearances.

SLG

Slugging Percentage. A measure of the batting productivity of a hitter. It is calculated as total bases divided by at bats.

OPS

On base plus slugging. THe sum of a batter's on-base percentage and slugging percentage.

wOBA

Weighted on-base average. Measures a player's overall offensive contributions per plate appearance. wOBA combines all the different aspects of hitting into one metric, weighting each of them in proportion to their actual run value.

Exit Velocity

The speed of the baseball as it comes off the bat, immediately after a batter makes contact.

Hard Hit Rate

A measure of contact quality from Sports Info Solutions. This stat explains what percentage of batted balls were hit hard vs. medium or soft.

Barrels/PA

The percentage of plate appearances where a batter had a batted ball classified as a Barrel. A Barrel is a batted ball with similar exit velocity and launch angle to past ones that led to a minimum .500 batting average and 1.500 slugging percentage.

Expected BA

Expected Batting Average.

Expected SLG

Expected Slugging Percentage.

Sprint Speed

The speed of a runner from home to first, in feet per second.

Ground Ball %

The percentage of balls put in play that are on the ground.

Line Drive %

The percentage of balls put in play that are line drives.

Fly Ball %

The percentage of balls put in play that are fly balls.
Advanced Batting Stats
Loading Advanced Batting Stats...
Games By Position
Defensive Stats
Loading Games Played by Position...
Loading MLB Defensive Stats...
Batted Ball Stats
Loading Batted Ball Stats...
Stats Vs Upcoming Pitchers
Our full team depth charts are reserved for RotoWire subscribers.
Subscribe Now
Recent RotoWire Articles Featuring Paul Goldschmidt
See More
Past Fantasy Outlooks
2022
2021
2020
2019
2018
2017
2016
2015
2014
2013
2012
Goldschmidt got back to being his old self by hitting around 30 homers with a near-.300 batting average. He seemed to be in decline going into 2020, but he changed his profile a bit as the league no longer feared him (11 IBB in 2018, just two in 2019). Opposing pitchers filled up the strike zone against Goldy at a career-high rate in 2021, forcing him to swing at more pitches. The increase in hittable pitches dropped his walk rate to career-low 9.9% and his strikeout rate to 20.0% (second lowest of his career, 18.6% in 2020). Fantasy managers in OBP leagues were perhaps a little less happy, but his 12 steals were a pleasant surprise for all after he stole a combined 11 bases from 2018-20. It will be tough to count on a repeat in that category as he enters his age-34 season. That said, the profile is solid and he's already shown he can adjust with age.
Take the name away and you might turn your nose up at Goldschmidt's 2020 batted-ball numbers; he was within 10 percentage points of league average in terms of exit velocity and hard-hit rate, per Statcast. However, Goldschmidt made more consistent contact, trimming his strikeout rate nearly six percentage points to a career-low 18.6%, and drew a ton of walks to finish among the league leaders in OBP (.417). The over-the-fence power is by no means gone, but the home park in St. Louis hurts his power production and the bat does seems to be slowing down some as Goldschmidt pushes into his mid-30s. His xwOBA on contact has been in steady decline and dipped to .411 last season, down from .487 in 2018. Further, the running game appears to be a thing of the past, which puts pressure on a high batting average and counting stats to carry his rotisserie value.
Goldschmidt's first season with the Cardinals was the worst of his career since his rookie campaign. The change in venue from Chase Field to Busch Stadium accounts for a lot of the discrepancy, but not all of it. Statcast data shows Goldschmidt's average exit velocity and hard-hit rate dropped for the second straight season along with his xBA, xSLG and xwOBA. It wasn't much, but since he's on the other side of 30 years old, it's worth noting. Another area of concern is Goldschmidt's patience has declined four years in a row. Finally, while the veteran slugger launched over 30 homers for the third straight season, his extra-base hits dropped precipitously, suggesting Goldschmidt was aided by the reduced-drag ball. Putting it together, there are signs of decline, but the slope is gentle. If the market overreacts to last season's slide, don't hesitate to invest.
The impact of the humidor was felt in Arizona, but it did not affect Goldschmidt's power numbers. His 2017 and 2018 seasons were essentially identical; he had 73 extra-base hits in 2017, and repeated that number in 2018. He lost three homers that became doubles and triples. The problem for him was that the talent around him fell off so his run-producing opportunities were impacted. From 2015 to 2017, Goldschmidt had an average of 431 runners on base each season when he was at the plate. In 2018, that number dropped to 386. He also ran far less frequently, continuing a trend from 2017. Goldschmidt's year-over-year skills are stable and safe, and the counting numbers should improve following a December trade to the Cardinals. We have to wonder if the days of double-digit steals are gone for good, but this is still a skill set worthy of an early selection -- just probably not a first-round pick anymore.
Only Charlie Blackmon, Giancarlo Stanton and Aaron Judge outearned Goldschmidt last season. The overall numbers picked up where 2015 left off after the slight power hiccup in 2016. The only thing that has held Goldschmidt back in recent years was the broken hand that ended his season in early August of 2014. As long as Goldschmidt is on the field, the production is virtually a first-round lock, although news that Chase Field will install a humidor this season adds a degree of uncertainty moving forward. To this point, the numbers have been consistent across the board and where other hitters suffer volatility from year to year -- you can practically pencil in a $30 season for Goldschmidt and see what happens in the stolen-base department. Eventually, the bonus speed from the first-base position is going to wane, but as long as he has an aggressive manager that lets him run, Goldschmidt should at least get to double digits for a couple more seasons.
If a .297/.411/.489 slash line with 24 home runs and 95 RBI can be considered a down year, then you know just how good Goldschmidt has been across his six MLB seasons. In 2015, Goldschmidt slashed an absurd .321/.435/.570 with 33 home runs and 110 RBI. Expecting a repeat of those numbers might have been unfair, but that is the standard Goldschmidt has set. On a positive note, he scored 106 runs in 2016, up from 103 in 2015. He also went from 21 stolen bases in 2015 to 32 in 2016. It is his speed and base-stealing acumen that really makes Goldschmidt a special player in fantasy. It is unclear if he will run as much under new manager Torey Lovullo, but considering he upped his success rate from 80.8 percent to 86.5 percent last season, it seems likely that he will have the green light more often than not. Coming off that "down" year, Goldschmidt is no longer a lock to go in the top-five, but he is the clear top player at his position and still has all the tools to finish the year as a top-five player in fantasy.
Simply put, Goldschmidt is the best first baseman in fantasy baseball. Few players combine batting average, power and speed the way Goldy does. In 2015, his batting average was good for third in the National League, his 33 home runs placed fifth in the circuit, the 118 RBI were second in the NL and he chipped in 21 stolen bases (14th in the NL). All of this came as Goldy played in 159 games, a year after he played in just 109 games due to a hand injury. At just 28 years old, Goldschmidt is in the early stages of his peak years, so his production should remain at this level for a while. Owners may find it hard to pass on the likes of Mike Trout and Bryce Harper with a top-two pick, but Goldschmidt deserves consideration there, and he will come off the board in the first five picks in almost all mixed league drafts.
Last season was a mirror image of 2013 for the fantasy stud in terms of his batting average, on-base percentage, and slugging percentage. That is where the good news ends. Goldschmidt missed 51 games with a broken hand and was unavailable to owners for the final two months of the season. At the point of his injury, his RBI total was just 55 percent of what it was in 2013 because the team around him was rather awful. With a full season, he would have likely matched his stolen base total from 2013 and swiped at least 10 bases for a third straight season, as a first baseman. Even for a young player, Goldschmidt's skills are stable. His strikeout rate is slightly below league average, but he offsets that with a well-above-league-average walk rate. He doesn't get himself into trouble chasing pitches and in a time where offense is tapering off, this guy flat out rakes. Goldschmidt is first-round material again in 2015.
The brightest star in Arizona's lineup, Goldschmidt had an MVP-worthy year, hitting 36 home runs and driving in 125 runs, while slugging .551. It was the kind of breakout year the organization knew he was capable of, and MVP voters took note, as he finished second to Andrew McCutchen for the honors during the offseason. He's the biggest constant in the batting order, and 2014 figures to be another outstanding campaign for the 26-year-old stud, as his contributions as a five-category player will make him the first player off the board at his position in many leagues this spring.
Goldschmidt entered the season as the D-Backs' uncontested starter at first base, spending most of the year hitting from the middle third of manager Kirk Gibson's lineup. Not surprisingly, Goldschmidt provided steady power, but he also delivered an unexpected 18-for-21 mark on the basepaths. After struggling against lefties in his first exposure to big league pitching in 2011, Goldschmidt hit .343/.423/.645 against them last season. He also improved his overall contact rate (from 70.1 percent to 77.9) while drawing a steady supply of free passes (10.2 percent walk rate). Goldschmidt had better numbers on the road (.315/.377/.516) than at Chase Field (.253/.339/.461) and his ISO (.204) is one indication that there's likely more than 20-homer power here.
Goldschmidt proved that his impressive power display in 2010 wasn't simply the byproduct of the hitter-friendly parks of the California League, parlaying a .306/.435/.626 line with Double-A Mobile into the opportunity to serve as the D-Backs everyday first baseman down the stretch and in the playoffs. As expected, Goldschmidt's strikeout rate jumped upon his promotion to the big leagues, but he continued to display plus power while hitting a couple of clutch homers in the team's postseason push before delivering a 7-for-16 mark with a pair of homers in the Divisional Series against the Brewers. While he may not be a .300 hitter in the big leagues, Goldschmidt should be an immediate 30-homer threat with an opportunity to lock down a spot near the middle of the D-Backs' lineup.
More Fantasy News