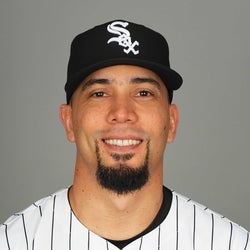 Rest-of-Season Projections
2023 Fantasy Outlook
If every pitcher in the majors was right-handed, Ortega would be a pretty enticing fantasy asset. Unfortunately, there are plenty of southpaws around, and Ortega hasn't had a ton of success against them. Since 2020, his OPS against righties is .790, but his OPS against lefties is just .452. Not surprisingly, the Cubs limited Ortega's exposure against lefties during his time with the club. Last year, the outfielder appeared in 118 games and recorded 316 at-bats. His .241/.331/.358 slash line was ultimately disappointing, as it was down across the board from a promising 2021. Ortega also tallied seven home runs and, for the second straight season, stole 12 bases. The Cubs decided not to tender Ortega a contract after the season, and he joined the Yankees as a non-roster invitee. New York's depth in center field isn't great behind Harrison Bader, but Ortega is still likely an injury away from seeing a roster spot, let alone regular playing time.
Read Past Outlooks
$Signed a one-year, minor-league contract with the Yankees in January of 2023. Released by the Yankees in March of 2023.

ANALYSIS
Ortega was released from his contract with the Yankees after failing to make the big-league team this spring. He'll now have the chance to earn a more substantial role with Texas, which has a need in center field so long as
Leody Taveras
(oblique) is sidelined.
Read More News
Batting Stats
2022 MLB Game Log

Calculate Stats Over Time
Just click on any two dates.
Scoring
FanDuel
DraftKings
Yahoo DFS
Loading Batting Game Log...
2021 MLB Game Log

Calculate Stats Over Time
Just click on any two dates.
Scoring
FanDuel
DraftKings
Yahoo DFS
Loading Batting Game Log...
2019 MLB Game Log

Calculate Stats Over Time
Just click on any two dates.
Scoring
FanDuel
DraftKings
Yahoo DFS
Loading Batting Game Log...
2018 MLB Game Log

Calculate Stats Over Time
Just click on any two dates.
Scoring
FanDuel
DraftKings
Yahoo DFS
Loading Batting Game Log...
Minor League Game Log

Calculate Stats Over Time
Just click on any two dates.
Loading Minor League Batting Game Log...
Left/Right Batting Splits
OPS
PA
HR
RBI
AVG
Since 2021

vs Left

.452
81
0
0
.152
Since 2021

vs Right

.790
619
18
68
.278
2023

vs Left

0
0
0
0
0
2023

vs Right

0
0
0
0
0
2022

vs Left

.529
22
0
0
.211
2022

vs Right

.698
348
7
35
.242
2021

vs Left

.421
59
0
0
.128
2021

vs Right

.900
271
11
33
.321
More Splits

→

View More Split Stats
Home/Away Batting Splits
OPS
PA
HR
RBI
AVG
Since 2021

Home

.699
356
7
27
.245
Since 2021

Away

.807
344
11
41
.284
2023

Home

0
0
0
0
0
2023

Away

0
0
0
0
0
2022

Home

.654
191
3
15
.215
2022

Away

.723
179
4
20
.266
2021

Home

.749
165
4
12
.277
2021

Away

.896
165
7
21
.304
More Splits

→

View More Split Stats
Advanced Batting Stats
Loading Advanced Batting Stats...
Games By Position
Defensive Stats
Loading Games Played by Position...
Loading MLB Defensive Stats...
Batted Ball Stats
Loading Batted Ball Stats...
Stats Vs Upcoming Pitchers
Our full team depth charts are reserved for RotoWire subscribers.
Subscribe Now
Recent RotoWire Articles Featuring Rafael Ortega
See More
Past Fantasy Outlooks
2022
2020
2018
2017
2013
2012
2011
Ortega earned his most consistent run in the majors in 2021, racking up a career-high 330 plate appearances. The vast majority of that playing time came in the second half of the season after the Cubs dismantled their core and were attempting to extract value from players within their organization. Ortega provided just that by posting a .306/.378/.491 line with a .185 ISO - good for a 133 wRC+. While it was an impressive display, Ortega will be entering his age-31 season and has just a .255/.318/.363 career line across 777 plate appearances. Given the combination of age and skill, Ortega is exceedingly unlikely to be a building block in the Cubs' organization moving forward. That leaves his role in 2022 uncertain, and that uncertainty is only likely to grow as the season progresses thanks to the offseason additions of Harold Ramirez and Clint Frazier as well as the impending call-up of top prospect Brennen Davis.
Ortega found his way onto the Braves' playoff roster, though that was more due to a lack of alternatives than his own particular talents. The 28-year-old played 34 games for the Braves late in the year but did very little at the plate, hitting .205/.271/.307, good for a 51 wRC+. He now owns a 59 wRC+ (.229/.287/.290) in 143 games over parts of four seasons in the majors. His 17 steals over that stretch are a respectable amount, hinting at a bit of deep-league fantasy value should he find his way into a larger role, but that seems unlikely after he settled for a minor-league deal to return to Atlanta. His ability to cover all three outfield positions could earn him a roster spot at some point, but his bat is a poor fit as even a fifth outfielder. Even owners in deep leagues need not show much interest unless he works his way into a temporary starting role.
After a year with the Padres, Ortega join the Marlins on a minor-league deal this offseason -- the 26-year-old's fifth different organization. He turned in a great campaign with Triple-A El Paso in 2017, hitting .317 with six homers, 26 stolen bases (33 attempts) and a 46:49 BB:K. Ortega enjoyed a similar amount of success at that level in 2016, but that did not translate in his first extended opportunity in the majors. While he continued to put bat to ball with consistency in his 66-game stint with the Angels, his walk rate fell to just 6.4 percent and the power was virtually non-existent. Indeed his career numbers at Triple-A may be mostly a byproduct of the Pacific Coast League, but with Miami's outfield stripped down, Ortega should get another chance to prove himself against top-level competition.
Prior to the 2016 season, Ortega had logged a mere four at-bats at the major league level. Thanks to a myriad of injuries to the Angels outfield, the journeyman got his first shot at consistent big league playing time. The results were middling at best, as he only managed to produce a .232/.283/.292 slash line in 185 at-bats. That being said, his BABIP was a lowly .261, meaning that his meager batting line could've been affected by bad luck. The 25-year-old could be in line for better numbers if some extra hits fall while he maintains his strong 88 percent contact rate. That being said, Ortega's inability to hit for power and his weak 6.5 percent walk rate limits his upside as a big league player. He'll provide organizational depth for the Padres to begin 2017 after signing a minor league deal in December.
Ortega showed some improvement at High-A Modesto in his age-21 season, increasing his walk rate (8.3 percent) while cutting his strikeout rate (16.7 percent) without sacrificing much of his marginal power. He even earned a brief cup of coffee in the last two games of the season with the Rockies devoid of healthy outfielders. Though speedy, Ortega's 66.7 percent success rate on the basepaths does not portend well for his major league success, but it should not immediately prove problematic as he advances to the upper minors. Fortunately for Ortega, he has youth and solid contact skills on his side, which should grant him the opportunity to iron out the deficiencies in his game.
Ortega adapted well to full season ball with Low-A Asheville after turning 20 in May. Although his instincts on the basepaths still need refinement, 32 stolen bases along with eight triples serve as an indication of his plus-speed. While his walk rate (5.4 percent) was low, he makes contact regularly (82.7 percent) and should be able to get on base enough to utilize his speed. Ortega is listed at 5-foot-11, 160 pounds, so he may not add a ton of pop as he continues to develop into that frame. Look for him to advance to the hitter-friendly California League, where improved power numbers would hardly surprise and likely vault him up prospect lists.
At 19 years old, Ortega spent 2010 tearing up the Pioneer League in his first North American baseball action. The Venezuelan hit .358/.416/.510 for Casper with 23 steals in 288 at-bats. While somewhat short on power, he has plus speed and a quick bat and profiles as someone who can play center field. It's not crazy to think that in a few years he could be the top prospect in the Rockies system. For now, consider him someone to keep tabs on as he progresses through his minor league development.
More Fantasy News