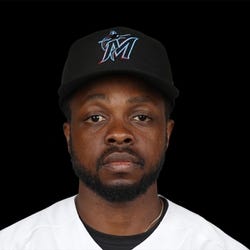 Rest-of-Season Projections
2023 Fantasy Outlook
There was no outlook written for Roman Quinn in 2023. Check out the latest news below for more on his current fantasy value.
#

Overall
$Signed a minor-league contract with the Brewers in May of 2023.

Gets minors deal from Brewers
Quinn
signed
a minor-league contract with the Brewers on May 24.
ANALYSIS
Quinn had been at Triple-A Columbus in the Guardians organization before being released in early May following a slow start. He's hitless so far in two games with Triple-A Nashville but offers the Brewers some veteran depth capable of playing all three outfield spots.
Read More News
Batting Stats
2022 MLB Game Log

Calculate Stats Over Time
Just click on any two dates.
Scoring
FanDuel
DraftKings
Yahoo DFS
Loading Batting Game Log...
2021 MLB Game Log

Calculate Stats Over Time
Just click on any two dates.
Scoring
FanDuel
DraftKings
Yahoo DFS
Loading Batting Game Log...
2020 MLB Game Log

Calculate Stats Over Time
Just click on any two dates.
Scoring
FanDuel
DraftKings
Yahoo DFS
Loading Batting Game Log...
2019 MLB Game Log

Calculate Stats Over Time
Just click on any two dates.
Scoring
FanDuel
DraftKings
Yahoo DFS
Loading Batting Game Log...
2018 MLB Game Log

Calculate Stats Over Time
Just click on any two dates.
Scoring
FanDuel
DraftKings
Yahoo DFS
Loading Batting Game Log...
Minor League Game Log

Calculate Stats Over Time
Just click on any two dates.
Loading Minor League Batting Game Log...
Left/Right Batting Splits
OPS
PA
HR
RBI
AVG
Since 2021

vs Left

.309
67
0
0
.115
Since 2021

vs Right

.835
82
0
9
.271
2023

vs Left

0
0
0
0
0
2023

vs Right

0
0
0
0
0
2022

vs Left

.319
39
0
0
.114
2022

vs Right

.809
48
0
7
.295
2021

vs Left

.294
28
0
0
.115
2021

vs Right

.873
34
0
2
.231
More Splits

→

View More Split Stats
Home/Away Batting Splits
OPS
PA
HR
RBI
AVG
Since 2021

Home

.547
74
0
3
.169
Since 2021

Away

.638
75
0
6
.227
2023

Home

0
0
0
0
0
2023

Away

0
0
0
0
0
2022

Home

.495
46
0
1
.186
2022

Away

.703
41
0
6
.250
2021

Home

.640
28
0
2
.136
2021

Away

.561
34
0
0
.200
More Splits

→

View More Split Stats
Prospect Rankings History
Advanced Batting Stats
Loading Advanced Batting Stats...
Games By Position
Defensive Stats
Loading Games Played by Position...
Loading MLB Defensive Stats...
Batted Ball Stats
Loading Batted Ball Stats...
Stats Vs Upcoming Pitchers
Our full team depth charts are reserved for RotoWire subscribers.
Subscribe Now
Past Fantasy Outlooks
2022
2021
2020
2019
2018
2017
2016
2015
2014
2013
Quinn struggled with a .594 OPS during 2021 as he continued to battles injuries with Philadelphia before eventually being let go in late November. The 29-year-old joined Miami on a minor-league deal and could be a solid option as a fourth or fifth outfielder behind the likes of Avisail Garcia, Jesus Sanchez and Bryan De La Cruz. Quinn is 38 for 47 on stolen-bases attempts in his MLB career and could provide some value off the bench for the Marlins, though his ongoing health remains the biggest question mark.
Quinn unsurprisingly didn't stay entirely healthy in 2020, but he was available for most of the year, missing just a brief period with a concussion and appearing in 44 games. Those who hoped an extended run of games would finally lead to a breakout for the speedy outfielder wound up disappointed, however, as he produced a career-low 54 wRC+, the product of a .213/.261/.315 slash line. He did at least contribute 12 steals, tying him for fourth in the league, but that was almost entirely cancelled out by his anemic bat. If that's all he is at the plate, it's hard to envision him earning anything more than a bench role going forward, especially as he's graded out as a slightly below-average defender in center field by both DRS and UZR despite his wheels. He's shown more at the plate in the past, but he now owns a .235/.306/.364 slash line in 150 career big-league games, which simply isn't starting material.
Quinn made his big-league debut back in 2016, and his scouting report has changed very little since then: decent contact, plenty of speed and far too many injuries. He stole eight bases in 44 games last season (giving him 23 in 109 career major-league contests), though his performance at the plate was down over that small sample as he hit just .213/.298/.370. The short length of that sample may be the more relevant factor for his future, as the 26-year-old unfortunately just can't stay healthy. Quinn has never played 100 games in a season in his professional career and hasn't even reached 80 contests since 2016. Even when healthy, Quinn probably fits best as a fourth outfielder given his career 89 wRC+ and below-average defensive grades. His speed continues to give him some fantasy upside, but he's likely only worth rostering if he happens to be healthy while other Phillies outfielders are injured.
Quinn battled the injury bug yet again in 2018, limiting him to a total of 78 games, 50 of which came at the big-league level. He performed capably in his first extended taste of major-league action, hitting a solid .267/.324/.420 with two homers and 10 steals in 143 plate appearances. It took a .351 BABIP to get him to that slash line, but with his speed and contact profile, a high BABIP seems sustainable. Prorated over a full season of 600 plate appearances, he was on pace for 42 steals, which would have ranked third in the league. However, it would represent a major step for him to stay injury-free and get anywhere close to that much playing time. Given the continuing decline of the stolen base, he's absolutely worth a roster spot in most formats while healthy, especially if he can somehow seize an everyday role.
Quinn missed the final four months of last season with an elbow injury, and has missed significant time in previous seasons with oblique, quadriceps, hip, Achilles and wrist injuries. To put it a different way, here are his games played totals over his six pro seasons: 66, 67, 88, 58, 92, 45. To make matters worse, he turns 25 in May and has played just 60 games above Double-A, so he's probably not quite ready for an extended look against big-league pitching. Following the Carlos Santana signing, the Phillies now have four big-league outfielders who probably deserve everyday at-bats, so Quinn might need a couple injuries to get a long look. All that said, he is one of a handful of players in pro ball who could realistically steal 40-plus bases over a full season, so he needs to remain on the radar of owners in almost all formats. Think of Quinn as Mallex Smith with significantly more injury risk and significantly less opportunity.
Quinn got off to a terrible start at Double-A last season as he struggled to find his timing at the plate. He got things going in May and June before suffering an oblique injury that sidelined him until early August. A concussion in late August also cost him about a week of action. Despite those issues, Quinn's numbers at Double-A Reading helped him earn a promotion to the majors in September, and he played frequently down the stretch. Quinn has top-shelf speed that could make him a tremendous asset for stolen bases, but he must work to maximize how often he gets on base. His 21.1 percent strikeout rate at Double-A and 27.5 percent rate in the majors are too high for a player whose game is built almost solely on thefts. He has also been extremely injury-prone throughout his career. Following the signing of Michael Saunders, Quinn seems to be out of the mix for a regular spot in the lineup at the major league level for the time being. However, the 23-year-old is expected to return to the majors at some point later in the season given his strong big-league debut, so he makes for a nice flier for owners chasing cheap steals late in drafts.
Quinn was putting together a solid season for Double-A Reading before suffering a tear in his hip flexor in mid-June that ended his season. Quinn showed some signs of growth before getting hurt, cutting his strikeout rate from 20.9 percent at High-A Clearwater in 2014 to 16.3 percent last season with Reading. His walk rate did dip slightly, but his BB/K ratio basically held steady thanks to the reduced strikeouts. He also continued to be very aggressive on the base paths with 29 steals in 58 games. The biggest concern with Quinn at this point are the lower body injuries. In addition to the hip injury, Quinn has also ruptured his Achilles. Speed is a major part of Quinn's game, so leg injuries have the potential to sap his future fantasy value. He will likely open the year back at Double-A, but could see time with the Phillies later in the year if an opportunity opens up in their outfield.
A ruptured Achilles' tendon cost Quinn the first six weeks of the 2014 campaign, and he struggled initially upon his return, but Quinn went on to hit .261 with six homers and 29 steals in the second half with High-A Clearwater. He has received solid reviews on his transition to center field after spending his first two seasons as a shortstop. Questions remain about how much Quinn will hit as he moves up the ladder in the minors. He profiles as a potential leadoff hitter with elite speed if his bat develops. The Phillies will likely have him open the year at Double-A Reading.
Quinn, the 66th overall pick of the 2011 MLB draft, played in just 67 games last season due to a broken wrist that he suffered in late June. The Phillies had hoped he would be able to get some work in at their Dominican academy, but Quinn ruptured his Achilles tendon while running sprints during an offseason workout. He underwent surgery in November and the team hopes to have him back in action in the second half of the 2014 season. Quinn's fantasy value is tied to his speed, so an injury of this nature is cause for concern. He becomes a much less interesting prospect if he loses a step or two on the bases.
Quinn was selected in the second round of the 2011 draft out of high school. The Phillies moved him from center field to shortstop after the draft and had him start switch hitting during instructional ball. Quinn made his professional debut with Short-Season Williamsport last season and hit .281/.370/.408 with a home run in 267 at-bats. The numbers aren't overwhelming, but they are impressive when you consider the majority of his at-bats were as a left-handed hitter, and Quinn had only started hitting from the left side of the plate about a year earlier. He should only get more comfortable from that side of the plate as he accumulates more at-bats. Quinn's best tool is his elite speed. He grades out as an 80 on the 20-to-80 scale used by scouts. His 30 stolen bases in 66 games last season show the potential impact he could have on the stolen base category in fantasy leagues. Quinn, who will turn 20 this season, has a long way to go to reach the majors, but the Phillies believe he has the talent to be an impact player once he reaches the big leagues.
More Fantasy News