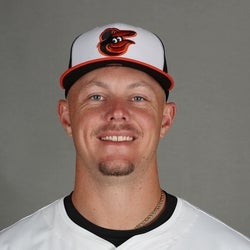 Rest-of-Season Projections
2023 Fantasy Outlook
Mountcastle's numbers don't express it, but he sported better skills than the previous season, but was shortchanged between six and nine homers, depending on which xHR mark is trusted. Looking at his spray chart, the discrepancy is more than the new Camden Yards dimensions. Mountcastle increased his fly ball exit velocity 1-mph, adding around four feet to his average fly ball distance. Yet, his HR/FB slipped from 20.4% to a snake bit 13.3%. Mountcastle chased less while being more aggressive in the zone, resulting in shaving a couple of points of his strikeout rate. The narrative will be moving the left field fences back in Camden Yards cost him power, but he was also unlucky in the home run department. This presents a buying opportunity as many will over adjust Mountcastle's new power baseline. He's still in the upswing of his career, hitting in the meat of an improving lineup.
Read Past Outlooks
$Signed a one-year contract with the Orioles in March of 2021.

ANALYSIS
Ryan O'Hearn
will take a turn at first base and bat seventh versus the Giants and right-hander
Logan Webb
. Mountcastle carries an ugly .233 batting average and .269 on-base percentage through 56 games (245 plate appearances) this year, though he has managed to tally 11 home runs and 38 RBI.
Read More News
Batting Stats
2023 MLB Game Log

Calculate Stats Over Time
Just click on any two dates.
Scoring
FanDuel
DraftKings
Yahoo DFS
Loading Batting Game Log...
2022 MLB Game Log

Calculate Stats Over Time
Just click on any two dates.
Scoring
FanDuel
DraftKings
Yahoo DFS
Loading Batting Game Log...
2021 MLB Game Log

Calculate Stats Over Time
Just click on any two dates.
Scoring
FanDuel
DraftKings
Yahoo DFS
Loading Batting Game Log...
2020 MLB Game Log

Calculate Stats Over Time
Just click on any two dates.
Scoring
FanDuel
DraftKings
Yahoo DFS
Loading Batting Game Log...
Minor League Game Log

Calculate Stats Over Time
Just click on any two dates.
Loading Minor League Batting Game Log...
Batting Order Slot Breakdown
#1
#2
#3
#4
#5
#6
#7
#8
#9
#1
#2
#3
#4
#5
#6
#7
#8
#9
Left/Right Batting Splits
OPS
PA
HR
RBI
AVG
Since 2021

vs Left

.822
445
25
73
.265
Since 2021

vs Right

.721
997
41
139
.243
2023

vs Left

1.017
82
7
22
.311
2023

vs Right

.557
165
4
16
.199
2022

vs Left

.693
154
5
15
.239
2022

vs Right

.741
455
17
70
.254
2021

vs Left

.842
209
13
36
.266
2021

vs Right

.770
377
20
53
.249
More Splits

→

View More Split Stats
Home/Away Batting Splits
OPS
PA
HR
RBI
AVG
Since 2021

Home

.801
721
38
118
.270
Since 2021

Away

.703
722
28
94
.228
2023

Home

.709
117
5
20
.250
2023

Away

.710
131
6
18
.221
2022

Home

.767
303
11
49
.274
2022

Away

.691
306
11
36
.227
2021

Home

.871
301
22
49
.274
2021

Away

.713
285
11
40
.233
More Splits

→

View More Split Stats
Stat Review
How does Ryan Mountcastle compare to other hitters?
This section compares his stats with all batting seasons from the previous three seasons (minimum 400 plate appearances)*. The bar represents the player's percentile rank. For example, if the bar is halfway across, then the player falls into the 50th percentile for that stat and it would be considered average.
* Exit Velocity and Barrels/PA % are benchmarked against 2019 data (min 400 PA) and Hard Hit Rate is benchmarked against last season's data (min 400 PA).
See here for more exit velocity/barrels stats
plus an explanation of current limitations with that data set.
BB/K

Walk to strikeout ratio

BB Rate

The percentage of plate appearances resulting in a walk.

K Rate

The percentage of plate appearances resulting in a strikeout.

BABIP

Batting average on balls in play. Measures how many of a batter's balls in play go for hits.

ISO

Isolated Power. Slugging percentage minus batting average. A computation used to measure a batter's raw power.

AVG

Batting average. Hits divided by at bats.

OBP

On Base Percentage. A measure of how often a batters reaches base. Roughly equal to number of times on base divided by plate appearances.

SLG

Slugging Percentage. A measure of the batting productivity of a hitter. It is calculated as total bases divided by at bats.

OPS

On base plus slugging. THe sum of a batter's on-base percentage and slugging percentage.

wOBA

Weighted on-base average. Measures a player's overall offensive contributions per plate appearance. wOBA combines all the different aspects of hitting into one metric, weighting each of them in proportion to their actual run value.

Exit Velocity

The speed of the baseball as it comes off the bat, immediately after a batter makes contact.

Hard Hit Rate

A measure of contact quality from Sports Info Solutions. This stat explains what percentage of batted balls were hit hard vs. medium or soft.

Barrels/PA

The percentage of plate appearances where a batter had a batted ball classified as a Barrel. A Barrel is a batted ball with similar exit velocity and launch angle to past ones that led to a minimum .500 batting average and 1.500 slugging percentage.

Expected BA

Expected Batting Average.

Expected SLG

Expected Slugging Percentage.

Sprint Speed

The speed of a runner from home to first, in feet per second.

Ground Ball %

The percentage of balls put in play that are on the ground.

Line Drive %

The percentage of balls put in play that are line drives.

Fly Ball %

The percentage of balls put in play that are fly balls.
Prospect Rankings History
Advanced Batting Stats
Loading Advanced Batting Stats...
Games By Position
Defensive Stats
Loading Games Played by Position...
Loading MLB Defensive Stats...
Batted Ball Stats
Loading Batted Ball Stats...
Stats Vs Upcoming Pitchers
Our full team depth charts are reserved for RotoWire subscribers.
Subscribe Now
Recent RotoWire Articles Featuring Ryan Mountcastle
See More
Past Fantasy Outlooks
2022
2021
2020
2019
2018
2017
2016
After a surprise debut year in 2020 when he hit for a .333 average, the batting average stepped back some for Mountcastle in 2021, but fortunately, that was not the case with his power. After a slow start (.628 OPS on June 1), he heated up over the last four months (.878 OPS with 28 of his 33 homers). He gave up some contact for more power (.159 to .232 ISO, 87 to 89 mph avgEV). It's tough to gauge his talent going forward since his limited production keeps bouncing around (e.g. 1.183 OPS in Aug. with a .710 OPS in Sept.). He should not be a drag in batting average and provide 30 or so home runs with a half dozen steals. It's not game-changing talent, but Mountcastle should be considered a nice roster fill-in especially since he's qualified at first base and outfield.
Mountcastle is not the answer for the Orioles, but he is pretty clearly one of the best players on the current roster. Among Baltimore position players in 2020, Mountcastle finished third in fWAR behind Jose Iglesias (who's no longer with the team) and Anthony Santander. He achieved that finish despite not debuting until Aug. 21. His success over 35 games was fueled by a .398 BABIP, a number not supported in any way by his batted-ball metrics. In fact, Mountcastle's xBA was nearly 70 points below his actual BA, the third-greatest differential between expected and actual average. It's encouraging that he crushed same-handed pitching; hopefully the landing will be fine with some gains against lefties. Mountcastle will have dual eligibility in many leagues as he made 10 appearances at first base in addition to 25 in the outfield. The fact he plays at Camden Yards helps the appeal of his compiler profile.
Mountcastle is a prime example of why team context matters when valuing prospects for dynasty leagues. On any contending team or National League team with solid depth, he wouldn't be assured an audition as a regular. However, Baltimore gave Dwight Smith (-0.8 fWAR) almost 400 plate appearances last year, so Mountcastle should be given regular playing time for several years despite his obvious deficiencies. He is a below-average defender in left field, but that won't stop the O's from giving him time there while also giving him starts as the designated hitter. With a potentially plus hit tool and 4.3 BB% at Triple-A, Mountcastle is much more valuable in AVG leagues than OBP leagues. He could be a 25-homer threat, thanks in part to his home park, but won't be a threat on the bases. It's not an exciting fantasy profile, but he could spend most of 2020 hitting in the top half of the big-league lineup.
Mountcastle flopped in a 39-game run at Double-A to close 2017, but mastered the level in a return trip. Among qualified Eastern League hitters under 22, only Ke'Bryan Hayes and Brendan Rodgers topped Mountcastle's 121 wRC+. If he were a quality defensive third baseman, the profile would be straightforward, as he should hit enough to profile at the hot corner. Unfortunately, he will likely have to move to left field or DH, which means his bat (potentially plus hit tool with above-average power) needs to max out. Mountcastle's 6.1 BB% was the eighth-worst mark in the Eastern League, but he makes contact at a high clip (18.5 K%) and uses the whole field. A reasonable outcome would be a .280 hitter who hits 20-25 home runs. Fantasy managers would take that production, but if it comes with a low walk rate and below-average defense, most big-league teams would be unsatisfied. Fortunately, the Orioles are not most big-league teams.
Mountcastle had more home runs (18) than walks (17) in 2017, but was still able to break out as a legitimate fantasy prospect thanks to his innate bat-to-ball ability. He led the Carolina League with a .314 average while ranking fifth in home runs (15) and eighth in strikeout rate (16.1 percent), all while being one of the 10 youngest hitters in the league and playing just 88 games prior to a promotion to Double-A. The breakout party came to a screeching halt in the Eastern League, as his walk rate dropped to 1.9 percent, he became much more pull happy (54.8 percent), and simply put too many pitcher's pitches in play. He will head back to Double-A for his age-21 season, with plenty of time to make adjustments at the plate. Evaluators still see a hitter with the potential to flirt with .300 and provide 20-plus homer pop. Unfortunately, he is a below-average runner and doesn't have the arm for shortstop or third base, so left field makes the most sense long term.
Mountcastle was viewed by many as a reach at No. 36 overall in the 2015 first-year player draft, but if he puts it all together, he could be a major league regular at shortstop in three or four years. Standing 6-foot-3, 195 pounds, Mountcastle was touted for his raw power coming out of high school, but that raw power did not translate during his first calendar year in professional ball. He slugged just .393 between rookie ball and Low-A Aberdeen in 2015 and managed one home run over the first two months of 2016. Finally, Mountcastle began to put the ball over the fence in June and went on to hit nine homers over the final three months of his age-19 season. He'll need to develop a keener eye and make more consistent contact to have success at the upper levels, and speed is not a part of the package. Still, Mountcastle deserves to be monitored by those in long-term keeper leagues.
The Orioles used a 2015 compensatory pick on Mountcastle. They may have reached a bit in order to sign him under slot, though Mountcastle was a late blooming prospect whose reputation grew only over the year before he was drafted. Mountcastle is widely regarded to possess superior bat speed and profiles with above-average power. As with most players out of high school, Mountcastle's power may not be present, but he is expected to add more muscle over the next few seasons. It will not be surprising to see him retain a higher than average BABIP the way the ball jumps off his bat. Mountcastle started his professional career as a shortstop, but his defense probably will not be enough to stay put and he could move to third base or a corner outfield spot. He posted respectable numbers in Rookie League, earning a 10-game cameo in short-season ball. The Orioles are high on Mountcastle and he is advanced enough to be able to begin the 2016 season at Low-A.
More Fantasy News