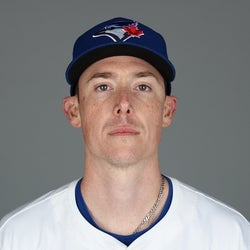 60-Day IL
Injury Head
Est. Return 7/14/2023
Rest-of-Season Projections
2023 Fantasy Outlook
Yarbrough was designated for assignment by the Rays in the offseason ending his run as the original bulk outing guy who found success working behind an opener while finding the exact opposite most outings as a traditional starter. Yarbrough owns a 4.75 ERA with a .257 opponents' batting average in his career as a traditional starter and a 3.82 ERA with a .248 opponents' batting average as a non-starter. He lacks any type of velocity or spin so he walks an extremely fine line of working the periphery of the strike zone while mixing and matching his pitches and arm angles to keep hitters off balance. The approach can work for sprints, but he also has a career 5.00 ERA once he has flipped a lineup over once. He could be a sneaky AL-Only play after signing with Kansas City, as he induces some of the softest average contact in the league along with a lot of infield fly balls. It's one of the few places where he could have signed on to be a starter out of spring training.
Read Past Outlooks
$Signed a one-year, $3 million contract with the Royals in December of 2022.

Kansas City transferred Yarbrough (head) from the 15-day injured list to the 60-day IL on Wednesday,
Anne Rogers of MLB.com
reports.
ANALYSIS
Yarbrough was placed on the IL on May 8 after he was diagnosed with multiple fractures upon being hit in the head by a line drive in his start against Oakland a day prior. Kansas City won't look to rush him back from the serious injury, as Yarbrough will now miss at least two months after being moved to the 60-day IL. The southpaw's removal from the 40-man roster opens up a spot for right-hander
Mike Mayers
, whose contract was selected from Triple-A Omaha prior to Wednesday's game against the Padres.
Read More News
Pitching Stats
Loading Pitching Stats...
2023
2022
2021
2020
2019
2018
2023 MLB Game Log

Calculate Stats Over Time
Just click on any two dates.
Scoring
FanDuel
DraftKings
Yahoo DFS
Loading Pitching Game Log...
2022 MLB Game Log

Calculate Stats Over Time
Just click on any two dates.
Scoring
FanDuel
DraftKings
Yahoo DFS
Loading Pitching Game Log...
2021 MLB Game Log

Calculate Stats Over Time
Just click on any two dates.
Scoring
FanDuel
DraftKings
Yahoo DFS
Loading Pitching Game Log...
2020 MLB Game Log

Calculate Stats Over Time
Just click on any two dates.
Scoring
FanDuel
DraftKings
Yahoo DFS
Loading Pitching Game Log...
2019 MLB Game Log

Calculate Stats Over Time
Just click on any two dates.
Scoring
FanDuel
DraftKings
Yahoo DFS
Loading Pitching Game Log...
2018 MLB Game Log

Calculate Stats Over Time
Just click on any two dates.
Scoring
FanDuel
DraftKings
Yahoo DFS
Loading Pitching Game Log...
Minor League Game Log

Calculate Stats Over Time
Just click on any two dates.
Loading Minor League Pitching Game Log...
Pitching Appearances Breakdown
How many pitches does Ryan Yarbrough generally throw?
What part of the game does Ryan Yarbrough generally pitch?
% Games Reaching Innings Threshold
% Games By Number of Innings Pitched
Left/Right Pitching Splits
BAA
K
BB
H
HR
Since 2021

vs Left

.213
58
19
45
5
Since 2021

vs Right

.285
134
37
233
35
2023

vs Left

.261
4
5
6
1
2023

vs Right

.276
10
2
21
2
2022

vs Left

.159
20
5
11
2
2022

vs Right

.308
41
17
77
10
2021

vs Left

.235
34
9
28
2
2021

vs Right

.275
83
18
135
23
More Splits

→

View More Split Stats
Home/Away Pitching Splits
ERA
WHIP
IP
K/9
BB/9
Since 2021

Home

4.95
1.20
123.2
7.1
2.1
Since 2021

Away

5.10
1.35
137.2
6.1
1.8
2023

Home

7.36
1.43
14.2
5.5
3.1
2023

Away

4.63
1.11
11.2
3.9
1.5
2022

Home

4.35
1.39
31.0
6.1
3.5
2022

Away

4.59
1.37
49.0
7.3
1.8
2021

Home

4.73
1.08
78.0
7.8
1.4
2021

Away

5.49
1.38
77.0
5.7
1.8
More Splits

→

View More Split Stats
Stat Review
How does Ryan Yarbrough compare to other relievers?
This section compares his stats with all relief pitcher seasons from the previous three seasons (minimum 30 innings)*. The bar represents the player's percentile rank. For example, if the bar is halfway across, then the player falls into the 50th percentile for that stat and it would be considered average.
* Exit Velocity, Barrels/BBE %, Balls Hit 95+ MPH %, and Spin Rate are benchmarked against 2019 data (min 30 IP).
See here for more exit velocity/barrels stats
plus an explanation of current limitations with that data set.
K/BB

Strikeout to walk ratio.

K/9

Average strikeouts per nine innings.

BB/9

Average walks per nine innings.

HR/9

Average home runs allowed per nine innings.

Fastball

Average fastball velocity.

ERA

Earned run average. The average earned runs allowed per nine innings.

WHIP

Walks plus hits per inning pitched.

BABIP

Batting average on balls in play. Measures how many balls in play against a pitcher go for hits.

GB/FB

Groundball to flyball ratio. The higher the number, the more likely a pitcher is to induce groundballs.

Left On Base

The percentage of base runners that a pitcher strands on base over the course of a season.

Exit Velocity

The speed of the baseball as it comes off the bat, immediately after a batter makes contact.

Barrels/BBE

The percentage of batted ball events resulting in a Barrel. A Barrel is a batted ball with similar exit velocity and launch angle to past ones that led to a minimum .500 batting average and 1.500 slugging percentage.

Spin Rate

Spin Rate is the rate of spin on a baseball after it is released. It is measured in revolutions per minute (rpm).

Balls Hit 95+ MPH

The percentage of batted balls hit that met or exceeded the 95 MPH threshold.

Swinging Strike

The percentage of pitches that result in a swing and a miss.
Advanced Pitching Stats
Loading Advanced Pitching Stats...
Loading MLB Defensive Stats...
Our full team depth charts are reserved for RotoWire subscribers.
Subscribe Now
Recent RotoWire Articles Featuring Ryan Yarbrough
See More
Past Fantasy Outlooks
Yarbrough now has four seasons under his belt as the Swiss army knife of the Tampa Bay pitching staff, but he is now at a bit of a crossroads. The 21 starts he made last season were a career high. The club did not use the opener as often with him, but that also cost Yarbrough as he had a career-worst 5.11 ERA. His ERA as a pure starter was 5.46 and 22 of his 25 homers came in those outings. When he pitched in bulk relief, his ERA dropped to 4.03 and he did a much better job limiting hard contact. Ironically enough, Yarbrough has the lowest average exit velocity of any non-full-time reliever in baseball over the past two seasons (min 1,000 pitches). His slippery approach to pitching in and around the strike zone is frustrating for hitters when he hits his spots, but he becomes batting practice when his command falters. If he stays with the club, more bulk pitching could put him back in a better place and make him rosterable again.
Yarbrough appeared almost exclusively as a starter last season for the first time in his three-year career, starting nine games while appearing in relief twice. He cruised to a career-best 3.56 ERA, though the ERA estimators were slightly more pessimistic, as his 3.87 FIP and 4.33 xFIP both sat at roughly the midpoint between his marks from the two previous seasons. His strikeout rate fell to a career-low 18.8%, but when combined with a strong 5.1 BB%, it was generally enough to get the job done. Yarbrough should remain one of the Rays' primary rotation options this season, especially after the departure of Charlie Morton, and there's every reason to believe he'll remain a serviceable starter heading into his age-29 season, albeit a fairly low-ceiling one for fantasy purposes given his consistently mediocre strikeout rates.
Yarbrough worked in the bulk role again in 2019, but early on, his season was disastrous. He was sent down to Triple-A after five appearances to begin the season with an 8.10 ERA and 1.32 WHIP. If it could have gone wrong for him in April, it did. He went down to Durham and tinkered with his approach, deciding to throw his below-average fastball less and add more cutters and sliders...and it worked! He was recalled May 23 and went 9-2 with a 2.55 ERA and 0.87 WHIP until hitting a wall in September where his numbers went back to their April form. Yarbrough is not a starter as he is ideally suited for the bulk role with this limited repertoire. When his command is on, he is excellent at inducing weak contact and generating infield popups and cans of corn to the outfield. He gets hurt when he fails to execute, so a misplaced fastball or a flat cutter becomes a rocket to or over the wall.
With the implementation of the opener in Major League Baseball also came the introduction of the primary pitcher. That was Yarbrough's primary role in 2018. He totaled 147.1 innings despite making just six starts in 38 appearances, and the results were relatively strong despite underwhelming peripherals. He didn't even crack 90 mph on average with his fastball, but his slider and cutter were effective enough against left-handed batters. It was a different story against right-handed hitters -- 10.1 K-BB%, .324 wOBA, 4.34 FIP. Further, Yarbrough's ERA jumped from 2.63 the first time through to 4.29 the second time through (as a reliever), which suggests that both Yarbrough and the team may be better off shortening him up. Factor in the caliber of the offenses in his own division and Yarbrough looks like a low-upside pitcher with the downside of a true middle reliever, so waiver-wire fodder in mixed leagues.
Yarbrough spent the majority of 2015 with High-A Bakersfield in the California League, where he finished with a 4-7 record and 3.76 ERA in 16 starts. He posted a 4.11 strikeout-to-walk ratio, .266 batting average against, and 1.28 WHIP. Part of his high batting average against can likely be explained by his .324 BABIP, which was much higher than the .266 BABIP he finished with in 2014. Yarbrough had a groin injury in June that sent him to the 7-day DL, but should be healthy to start 2016. Yarbrough's arsenal of pitches includes an average fastball and curveball to go along with an excellent change-up. He moved up from number 11 to number eight on the Mariners prospect rankings during 2015 and is estimated to make the MLB during 2016. Scouts believe has back-of-the-rotation potential, but will most likely end up in the bullpen long-term. If Yarbrough pitches well to start 2016, there is a good chance he could be called-up to the MLB at some point as a lefty reliever.
More Fantasy News