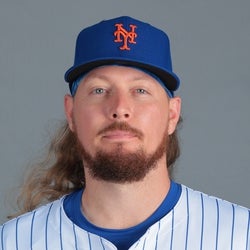 2023 Fantasy Outlook
There was no outlook written for Ryne Stanek in 2023. Check out the latest news below for more on his current fantasy value.
$Signed a one-year, $2.1 million contract with the Astros in March of 2022, avoiding arbitration.

Stanek (1-0) allowed a walk in a scoreless ninth inning to earn the win Monday against the Royals.
ANALYSIS
Stanek entered the game in the ninth inning with the score knotted at six and earned his first win of the season when
Yordan Alvarez
homered in the bottom of the frame. Stanked turned in his 24th consecutive scoreless appearance and has maintained a 24:9 K:BB across 20 innings in that span. Stanek has an excellent 0.67 ERA with eight holds on the season, though he is likely to be limited to a setup role.
Read More News
Pitching Stats
Loading Pitching Stats...
2022
2021
2020
2019
2018
2017
2022 MLB Game Log

Calculate Stats Over Time
Just click on any two dates.
Scoring
FanDuel
DraftKings
Yahoo DFS
FantasyDraft
Head2Head
Loading Pitching Game Log...
2021 MLB Game Log

Calculate Stats Over Time
Just click on any two dates.
Scoring
FanDuel
DraftKings
Yahoo DFS
FantasyDraft
Head2Head
Loading Pitching Game Log...
2020 MLB Game Log

Calculate Stats Over Time
Just click on any two dates.
Scoring
FanDuel
DraftKings
Yahoo DFS
FantasyDraft
Head2Head
Loading Pitching Game Log...
2019 MLB Game Log

Calculate Stats Over Time
Just click on any two dates.
Scoring
FanDuel
DraftKings
Yahoo DFS
FantasyDraft
Head2Head
Loading Pitching Game Log...
2018 MLB Game Log

Calculate Stats Over Time
Just click on any two dates.
Scoring
FanDuel
DraftKings
Yahoo DFS
FantasyDraft
Head2Head
Loading Pitching Game Log...
2017 MLB Game Log

Calculate Stats Over Time
Just click on any two dates.
Scoring
FanDuel
DraftKings
Yahoo DFS
FantasyDraft
Head2Head
Loading Pitching Game Log...
Minor League Game Log

Calculate Stats Over Time
Just click on any two dates.
Loading Minor League Pitching Game Log...
Pitching Appearances Breakdown
How many pitches does Ryne Stanek generally throw?
What part of the game does Ryne Stanek generally pitch?
% Games Reaching Innings Threshold
% Games By Number of Innings Pitched
Left/Right Pitching Splits
BAA
K
BB
H
HR
Since 2020

vs Left

.230
55
30
43
8
Since 2020

vs Right

.172
101
46
50
5
2022

vs Left

.175
24
10
14
1
2022

vs Right

.198
38
21
22
1
2021

vs Left

.245
30
18
24
6
2021

vs Right

.148
53
19
22
2
2020

vs Left

.556
1
2
5
1
2020

vs Right

.194
10
6
6
2
More Splits

→

View More Split Stats
Home/Away Pitching Splits
ERA
WHIP
IP
K/9
BB/9
Since 2020

Home

2.54
1.19
67.1
10.7
4.9
Since 2020

Away

2.67
1.33
64.0
10.3
5.2
2022

Home

0.64
1.04
28.0
10.6
4.5
2022

Away

1.69
1.43
26.2
9.8
5.7
2021

Home

3.75
1.17
36.0
11.0
4.8
2021

Away

3.06
1.27
32.1
10.9
5.0
2020

Home

5.40
2.70
3.1
8.1
10.8
2020

Away

5.40
1.20
5.0
9.0
3.6
More Splits

→

View More Split Stats
Stat Review
How does Ryne Stanek compare to other relievers?
This section compares his stats with all relief pitcher seasons from the previous three seasons (minimum 30 innings)*. The bar represents the player's percentile rank. For example, if the bar is halfway across, then the player falls into the 50th percentile for that stat and it would be considered average.
* Exit Velocity, Barrels/BBE %, Balls Hit 95+ MPH %, and Spin Rate are benchmarked against 2019 data (min 30 IP).
See here for more exit velocity/barrels stats
plus an explanation of current limitations with that data set.
K/BB

Strikeout to walk ratio.

K/9

Average strikeouts per nine innings.

BB/9

Average walks per nine innings.

HR/9

Average home runs allowed per nine innings.

Fastball

Average fastball velocity.

ERA

Earned run average. The average earned runs allowed per nine innings.

WHIP

Walks plus hits per inning pitched.

BABIP

Batting average on balls in play. Measures how many balls in play against a pitcher go for hits.

GB/FB

Groundball to flyball ratio. The higher the number, the more likely a pitcher is to induce groundballs.

Left On Base

The percentage of base runners that a pitcher strands on base over the course of a season.

Exit Velocity

The speed of the baseball as it comes off the bat, immediately after a batter makes contact.

Barrels/BBE

The percentage of batted ball events resulting in a Barrel. A Barrel is a batted ball with similar exit velocity and launch angle to past ones that led to a minimum .500 batting average and 1.500 slugging percentage.

Spin Rate

Spin Rate is the rate of spin on a baseball after it is released. It is measured in revolutions per minute (rpm).

Balls Hit 95+ MPH

The percentage of batted balls hit that met or exceeded the 95 MPH threshold.

Swinging Strike

The percentage of pitches that result in a swing and a miss.
Advanced Pitching Stats
Loading Advanced Pitching Stats...
Loading MLB Defensive Stats...
Our full team depth charts are reserved for RotoWire subscribers.
Subscribe Now
Recent RotoWire Articles Featuring Ryne Stanek
Past Fantasy Outlooks
2022
2021
2020
2019
2018
2017
2015
2014
Stanek was non-tendered by Miami last December and landed with the Astros ahead of the 2021 campaign. He joined a bullpen plagued by injuries that was not well defined beyond closer Ryan Pressly, but took advantage of the opportunity and landed Houston's setup role early in the season. Stanek appeared in a career-high 72 games and posted a respectable 3.42 ERA, 1.21 WHIP and 10.9 K/9 in 68.1 innings. He logged three wins, two saves and 21 holds - all career-highs - and gained valuable experience pitching in high-leverage. However, his hard-hit metrics were below league average and his command was inconsistent, which led to a 12.8% walk rate that has been a recurring problem throughout his career. Stanek may be better served as a middle reliever than a late-inning arm, evidenced by Houston acquiring three higher-leverage relievers at the trade deadline last year. Don't expect an abundance of saves or holds.
Stanek battled a sore back in the spring, but the shutdown afforded him time to recover and break summer camp with Miami. Stanek gave up three earned runs in his first inning of work, then was one of several Marlins to be placed on the COVID-19 IL. He was activated in early September but continued to struggle with command and control, walking seven while surrendering two homers in nine frames. Stanek will enter 2021 the same way he did 2020, possessing a live arm capable of missing bats but with trouble finding the strike zone as evidenced by a career 28.6 K% and 11.7 BB%. Punchouts are always enticing, but unless Stanek figures out a way to throw more strikes, he's just another guy with a 97-mph fastball lacking control. The right-hander will have to start at the bottom of the ladder after being non-tendered and signing a one-year deal with the Astros.
Stanek will always be the original "opener" after starting 56 games for the Rays from 2018-19, totaling 83 innings in those starts. He even had a souvenir bottle opener with his likeness sold in team stores. Now, following a midsummer trade to the Marlins, Stanek has his eyes on a different role at the other end of the spectrum: closer. He did not fare well in his few save opportunities and his time with the Marlins was disappointing at large, marred by a massive spike in walk rate. Stanek was coming off a hip injury and there's hope that after a full offseason of rest he will be able to hold down a spot at the back end of the bullpen. Stanek averages close to 98 mph on his fastball and his swinging-strike rate has been 15% in all three MLB seasons. Jose Urena was the closer down the stretch but did little to impress, so the door would seem to be open for Stanek despite his struggles.
Stanek started the second-most games for the Rays last season with 29, though those all came in the opener role. He never threw more than two innings in any of his 59 total appearances. With only two pitches that he trusts to throw more than 15% of the time (fastball/slider), he seems well suited for such a role. It shielded him from facing hitters more than once and allowed him to post a 2.98 ERA in 66.1 innings. The question for fantasy owners is how valuable is a pitcher in that role? It hurts his chances at wins, but in leagues where starters and relievers are separated and which allow for daily lineup changes, he's very much on the radar. Stanek posted a 30.8% strikeout rate over a sizable workload, finishing with 66.1 innings despite not being called up until May.
Stanek has hair like Thor, and he has velocity like Thor. That is where the Syndergaard comparisons end. Stanek is now a full-time reliever with a big fastball, and little else. With Triple-A Durham, Stanek struck out 35 percent of the batters he faced and did not allow a home run in 44.2 innings. His strikeout rate dipped only slightly to 30.5 percent at the big-league level, but he allowed six homers in just 20 innings of relief with the Rays. He lacks a consistent secondary pitch, so when he falls behind, which is often, the opposition sits on the fastball and hits it hard. Stanek could take off if the command and a secondary pitch come along, but you should not roster him while waiting for that to happen. If nothing else, he's an interesting name to remember if the aforementioned skills growth occurs should the Rays have a ninth-inning vacancy down the road.
Stanek spent most of 2016 in Double-A Montgomery before finishing the season with Triple-A Durham. With Tampa's Double-A affiliate, the 25-year-old right-hander showed some promising flashes in his 11 starts, posting a 3.79 ERA while registering a solid 10.5 K/9 in 78.1 innings of work. His performance took a turn for the worse when he got to Triple-A. While generating strikeouts was Stanek's calling card at Double-A, his strikeout rate decreased to a disappointing 8.1 K/9 albeit in a small sample size. Additionally, Stanek produced a 5.92 ERA during his stint with Triple-A Durham, the highest of any stop in his career. Nonetheless, he showed enough promise for the Rays to add him to their 40-man roster following the 2016 season and thus shield him from the Rule 5 draft. Stanek will likely begin the season at Triple-A, but could possibly earn an eventual promotion to Tampa's major league bullpen if he steps up his performance in 2017.
When fully healthy, Stanek features a heavy sinking fastball that can sit in the mid-to-high 90s and a wipeout slider. Unfortunately, he missed a month and a half at the end of the 2014 season with shoulder fatigue, which is not a good sign, considering he had pitched just 55.2 innings to that point. He was able to make two rehab starts (a total of three innings) in late August, but questions remain about his ability to withstand the workload of a full season as a starter, especially with a slight 6-foot-4, 180-pound frame. Prior to being shut down, he spend most of last season at Low-A Bowling Green, posting a 3.63 ERA and a 46:13 K:BB ratio in 44.2 innings. The Rays have every reason to continue to work the 23-year-old righty as a starter, presumably at High-A Charlotte to begin 2015, but there is a good chance he will be a late-innings reliever when it is all said and done.
Stanek was selected by the Rays in the first round of the 2013 MLB draft out of Arkansas. Though he agreed to a contract, he did not play in any games at the professional level in his first season in the organization. He fell a little in the draft due to some injury concerns in his evaluations, but he is a tall fireballer with some nice breaking pitches and the Rays could groom him into a solid starter. Since he did not play professionally in 2013, it is uncertain exactly where he'll be assigned in 2014. Being a college right-hander, Stanek could rise through the system quickly if he puts aside the injury concerns.
More Fantasy News