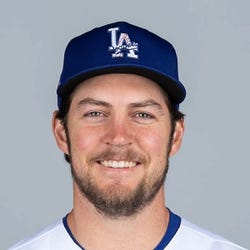 Rest-of-Season Projections
2023 Fantasy Outlook
Bauer was reinstated from his suspension for violating MLB's joint domestic violence, sexual assault and child abuse policy this offseason and subsequently designated for assignment by the Dodgers. The 2020 NL Cy Young Award winner is eligible to sign with any other team for the league minimum.
Read Past Outlooks
$Signed a one-year, $28 million contract with the Dodgers in February of 2021. Exercised $32 million player option for 2022 in November of 2021. Released by the Dodgers in January of 2023.

Signing with Japanese team
Bauer agreed Monday with the Yokohama DeNA BayStars of Japan's Nippon Professional Baseball on a one-year, $4 million contract,
Yuki Yamada Sankei Sports
reports.
ANALYSIS
Bauer was released by the Dodgers in early January after he was made eligible for reinstatement following a reduction of his domestic violence suspension. He's now headed overseas to continue his baseball career after presumably not receiving any interest from major-league clubs. The 32-year-old may explore his options stateside following the 2023 season, but it's possible his MLB playing days are over.
Read More News
Pitching Stats
Loading Pitching Stats...
2022
2021
2020
2019
2018
2017
2022 MLB Game Log

Calculate Stats Over Time
Just click on any two dates.
Scoring
FanDuel
DraftKings
Yahoo DFS
Loading Pitching Game Log...
2021 MLB Game Log

Calculate Stats Over Time
Just click on any two dates.
Scoring
FanDuel
DraftKings
Yahoo DFS
Loading Pitching Game Log...
2020 MLB Game Log

Calculate Stats Over Time
Just click on any two dates.
Scoring
FanDuel
DraftKings
Yahoo DFS
Loading Pitching Game Log...
2019 MLB Game Log

Calculate Stats Over Time
Just click on any two dates.
Scoring
FanDuel
DraftKings
Yahoo DFS
Loading Pitching Game Log...
2018 MLB Game Log

Calculate Stats Over Time
Just click on any two dates.
Scoring
FanDuel
DraftKings
Yahoo DFS
Loading Pitching Game Log...
2017 MLB Game Log

Calculate Stats Over Time
Just click on any two dates.
Scoring
FanDuel
DraftKings
Yahoo DFS
Loading Pitching Game Log...
Minor League Game Log

Calculate Stats Over Time
Just click on any two dates.
Loading Minor League Pitching Game Log...
Left/Right Pitching Splits
BAA
K
BB
H
HR
Since 2021

vs Left

.219
58
18
42
12
Since 2021

vs Right

.146
79
19
29
7
2023

vs Left

0
0
0
0
0
2023

vs Right

0
0
0
0
0
2022

vs Left

0
0
0
0
0
2022

vs Right

0
0
0
0
0
2021

vs Left

.219
58
18
42
12
2021

vs Right

.146
79
19
29
7
More Splits

→

View More Split Stats
Home/Away Pitching Splits
ERA
WHIP
IP
K/9
BB/9
Since 2021

Home

2.54
0.92
39.0
11.3
1.4
Since 2021

Away

2.62
1.05
68.2
11.5
4.1
2023

Home

0
0
0
0
0
2023

Away

0
0
0
0
0
2022

Home

0
0
0
0
0
2022

Away

0
0
0
0
0
2021

Home

2.54
0.92
39.0
11.3
1.4
2021

Away

2.62
1.05
68.2
11.5
4.1
More Splits

→

View More Split Stats
Advanced Pitching Stats
Loading Advanced Pitching Stats...
Loading MLB Defensive Stats...
Recent RotoWire Articles Featuring Trevor Bauer
See More
Past Fantasy Outlooks
2022
2021
2020
2019
2018
2017
2016
2015
2014
2013
2012
Bauer was placed on administrative leave in early July after sexual assault allegations surfaced. His leave was extended numerous times and Bauer did not end up returning to the field for the Dodgers. Right now, we don't know whether Bauer will pitch in the major leagues again. Police turned their case against Bauer over to prosecutors in late August and criminal charges won't be filed, but he was placed on administrative leave once again shortly after the end of the lockout, and it's unclear if or when he'll return to the field. Bauer saw a suspicious increase in spin rate in 2020 and won himself an NL Cy Young Award. Players with this kind of on-the-field resume typically get a second chance, but in this case, he may just forever be persona non grata.
Bauer took home the NL Cy Young after dominating in the short season and leading the Reds to their first postseason appearance since 2013. He did it with a nod and a wink -- the spin rates on all his pitches jumped dramatically, something he'd previously shown he could do with the help of a foreign substance. Knowing MLB could not single him out, Bauer leveled the playing field and ascended back to the elite ranks after a miserable two-month run with Cincinnati to close out 2019. Bauer has been at the forefront of the Driveline Baseball and pitch-design evolution, and he's lethal with his five-pitch mix when things are working right. There's no reason to think he will put himself back at a disadvantage, and if you want him you will have to bet the 2018/2020 version is the real Bauer. He has talked at length about wanting to start every fourth day; perhaps we could see that for a month, but not six months.
Bauer has been at the forefront of innovation with pitch design and data-driven player development, having worked closely with Driveline Baseball in recent years. He's also outspoken and wears his heart on his sleeve. His July 28 tantrum in Kansas City -- when he chucked the ball out to center after a poor showing -- was the last straw for the Indians, who traded Bauer to the Reds days later. His 10-start run with Cincinnati was a disaster, with Bauer posting a 6.39 ERA and nearly two HR/9. Year over year, his GB% was down seven percentage points and his walk rate ticked up, but Bauer continued to miss bats at a great clip, finishing 18th among qualified starters with a 27.8 K%. The fact is Bauer still has just one year with a sub-4.00 ERA on his record. He will be motivated to get right in a walk year and we've seen the upside, but taking Bauer inside the first five rounds requires a leap of faith.
Bauer may prepare in a bit of a quirky way, but his commitment to his craft paid off in a big way in 2018, as he was one of the best pitchers in the league through four months. A stress fracture in his lower leg cost him almost six weeks, with him returning in an abbreviated role to close out September. He finished second in the majors, behind only Jacob deGrom, with a 2.44 FIP and finished in the top seven in K% (30.8) and K-BB% (22.9). His 95-mph fastball is a plus pitch, but what separates Bauer from most other starters is that he has four more plus pitches (slider, curveball, changeup, cutter) in his bag of tricks, so hitters are almost always at his mercy. Even with the missed time, he finished ninth among starting pitchers in earned auction dollars ($22), so if the skills growth is real and he is able to top 200 innings for the first time in his career, he could finish as a top-five fantasy starter in 2019.
Bauer hasn't yet delivered on the frontline-starter potential many saw in him as a prospect, but with Cy Young winner Corey Kluber and AL wins leader Carlos Carrasco leading the pitching staff, the Indians only asked the right-hander to be a serviceable mid-rotation arm last season. The 27-year-old did exactly that while submitting his best season, going 17-9 and posting a career-high 10.0 K/9 rate that ranked 13th among qualified starters. Bauer found success by streamlining his repertoire, using his four-seam fastball or curveball nearly 70 percent of the time, which had positive effects on his oft-shaky command. Even so, Bauer still had issues with home runs and working deep into starts, and until he corrects those flaws, he's unlikely to offer much assistance in ERA and WHIP. Bauer's pedigree gives him a better chance than most to make the jump to ace-level starter, but his counting stats are already useful for fantasy owners even if this is his ceiling.
Bauer hasn't delivered on the potential associated with being a No. 3 overall pick, but he's becoming a productive major league starter. His pedigree places a burden of expectation on Bauer. Any successful run from Bauer prompts a contingent of his backers to believe it's the beginning of his ascent, when usually it's just a solid run for what may well be just an average pitcher. That he chopped anything off his ERA while the league scoring environment surged represents a modicum of growth, but the only bankable improvement in his profile was a 10-percent jump in groundball rate, to a career-high 49 percent. While the overall results have been essentially static in his three full-ish seasons (he had cameos in 2012 and 2013), he has at least added innings year over year. He isn't a completely finished product with just 552.1 major league innings under his belt, but expectations should be kept realistic.
Bauer held onto most of the gains he made in 2014, but did not really take any meaningful step forward in his second season as a member of the starting rotation. He is still too willing to walk hitters (4.0 BB/9 and a league-leading 79 walks in 176 innings), which is further compounded by his issues with the longball (1.2 HR/9, 23 homers allowed). To his credit, Bauer misses bats at a high clip (8.7 K/9) and does not have any platoon issues (.735 OPS vs. righties, .731 OPS vs. lefties in his career). In a somewhat surprising move, Bauer was demoted to a bullpen role late in camp, as Cody Anderson and Josh Tomlin both outpitched him in spring training. Bauer could be a devastating reliever if he willingly accepts the role, but without a spot in the rotation, he can be avoided for now in standard leagues. He will be the obvious option to jump back into the rotation if one of the Indians' five starters suffers an injury.
Bauer is a good example of why the fantasy community's expectations of prospects desperately need to be dialed down across the board. The former No. 3 overall pick put up some gaudy strikeout numbers upon entering pro ball, but walked way too many batters to find steady upper minors success, let alone big league success. His flaws were exacerbated in a couple of tiny MLB samples in 2012-13 as he walked 29 while striking out just 28 in 33 innings. Even with the appropriate small sample size caveats in place, it was still a disaster and indicative of why he wasn't earning a chance to fatten up the sample. Still just 23 entering last year, he had a major growth spurt skills-wise as he finally stopped walking every batter in sight and actually strung together some major league success in the summer. It's all relative, though, because his 9.1% walk rate marked a huge improvement for him, but it was still the 10th-highest among the 98 starters who logged at least 150 innings. Speculate in deep leagues, but keep expectations reasonable.
Bauer was a disaster in four spot starts for the Indians and was not much better in 22 starts at Triple-A Columbus last season. He was passed over for a September callup despite already being on the 40-man roster, which pretty much sums up his season. He's never posted jaw-dropping numbers in the minors despite lots of prospect ink and a nice strikeout rate, as his lack of command has always been his undoing. There's a lot less to like here than there was 12 months ago when the Indians acquired him from the Diamondbacks, but the power arm offers hope that he will turn things around. Bauer will need to impress mightily in spring training to earn a rotation spot, so he's likely headed back to Triple-A to attempt to put the pieces back together.
Bauer earned Minor League Pitcher of the Year honors with the D-Backs as he carved up Double-A and Triple-A hitters to the tune of a combined 157:61 K:BB in 130.1 innings around a four-start audition with Arizona. Walks were an issue at his minor league stops, but Bauer couldn't find the plate during his brief time in the big leagues, and he seemed to draw the ire of some teammates and coaches with generally a stubborn demeanor. If he's able to improve his fastball command, there is reason to believe that Bauer will still become a very good big league starter, but he will continue his development in Cleveland after being acquired by the Indians in December. With less starting pitching depth around him in his new organization, it is much easier to envision a scenario where he breaks camp as a member of the Tribe's rotation.
After a dominant career at UCLA, Bauer was the third overall pick in the 2011 MLB Draft and the D-Backs wasted little time getting him acclimated to pro ball. Although he did not reach Arizona in September, Bauer worked 25.2 innings between High-A Visalia and Double-A Mobile while compiling an impressive 43:12 K:BB over seven starts. Bauer has drawn comparisons to Tim Lincecum, and he profiles to be the ace in a very good young Arizona rotation for years to come. The 21-year-old is extremely polished and offers a five-pitch arsenal led by a plus-plus curveball. Even if he doesn't break camp with the D-Backs, he should be up for good in 2012.
More Fantasy News