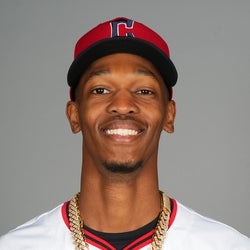 2023 Fantasy Outlook
McKenzie came out of 2021 with a mixed bag of results which gave us a good idea of what 2022 could be with better breaks. McKenzie's breaking balls were unhittable in 2021, but the league jumped all over his fastball when he was behind in the count. The task for McKenzie coming into 2022 was to get ahead in the count more frequently so he could attack batters with the slider and curveball, and he was up to the task as he nearly cut his walk rate in half while giving up little in the strikeout area en route to a much improved sophomore campaign. McKenzie's curveball is still a ridiculous pitch as the league hit .120 off it with a 45% whiff rate, but was able to hit the slider more this season to the tune of a .271 average with a noticeable reduction in his whiff rate. McKenzie had a show-me changeup in 2021 which he shelved this past season as he chose to attack lefties and righties with the same three pitches. Neither hit him that well, but righties did have 15 of the 25 homers against him. It is unlikely he brings the changeup back, but now the concern for the tall lanky youngster is repeating a big workload season as he went from 120 innings to working over 200 innings last season when factoring in the postseason work.
Read Past Outlooks
$Signed a $2.31 million contract with the Indians in June of 2015.

Pulled with arm tightness
McKenzie was removed from Sunday's Cactus League start against the Reds as a precautionary measure due to right arm tightness,
Zack Meisel of The Athletic
reports.
ANALYSIS
The 25-year-old delivered a scoreless first inning during his final start of spring training Sunday but never returned to the mound. Any arm injury is a concerning development -- especially this late in spring training -- which leaves McKenzie's availability for the start of the regular season up in the air.
Read More News
Pitching Stats
Loading Pitching Stats...
2022 MLB Game Log

Calculate Stats Over Time
Just click on any two dates.
Scoring
FanDuel
DraftKings
Yahoo DFS
FantasyDraft
Head2Head
Loading Pitching Game Log...
2021 MLB Game Log

Calculate Stats Over Time
Just click on any two dates.
Scoring
FanDuel
DraftKings
Yahoo DFS
FantasyDraft
Head2Head
Loading Pitching Game Log...
2020 MLB Game Log

Calculate Stats Over Time
Just click on any two dates.
Scoring
FanDuel
DraftKings
Yahoo DFS
FantasyDraft
Head2Head
Loading Pitching Game Log...
Minor League Game Log

Calculate Stats Over Time
Just click on any two dates.
Loading Minor League Pitching Game Log...
Pitching Appearances Breakdown
How many pitches does Triston McKenzie generally throw?
What part of the game does Triston McKenzie generally pitch?
% Games Reaching Innings Threshold
% Games By Number of Innings Pitched
Left/Right Pitching Splits
BAA
K
BB
H
HR
Since 2020

vs Left

.201
163
52
109
21
Since 2020

vs Right

.193
204
59
134
31
2022

vs Left

.194
87
22
55
10
2022

vs Right

.205
103
22
83
15
2021

vs Left

.203
63
28
42
8
2021

vs Right

.186
73
30
42
13
2020

vs Left

.235
13
2
12
3
2020

vs Right

.143
28
7
9
3
More Splits

→

View More Split Stats
Home/Away Pitching Splits
ERA
WHIP
IP
K/9
BB/9
Since 2020

Home

3.61
0.99
152.0
11.0
2.7
Since 2020

Away

3.74
1.06
192.2
8.5
3.0
2022

Home

2.77
0.90
81.1
10.6
1.8
2022

Away

3.11
0.99
110.0
7.7
2.3
2021

Home

5.17
1.24
55.2
10.7
4.5
2021

Away

4.76
1.13
64.1
9.8
4.2
2020

Home

2.40
0.53
15.0
13.8
1.2
2020

Away

3.93
1.20
18.1
9.3
3.4
More Splits

→

View More Split Stats
Stat Review
How does Triston McKenzie compare to other starting pitchers?
This section compares his stats with all starting pitcher seasons from the previous three seasons (minimum 120 innings)*. The bar represents the player's percentile rank. For example, if the bar is halfway across, then the player falls into the 50th percentile for that stat and it would be considered average.
* Exit Velocity, Barrels/BBE %, Balls Hit 95+ MPH %, and Spin Rate are benchmarked against 2019 data (min 120 IP).
See here for more exit velocity/barrels stats
plus an explanation of current limitations with that data set.
K/BB

Strikeout to walk ratio.

K/9

Average strikeouts per nine innings.

BB/9

Average walks per nine innings.

HR/9

Average home runs allowed per nine innings.

Fastball

Average fastball velocity.

ERA

Earned run average. The average earned runs allowed per nine innings.

WHIP

Walks plus hits per inning pitched.

BABIP

Batting average on balls in play. Measures how many balls in play against a pitcher go for hits.

GB/FB

Groundball to flyball ratio. The higher the number, the more likely a pitcher is to induce groundballs.

Left On Base

The percentage of base runners that a pitcher strands on base over the course of a season.

Exit Velocity

The speed of the baseball as it comes off the bat, immediately after a batter makes contact.

Barrels/BBE

The percentage of batted ball events resulting in a Barrel. A Barrel is a batted ball with similar exit velocity and launch angle to past ones that led to a minimum .500 batting average and 1.500 slugging percentage.

Spin Rate

Spin Rate is the rate of spin on a baseball after it is released. It is measured in revolutions per minute (rpm).

Balls Hit 95+ MPH

The percentage of batted balls hit that met or exceeded the 95 MPH threshold.

Swinging Strike

The percentage of pitches that result in a swing and a miss.
Prospect Rankings History
Advanced Pitching Stats
Loading Advanced Pitching Stats...
Loading MLB Defensive Stats...
Our full team depth charts are reserved for RotoWire subscribers.
Subscribe Now
Recent RotoWire Articles Featuring Triston McKenzie
See More
Past Fantasy Outlooks
2022
2021
2020
2019
2018
2017
McKenzie had risks coming into 2021 which, in hindsight, played out as expected. The long-and-lanky righty had but one full season of development work on the farm, but flashes of brilliance in 2020 elevated his fantasy stock last year, setting many up for disappointment. McKenzie maintained his ability to strike hitters out with a 27.5 K% and held the opposition to a .194 batting average, but an 11.7 BB% along with a 1.6 HR/9 tipped the scales to an unsightly 4.95 ERA. It isn't often we see a 4.95 ERA associated with a pitcher that has a high strikeout rate and a sub-.200 opponents' average, but McKenzie's mistakes were command-driven, and his mistakes got punished. The upside is still there, but so is his thin frame, so temper any expectations of him exceeding 150 innings this season. There will still be bumps in the road, but the pieces for success are here.
McKenzie missed all 2019 (back injury) and two months in 2018 (forearm injury), so it was stunning to see him skip over Triple-A completely and strike out 10 while allowing one run in six innings in his late-August MLB debut. He hadn't even teased us with any big-league spring training starts. That celebrated debut proved to be the rail-thin righty's high water mark, as his innings per start, fastball velocity and effectiveness all trended down before a move to the bullpen at the end of the season. Durability remains a long-term concern, and the fact he has thrown 35 innings (including the postseason) in the past two years makes it hard to project close to a full season's worth of starts in 2021. Unless he regains the mid-90s velocity he showed in his first start, he might not have a plus pitch (his curveball is close), but he has a strong four-pitch mix and throws enough strikes to stick as a starter.
When McKenzie went down in early March with an upper-back strain, it was expected that he would be able to ramp back up in about six weeks. He never ended up pitching in a competitive setting in 2019. McKenzie also missed the first two months of 2018 with a forearm injury, so that leaves him with a total of 90.2 innings pitched over the past two years. The missed time obviously dings his shine, but the Indians were never going to lose McKenzie to the Rule 5 draft -- his addition to the 40-man roster in November was elementary. His fastball and curveball have both shown tremendous potential, McKenzie can change speeds and he gets good marks for command. The Indians will just be hoping for better health in 2020.
There were some minor developments in 2018, but for the most part the story with McKenzie has not changed. No. 2/3 starter upside is still apparent and he is still capable of hiding behind a light pole. Forearm soreness sidelined him for the first two months, but once he built up his workload to 90-plus pitches on July 3, he was his dominant self over his final 11 starts (2.09 ERA, 0.97 WHIP, 65 strikeouts in 64.2 innings). McKenzie's strikeout rate dipped below 32% (to 24%) for the first time since he was in short-season ball in 2016, but he threw a lot of strikes and held opposing batters to a .191 AVG. While his wiry 6-foot-5, 165-pound frame leaves many questioning whether he can handle a starter's workload, his length allows him to get excellent extension on his high-spin 92-94 mph fastball. He also boasts a plus curveball and improving changeup. The Indians have impressive rotation depth, but McKenzie will be waiting at Triple-A if a need arises.
On paper, McKenzie looks like a future frontline starter. His 186 strikeouts ranked second in the minors behind Alec Hansen, who is three years older than McKenzie and did a lot of his stat padding at Low-A. While he has a legitimate chance to actualize his No. 1 starter potential, McKenzie needs to add strength to his slender frame in order to maintain plus velocity on his fastball deep into outings. His curveball is a true putaway pitch, and his changeup shows signs of getting there as well. He also has a chance to have plus command by the time he reaches the majors, so there are a lot of future 60s on his scouting report. McKenzie will be inhaling calories this offseason in an attempt to show up to camp with a sturdier build. There are those who won't buy into his frontline potential until he shows it over a full season in the majors, and he is at least a year away from getting that opportunity.
It is hard to watch McKenzie pitch or look at his production relative to age and level and not get a little hyperbolic when projecting what he will be in five or six years. He pitches with a grace and precision that is uncommon for young pitchers with his long levers and high-end stuff. The fastball is more of a low-90s mph offering presently, but his 6-foot-5, 165-pound frame screams projection, and most evaluators anticipate a velocity jump as he matures. As with most 19-year-old hurlers, his changeup is still a work in progress, but his curveball is already a weapon, and both pitches have the potential to be plus offerings in time. Perhaps even more impressive than his arsenal is how well he harnesses it, surrendering just 62 hits and 25 walks through 95.1 innings of professional ball. He could spend most of his age-19 season pitching at High-A Lynchburg, and with another big year he will be poised to enter 2018 as one of the top five pitching prospects in the game.
More Fantasy News