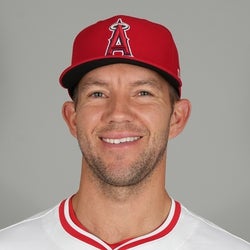 Rest-of-Season Projections
2023 Fantasy Outlook
Anderson turned his career around with the Dodgers after six mostly underwhelming seasons between Colorado, San Francisco, Pittsburgh and Seattle. He went 10-1 with a 2.96 ERA and 1.02 WHIP across his first 17 appearances in Dodger Blue to earn his first career All-Star nod, and Anderson was even better in the second half from a ratio standpoint. The lefty attributed his success to a small tweak to his changeup grip. That may seem simplistic, but Statcast hard-hit and chase rates ranking in the top 5% of the league would seem to bode well for sustainability. Across town, the Angels took notice and the front office believed enough in his 2022 to sign the lefty to a three-year, $40 million contract. The Angels have gone with a six-man rotation in recent years, which can be frustrating at times for fantasy managers. Subtract a few starts and throw in two scoops of regression when projecting Anderson for 2023.
Read Past Outlooks
$Signed a three-year, $40 million contract with the Angels in November of 2022.

Anderson (2-0) earned the win Wednesday, allowing one run on five hits and two walks over six innings against the Red Sox. He struck out three.
ANALYSIS
Anderson was touched up by two doubles in the fourth inning. Otherwise he rolled through the Red Sox. Anderson posted six shutout innings in his first start of the season, but he struggled from there. His ERA after four starts in April was 5.74, but in May, his ERA is 3.68. His WHIP is still 1.55 in May, so his rebound could be short-lived. He has 30 strikeouts in 48.2 innings this season, meaning his ERA and WHIP need to improve to provide fantasy value.
Read More News
Pitching Stats
Loading Pitching Stats...
2023
2022
2021
2020
2019
2018
2017
2023 MLB Game Log

Calculate Stats Over Time
Just click on any two dates.
Scoring
FanDuel
DraftKings
Yahoo DFS
Loading Pitching Game Log...
2022 MLB Game Log

Calculate Stats Over Time
Just click on any two dates.
Scoring
FanDuel
DraftKings
Yahoo DFS
Loading Pitching Game Log...
2021 MLB Game Log

Calculate Stats Over Time
Just click on any two dates.
Scoring
FanDuel
DraftKings
Yahoo DFS
Loading Pitching Game Log...
2020 MLB Game Log

Calculate Stats Over Time
Just click on any two dates.
Scoring
FanDuel
DraftKings
Yahoo DFS
Loading Pitching Game Log...
2019 MLB Game Log

Calculate Stats Over Time
Just click on any two dates.
Scoring
FanDuel
DraftKings
Yahoo DFS
Loading Pitching Game Log...
2018 MLB Game Log

Calculate Stats Over Time
Just click on any two dates.
Scoring
FanDuel
DraftKings
Yahoo DFS
Loading Pitching Game Log...
2017 MLB Game Log

Calculate Stats Over Time
Just click on any two dates.
Scoring
FanDuel
DraftKings
Yahoo DFS
Loading Pitching Game Log...
Minor League Game Log

Calculate Stats Over Time
Just click on any two dates.
Loading Minor League Pitching Game Log...
Pitching Appearances Breakdown
How many pitches does Tyler Anderson generally throw?
What part of the game does Tyler Anderson generally pitch?
% Games Reaching Innings Threshold
% Games By Number of Innings Pitched
Left/Right Pitching Splits
BAA
K
BB
H
HR
Since 2021

vs Left

.249
61
21
83
7
Since 2021

vs Right

.245
241
74
285
41
2023

vs Left

.234
8
8
11
1
2023

vs Right

.294
22
15
42
6
2022

vs Left

.234
27
4
29
3
2022

vs Right

.218
111
30
116
11
2021

vs Left

.265
26
9
43
3
2021

vs Right

.261
108
29
127
24
More Splits

→

View More Split Stats
Home/Away Pitching Splits
ERA
WHIP
IP
K/9
BB/9
Since 2021

Home

3.10
1.10
182.2
7.2
1.9
Since 2021

Away

4.17
1.24
211.2
6.6
2.4
2023

Home

5.57
1.57
21.0
6.0
3.9
2023

Away

4.23
1.55
27.2
5.2
4.6
2022

Home

2.26
0.91
87.2
7.8
1.3
2022

Away

2.87
1.09
91.0
6.1
2.1
2021

Home

3.41
1.19
74.0
6.8
1.9
2021

Away

5.42
1.29
93.0
7.5
2.1
More Splits

→

View More Split Stats
Stat Review
How does Tyler Anderson compare to other starting pitchers?
This section compares his stats with all starting pitcher seasons from the previous three seasons (minimum 120 innings)*. The bar represents the player's percentile rank. For example, if the bar is halfway across, then the player falls into the 50th percentile for that stat and it would be considered average.
* Exit Velocity, Barrels/BBE %, Balls Hit 95+ MPH %, and Spin Rate are benchmarked against 2019 data (min 120 IP).
See here for more exit velocity/barrels stats
plus an explanation of current limitations with that data set.
K/BB

Strikeout to walk ratio.

K/9

Average strikeouts per nine innings.

BB/9

Average walks per nine innings.

HR/9

Average home runs allowed per nine innings.

Fastball

Average fastball velocity.

ERA

Earned run average. The average earned runs allowed per nine innings.

WHIP

Walks plus hits per inning pitched.

BABIP

Batting average on balls in play. Measures how many balls in play against a pitcher go for hits.

GB/FB

Groundball to flyball ratio. The higher the number, the more likely a pitcher is to induce groundballs.

Left On Base

The percentage of base runners that a pitcher strands on base over the course of a season.

Exit Velocity

The speed of the baseball as it comes off the bat, immediately after a batter makes contact.

Barrels/BBE

The percentage of batted ball events resulting in a Barrel. A Barrel is a batted ball with similar exit velocity and launch angle to past ones that led to a minimum .500 batting average and 1.500 slugging percentage.

Spin Rate

Spin Rate is the rate of spin on a baseball after it is released. It is measured in revolutions per minute (rpm).

Balls Hit 95+ MPH

The percentage of batted balls hit that met or exceeded the 95 MPH threshold.

Swinging Strike

The percentage of pitches that result in a swing and a miss.
Advanced Pitching Stats
Loading Advanced Pitching Stats...
Loading MLB Defensive Stats...
Our full team depth charts are reserved for RotoWire subscribers.
Subscribe Now
Recent RotoWire Articles Featuring Tyler Anderson
See More
Past Fantasy Outlooks
2022
2021
2020
2019
2018
2017
2016
2015
2014
Through July 27, Anderson started 18 games for the Pirates, logging a 4.35 ERA and 1.20 WHIP with 86 punch outs in 103.1 innings. Pittsburgh thought they had a deal to send him across the state to Philadelphia, but it fell through and instead he was shipped to the Mariners. He started 13 contests for Seattle, posting a 4.81 ERA and 1.32 WHIP in the Pacific Northwest, fanning only 48 in 63.2 innings. For the season, his 1.25 WHIP was a career low, but this is tainted after spending the first four seasons of his career in Colorado. As a flyball pitcher, Anderson is homer-prone, which unto itself isn't an issue, but a tepid 19.1% strikeout rate results in too many balls in play. Anderson will take the ball every fifth day, which counts for something, but his ratios are too risky for a fantasy staff. He can be deployed for favorable matchups, but his low strikeouts dampen the usefulness.
Anderson made 11 starts plus two relief appearances for the Giants in 2020, but didn't manage to produce ratios much different than his Rockies days despite the more favorable home stadium. The 31-year-old was a first-round pick in 2011 but never developed front-line upside. Instead, Anderson has established himself as a prototypical soft-tossing lefty, barely averaging 90 mph with his fastball last year with a 15.8 K% that was by far a career low as he tried to generate weak contact with his 81 mph changeup instead, a pitch he threw a career-high 33% of the time. San Francisco cut him loose over the winter, but Anderson could catch on with a club looking for a swing man out of the bullpen or some organizational depth for the rotation.
After parts of three seasons as a respectable (if unexciting) starter, Anderson hit a wall in 2019. In his only five starts of the year, he was knocked around for an 11.76 ERA, allowing eight homers. He was optioned in early May but never had the chance to figure things out in the minors, eventually undergoing knee surgery in mid-June. Recovery from the surgery is expected to cost him the start of his season. The Rockies saw no reason to keep him around, waiving him in October. He was picked up by the Giants, potentially a significant boost to his fantasy value given the drastic difference between his old and new home parks. He'll have to get healthy first, which makes him a poor choice during draft season in most formats, but his career 4.69 ERA is good for a park-adjusted 98 ERA-, suggesting he's league-average pitcher. That will play in deep leagues if he can return to form.
While he didn't earn as much hype as Kyle Freeland or German Marquez, Anderson provided stability in 2018, posting a home ERA at Coors Field about one run better than his mark on the road, continuing a three-year trend. He did serve up 30 homers, tied for the most in the National League, with 14 coming on the road. Since he posted a 3.54 ERA as a rookie in 2016, Anderson's ERA has climbed each year while his BB/9 and GB/FB have gone in the wrong direction. Coors Field pitchers -- already inherently risky -- shouldn't lean on flyballs. Still, Anderson has intriguing peripherals (career 8.2 K/9, with a 65 first-strike percentage and 11.8% swinging-strike rate last year). He features an emerging cutter, a potentially devastating changeup and a curveball that showed flashes of becoming a solid fourth offering. Some tinkering could allow Anderson to return to that rookie form.
Oddly enough, Anderson has had better numbers at home than on the road the past two seasons. The lefty turned in a 5.44 ERA, .370 wOBA and 2.42 HR/9 on the road in 2017, compared to 4.14, .318 and 0.87 marks at Coors Field. During his debut season in 2016, Anderson had an even greater split in his home/road ERA (3.00 at Coors, 4.17 on the road). His groundball tilt (47.9 percent groundball rate for career) helps him in Colorado, as does the fact that he doesn't really throw any breaking pitches (fastball-cutter-changeup), but even so, it's difficult to see this trend continuing much into the future. Anderson's strikeout and walk rates were both solid last year (8.5 K/9, 2.7 BB/9), but he made two trips to the DL due to knee issues after dealing with an oblique problem in 2016. He missed the entire 2015 season due to an elbow injury. Proceed with caution.
Following a season lost to an elbow injury, Anderson came into spring training healthy and ready to compete for a major league rotation spot. Unfortunately, his comeback hit a roadblock almost immediately, as the left-hander suffered an oblique injury in March that sidelined him until May. Once he did make his way back, Anderson showed why the Rockies spent a first-round draft pick on him. He dominated hitters at both the Double-A and Triple-A levels, prompting his promotion to the big leagues just over a month after his activation. He even found some success during his time in the majors, sporting a 3.54 ERA and 1.29 WHIP over 19 starts. Anderson certainly doesn't overwhelm hitters with his low-90s fastball, as his 7.8 K/9 shows, but his 50.9 percent groundball rate is a welcome sight considering many of his starts come at Coors Field. As long as Anderson can stay healthy, he should be a mainstay in the Rockies' rotation.
Expected by many to make a run at a back-end rotation spot for the Rockies, Anderson was unable to prove his worth to the organization due to an elbow injury that lingered from September 2014. The plan then changed to have Anderson partake in extended spring training in order to ease him into game action, but his elbow refused to comply. He was forced onto the 60-day disabled list in July, and finished the year without throwing a single pitch in a game. The former first-round pick will have a chance to join the big league rotation at some point this year, given his success with Double-A Tulsa in 2014 (1.98 ERA, 1.11 WHIP, 106:40 K:BB), but he'll have to prove that he can stay healthy for a couple months in the minor leagues before that opportunity presents itself.
Though he possesses a first-round pedigree, Anderson hasn't received much buzz in prospect circles due to a lack of premium velocity along with his relatively slow climb through the Rockies' system for a three-year college pitcher. Despite those shortcomings, Anderson has managed to thrive at every level he's pitched, and nowhere more so than at Double-A Tulsa in 2014. The left-hander submitted a 1.98 ERA and saw his strikeout rate jump up to 22.4% across 118.1 innings, earning Texas League Pitcher of the Year honors in the process. Anderson, who turned 25 in December, was added to the Rockies' 40-man roster after last season and will probably compete for a rotation spot with the big club in spring training. He likely profiles as little more than a mid-rotation or back-end starter over the long haul, but a quality changeup and an improving breaking ball aided by a deceptive delivery could allow Anderson to experience a dose of success in the majors at some point in 2015.
Expected to serve as a main cog in the High-A Modesto rotation last season, Anderson shined in the early going before shoulder soreness set in, sidelining him for nearly three months. Anderson returned to Modesto in August and immediately picked up where he left off in early May, finishing the season with a respectable 3.25 ERA and 63:24 K:BB ratio over 74.2 innings. Even so, Anderson's successes in the California League were overshadowed by those of fellow Colorado first-round selections Eddie Butler and Jonathan Gray, who dominated the level at younger ages and enjoy greater prestige among prospect gurus. Anderson, 24, will more than likely spend the full season at Double-A Tulsa in 2014 and could be knocking on the door for a back-end rotation spot with the parent club by next spring.
More Fantasy News