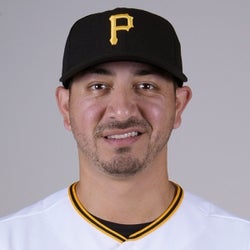 15-Day IL
Injury Elbow
Est. Return 7/15/2023
Rest-of-Season Projections
2023 Fantasy Outlook
Velazquez joined the White Sox for 2022 and delivered more of the same with a 4.78 ERA, 1.23 WHIP and 69:25 K:BB in 75.1 innings. The right-hander's profile as a fringe-rotation piece remains largely unchanged, so his one-year deal with Pittsburgh makes sense as a landing spot. A 4.25 FIP indicates Velazquez may have deserved some better results last season, but a 5.19 career ERA certainly doesn't inspire much confidence for a significant improvement in 2023.
Read Past Outlooks
$Signed a one-year, $3.15 million contract with the Pirates in December of 2022.

Pirates general manager Ben Cherington said Sunday that Velasquez is set to undergo an MRI and receive further medical opinions after the right-hander exited his start in Saturday's loss to the Mariners with elbow discomfort,
Jason Mackey of the Pittsburgh Post-Gazette
reports.
ANALYSIS
Velasquez was shelved for about three and a half weeks with elbow inflammation before he returned from the 15-day injured list Saturday, only to suffer a setback with his throwing arm two innings into his start and returning to the IL a day later. The 30-year-old implied that he'll likely be in store for a lengthier absence than the previous one in his second stint on the IL, though he's optimistic that he'll pitch again in 2023. Expect a clearer timeline as well as a more precise diagnosis of his injury to become available once the results of the MRI are gathered.
Read More News
Pitching Stats
Loading Pitching Stats...
2023
2022
2021
2020
2019
2018
2017
2023 MLB Game Log

Calculate Stats Over Time
Just click on any two dates.
Scoring
FanDuel
DraftKings
Yahoo DFS
Loading Pitching Game Log...
2022 MLB Game Log

Calculate Stats Over Time
Just click on any two dates.
Scoring
FanDuel
DraftKings
Yahoo DFS
Loading Pitching Game Log...
2021 MLB Game Log

Calculate Stats Over Time
Just click on any two dates.
Scoring
FanDuel
DraftKings
Yahoo DFS
Loading Pitching Game Log...
2020 MLB Game Log

Calculate Stats Over Time
Just click on any two dates.
Scoring
FanDuel
DraftKings
Yahoo DFS
Loading Pitching Game Log...
2019 MLB Game Log

Calculate Stats Over Time
Just click on any two dates.
Scoring
FanDuel
DraftKings
Yahoo DFS
Loading Pitching Game Log...
2018 MLB Game Log

Calculate Stats Over Time
Just click on any two dates.
Scoring
FanDuel
DraftKings
Yahoo DFS
Loading Pitching Game Log...
2017 MLB Game Log

Calculate Stats Over Time
Just click on any two dates.
Scoring
FanDuel
DraftKings
Yahoo DFS
Loading Pitching Game Log...
Minor League Game Log

Calculate Stats Over Time
Just click on any two dates.
Loading Minor League Pitching Game Log...
Pitching Appearances Breakdown
How many pitches does Vince Velasquez generally throw?
What part of the game does Vince Velasquez generally pitch?
% Games Reaching Innings Threshold
% Games By Number of Innings Pitched
Left/Right Pitching Splits
BAA
K
BB
H
HR
Since 2021

vs Left

.257
91
41
86
13
Since 2021

vs Right

.233
116
47
108
25
2023

vs Left

.234
16
8
15
3
2023

vs Right

.244
21
6
20
1
2022

vs Left

.222
36
12
28
3
2022

vs Right

.245
33
13
40
8
2021

vs Left

.299
39
21
43
7
2021

vs Right

.220
62
28
48
16
More Splits

→

View More Split Stats
Home/Away Pitching Splits
ERA
WHIP
IP
K/9
BB/9
Since 2021

Home

5.08
1.33
101.0
9.3
4.0
Since 2021

Away

5.52
1.40
106.0
8.7
3.7
2023

Home

4.66
1.45
9.2
10.2
5.6
2023

Away

3.58
1.27
27.2
8.5
2.6
2022

Home

4.85
1.29
42.2
8.2
3.4
2022

Away

4.68
1.16
32.2
8.3
2.5
2021

Home

5.36
1.34
48.2
10.0
4.3
2021

Away

7.29
1.64
45.2
9.3
5.1
More Splits

→

View More Split Stats
Stat Review
How does Vince Velasquez compare to other starting pitchers?
This section compares his stats with all starting pitcher seasons from the previous three seasons (minimum 120 innings)*. The bar represents the player's percentile rank. For example, if the bar is halfway across, then the player falls into the 50th percentile for that stat and it would be considered average.
* Exit Velocity, Barrels/BBE %, Balls Hit 95+ MPH %, and Spin Rate are benchmarked against 2019 data (min 120 IP).
See here for more exit velocity/barrels stats
plus an explanation of current limitations with that data set.
K/BB

Strikeout to walk ratio.

K/9

Average strikeouts per nine innings.

BB/9

Average walks per nine innings.

HR/9

Average home runs allowed per nine innings.

Fastball

Average fastball velocity.

ERA

Earned run average. The average earned runs allowed per nine innings.

WHIP

Walks plus hits per inning pitched.

BABIP

Batting average on balls in play. Measures how many balls in play against a pitcher go for hits.

GB/FB

Groundball to flyball ratio. The higher the number, the more likely a pitcher is to induce groundballs.

Left On Base

The percentage of base runners that a pitcher strands on base over the course of a season.

Exit Velocity

The speed of the baseball as it comes off the bat, immediately after a batter makes contact.

Barrels/BBE

The percentage of batted ball events resulting in a Barrel. A Barrel is a batted ball with similar exit velocity and launch angle to past ones that led to a minimum .500 batting average and 1.500 slugging percentage.

Spin Rate

Spin Rate is the rate of spin on a baseball after it is released. It is measured in revolutions per minute (rpm).

Balls Hit 95+ MPH

The percentage of batted balls hit that met or exceeded the 95 MPH threshold.

Swinging Strike

The percentage of pitches that result in a swing and a miss.
Advanced Pitching Stats
Loading Advanced Pitching Stats...
Loading MLB Defensive Stats...
Our full team depth charts are reserved for RotoWire subscribers.
Subscribe Now
Recent RotoWire Articles Featuring Vince Velasquez
See More
Past Fantasy Outlooks
2022
2021
2020
2019
2018
2017
2016
2015
2014
Velasquez's 2021 campaign was a familiar sight, as he continued to show flashes of promise surrounded by enough struggles to remain on the fringe of the rotation. The 29-year-old had a 5.95 ERA over 81.2 innings before Philadelphia opted to cut him late in the season, and he ended up getting picked up by injury-riddled San Diego for the stretch run, where he struggled even more with 12 earned runs allowed over 12.2 frames. Velasquez has hooked up with the White Sox for 2022 and could again be used in the back end of the starting rotation, but he's only worth a flier until he can show some more consistency.
Velasquez was more or less the same guy he's always been last season, showing flashes of promise at times but ultimately not pitching well enough to stick in the rotation for the entirety of the campaign. A change in pitching coach and some strong showings in summer camp gave reason to believe he could finally be turning the corner, but he wound up posting a 5.56 ERA in seven starts and a pair of relief appearances. To be fair to the 28-year-old righty, his 4.16 FIP and 4.07 xFIP painted a much more positive picture, but he's routinely failed to match his underlying numbers over the course of his six-year career. He did produce a career-best 29.9 K%, but that was offset by a career-worst 11.0 BB% and a low 39.8% groundball rate. There's still at least something here with Velasquez, but it might be borderline delusional at this point to think that next year will be the year things finally click.
Like many of his teammates on the Phillies' pitching staff, Velasquez took a step back in 2019. While his ERA hardly budged, his FIP took a big jump, rising from 3.75 to 5.21. His 25.2 K% was a near match for his 25.6% mark the season prior and his walk rate actually improved (from 9.4% to 8.3%), but his HR/9 more than doubled from 0.98 to 1.99. His poor performances saw him lose his rotation spot for a stretch, as he made 10 of his 33 appearances out of the bullpen. Velasquez's strikeout rate means he still stands out from the group of starters whose holds on their respective rotation spots are tenuous at best, and it's not impossible to envision him finally becoming good if he can cut the homer habit. Five years into his big-league career, though, it's tough to say why a breakout would come now if it hasn't come yet, so his price will be deservedly low during draft season.
Last season was encouraging in some ways for Velasquez, even if his ERA dropped just 28 points to 4.85. He made just one trip to the disabled list, and that only happened due to a forearm contusion after he was struck by a line drive (and finished the play left-handed). He reached career highs in starts (30) and innings (146.2) while raising his strikeout rate to 25.6% and cutting his walk rate to 9.4%. With better BABIP and strand-rate luck, he could have posted an ERA more in line with his 3.75 FIP. Reasons for concern do remain, however. Over his last nine starts, Velasquez posted an ugly 8.45 ERA, suggesting that he may not be able to handle the workload that comes with a full season in the starting rotation. Relief risk remains for the righty. He could be moved to the bullpen at the start of the season should the Phillies spend big on the rotation this winter, or he could head there over the summer should his performance dictate a move.
Velasquez endured a very disappointing 2017 season, which saw his ERA balloon to 5.13 in an injury-riddled campaign. He had looked in 2016 like a promising young fireballer who could become a star if he could lower his walk rate. Unfortunately, the opposite happened, as his walk rate climbed from 3.1 BB/9 to 4.3, while his strikeout rate dropped from 10.4 K/9 to 8.5. Velasquez could be a good buy-low candidate, as he may be in line for a much better 2018 season if offseason surgery to address a circulation problem in his throwing hand returns him to his pre-2017 form. He's still just 25, and should put up strong strikeout numbers if healthy, even if his ERA remains high. That's a big "if," however, given his injury history. Think of Velasquez has a lottery ticket in deeper fantasy formats.
Velasquez won a rotation spot with a strong spring training and made a major impression in his second regular season start, striking out 16 in a complete game win over the Padres. In early June he went on the disabled list with a strained right biceps that initially looked like a serious issue, but ultimately only caused him to miss a few weeks of the season. He was shut down in early September, having thrown a career-high 136 innings between a rehab start and his starts in the majors. Velasquez throws a mid-90s fastball that tops out around 98 mph, which he complements with a curveball, changeup and slider. His 11.2 percent swinging strike rate ranks him among the better strikeout pitchers in baseball and gives him the potential to be a major fantasy asset. He does have some work to do on reducing the free passes, and he needs to utilize his defense a bit more to help keep his pitch count down and to get deeper into his starts.
Velasquez logged just 77 innings between the minors and Arizona Fall League in 2014 so he was limited to a swingman role in 2015 (27 appearances, 12 starts). A lat injury from that Fall League appearance pushed his season debut to early May and so he only logged 88 innings, meaning we still might not see a full starter's workload from the 24-year-old. However, a popular adage from the great Ron Shandler rings true with Velasquez: "Draft skills, not roles". Velasquez has the kind of talent that can make teams forget whatever "plan" they had and just use the best guy available once ready. Walks are the key issue, but his 62 percent first-pitch strike rate was actually a tick above average and will help him chisel into that 3.4 BB/9 if it holds. He's not a finished product, but two swing-and-miss pitches and a developing changeup that was given 60-grade upside when he was coming up make him very appealing. Further, he has a chance to earn a spot in the Phillies' rotation to start the year after coming over in the Ken Giles trade.
Velasquez has a long history of injuries that includes Tommy John surgery in 2010, so it was no big surprise when a groin injury cost him two months last season. When healthy, however, the 22-year-old right-hander is a standout pitcher in the Astros' system. He's moved along slowly thus far (in large part due to the injuries), but his first taste of Double-A appears likely this season after a strong 2014 pitching with the Gulf Coast League Astros and High-A Lancaster. Between the two affiliates, Velasquez went 7-5 with a 3.52 ERA and a remarkable 12.8 K/9 in 64 innings. With a low-90's fastball, plus changeup and improving curveball, he has mid-rotation potential in the big leagues if he can string together a few seasons of full health in the upper levels of the minors. His recent addition to the Astros' 40-man roster indicates he may be closer to the majors than we think.
Three years removed from Tommy John surgery, Velasquez turned in a fine season pitching between Low-A Quad Cities (25 games, 16 starts) and High-A Lancaster (three starts). The 21-year-old right-hander posted excellent ratios (10.3 K/9, 0.6 HR/9) to go along with a 9-6 record, 3.54 ERA and 1.16 WHIP over 124.2 innings. Velasquez appears likely to progress to Double-A, where he will look to improve his command (3.0 BB/9) and the quality of his offerings -- a low-90s fastball, curve and changeup.
More Fantasy News