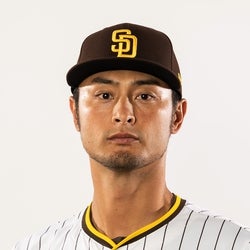 2023 Fantasy Outlook
Darvish struggled with back and hip injuries during the second half of 2021 but rebounded last season with a 3.10 ERA, 0.95 WHIP and 197:37 K:BB across 194.2 innings. The sub-1.00 WHIP represents the lowest mark of his MLB career, and it's the most innings he pitched since he exceeded 200 back in 2013. The right-hander remained steady with his fastball velocity and averaged 95 mph, which is an encouraging sign with his 37th birthday coming up in August. There's always risk when banking on the continued success of pitchers this late in their career, but Darvish looked as strong as ever last year and should again be a key cog in San Diego's starting rotation in 2023.
Read Past Outlooks
$Signed a six-year, $126 million contract with the Cubs in February of 2018. Traded to the Padres in December of 2020.

Doesn't factor in Game 5 decision
Darvish did not factor in the decision during Sunday's 4-3 loss to the Phillies in Game 5 of the NLCS, allowing two runs on four hits and three walks while striking out five over six innings.
ANALYSIS
Darvish recorded his second quality start the NLCS, but the San Diego bullpen was unable to hold on for the victory, eliminating the Padres from the postseason. With two outs in the third inning, a walk followed by a two-run homer from
Rhys Hoskins
accounted for Darvish's two earned runs, but the 36-year-old righty was still in line for the win until
Bryce Harper
's go-ahead homer off
Robert Suarez
. Nonetheless, Darvish had a solid postseason run on the mound, earning a 2.88 ERA with 23 strikeouts over 25 innings, the most he has thrown in a postseason.
Read More News
Pitching Stats
Loading Pitching Stats...
2022
2021
2020
2019
2018
2017
2022 MLB Game Log

Calculate Stats Over Time
Just click on any two dates.
Scoring
FanDuel
DraftKings
Yahoo DFS
FantasyDraft
Head2Head
Loading Pitching Game Log...
2021 MLB Game Log

Calculate Stats Over Time
Just click on any two dates.
Scoring
FanDuel
DraftKings
Yahoo DFS
FantasyDraft
Head2Head
Loading Pitching Game Log...
2020 MLB Game Log

Calculate Stats Over Time
Just click on any two dates.
Scoring
FanDuel
DraftKings
Yahoo DFS
FantasyDraft
Head2Head
Loading Pitching Game Log...
2019 MLB Game Log

Calculate Stats Over Time
Just click on any two dates.
Scoring
FanDuel
DraftKings
Yahoo DFS
FantasyDraft
Head2Head
Loading Pitching Game Log...
2018 MLB Game Log

Calculate Stats Over Time
Just click on any two dates.
Scoring
FanDuel
DraftKings
Yahoo DFS
FantasyDraft
Head2Head
Loading Pitching Game Log...
2017 MLB Game Log

Calculate Stats Over Time
Just click on any two dates.
Scoring
FanDuel
DraftKings
Yahoo DFS
FantasyDraft
Head2Head
Loading Pitching Game Log...
Minor League Game Log

Calculate Stats Over Time
Just click on any two dates.
Loading Minor League Pitching Game Log...
Pitching Appearances Breakdown
How many pitches does Yu Darvish generally throw?
What part of the game does Yu Darvish generally pitch?
% Games Reaching Innings Threshold
% Games By Number of Innings Pitched
Left/Right Pitching Splits
BAA
K
BB
H
HR
Since 2020

vs Left

.203
254
54
176
28
Since 2020

vs Right

.225
235
41
169
27
2022

vs Left

.185
120
22
72
10
2022

vs Right

.233
77
15
76
12
2021

vs Left

.222
86
22
68
14
2021

vs Right

.221
113
22
70
14
2020

vs Left

.211
48
10
36
4
2020

vs Right

.211
45
4
23
1
More Splits

→

View More Split Stats
Home/Away Pitching Splits
ERA
WHIP
IP
K/9
BB/9
Since 2020

Home

2.91
0.93
244.0
10.7
1.8
Since 2020

Away

3.87
1.11
193.0
9.2
2.2
2022

Home

2.60
0.88
86.2
8.8
1.9
2022

Away

3.50
1.01
108.0
9.3
1.6
2021

Home

3.38
0.95
101.1
11.5
1.8
2021

Away

5.54
1.32
65.0
9.6
3.3
2020

Home

2.57
0.96
56.0
12.2
1.6
2020

Away

0.45
0.95
20.0
7.7
1.8
More Splits

→

View More Split Stats
Stat Review
How does Yu Darvish compare to other starting pitchers?
This section compares his stats with all starting pitcher seasons from the previous three seasons (minimum 120 innings)*. The bar represents the player's percentile rank. For example, if the bar is halfway across, then the player falls into the 50th percentile for that stat and it would be considered average.
* Exit Velocity, Barrels/BBE %, Balls Hit 95+ MPH %, and Spin Rate are benchmarked against 2019 data (min 120 IP).
See here for more exit velocity/barrels stats
plus an explanation of current limitations with that data set.
K/BB

Strikeout to walk ratio.

K/9

Average strikeouts per nine innings.

BB/9

Average walks per nine innings.

HR/9

Average home runs allowed per nine innings.

Fastball

Average fastball velocity.

ERA

Earned run average. The average earned runs allowed per nine innings.

WHIP

Walks plus hits per inning pitched.

BABIP

Batting average on balls in play. Measures how many balls in play against a pitcher go for hits.

GB/FB

Groundball to flyball ratio. The higher the number, the more likely a pitcher is to induce groundballs.

Left On Base

The percentage of base runners that a pitcher strands on base over the course of a season.

Exit Velocity

The speed of the baseball as it comes off the bat, immediately after a batter makes contact.

Barrels/BBE

The percentage of batted ball events resulting in a Barrel. A Barrel is a batted ball with similar exit velocity and launch angle to past ones that led to a minimum .500 batting average and 1.500 slugging percentage.

Spin Rate

Spin Rate is the rate of spin on a baseball after it is released. It is measured in revolutions per minute (rpm).

Balls Hit 95+ MPH

The percentage of batted balls hit that met or exceeded the 95 MPH threshold.

Swinging Strike

The percentage of pitches that result in a swing and a miss.
Advanced Pitching Stats
Loading Advanced Pitching Stats...
Loading MLB Defensive Stats...
Our full team depth charts are reserved for RotoWire subscribers.
Subscribe Now
Recent RotoWire Articles Featuring Yu Darvish
See More
Past Fantasy Outlooks
2022
2021
2020
2019
2018
2017
2016
2015
2014
2013
2012
2011
2010
Darvish was in line for an All-Star berth with a 2.65 ERA and 0.95 WHIP in early July. He had to leave his last outing before the break with back and hip soreness, but not before yielding six runs in three innings. Darvish posted a 6.16 ERA and 1.26 WHIP over the second half, with 15 homers allowed in only 61.1 frames. Considering he had an August IL stint with back stiffness and missed his last start with hip discomfort, it's safe to say lingering soreness affected Darvish's second half performance. Even so, his 1.09 WHIP was the third lowest of his career, fueled by a 6.5 BB%, the second lowest of his career. Historically, Darvish allows a lot of homers, but his skills are otherwise at their zenith. With a full offseason to recover, Darvish should be 100% heading into spring training. The question is how long will he stay that way, considering he'll turn 36 years old in August.
After signing a six-year, $126 million deal with the Cubs before the 2018 season, Darvish finally looked like a bona fide ace for Chicago in 2020. The righty struck out 93 batters in only 76 innings to go with eight wins, a 2.01 ERA and 0.96 WHIP. The eight wins led the National League during the condensed season, while his strikeout, ERA and WHIP all landed among the top five in the league. The ERA and WHIP were actually the lowest of Darvish's MLB career, albeit in a smaller sample, and his 11.0 K/9 was right in line with his 11.1 career mark. The 34-year-old ended up second in NL Cy Young voting after his stellar year. There have been injuries and inconsistent results, but fantasy managers can feel a bit more confident about him heading into 2021. A December deal to the Padres will give Darvish a more forgiving home park and a better offensive tailwind, if he can sustain this high level over 162 games.
Darvish may have had the best 6-8 season with a 3.98 ERA in the history of baseball. Through his first seven starts, Darvish was 2-3 with a 5.79 ERA, 1.71 WHIP and eight homers allowed in 32.2 innings. Over his final 24 starts, he went 4-5 with a 3.58 ERA and 0.92 WHIP while striking out 192 batters and walking 29 in 146 innings. It was as if the pitch command that had been absent since before his Tommy John surgery finally found its way back home after being lost by United baggage claim at O'Hare. The one issue which plagued him in the summer was multi-homer games as he had seven such games, including three with three or more homers allowed. The exciting part is we finally saw the old Darvish skills back on display as the season wore on. They were not consistently there, but the signs are now finally pointing in the positive direction. He cannot anchor your staff but is a strong complementary SP2.
Darvish made only eight starts before being sidelined with a right triceps impingement. After several setbacks, Darvish finally made a rehab start on Aug. 19, lasting one inning before aggravating his shoulder. An MRI revealed a stress reaction on the tip of his elbow along with a triceps strain. Darvish was shut down and underwent a minimally-invasive arthroscopic debridement in mid-September. He's expected to be 100 percent by the spring. While on the hill, Darvish was off to the worst start of his career, posting a 4.95 ERA and 1.43 WHIP in 40 innings. He was missing bats as evidenced by a 27.2 K%, but he was also missing the plate, sporting an elevated 11.7 BB%. Darvish must be considered a performance and injury risk as it's never good for a Tommy John recoveree to incur arm issues of any nature. As enticing as his strikeouts remain, it's best to view Darvish as a staff luxury as opposed to foundational force.
While a pair of rough starts in the World Series may have cost him some money in free agency, there shouldn't be any lasting effect in terms of 2018 performance. Darvish fashions one of the league's top strikeout arms, finishing 12th last season with 209 punchouts. His 1.16 WHIP was ninth best among hurlers with at least 180 innings, though a high home run rate resulted in a bloated 3.86 ERA. Darvish was one of the bigger names moved at the July 31 trade deadline as the Rangers parted ways with their ace. With the Dodgers, the 30-year old righty spun a 3.44 ERA, recording four of the 10 wins earned for the season. Darvish's best pitch is the slider, which was purportedly hindered by a slicker ball used in the playoffs. Another year removed from Tommy John surgery, there's no reason the veteran shouldn't challenge 200 innings, with well over 200 whiffs. One tier down from the elite, Darvish is still a fantasy stud.
Darvish's road to recovery from Tommy John surgery had some speed bumps, as a return trip to the disabled list with neck and shoulder issues occurred just three starts into his comeback. He didn't get as many as 90 pitches into a start until just before the All-Star break, after which he went on a streak of eight consecutive quality starts. The Rangers were careful with his single-game workloads, allowing Darvish to exceed 100 pitches in just two of his 17 starts, but most compelling was his sudden affinity for low-walk outings. Darvish walked one or zero batters in 11 of those 17 starts, and in the low-walk games he had a K:BB of 90:9 in 69.1 combined innings. Pitch command is typically the last thing to come around for a pitcher coming off major elbow surgery, so the fact that his stuff was intact and that his command was potentially better than pre-Tommy John mean that his skills survived the trip under the knife. He could take off once fully unbridled.
Darvish missed the entire 2015 season due to Tommy John surgery performed in mid-March. The timing of the surgery gives Darvish a reasonable chance to be ready for action when the season begins, though a late-April or early-May return may be more likely. Darvish's numbers in 2014 were a slight dip from his excellent 2013 campaign, thanks to a large jump in BABIP (.275 to .348), but a healthy Darvish should find himself near the top of pitcher rankings by season's end. He gives Texas a formidable duo along with Cole Hamels, and Hamels' presence should allow Texas to bring Darvish back up to speed at a slightly slower pace out of spring training if needed.
Many thought Darvish would be among the select few challenging Clayton Kershaw for the top spot on the pitcher rankings after a tremendous 2013 where it seemed like he was primed for a no-hitter every time out. Despite lowering his walk rate and maintaining a tremendous strikeout rate, Darvish just wasn't himself in 2014 and even lost time to a pair of DL stints, including elbow inflammation that cost him almost all of the final two months. Was the elbow to blame for his .334 BABIP and 8.3 H/9 or was there degradation of his stuff? Darvish left his first spring training start in March after just one inning due to triceps soreness. The Rangers sent him for an MRI, which revealed a torn UCL, and he will miss the entire 2015 season following Tommy John surgery.
Darvish enjoyed a Cy Young-caliber season in just his second year in the majors, leading the AL in strikeouts with 277 in 209.2 innings pitched. He also cut back a tick on his walks allowed, but he had some truly terrible luck to only end up with 13 victories on the year. Darvish pushed his swinging-strike rate up to 12.6% (from 11.8% in his first big league season), as he continues to keep hitters off balance with an arsenal of nasty offerings. He also erased concerns about having to pitch half of his games in Arlington, posting a better ERA at home (2.69) than on the road (3.05) as well as a better home-run rate in his home starts (0.9 HR/9 vs. 1.3 HR/9). In most situations, Darvish will be one of the first five starting pitchers off the board in 2014.
Darvish's much anticipated rookie season was largely a success, racking up 16 wins and 221 strikeouts. He struggled at times with his control, resulting in a poor stretch in July and August, but his September (36.2 innings, 20 hits, 39:7 K:BB) deserved more attention than it received thanks to Texas' collapse over the final few weeks. One explanation for the late-season improvement was increased reliance on his cutter. It's also possible that his arsenal became a bit easier for umpires to handle with respect to the strike zone. In any event, Darvish swing-and-miss stuff, and a slight reduction in his walk rate immediately vaults him among the ranks of the American League elite.
Darvish is considered Japan's top pitcher and perhaps the best player to come over from Japan since Ichiro Suzuki. He's had an ERA below 2.00 for five consecutive seasons, but had his best season in 2011. Darvish set personal bests in wins (18), ERA (1.44), shutouts (6), innings pitched (232), strikeouts (276), and walks (36). While the new pitcher-friendly ball may have helped his stats, Darvish added about 20 pounds of muscle to his 6-foot-5, 225-pound frame. He was also more assertive with his fastball than in previous years, frequently working at the higher end of his 92-95 mph range. He may lose a pitch from his deep repertoire and he'll have to adjust physically toward pitching more frequently with more demanding travel. Plus, he'll have to adjust mentally to not always being the best player on the field. But overall, Darvish has the polished talent to be a frontline MLB starter, and appears to have the makeup to realize his potential. Texas won his rights by bidding a record $51.7 million in the posting system with NPB. While he'll be in a hitter's park, he may quickly become an elite fantasy option.
Darvish is regarded as Japan's top pitcher and is perhaps the top player in the world not playing in the U.S. He was his usual dominant self in 2010, becoming the third NPB pitcher to post four consecutive sub-2.00 ERA seasons (and the other two played in the 1950's dead ball era). MLB transfer rumors were in overdrive until October, when he announced he would stay in Japan in 2011. Darvish has always been adamant about not wanting to move to MLB, but 2010 saw him soften his stance on the idea a bit. He still has four years of service time to go before qualifying for international free agency, and Nippon Ham will want keep him around for as long as possible. Still, he could be posted ahead of the 2012 season, but more likely he won't be in the U.S. for several more years if he decides to make the move.
Darvish is regarded as Japan's top pitcher and is perhaps the top player in the world not playing in the U.S. Japan's heir-apparent to Daisuke Matsuzaka has lived up to his billing with three consecutive sub-2.00 ERA, sub-1.00 WHIP seasons. Matsuzaka, by comparison, put up one sub-1.00 WHIP season and never posted an ERA below 2.13. Darvish has repeatedly denied any interest in moving to MLB, but the competition and dollars could prove difficult to resist. Any decision to move to the U.S. is unlikely before 2014.
More Fantasy News