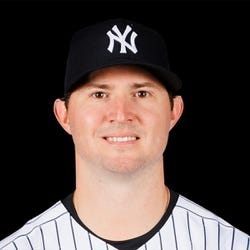 Day-To-Day
Injury Shoulder
2023 Fantasy Outlook
There was no outlook written for Zack Britton in 2023. Check out the latest news below for more on his current fantasy value.
#

Overall
$Signed a three-year, $39 million contract with the Yankees in January of 2019. Yankees exercised $14 million team option for 2022 in October of 2020.

Heads back to injured list
Britton was
placed
on the 60-day injured list with left shoulder fatigue Saturday.
ANALYSIS
Britton was removed from Friday's relief appearance due to his shoulder issue, and the injury will force him to miss the remainder of the regular season and the entire postseason. The southpaw made just three major-league appearances in 2022 and allowed a run on a hit and six walks while striking out one in two-thirds of an inning.
Jacob Barnes
' contract was selected to take Britton's place in the bullpen.
Read More News
Pitching Stats
Loading Pitching Stats...
2022
2021
2020
2019
2018
2017
2022 MLB Game Log

Calculate Stats Over Time
Just click on any two dates.
Scoring
FanDuel
DraftKings
Yahoo DFS
FantasyDraft
Head2Head
Loading Pitching Game Log...
2021 MLB Game Log

Calculate Stats Over Time
Just click on any two dates.
Scoring
FanDuel
DraftKings
Yahoo DFS
FantasyDraft
Head2Head
Loading Pitching Game Log...
2020 MLB Game Log

Calculate Stats Over Time
Just click on any two dates.
Scoring
FanDuel
DraftKings
Yahoo DFS
FantasyDraft
Head2Head
Loading Pitching Game Log...
2019 MLB Game Log

Calculate Stats Over Time
Just click on any two dates.
Scoring
FanDuel
DraftKings
Yahoo DFS
FantasyDraft
Head2Head
Loading Pitching Game Log...
2018 MLB Game Log

Calculate Stats Over Time
Just click on any two dates.
Scoring
FanDuel
DraftKings
Yahoo DFS
FantasyDraft
Head2Head
Loading Pitching Game Log...
2017 MLB Game Log

Calculate Stats Over Time
Just click on any two dates.
Scoring
FanDuel
DraftKings
Yahoo DFS
FantasyDraft
Head2Head
Loading Pitching Game Log...
Minor League Game Log

Calculate Stats Over Time
Just click on any two dates.
Loading Minor League Pitching Game Log...
Pitching Appearances Breakdown
How many pitches does Zack Britton generally throw?
What part of the game does Zack Britton generally pitch?
% Games Reaching Innings Threshold
% Games By Number of Innings Pitched
Left/Right Pitching Splits
BAA
K
BB
H
HR
Since 2020

vs Left

.129
14
10
4
0
Since 2020

vs Right

.255
18
17
26
2
2022

vs Left

.000
1
3
0
0
2022

vs Right

1.000
0
3
1
0
2021

vs Left

.176
8
4
3
0
2021

vs Right

.292
8
10
14
2
2020

vs Left

.083
5
3
1
0
2020

vs Right

.208
10
4
11
0
More Splits

→

View More Split Stats
Home/Away Pitching Splits
ERA
WHIP
IP
K/9
BB/9
Since 2020

Home

4.24
1.41
17.0
11.1
5.3
Since 2020

Away

3.86
1.57
21.0
5.1
7.3
2022

Home

27.00
15.00
.333333
27.0
108.0
2022

Away

0.00
6.00
.333333
0.0
54.0
2021

Home

7.36
1.77
7.1
13.5
4.9
2021

Away

4.91
1.64
11.0
4.1
8.2
2020

Home

0.96
0.64
9.1
8.7
1.9
2020

Away

2.79
1.34
9.2
6.5
4.7
More Splits

→

View More Split Stats
Stat Review
How does Zack Britton compare to other relievers?
This section compares his stats with all relief pitcher seasons from the previous three seasons (minimum 30 innings)*. The bar represents the player's percentile rank. For example, if the bar is halfway across, then the player falls into the 50th percentile for that stat and it would be considered average.
* Exit Velocity, Barrels/BBE %, Balls Hit 95+ MPH %, and Spin Rate are benchmarked against 2019 data (min 30 IP).
See here for more exit velocity/barrels stats
plus an explanation of current limitations with that data set.
K/BB

Strikeout to walk ratio.

K/9

Average strikeouts per nine innings.

BB/9

Average walks per nine innings.

HR/9

Average home runs allowed per nine innings.

Fastball

Average fastball velocity.

ERA

Earned run average. The average earned runs allowed per nine innings.

WHIP

Walks plus hits per inning pitched.

BABIP

Batting average on balls in play. Measures how many balls in play against a pitcher go for hits.

GB/FB

Groundball to flyball ratio. The higher the number, the more likely a pitcher is to induce groundballs.

Left On Base

The percentage of base runners that a pitcher strands on base over the course of a season.

Exit Velocity

The speed of the baseball as it comes off the bat, immediately after a batter makes contact.

Barrels/BBE

The percentage of batted ball events resulting in a Barrel. A Barrel is a batted ball with similar exit velocity and launch angle to past ones that led to a minimum .500 batting average and 1.500 slugging percentage.

Spin Rate

Spin Rate is the rate of spin on a baseball after it is released. It is measured in revolutions per minute (rpm).

Balls Hit 95+ MPH

The percentage of batted balls hit that met or exceeded the 95 MPH threshold.

Swinging Strike

The percentage of pitches that result in a swing and a miss.
Advanced Pitching Stats
Loading Advanced Pitching Stats...
Loading MLB Defensive Stats...
Recent RotoWire Articles Featuring Zack Britton
Past Fantasy Outlooks
2021
2020
2019
2018
2017
2016
2015
2014
2013
2012
2011
2010
It was another banner campaign for Britton. The groundball specialist filled in while Aroldis Chapman spent time on the COVID-19 list, notching eight saves before missing almost two weeks himself with a hamstring injury. Britton returned to a setup role, adding three holds to his ledger. Britton's 21.1 K% and 9.2 BB% were right around his career average, but it was surrendering nary a home run in 19 innings fueling Britton's 1.89 ERA, the third lowest of his career. Britton continued to ride his sinker, inducing grounders at a clip north of 70% for the seventh straight season. Britton will return to the Yankees, again serving as Chapman's primary setup man, next in line for saves. His ratio support alone is mixed-league worthy. Just keep in mind he doesn't compile the volume of strikeouts typical of dominant setup men.
The Yankees were judicious with Britton's usage, pitching him on back-to-back days just seven times while never having him work more than one inning. The approach paid off as the veteran lefty's ERA was again below 2.00, as it was for three straight seasons in his salad days with the Orioles. Britton's extreme groundball tendencies allow him to outpitch his expected ERA by minimizing homers and inducing double plays, despite a high 13.1 BB%. That said, he was also fortunate last season as evidenced by a low .224 BABIP and high 86.8% left-on-base mark. Britton's swinging-strike rate has been trending downward, checking in at 10.7%, its lowest since 2013. Aroldis Chapman remains the closer so Britton will again be one of the primary setup men. At this point, Britton doesn't fan ample batters for mixed leagues. It's a different story in leagues counting holds as Britton posted 29, along with three saves.
Britton owns a 65% groundball rate for his career, which is special in its own right. In recent seasons, it has not fallen below 73%, but that is where fun Britton ends. Recently, his strikeout rate has fallen to the average range while his walk rate has become worse than average. A 12% K-BB rate is in the danger zone, which is why Britton has blown five of his 27 save opportunities over the past two seasons. The only thing that keeps his ERA in check despite the risks is that he is damn near impossible to hit out of the park because nobody gets good elevation on his pitches. He has allowed all of four home runs to the last 330 batters he has faced while pitching in the American League East. Britton returns to the Yankees and will likely open the year as the team's top left-handed setup man, a role he's best suited for at this stage.
Coming off a 2016 campaign in which he converted all 47 of his save opportunities, Britton experienced a down year, with injuries playing a significant role in his struggles. He battled a lingering forearm strain, which limited him to just two appearances from Apr. 14 until July 5. He struggled with control upon his return, posting an unsightly 22:14 K:BB down the stretch. His streak of consecutive save conversions came to an end at 60. As the season was winding down, it was reported that Britton was battling a knee injury. He was ultimately shut down after being diagnosed with a sprained MCL. Rather than undergoing surgery, the lefty elected for PRP treatment. Britton then suffered a torn Achilles in late December and he is expected to miss the first three months of 2018 as a result. Brad Brach is likely to fill in as the Orioles' closer in his absence.
The last time Britton was seen on a field, it was when manager Buck Showalter was saving him for the wild card save that never happened. It is a shame that is the last memory we have of him because Britton had an amazing year building upon his stellar 2015 season. Britton continued a three-year run of dominance as a fantasy closer due to a nasty combination of high strikeouts and an incredibly high groundball rate. He has some risks for 2017 since his 0.54 ERA can realistically only go up and a low .244 BABIP may not be sustainable. The good news is that despite the wild card episode, his manager has supreme confidence in him and will use him often throughout the season. Even with ratio regression, he will still be very good across the board and is as safe as closers come.
The Orioles certainly do not regret moving Britton from the rotation to the bullpen. Britton followed up his breakout 2014 season with another excellent season as Baltimore's closer until lat and back issues nagged him a bit in September. He added one mph to his fastball velocity in 2015, and vastly improved several key ratios from 2014 to 2015. His BB/9 improvement was good (2.7 in 2014 to 1.9 in 2015); his K/9 was even better (7.3 in 2014 to 10.8 in 2015); and his groundball rate is just plain unfair (75.3% in 2014 to 79.1% in 2015). Unfortunately, his BABIP increased almost 100 points to a semi-human .308, and that negated his improvements and prevented him from improving on his ERA and WHIP. Britton will enter 2016 as the unquestioned closer and one of the best relievers in the game. He proved he is not a one-year wonder.
Britton has always had filthy stuff which earned him plenty of prospect attention, but he simply couldn't command it with any regularity as a starter. The hefty groundball rates were nice, but he didn't miss as many bats as the stuff suggested, and the contact-heavy approach yielded far too many hits and homers. The O's decided that it might work better in short spurts and their unsettled ninth-inning situation afforded them an opportunity to try Britton out as their new Jim Johnson. He walks a few more than Johnson, but also carries a better strikeout rate. The foundation of a remarkably elite groundball rate was still there, though, and it resulted in a boatload of success for the left-hander. There is enough skepticism about Britton that you shouldn't have to pay full price for the ERA and WHIP from last year, but owning him offers some potential upside. Don't rule out more strikeouts to compensate for a BABIP drop, which could vault him up a tier or two in the closer ranks.
Britton seems to be a shell of his former prospect self entering 2014. A good part of last season was spent on a shuttle between Baltimore and Norfolk. Neither location turned out to be a successful stop, as Britton had just a 93:63 K:BB ratio in a combined 143.1 innings. His 4.1 K/9 with the Orioles is his worst at any level since he became a pro. The good news as far as Britton is concerned is that he is out of minor league options, meaning the Orioles will have to keep him on the 25-man roster or risk losing him to another organization at the end of spring training. On the other hand, a crowded depth chart in Baltimore has put his future with the team in doubt.
Britton had some lofty expectations after showing off good stuff in his 2011 debut, but a bum shoulder caused him to miss the first month and a half. Britton's rehab lasted nearly two months and he never really regained his 2011 form. Britton had control issues, issuing 4.8 BB/9. He kept the ball on the ground with a 2.85 GB/FB ratio, but 14.3 percent of his flyballs turned into home runs. Expect Britton to compete for the last spot in the Baltimore rotation, though he will more than likely start the season at Triple-A.
Britton was one of the few pitchers in the Orioles organization to avoid utter disaster in 2011. He still ended up with a 4.61 ERA, but some of that can be pinned on his defense – his 52 percent groundball rate combined with a 5.66 K/9IP should typically produce an ERA closer to 4.00 (according to FIP). Look for the 24-year-old to continue to grow in 2012 – the next challenge is controlling the strike zone, as he needs to improve the 3.62 BB/9IP he posted as a rookie last season. Keep an eye on Britton's health throughout spring training as he was slowed by inflammation in his pitching shoulder soon after reporting to Florida.
Britton was excellent in stops at Double-A and Triple-A and things went so well the Orioles were rumored to call him up in September. He is now regarded as Baltimore's best prospect following the graduation of Brian Matusz and Jake Arrieta, and scouts seem to have him pegged as a No. 3 starter in the future. Britton should compete for a rotation spot in spring training, but it is more likely the Orioles will wait until at least June to give him the call. Britton has consistently averaged a 2.21 K/BB ratio in the minors, showing good command for such a young left-handed pitcher, which should ease his eventual transition into the big leagues.
As far as Baltimore pitching prospects go, Britton has gone largely unnoticed. He had a stellar campaign in High-A (improving his strikeout rate from 6.96 K/9IP to 8.42) and should open 2010 in Double-A. He throws a low-90s sinking fastball that has kept hitters pounding the ball into the ground at his first two stops (2.81 G/F in 2008, 3.38 in 2009) along with an improving slider. Britton should arrive in early 2011 unless he gets a callup in September. All things considered, he is an interesting, but not elite, prospect. In the worst-case scenario, Britton appears to have a future as a left-handed setup man.
More Fantasy News