Whether it's the first week of fall or the middle of summer, fantasy football never sleeps, and it's always time to draft. Whether you are playing seasonal, best-ball, dynasty, or another format - fantasy football rankings are of utmost importance. At RotoWire, we provide a look at the top 150 as it pertains to PPR.
Leading up to the season, I will be sure to highlight the significant changes to the PPR fantasy football rankings below. As Week 1 nears, there will be more and more movement based on injuries, news, and more.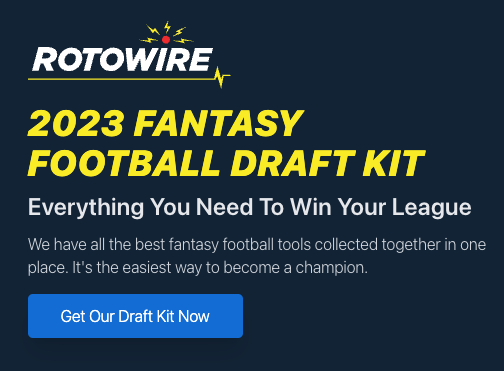 2023 PPR Fantasy Football Rankings - Top 150
These PPR fantasy football rankings are updated as of June, 2023. This is the first run of rankings, and they will be updated frequently.
If you are looking for a deeper list, check out RotoWire's full PPR fantasy football cheat sheet.
More RotoWire Fantasy Football Prep
RotoWire will get you ready for your fantasy leagues. Be sure to stay up to date with the latest rankings, content, fantasy football tools, and more. Below is a list of other ways to stay prepared in addition to just rankings.
Use PPR Fantasy Football Rankings For More Than Fantasy
One of the coolest aspects of fantasy football rankings is that you can use early rankings to get great prices on NFL futures, which are exploitable as player props will change throughout the summer leading up to Week 1. To bet on these props, you first need to have an account at one of the best sportsbooks.
To get started, you will need to sign up and deposit by using PayPal or another banking option, and then you will be able to redeem a sportsbook welcome offer which gives you bonus funds to use. Various betting apps offer different promotions, but you will be able to wager after claiming these sports betting promos right away.
Once you have an account, many of the best NFL betting sites offer all sorts of props and other markets to wager on, which you can use these rankings for.
Our favorite is Caesars Sportsbook, but you can also use the BetMGM bonus code to get bonus bets to start your NFL betting right away. Below is a look at each of these operators you can use to wager on the NFL.
This article is part of our Fantasy Football Draft Strategy series.