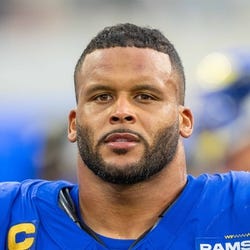 2022 Fantasy Outlook
Playing DT as the league's most feared defender means Donald is subjected to constant double teams that are at once futile yet also make it difficult to match the tackle/sack volume of the best DEs. Donald's 12.5 sacks and 84 tackles in 2021 marked his best IDP showing yet. That tackle count was propelled by a generous assist tally (46) that's likely to fall by half, but Donald can offset it with greater sack production.
Read Past Outlooks
RANKS
#

IDP
$Signed a three-year, $95 million contract with the Rams in June of 2022.

ANALYSIS
Donald turns 32 later in May but said he was "not really" considering retirement at any point during the offseason, per
Thiry
. He had tightrope surgery on a season-ending ankle injury at some point in December or January, and while he'll perhaps be eased into offseason practices, Donald apparently has completed his rehab process. He probably won't get much help from his teammates this season, with cornerback
Jalen Ramsey
and linebacker
Bobby Wagner
being the latest big-name losses for the Rams defense. What's left behind Donald is one of the youngest defenses in the league, if not the youngest.
Read More News
NFL Stats
2022
2021
2020
2019
2018
2017
2016
2022 NFL Game Log

Calculate Stats Over Time
Just click on any two dates.
2021 NFL Game Log

Calculate Stats Over Time
Just click on any two dates.
2020 NFL Game Log

Calculate Stats Over Time
Just click on any two dates.
2019 NFL Game Log

Calculate Stats Over Time
Just click on any two dates.
2018 NFL Game Log

Calculate Stats Over Time
Just click on any two dates.
2017 NFL Game Log

Calculate Stats Over Time
Just click on any two dates.
2016 NFL Game Log

Calculate Stats Over Time
Just click on any two dates.
Snap Distribution / Depth Chart
2022 Aaron Donald Split Stats
Loading NFL Split Stats...
How do Aaron Donald's measurables compare to other defensive tackles?
This section compares his draft workout metrics with players at the same position. The bar represents the player's percentile rank. For example, if the bar is halfway across, then the player falls into the 50th percentile for that metric and it would be considered average.
Recent RotoWire Articles Featuring Aaron Donald
See More
Past Fantasy Outlooks
2021
2020
2019
2018
2017
2016
2015
2014
Even if he isn't the definite top defensive lineman IDP, Donald is still the most feared NFL lineman in real-life terms. As a gap-shooting tackle who sees a lot of double teams, Donald isn't as free as some other lineman to pursue ballcarriers, and that tends to keep his tackle volume capped in the 40s or 50s. He shoots those gaps and breaks double teams better than any other player, though, so there is not much defenses can do to stop Donald from reaching double-digit sacks with relative ease. He's worth ranking higher than this in leagues that heavily reward sacks.
Donald is likely the most feared defender in the NFL, though as a defensive tackle he has a more difficult path to IDP production than the typical defensive end. It's a testament to his inimitable talent that he places this high anyway, and it was only two years ago that he totaled 59 tackles and 20.5 sacks. It would be particularly good for Donald's IDP purposes if the Rams offense could bounce back to its 2018 level, but if it can't then he might not have quite as many pass-rushing opportunities as he did in his 20-sack season. Still, Donald is a lock for 900 or more snaps if he stays healthy, meaning he could offset any decline in sacks with an uptick of tackle production in run defense if teams throw less against the Rams.
Donald is pretty much beyond words. The glory days of pass-rushing defensive tackles have been gone for about 20 years now, and even in those days Warren Sapp and John Randle still never approached 20 sacks, which Donald managed to do on 916 snaps last year. It seems like an unsustainable sack rate, but much of what Donald does is supposed to be impossible, and yearly improvement has been a consistent theme with him. Expect some regression, but it's probably best to give Donald the benefit of the doubt until his production more obviously stabilizes.
If IDP utility perfectly correlated to real-life value, Donald might have been top-ranked among defenders generally, let alone linemen. Donald is a cannonball on the interior, blasting out of his stance at a velocity blockers can't prepare for and at a center of gravity they can't reach. With Ndamukong Suh around, offenses are left with a cruel lose-lose situation – offensive game plans would mean to double-team players like Donald and Suh on nearly every play, but there just isn't a reliable way to do that now. With 11 sacks on just 790 snaps last year, Donald could go wild in 2018.
Donald is expected to play nose tackle in Wade Phillips' new 3-4 defense this year, but that's not a concern, as Donald is a unique talent whose skill set should translate to standout production almost anywhere in the front seven. Moreover, Phillips coaches a one-gap scheme that will give Donald the green light for shooting gaps like he always has. If anything, Phillips should be expected to bring out the most in Donald, who's averaged 55 tackles and 9.5 sacks in his already remarkable three-year career. It helps that all of his NFC West opponents ranked top eight for sacks allowed last year.
For Donald to affect games the way he does as an undersized defensive tackle is remarkable, and he's definitely one of this generation's most uniquely great players. Listed at just 6-foot-1, 285 pounds but with sub-4.7 speed, Donald already has 19 sacks and 38 tackles for loss to his credit in 32 career games, so it's clear that double-teams just don't matter much to him. Not much should change in 2016, but things could actually get a bit better if Robert Quinn returns to full form. Running away from Quinn and running into Donald may be loosely synonymous.
Donald became an instant star after entering the starting lineup Week 6, earning Defensive Rookie of the Years honors as one of the league's most explosive linemen. A consistent tackler, Donald's pass rush improved late in the year with six sacks in the last seven games. His nine sacks were the most by a rookie in three years and second among defensive tackles last season. He also had 18 tackles for loss (2nd among DT, 4th among DL). Those numbers could take a jump this year with more snaps — he should see at least 800 this season after playing only 705 snaps last year.
Although Michael Brockers and Kendall Langford are the incumbent starters, Donald is going to see plenty of game time after being drafted 13th. Donald was a menace to offenses in college and with so much defensive line talent in St. Louis, he doesn't have the immense pressure of starting right off the bat.
More Fantasy News