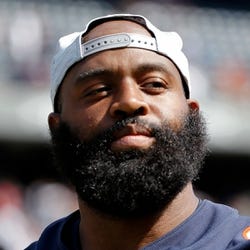 2022 Fantasy Outlook
There was no outlook written for Akiem Hicks in 2022. Check out the latest news below for more on his current fantasy value.
RANKS
#

IDP
$Signed a one-year, $10 million contract with the Buccaneers in May of 2022.

Modest numbers across 11 games
Hicks recorded 22 tackles (13 solo) and one sack across 11 games during the 2022 regular season.
ANALYSIS
The veteran defensive tackle also totaled three solo stops and a pass breakup during the wild-card loss to the Cowboys. Hicks was signed on a one-year deal to serve as a veteran stopgap that could help along the front line of the Buccaneers' 3-4 defense, but a foot injury cost him six games of action between Weeks 3 and 8. Slated to be a free agent at the start of the new league year and with his best days behind him at age 33, it's likely Tampa Bay turns to younger alternatives for the 2023 campaign.
Read More News
NFL Stats
2022
2021
2020
2019
2018
2017
2016
2022 NFL Game Log

Calculate Stats Over Time
Just click on any two dates.
2021 NFL Game Log

Calculate Stats Over Time
Just click on any two dates.
2020 NFL Game Log

Calculate Stats Over Time
Just click on any two dates.
2019 NFL Game Log

Calculate Stats Over Time
Just click on any two dates.
2018 NFL Game Log

Calculate Stats Over Time
Just click on any two dates.
2017 NFL Game Log

Calculate Stats Over Time
Just click on any two dates.
2016 NFL Game Log

Calculate Stats Over Time
Just click on any two dates.
2022 Akiem Hicks Split Stats
Loading NFL Split Stats...
Measurables Review
How do Akiem Hicks' measurables compare to other defensive tackles?
This section compares his draft workout metrics with players at the same position. The bar represents the player's percentile rank. For example, if the bar is halfway across, then the player falls into the 50th percentile for that metric and it would be considered average.
Recent RotoWire Articles Featuring Akiem Hicks
See More
Past Fantasy Outlooks
2021
2020
2019
2018
2017
2016
2015
2014
2013
2012
Entering the final year of his contract in his age-32 season, Hicks has played at least 15 games in four of the last five campaigns, making him quite durable. During that time, he's averaged roughly 3.3 tackles per game, which provides fantasy managers a moderate floor for a defensive lineman. But after posting between seven and 8.5 sacks per season in 2016 through 2018, he's recorded just 4.5 sacks in his last 20 contests. As a result, it's unlikely that Hicks will produce enough to be a coveted IDP.
After three great seasons with the Bears in which Hicks posted at least 54 tackles and seven sacks per year, he missed 11 games in 2019 due to an elbow injury. With a full offseason to recover, the 30-year-old has a decent shot to return to the consistent production he's shown since leaving New England. In addition, he continues to benefit from playing on a defense with Khalil Mack, which ensures that Hicks won't be the focal point of opposing protection schemes. Unless Hicks is struggling in his return from the elbow issue, he should remain a strong IDP option at defensive end.
Hicks is one of the league's top interior defensive linemen and an overlooked anchor in Chicago's immovable defense. He contributes a lot of snaps for a 330-pounder, projecting for almost 900, and that conditioning ensures a high floor. Hicks' numbers the last three years are remarkably consistent, totaling 54, 54 and 55 tackles and seven, eight, and seven sacks in those respective seasons. It seems unlikely that he'll develop into a double-digit sack threat, but it can't be ruled out given the number of sacks the Bears defense projects for in 2019.
Hicks has been a late bloomer during his NFL career. After notching just 9.5 sacks over his first five seasons, he's flourished while playing in coordinator Vic Fangio's defense the last two years. During that time, he's come on with 15.5 sacks, and firmly in the prime of his career, he should be in line for a third straight strong campaign. Look for the Chicago defense to continue to pressure opponents consistently, which should provide Hicks a great opportunity to post steady sack numbers. Although he's not an elite IDP, he's a fair starting option in leagues that start multiple defensive linemen.
In the first of a two-year deal that Hicks signed with the Bears in 2016, he came up big with a career-high seven sacks. Now in a contract year, he'll be looking to cash in with another fruitful campaign. Before the breakout, the veteran had just 9.5 sacks over his first five seasons, but he found himself in a great situation in defensive coordinator Vic Fangio's system and thrived. He'll line up as Chicago's starting left defensive end, and squarely in his prime, he'll be a fair IDP option, even though his sack numbers aren't elite.
Once the Patriots acquired Hicks from the Saints in 2015, he looked like the impact player who current Bears' general manager Ryan Pace made a third round pick with the Saints in 2012. Once Hicks hit the open market, Pace secured his services, signing him to a two-year deal to play the end position in defensive coordinator Vic Fangio's system. With the team having upgraded their talent on the defensive side of the ball this offseason, Hicks, who has 9.5 sacks over the last three seasons, will be a player capable of making even more improvement, putting him on the map as a potential IDP option.
Following an impressive finish to his 2013 sophomore campaign, many predicted a breakout season for Hicks in 2014. Hicks unfortunately underwhelmed, managing only 42 tackles and two sacks in 15 games. Still, Hicks is expected to start at defensive end for the Saints, which could result in a windfall for fantasy owners with the option of starting Hicks at defensive tackle - the position at which he's listed in most fantasy leagues. If he can return to harassing the quarterback, as he did in 2013 when he recorded 56 tackles and 4.5 sacks, IDP owners could reap the benefits of deploying Hicks at a defensive tackle position in which pass rush standouts are scarce.
In only his second year in the league out of tiny Regina College in Canada, Hicks managed 3.5 sacks in his final seven regular season games in 2013 and finished the year with 4.5 sacks and 56 tackles. Almost as importantly as Hicks' marked improvement from a rookie season in which his presence was hardly felt is that the Saints list Hicks as a defensive tackle, despite often lining up as a defensive end in the team's 3-4 defense. If Hicks can continue to build on his sack total in 2014, his value projects to be significantly higher in position-specific IDP leagues given the dearth of quality pass rushers at the defensive tackle position.
Hicks is expected to start at defensive end in the Saints' new 3-4 defense. Hicks was tentatively slated to start at nose tackle, but with the Saints drafting massive DT John Jenkins, Hicks moved to defensive end. While Hicks will still likely see playing time at all three defensive line positions, he holds slightly more value as an end, as it should provide an increased opportunity to rack up a few more sacks.
Hicks was drafted in the third round out of the tiny University of Regina in Canada. Given the weaker competition he faced during his college career, he may have some difficulty contributing right away at the NFL level. At this point in his career, Hicks is expected to back up both Sedrick Ellis and Broderick Bunkley in the defensive tackle rotation.
More Fantasy News