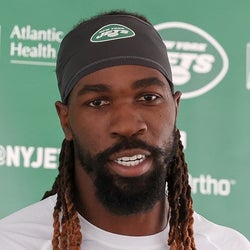 2022 Fantasy Outlook
Although he's generally not as highly regarded as he was a few years ago, Mosley remains a standout linebacker both on the real field and for IDP purposes. The 2021 showing was his best yet as an IDP, accumulating a career-high 168 tackles on 1,054 snaps. Durability has been an issue -- he missed almost the entirety of the 2019 and 2020 seasons – but when he's on the field he finds ballcarriers at a rapid frequency.
Read Past Outlooks
RANKS
#

IDP
$Signed a five-year, $85 million contract with the Jets in March of 2019.

Racks up 158 tackles in 2022
Mosley posted seven tackles (five solo) in Sunday's season finale against the Dolphins, bringing his 2022 total to 158 tackles (99 solo).
ANALYSIS
After posting a career-high 168 tackles in 2021, Mosley came 10 short of that total in 2022 while adding one sack, seven passes defensed, one interception, one fumble recovery and five tackles for loss. There's a potential out in his contract prior to the 2023 season, but the 30-year-old linebacker is more likely than not to remain with the Jets, be it on his current deal or a restructured one.
Read More News
NFL Stats
2022
2021
2020
2019
2018
2017
2016
2022 NFL Game Log

Calculate Stats Over Time
Just click on any two dates.
2021 NFL Game Log

Calculate Stats Over Time
Just click on any two dates.
2020 NFL Game Log

Calculate Stats Over Time
Just click on any two dates.
2019 NFL Game Log

Calculate Stats Over Time
Just click on any two dates.
2018 NFL Game Log

Calculate Stats Over Time
Just click on any two dates.
2017 NFL Game Log

Calculate Stats Over Time
Just click on any two dates.
2016 NFL Game Log

Calculate Stats Over Time
Just click on any two dates.
Snap Distribution / Depth Chart
2022 C.J. Mosley Split Stats
Loading NFL Split Stats...
How do C.J. Mosley's measurables compare to other linebackers?
This section compares his draft workout metrics with players at the same position. The bar represents the player's percentile rank. For example, if the bar is halfway across, then the player falls into the 50th percentile for that metric and it would be considered average.
Recent RotoWire Articles Featuring C.J. Mosley
See More
Past Fantasy Outlooks
2021
2020
2019
2018
2017
2016
2015
2014
Mosley has logged just 116 snaps as he enters his third season with the Jets — he was quickly injured in 2019 and opted out of the 2020 season, but new coach Robert Saleh should have a three-down role for Mosley all the same. Disappointing as his two Jets seasons have been, Mosley was signed to a five-year, $85 million contract for a reason: he's a very good ILB. Other than Mosley, the Jets don't have any of those, so he should get all the snaps he can handle. Mosley was a 130-tackle linebacker with the Ravens and was also reliable for sacks and interceptions.
Long-term durability was a concern for Mosley when he came out of Alabama in 2014, so it's discouraging that an early-season groin injury resulted in him landing on season-ending IR. That injury required surgery in December, and as of early May he still wasn't 100 percent healthy. Mosley is a very good linebacker when at full strength and should provide easy LB2 utility or better if he reaches that point. But between the injury and the disrupted offseason, he presents a significant amount of risk. Considering he was never a lock for LB1-type production - he was always the type to hover in the 120-to-130 tackle range - it's fair to reason that Mosley's upside isn't good enough to warrant the risk.
While his contract probably won't age well for the Jets, it's not Mosley's fault he was perhaps overvalued in a league where his strengths would better suit the game of 20 years ago. Even if he doesn't fit the modern ideal, Mosley is still a good player and the Jets are compelled to give him every snap he can withstand. Even if Adam Gase runs a zero-tempo offense like he did in Miami, it would be disappointing if Mosley didn't hit 1,000 snaps this year. His standout tackle and sack production are mainstream currency in IDP leagues.
Mosley is one of those players who is so steady you might eventually take him for granted, reliably producing in the 130-tackle range while establishing Baltimore as one of the league's most consistent run defenses in the process. He has just one sack in the last two years but had seven in his first two, so positive regression to the mean could be in order. While Mosley sometimes doesn't look the best in coverage, Baltimore isn't in any position to lessen his snap count, which reliably exceeds 1,000 per year.
Mosley is a bit of a durability worry after missing time with calf, thigh and hamstring injuries last year, but he managed to suit up for all 16 games in the two years prior. When healthy, the 2014 first-round pick is as steady as they come, providing a reliable 100-tackle pace, with a healthy supplement of sacks (seven in his first two years) and interceptions (six in three seasons). He probably doesn't have much upside -- Mosley's career high is 133 tackles on 1,065 snaps -- but it would take an injury to make him a liability as an investment.
Mosley's first two years in the NFL don't hint at a great IDP ceiling, but his steadiness stands out to the point that he's still a low-end LB1 or top-shelf LB2. His career high for tackles (133 in 2014) was done on 1,065 snaps, and given that he's unlikely to exceed 1,100, that 130-tackle range seems like his general cap. Still, he supplements his adequate tackle production (250 in two seasons) with above average pass-rushing activity, heading into his third year with seven sacks to his credit. He dealt with some injuries in college but hasn't missed a game as a pro.
The Ravens drafted Mosley 17th overall last year, and he was all Baltimore could have asked for. Not only did he rank eighth in the league in tackles, with eight for loss, but Mosley also intercepted two passes and improved as a pass rusher by logging three sacks in the final six weeks. After playing 1,065 snaps last year — a huge total for a rookie — Mosley likely will get all the work he can handle in 2015. He underwent a wrist surgery this offseason, but is expected to be ready for training camp.
Even though he's a rookie, there's every reason to believe Mosley will approach LB2 relevance in most IDP formats. The 17th overall pick in this year's draft, Mosley showed exceptional skill at Alabama, displaying ideal play recognition while making plays both as a blitzer and in coverage. The Ravens likely selected him with the intention of making him a three-down player, even ahead of 2013 second-round pick Arthur Brown. Durability is a bit of a concern with Mosley, however – he had significant injuries to his hip, shoulder and elbow while at Alabama. Even if he doesn't play 16 games, Mosley should make his way to 100 tackles.
More Fantasy News