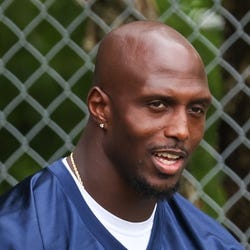 2022 Fantasy Outlook
There was no outlook written for Devin McCourty in 2022. Check out the latest news below for more on his current fantasy value.
RANKS
#

IDP
$Signed a one-year, $9 million contract with the Patriots in March of 2022.

ANALYSIS
The 35-year-old joined the Patriots as a first-round pick in the 2010 NFL Draft and finishes up his professional playing career with a total of 971 tackles and 35 picks over the course of 205 regular-season contests. In his final campaign with the only NFL team he ever played for, the Rutgers product logged 71 tackles and four interceptions while holding down a starting safety slot for New England in 2022.
Read More News
NFL Stats
2022
2021
2020
2019
2018
2017
2016
2022 NFL Game Log

Calculate Stats Over Time
Just click on any two dates.
2021 NFL Game Log

Calculate Stats Over Time
Just click on any two dates.
2020 NFL Game Log

Calculate Stats Over Time
Just click on any two dates.
2019 NFL Game Log

Calculate Stats Over Time
Just click on any two dates.
2018 NFL Game Log

Calculate Stats Over Time
Just click on any two dates.
2017 NFL Game Log

Calculate Stats Over Time
Just click on any two dates.
2016 NFL Game Log

Calculate Stats Over Time
Just click on any two dates.
2022 Devin McCourty Split Stats
Loading NFL Split Stats...
Measurables Review
How do Devin McCourty's measurables compare to other safeties?
This section compares his draft workout metrics with players at the same position. The bar represents the player's percentile rank. For example, if the bar is halfway across, then the player falls into the 50th percentile for that metric and it would be considered average.
Recent RotoWire Articles Featuring Devin McCourty
See More
Past Fantasy Outlooks
2021
2020
2019
2018
2017
2016
2015
2014
2013
2012
2011
2010
McCourty, who turns 34 in August, finished the 2020 season with 68 tackles and two interceptions (including one pick six) in 16 games. The 2010 first-rounder - who hasn't missed a game since 2015 - is in line to reprise his starting free safety role for the Patriots. It's an assignment that carries with it a degree of fantasy utility, though ultimately McCourty's status as a respected team leader is something that transcends statistical measures.
McCourty is back with the Patriots after signing a two-year, $23 million deal with the team this offseason. The 32-year-old remains one of the team's key leaders, and his prominence in that regard only figures to grow in Year 1 of the post Tom Brady era. Though McCourty's tackle total in 2019 was a career-low 53, he made up for that by snagging a career-high five picks. He should remain on the fantasy radar in deeper formats in 2020.
McCourty has started 139 regular-season games and 22 playoff games in nine NFL seasons, serving as one of the few mainstays on a New England defense that tends to cycle through a lot of players. The two-time Pro Bowler had just one interception in each of the past three seasons, but the 31-year-old made his mark as an IDP by averaging 84.7 tackles, 5.3 passes defensed, 1.3 fumble recoveries and 0.7 forced fumbles while starting every game in that span.
After three straight years of fewer than 70 tackles, McCourty's tackle production spiked upward the last two years, taking him from the fringe to the mainstream of IDP utility in the process. It's reasonable to worry that this is a blip rather than a new status quo, but in the meantime we know McCourty is likely to play well over 1,000 snaps if healthy, so if he regresses it won't be for any lack of opportunity.
McCourty, who the Patriots selected 27th overall in the 2010 NFL Draft, serves as the team's starting free safety and is in line to remain a mainstay in the New England secondary for the next few seasons, as he is under contract with the franchise through 2019. He's coming off a 2016 campaign in which he logged 83 tackles and a pick in 16 regular-season contests.
McCourty, who was on the field for 84.7 percent of the Patriots' defensive snaps in 2015, will once again man a starting safety spot opposite Patrick Chung. He recorded 64 tackles and one pick in 14 games last year, numbers that reflect that reality that his value to the Patriots' secondary is greater than the degree of IDP utility he offers.
McCourty, who recorded 68 tackles and two picks in 16 starts last season, is set to reprise his role as the team's starting free safety this season. While there is plenty of moving parts in the Patriots' re-tooled secondary this season, one constant is that McCourty -- who signed a five-year, $47.5 million contract this offseason -- will rarely leave the field. It's an arrangement that gives him some utility in IDP formats, assuming a slight uptick in his counting stats, which is a plausible outcome.
McCourty is coming off of the least productive season of his career, failing to record at least 80 tackles for the first time and regisering just one interception after averaging more than four per season over the previous three years. He'll have an excellent chance to rebound this season, though, as he stands to benefit from quarterbacks avoiding new teammtes Brandon Browner and Darrelle Revis.
The Patriots plan to keep McCourty at safety this coming campaign, which will help him maintain IDP relevance after racking up 82 tackles, two forced fumbles and five picks in 2012.
McCourty has not been particularly good in coverage lately, and he plays for a defense that is a great bet to see among the most snaps in the league because Tom Brady's offense scores so often and so quickly. The result is a huge target volume, and one in which McCourty figures to give up a big chunk of catches, which then turns into easy tackle opportunities. He finished last year with 87 tackles (65 solo) in 14 games, which project to 99 tackles over 16 games. That's about in line with his per-game stats through his first 30 games, which project to 90 tackles (72 solo) and five interceptions over a full season.
After intercepting just six passes in his four years at Rutgers, McCourty had a smash hit of a rookie season in 2010, collecting seven interceptions and 82 tackles (69 solo) while starting 16 games for New England. It's doubtful quarterbacks will test McCourty in 2011 as much as they did a year ago, so it's reasonable to expect his numbers to regress a bit. Still, he had the clear look of a playmaker last year and could just as easily cement himself as a one of the top corners in the league with another big season.
The Patriots passed up a chance to grab Dez Bryant, but after trading out of the No. 22 slot, then the No. 24 spot, they land McCourty, a player who will boost the team's cornerback depth and can be a terror on special teams.
More Fantasy News