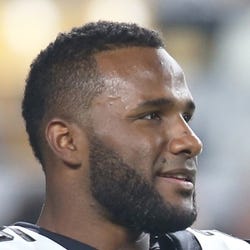 Rest-of-Season Projections
2023 Fantasy Outlook
There was no outlook written for Giovani Bernard in 2023. Check out the latest news below for more on his current fantasy value.
$Signed a one-year, $1.27 million contract with the Buccaneers in April of 2022.

ANALYSIS
The 2013 second-round pick spent his first eight seasons with the Bengals, and while he never ran for more than 730 yards or five touchdowns in a season, he averaged 42.8 catches for 358.4 receiving yards and also earned a reputation as a good pass blocker. He spent his final two seasons in Tampa Bay, where he had trouble staying healthy and barely saw the field in 2022. The 31-year-old retires with 6,772 scrimmage yards and 36 career touchdowns.
Read More News
NFL Stats
Fantasy/Red Zone Stats
See red zone opportunities inside the 20, 10 and 5-yard lines along with the percentage of time they converted the opportunity into a touchdown.
Loading Fantasy/Red Zone Stats...
Advanced NFL Stats
Loading Advanced NFL Stats...
2022
2021
2020
2019
2018
2017
2016
2022 NFL Game Log

Calculate Stats Over Time
Just click on any two dates.
Scoring
Standard
PPR
Half PPR
FanDuel
DraftKings
Yahoo DFS
2021 NFL Game Log

Calculate Stats Over Time
Just click on any two dates.
Scoring
Standard
PPR
Half PPR
FanDuel
DraftKings
Yahoo DFS
2020 NFL Game Log

Calculate Stats Over Time
Just click on any two dates.
Scoring
Standard
PPR
Half PPR
FanDuel
DraftKings
Yahoo DFS
2019 NFL Game Log

Calculate Stats Over Time
Just click on any two dates.
Scoring
Standard
PPR
Half PPR
FanDuel
DraftKings
Yahoo DFS
2018 NFL Game Log

Calculate Stats Over Time
Just click on any two dates.
Scoring
Standard
PPR
Half PPR
FanDuel
DraftKings
Yahoo DFS
2017 NFL Game Log

Calculate Stats Over Time
Just click on any two dates.
Scoring
Standard
PPR
Half PPR
FanDuel
DraftKings
Yahoo DFS
2016 NFL Game Log

Calculate Stats Over Time
Just click on any two dates.
Scoring
Standard
PPR
Half PPR
FanDuel
DraftKings
Yahoo DFS
Receiving Alignment Breakdown
See where Giovani Bernard lined up on the field and how he performed at each spot.
Loading Alignment Breakdown...
Loading Alignment Breakdown...
Loading Alignment Breakdown...
Loading Team Alignment Breakdown...
2023 Giovani Bernard Split Stats
Loading NFL Split Stats...
How do Giovani Bernard's measurables compare to other running backs?
This section compares his draft workout metrics with players at the same position. The bar represents the player's percentile rank. For example, if the bar is halfway across, then the player falls into the 50th percentile for that metric and it would be considered average.
Recent RotoWire Articles Featuring Giovani Bernard
See More
Past Fantasy Outlooks
2022
2021
2020
2019
2018
2017
2016
2015
2014
2013
Bernard spent most of the first eight seasons of his career enjoying a solid complementary role in Cincinnati behind the likes of Jeremy Hill and Joe Mixon, but his first Buccaneers campaign in 2021 saw him almost exclusively used as a receiver. The North Carolina alum logged only 31 touches, 23 of which came in the passing game, in the regular season, but he did record 13 carries for 44 yards and a touchdown along with five catches in a wild-card win against the Eagles with Leonard Fournette out of action due to a hamstring injury. Despite the sparse role, the two parties reunited for another year this offseason, with Bernard inking a one-year deal to compete for reps behind Fournette with Ke'Shawn Vaughn and rookie third-round pick Rachaad White.
When the 2020 season began, Bernard was something of an afterthought in the Bengals offense. He was seeing his usual volume through the air as the team focused on getting shiny new toy Joe Burrow up to speed, but Bernard saw only four carries through the first four weeks behind a healthy Joe Mixon. When first Mixon, and then Burrow, were both lost for the year, it was Bernard who eventually helped hold the offense together, racking up 228 total yards and two touchdowns in Weeks 15-16. Cincy's response in the offseason was to ask him to take a pay cut, and when he said no, Bernard was cut loose after eight years with the Bengals. The 29-year-old signed a one-year deal with the Buccaneers in the hopes of adding a ring before he calls it quits, but working behind Ronald Jones and Leonard Fournette makes it that much less likely he'll see early down work. Bernard became the team's best third-down back the moment he walked through the door, and if he can establish just a fraction of the chemistry Tom Brady had with James White in New England, the veteran back could still post useful numbers for deeper PPR formats.
Bernard's first game this season will be the 100th of his career, and the miles might be catching up to him. His YPC plummeted to a career-low 3.2 last year, and his 30 receptions on 43 targets were also the lowest volume he's seen as a receiver since he came into the league. With Joe Mixon locked into a three-down role, there wasn't much action left for Bernard last year, but he also wasn't effective enough with the touches he got to demand a larger share. When he gets the ball in space, he can still do some damage, but the quickness and elusiveness he displayed before his 2017 ACL tear never seemed to fully return. On the bright side, the Bengals offensive line should be better this season (it could hardly be worse), and Joe Burrow provides some optimism for the offense as a whole. Bernard also has little competition behind him on the depth chart for backup touches, but that likely just means more work for Mixon.
A four-game absence because of a knee injury - along with the emergence of Joe Mixon as a three-down bell cow - led Bernard to the least productive season of his career in 2018. The veteran pass-catching back failed to reach either 300 rushing or 300 receiving yards - figures he'd topped every year since 2013, usually with ease - and his 4.5 yards per target was by far a career low. Andy Dalton's late-season thumb injury played a role in Bernard's loss of effectiveness and volume through the air, but the simple fact of the matter is that Cincinnati doesn't need him as much as it used to. He's still dangerous in the open field and has shown that he can contribute in an expanded role on the ground, but heading into the final year of his contract, he'll face competition from sixth-round picks Rodney Anderson and Trayveon Williams for whatever touches Mixon doesn't get.
Bernard returned from the ACL tear that cut short his 2016 season seemingly none the worse for wear, as the 5-9, 205-pound back displayed his usual shiftiness and explosiveness in the open field and set a career high with five carries of 20 or more yards despite a career-low 6.6 rushes per game. The addition of Joe Mixon was the driver of Bernard's reduced workload on the ground, but his production as a receiver was right in line with previous years as he grabbed at least 43 passes for the fourth time in five seasons, only missing the mark in that abbreviated 2016 campaign. Still only 26, he's set for another campaign as the pass-catching complement to Mixon, though Bernard has also proven capable of handling three-down duties, at least in short bursts. If Mixon continues to struggle, Bernard would be the most likely beneficiary, especially with Jeremy Hill no longer in a Cincinnati uniform. The Bengals' offseason additions to the offensive line should boost the efficiency of the entire offense, so even if Bernard's workload remains the same, an increase in his numbers wouldn't be a surprise.
Bernard was on pace for his fourth consecutive season with more than 1,000 combined yards, along with a career high in receptions, when he tore his ACL in Week 11's game against the Bills. When healthy, the 5-9, 205-pound back is one of the league's most dangerous runners in the open field, possessing an elite combination of vision, elusiveness and quickness. But after suffering one ACL tear already in college, there's no guarantee Bernard will be able to return to peak form. He was a full go for the start of training camp less than nine months after suffering the injury, but the Bengals added Joe Mixon in the draft to further muddy Bernard's prospects for touches. Even if he does come back 100 percent from his knee injury, he could find himself relegated to a change-of-pace role.
Sometimes less is more, as we saw with Bernard during his third NFL season. Although his rushes dropped to a new personal low, he hiked his YPC up to a personal best, a jump of 0.7 over the previous year. Bernard also nudged his catch rate forward, adding up to a Top 20 RB finish in PPR leagues. Ah, but touchdowns also pay a lot of the fantasy bills, and that's where Bernard was disappointing — perhaps unlucky — last year. Although his red-zone usage was similar to where it was in 2014, Bernard dropped from seven touchdowns to just two. He was the only back in the league to score just twice on 26 or more red-zone rushing attempts (Bernard collected 32 in all). And it wasn't like all the totes were from long distances; he had 13 chances inside the 10. It's not that Bernard is ever likely to lead the league in touchdowns — heck, his running mate, Jeremy Hill, did that last year — but given his expected volume and breakaway ability, you'd expect a modest gain in TDs this time around. There's nothing particularly thrilling about Bernard entering his fourth campaign, but he's been a fantasy-useful player his entire career, and he might be entering the boring-but-thrifty veteran portion of the program.
Expected to be Cincinnati's lead back last season, Bernard instead battled shoulder, rib and hip injuries, missing three games and ceding the starting role to rookie Jeremy Hill, who never let it go. That's not an encouraging trend for an undersized player who'd already undergone ACL surgery in college. When healthy, Bernard still showed the incredible quickness, vision, balance and elusiveness that make him a threat to explode for a long gain on every touch. Although he bails out too often in pass protection, his 130 targets through two seasons demonstrate the Bengals' commitment to giving him a prime spot in their passing game to take advantage of his hands and ability to make defenders miss in space. The more physical, bruising Hill is a reliable asset on the ground, and Bernard likely will get fewer carries this season to limit the punishment he takes. That might actually be the best scenario for his career prospects, as he might stay more effective with a reduced workload.
One of the league's most exciting rookies last season, Bernard made an instant impact in the pass game and showed quick cutting ability as well as great burst despite seeing his carries limited by a timeshare with BenJarvus Green-Ellis. He'll again have to split off some carries to Green-Ellis and second-round pick Jeremy Hill this year, but appears poised to take over a more featured role in the Bengals' offense. A second-round selection in 2013, Bernard's final numbers were depressed by a lack of playing time alongside Green-Ellis – and yet he still racked up more than 1,200 total yards from scrimmage. He could have ended up with even more, but did struggle over the season's final three games, carrying 39 times for a total of just 77 yards. But the Law Firm seems in line to be phased out after his third consecutive season of sub-4.0 yards per carry, meaning that Bernard should see his carries jump well over 200 while retaining all his usefulness in the pass game. Despite being a smaller back at 5-9, 208, Bernard has so far looked terrifically durable, and even though Green-Ellis is a more prototypical short-yardage back, Bernard still saw six goal-line touches last season and should see that role expanded this year. He has all the goods to be a true three-down back, and he could finally see that role materialize this season.
The 37th overall pick – and first RB selected this year – Bernard has extremely quick feet and the vision and burst to break runs outside. Bernard's also a natural receiver out of the backfield and, as such, is likely to see plenty of third-down work. He'll likely begin the year as a change-of-pace runner and complement to BenJarvus Green-Ellis, but has the tools to be a productive three-down back should Green-Ellis miss time.
More Fantasy News