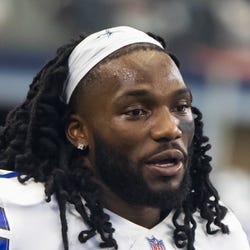 2023 Fantasy Outlook
There was no outlook written for Jaylon Smith in 2023. Check out the latest news below for more on his current fantasy value.
RANKS
#

IDP
$Signed a contract with the Giants in October of 2022.

Works up to prominent role
Smith played in 13 games this season, racking up 88 tackles (46 solo), one sack and a recovered fumble.
ANALYSIS
After splitting time between three clubs last year and logging just 38 tackles across 10 games, Smith began the 2022 campaign without a team. He eventually joined New York's practice squad before getting a deal to join the active roster, and he played in each of the Giants' contests from Week 4 to Week 17 before resting for the regular-season finale. The veteran linebacker picked up the pace as the campaign moved on, notching at least nine tackles in five of his final six appearances. Smith will become a free agent after this season, but he's been a good fit with New York, so the team could look to bring him back given his (and the team's) success this year.
Read More News
NFL Stats
2022
2021
2020
2019
2018
2017
2016
2022 NFL Game Log

Calculate Stats Over Time
Just click on any two dates.
2021 NFL Game Log

Calculate Stats Over Time
Just click on any two dates.
2020 NFL Game Log

Calculate Stats Over Time
Just click on any two dates.
2019 NFL Game Log

Calculate Stats Over Time
Just click on any two dates.
2018 NFL Game Log

Calculate Stats Over Time
Just click on any two dates.
2017 NFL Game Log

Calculate Stats Over Time
Just click on any two dates.
2016 NFL Game Log

Calculate Stats Over Time
Just click on any two dates.
2022 Jaylon Smith Split Stats
Loading NFL Split Stats...
Measurables Review
How do Jaylon Smith's measurables compare to other linebackers?
This section compares his draft workout metrics with players at the same position. The bar represents the player's percentile rank. For example, if the bar is halfway across, then the player falls into the 50th percentile for that metric and it would be considered average.
Recent RotoWire Articles Featuring Jaylon Smith
See More
Past Fantasy Outlooks
2021
2020
2019
2018
2017
2016
If Smith's role remains the same as it has the last two years then move him up the rankings. The question is whether that role is truly safe, especially in light of Dallas drafting linebacker mega-prospect Micah Parsons with the 12th overall pick this year. Parsons is a threat to take up a bigger share of the defense than the retired Sean Lee did, and that's before you account for how free-agent pickup Keanu Neal fits in at linebacker. If Parsons and Neal stay to the side, though, then Smith is still the same guy who produced 296 tackles the last two years.
Smith is a strong LB2 IDP with LB1 upside, but it's probably best to assume some regression in his 2020 tackle production. That's because teammate and fellow linebacker Leighton Vander Esch piles up tackles at a significantly higher rate than Smith, and it's likely that Vander Esch's neck injury from last year is the primary reason Smith posted a career high 142 tackles in 2019 after finishing the 2018 season with 121. Still, Smith's IDP value should withstand any potential tackle regression given his steady contributions as a blitzer, totaling 6.5 sacks over his last 1,991 snaps.
It's implausible for linebacker teammates to rank in the top 10 for IDPs, but Smith produced at a torrid pace last year alongside Leighton Vander Esch. His 120 tackles came on a sustainable 976 snaps, and his rookie year rate was even better (81 on 578 snaps). Vander Esch's arrival explains the drop in 2018, so it's best to expect that tackle rate rather than the rookie-year one, but Smith's pass-rushing talent (four sacks last year) helps offset any concern. Smith should keep improving as he shakes off rust from his awful injury at Notre Dame.
A brutal knee injury involving nerve damage threw Smith's career into some question about 2.5 years ago, but his performance last year gives hope that he will prove Dallas right for gambling on him in the second round of the 2016 draft. Smith was eased into the lineup last year playing 578 snaps, but his 81 tackles were a high total for that workload. While it can't be assumed that he'll take on a true three-down role, especially after the first-round selection of Leighton Vander-Esch, Smith should still hit triple-digit tackles if he approaches 800 snaps.
It's anyone's guess whether Smith actually plays this year, and in the event that he does, it's fair to wonder if he'll be healthy enough to stay on the field. The talented Notre Dame product was on track for a place in the first 10 picks of the 2016 draft before a profoundly bad knee injury tore ligaments and caused nerve damage, but going into the summer there has only been optimism surrounding his recovery. If he's able, he will likely start at middle linebacker, which would give him a considerable ceiling to offset the subterranean floor.
A devastating knee injury that included nerve damage ended a fantastic college career for Smith and took him out of a possible top five draft spot, but the Cowboys were comfortable enough with the risks involved that they selected him early in the second round anyway. It'll be a long hard road to recovery for the linebacker, with no guarantee at the end that he'll be able to return to form, but if he does the Cowboys will have a dynamic, game-changing player in the middle of their defense. Don't expect to see him on the field in 2016, though.
More Fantasy News