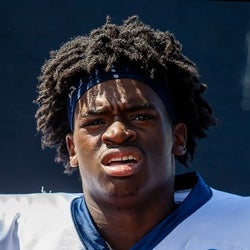 IR
Injury Knee - ACL
Est. Return 2/12/2024
Rest-of-Season Projections
2023 Fantasy Outlook
There was no outlook written for John Stephens in 2023. Check out the latest news below for more on his current fantasy value.
$Signed a three-year, $2.7 million contract with the Cowboys in May of 2023.

ANALYSIS
Stephens will miss the entire 2023 campaign due to a torn ACL sustained during the preseason. The undrafted rookie out of Louisiana had put together a solid offseason, but his sights will now need to be set on making a full recovery for the 2024 season to again compete for a roster spot.
Read More News
NFL Stats
Fantasy/Red Zone Stats
See red zone opportunities inside the 20, 10 and 5-yard lines along with the percentage of time they converted the opportunity into a touchdown.
Loading Fantasy/Red Zone Stats...
Advanced NFL Stats
Loading Advanced NFL Stats...
2023 NFL Game Log

Calculate Stats Over Time
Just click on any two dates.
Scoring
Standard
PPR
Half PPR
FanDuel
DraftKings
Yahoo DFS
Snap Distribution / Depth Chart
How often does John Stephens run a route when on the field for a pass play?
This data will let you see how John Stephens and the other tight ends for the Cowboys are being used. Some tight ends may have a lot of snaps, but they're not that useful for fantasy purposes because they're not actually running routes. This data will help you see when this is the case.
Receiving Alignment Breakdown
See where John Stephens lined up on the field and how he performed at each spot.
Loading Alignment Breakdown...
Loading Alignment Breakdown...
Loading Alignment Breakdown...
Loading Team Alignment Breakdown...
This Week's Opposing Pass Defense
How does the Cardinals pass defense compare to other NFL teams this season?
The bars represents the team's percentile rank (based on QB Rating Against). The longer the bar, the better their pass defense is.
The team and position group ratings only include players that are currently on the roster and not on injured reserve. The list of players in the table only includes defenders with at least 3 attempts against them.

@ Cardinals
Sunday, Sep 24th at 4:25PM
Overall QB Rating Against
99.0
Loading Opponent Pass Defense Stats...
2023 John Stephens Split Stats
Loading NFL Split Stats...
More Fantasy News