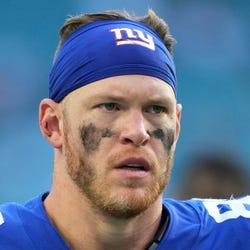 Rest-of-Season Projections
2023 Fantasy Outlook
There was no outlook written for Kyle Rudolph in 2023. Check out the latest news below for more on his current fantasy value.
$Signed a one-year, $2 million contract with the Buccaneers in July of 2022.

Rudolph (knee)
announced
Monday via his personal Twitter account that he has decided to retire from the NFL as a member of the Vikings.
ANALYSIS
Rudolph, a two-time Pro Bowler, ends his career with the organization that drafted him in the second round of the 2011 NFL Draft. He suited up for nine games last season with the Buccaneers, securing three of five targets for 29 yards and one touchdown. From 2011 to 2020, he was a key member of Minnesota's offense before moving on to the Giants for the 2021 season. Over 12 career NFL campaigns, the 33-year-old tallied 482 receptions for 4,733 yards and 50 touchdowns in 165 regular-season games (145 starts).
Read More News
NFL Stats
Fantasy/Red Zone Stats
See red zone opportunities inside the 20, 10 and 5-yard lines along with the percentage of time they converted the opportunity into a touchdown.
Loading Fantasy/Red Zone Stats...
Advanced NFL Stats
Loading Advanced NFL Stats...
2022
2021
2020
2019
2018
2017
2016
2022 NFL Game Log

Calculate Stats Over Time
Just click on any two dates.
Scoring
Standard
PPR
Half PPR
FanDuel
DraftKings
Yahoo DFS
2021 NFL Game Log

Calculate Stats Over Time
Just click on any two dates.
Scoring
Standard
PPR
Half PPR
FanDuel
DraftKings
Yahoo DFS
2020 NFL Game Log

Calculate Stats Over Time
Just click on any two dates.
Scoring
Standard
PPR
Half PPR
FanDuel
DraftKings
Yahoo DFS
2019 NFL Game Log

Calculate Stats Over Time
Just click on any two dates.
Scoring
Standard
PPR
Half PPR
FanDuel
DraftKings
Yahoo DFS
2018 NFL Game Log

Calculate Stats Over Time
Just click on any two dates.
Scoring
Standard
PPR
Half PPR
FanDuel
DraftKings
Yahoo DFS
2017 NFL Game Log

Calculate Stats Over Time
Just click on any two dates.
Scoring
Standard
PPR
Half PPR
FanDuel
DraftKings
Yahoo DFS
2016 NFL Game Log

Calculate Stats Over Time
Just click on any two dates.
Scoring
Standard
PPR
Half PPR
FanDuel
DraftKings
Yahoo DFS
Receiving Alignment Breakdown
See where Kyle Rudolph lined up on the field and how he performed at each spot.
Loading Alignment Breakdown...
Loading Alignment Breakdown...
Loading Alignment Breakdown...
Loading Team Alignment Breakdown...
2023 Kyle Rudolph Split Stats
Loading NFL Split Stats...
How do Kyle Rudolph's measurables compare to other tight ends?
This section compares his draft workout metrics with players at the same position. The bar represents the player's percentile rank. For example, if the bar is halfway across, then the player falls into the 50th percentile for that metric and it would be considered average.
* The 40-Yard Dash, Shuttle Time, Cone Drill, Vertical Jump, Broad Jump, and Bench Press metrics are from his Pro Day. All others are from the NFL Combine.
Recent RotoWire Articles Featuring Kyle Rudolph
See More
Past Fantasy Outlooks
2022
2021
2020
2019
2018
2017
2016
2015
2014
2013
2012
2011
Rudolph made 16 appearances with the Giants in 2021, en route to hauling in 26 of 39 targets for 257 yards and one touchdown. It took until the third week of July for the 32-year-old to catch on a with a new team, but he ended up with the Buccaneers on a one-year contact, with the team looking to add tight end depth following Rob Gronkowski's retirement. With Cameron Brate still in the mix at the position, Rudolph doesn't initially have a clear path to steady volume, but the 2011 second-rounder does give QB Tom Brady another experienced pass-catching option to work with. In the event of an injury to Brate, Rudolph could merit fantasy consideration, but that's assuming he's able to maintain depth chart slotting ahead of returnee Codey McElroy as well as rookie draftees Cade Otton and Ko Kieft.
Once a favorite red-zone target in Minnesota - Rudolph had 15 touchdowns between 2016 and 2017 - his role as a receiving tight end shrunk in recent seasons. Assuming the team keeps Evan Engram, it's hard to see Rudolph's pass-catching role growing in New York, and even if Engram is dealt, either converted wide receiver Kelvin Benjamin or backup Kaden Smith could serve as the pass catchers with Rudolph doing the blocking. At 32 years old and coming off a foot injury on which he was scheduled to have surgery, Rudolph is a long shot to have much value, if he's even ready for Week 1.
Rudolph started 16 games for the fifth consecutive season last year, but his overall production (39 catches for 367 yards and six touchdowns) was his lowest since 2014. The addition of second-round pick Irv Smith is the obvious cause, as the pair posted similar reception and yardage totals, though the rookie had only two touchdowns. Rudolph signed a four-year, $36 million extension in June 2019, so the Vikings are likely to heavily utilize two-tight end sets again this season. Rudolph played 78 percent of offensive snaps compared to Smith's 60 percent, and both players are unlikely to be consistently viable fantasy options if their usage and production remains similar in 2020.
While the opportunity stats were similar to what Rudolph saw in 2017, his touchdowns were cut in half last year. Call it variance, call it regression, or perhaps call it an inability to connect with new quarterback Kirk Cousins. Now Rudolph enters a crossroads season, his age-30 campaign, after the Vikings selected fellow tight end Irv Smith Jr. in the second round of the draft. Rudolph did sign a four-year, $36 million extension less than two months later, but it's only fair to wonder how soon Smith might start to cut into the veteran's playing time and/or targets. There's also the matter of Minnesota striving for a more balanced offense without diverting too many opportunities away from stud wide receivers Adam Thielen and Stefon Diggs. And most important, if we offer a pan of Rudolph the Red Zone Reindeer, are we saying there is no Santa Claus? This is a situation with mostly questions and few answers at press time.
It's easy to scan Rudolph's career and identify the outlier. That monster 2016 season is unlikely to happen again, and forget about another 132 targets. But Rudolph actually increased his touchdown count by one last season despite getting 51 fewer looks, and he snagged 70.4 percent of his targets. The Vikings do have a quarterback change and that might concern some people, but Kirk Cousins should be an upgrade over the departed Case Keenum. Remember that Cousin's most common TD target in his Washington days was Jordan Reed, and he also showed nice rapport with Vernon Davis when Reed wasn't able to play. No one compares Rudolph's athleticism to that of Reed or Davis, but we suspect that won't be necessary for him to be on the same page with Cousins. And even if Rudolph gets 35-50 percent fewer targets than the primary wideouts here, he could still lead the team in receiving touchdowns. Rudolph is not a sexy pick at this stage of his career, but he's a steady and reliable one. He also hasn't missed a game since 2014, despite suffering a nasty ankle sprain Week 14 last season. Rudolph put off surgery until after the playoffs, but he was able to get in some work during the spring and seems to be on track for the start of training camp.
Rudolph was the most heavily targeted tight end in the league last year, and he was especially featured after Pat Shurmur replaced Norv Turner as Minnesota's offensive coordinator in early November. And the shift from Teddy Bridgewater to Sam Bradford was probably a boost for Rudolph, as he added 345 receiving yards to his previous career high. To be fair, we know all about chasing career years and how that can get you in trouble. Rudolph was fantasy's No. 2 tight end last year in PPR; prior to that, he had one top-11 finish and nothing else better than No. 15. The extent of the breakout was a surprise, but it wasn't as if Rudolph, the No. 43 overall pick from the 2011 draft, emerged out of nowhere. He came on strong down the stretch of the 2015 season, and he'd already produced a nine-touchdown campaign back in 2012. The Vikings want to be balanced and conservative on offense, and the defense is still the strength of the team. It's probably best to view Rudolph as a steady and reliable fantasy producer, but not a star. He still only has two 100-yard games in the NFL, and he's the type of player a defense can effectively mark if they decide to make it a priority. That might be the case more often this year.
Rudolph's greatest feat last season might have been just staying healthy. After playing 17 games combined the previous two years because of knee, ankle, groin, abdomen and foot injuries, Rudolph played a full schedule last year for the second time in his five-year career. His weekly numbers looked a lot like his last 16-game season in 2012, except he had five touchdowns this time instead of nine. And now, like then, if he is not scoring, he is not doing much. He failed to top 30 yards in 11 games last season, and his only 100-yard game was fueled by an out-of-character 47-yard completion. The Vikings drafted wide receiver Laquon Treadwell in the first round, but Rudolph, the team's second-leading receiver a year ago, still does not have a lot of competition for targets, and he should get plenty of opportunities in the slot again. The problem is the team's run-first approach. Minnesota attempted the fewest passes in the league last year. Perhaps that improves somewhat this year, but Rudolph needs to do more in the red zone to secure fantasy value. At 6-6, 259, Rudolph has the size to be a red-zone force – prior to last season he converted 13 of 27 red-zone targets into touchdowns – but last year he converted just 3 of 10 into scores.
For the second consecutive year, injuries ruined Rudolph's season. He missed eight games in 2013 with a broken foot and then missed seven games last year with a sports hernia and injured knee. It was particularly disappointing last season because he had little competition for tight-end targets in a Norv Turner offense that likes to use the position as a wide receiver. In his nine games, Rudolph lined up in the slot on 68 percent of plays. The team's tight ends were targeted 97 times, resulting in 67 receptions for 713 yards. This season, Rudolph should again have the opportunity to make an impact. The Vikings acquired speedster Mike Wallace to provide the deep threat the team missed last year. With Wallace stretching the field, Rudolph should have more space to work. The return of Adrian Peterson also will benefit Rudolph, as defenses likely will place an extra defender in the box. A year's worth of experience for quarterback Teddy Bridgewater bodes well, too. Even if Rudolph is not used as much in the vertical passing game as expected, he should still be a force in the red zone. At 6-6, 259, Rudolph, who scored eight touchdowns in 2012, has 13 career touchdowns on 27 red-zone targets (21 receptions).
A Pro Bowler in 2012, Rudolph was limited to eight games last year after suffering a season-ending broken foot in Week 9. He was a touchdown specialist in 2012 (nine TD on 53 receptions) but this year could be used more in the vertical passing game with the arrival of offensive coordinator Norv Turner. At San Diego with Antonio Gates and last year in Cleveland with Jordan Cameron, Turner not only targeted the position often but routinely used the tight end in the slot. Like Gates and Cameron, Rudolph is a former basketball player -- he turned down a Division I basketball scholarship to play tight end at Notre Dame -- who has good speed, soft hands and can catch the ball in traffic. And at 6-6, 259, he should continue to be a force at the goal line. John Carlson left for Arizona, leaving Rudolph with little competition for targets at the position. The biggest question is at quarterback where Matt Cassel figures to start until rookie Teddy Bridgewater is ready. Rudolph played two games with Cassel last season, catching his two targets for six yards in the first and then making nine catches on 11 targets for 97 yards and a score in the second.
Rudolph was a touchdown specialist last year, tallying nine scores despite recording only 53 catches, thanks to increased work in the red zone - his 17 targets there were second among tight ends. Rudolph is an ideal red-zone weapon as his 6-6, 260-pound frame allows him to get the ball in places opposing defenders can't reach. Rudolph is also considered a good blocker for the running attack, displaying the ability to open up holes or seal the edge when necessary. Other than the scores, however, the Rudolph-Christian Ponder connection was lackluster – Rudolph's yards per target fell to a paltry 5.3. And while Rudolph was targeted a healthy 93 times, he caught fewer than 57 percent of the passes that came his way, accounting for only 493 yards, 25th among tight ends.
Rudolph had a decent rookie season as he saw his role in the offense grow in the second half. The 6-6, 260-pound tight end caught all three of his touchdowns in the final six games, showing improved chemistry with Christian Ponder. While Rudolph only had 39 targets, he showed enough receiving skills to have a much larger role this season with Visanthe Schianco gone via free agency. Unfortunately, the Vikings signed John Carlson to replace him. Carlson, though, is coming off a season-long shoulder injury, and the Vikings run a lot of two tight-end sets anyway. Look for Rudolph to win the starting job and be the bigger factor in the Vikings' passing game.
Rudolph was the first tight end drafted in 2011, but he begins the season as the second tight end on the depth chart with the opportunity to learn the nuances of the game from veteran Visanthe Shiancoe. Big and physical at 6-6, 260, the Notre Dame standout still needs to improve his blocking skills, which might be his weakest attribute. He has good speed for his size and will continue to develop strength as a 21-year-old. Coaches have raved about his "coachability" and with his physical tools, Rudolph has the most long-term upside of any rookie tight end. A hamstring injury that had nagged him during the early part of the Notre Dame season shut him down completely for the last six games, but isn't expected to be a problem when training camp starts.
More Fantasy News