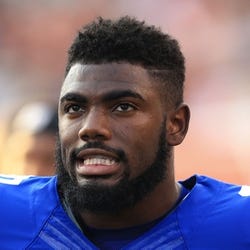 2023 Fantasy Outlook
There was no outlook written for Landon Collins in 2023. Check out the latest news below for more on his current fantasy value.
RANKS
#

IDP
$Signed a contract with the Giants in December of 2022.

Makes impact with pick-six
Collins made four tackles (one solo) and returned an interception 52 yards for a touchdown in the Giants' Week 17 win over Indianapolis.
ANALYSIS
New York led 14-3 in the second quarter when Collins picked off
Nick Foles
and darted 52 yards down the sideline for his second career touchdown. The veteran's previous pick-six came in his second year as a pro back in 2016 during his first stint with the Giants. Though his role isn't as large now as it was back then, Collins has shown that he still has some gas left in the tank, totaling eight tackles -- including one sack -- and Sunday's big INT-TD over the past two weeks.
Read More News
NFL Stats
2022
2021
2020
2019
2018
2017
2016
2022 NFL Game Log

Calculate Stats Over Time
Just click on any two dates.
2021 NFL Game Log

Calculate Stats Over Time
Just click on any two dates.
2020 NFL Game Log

Calculate Stats Over Time
Just click on any two dates.
2019 NFL Game Log

Calculate Stats Over Time
Just click on any two dates.
2018 NFL Game Log

Calculate Stats Over Time
Just click on any two dates.
2017 NFL Game Log

Calculate Stats Over Time
Just click on any two dates.
2016 NFL Game Log

Calculate Stats Over Time
Just click on any two dates.
2022 Landon Collins Split Stats
Loading NFL Split Stats...
Measurables Review
How do Landon Collins' measurables compare to other linebackers?
This section compares his draft workout metrics with players at the same position. The bar represents the player's percentile rank. For example, if the bar is halfway across, then the player falls into the 50th percentile for that metric and it would be considered average.
Recent RotoWire Articles Featuring Landon Collins
See More
Past Fantasy Outlooks
2021
2020
2019
2018
2017
2016
2015
Collins has a red flag due to the Achilles tear he suffered Week 7 last year, which could hurt his playing time this season. There's a chance he has to begin the year on the PUP list, so double check on his status before your IDP draft. If Collins does play Week 1, though, then almost by default he draws a DB1 distinction in most IDP formats. Collins has been the top defensive back IDP at multiple points in his career, and he just turned 27 in January. The Washington pass rush should provide plenty of playmaking opportunities in addition to his customary high tackle totals.
If anyone can catch Budda Baker as the top defensive back IDP, then Collins might be the best candidate. He's produced as an elite IDP in the secondary in each of his five NFL seasons, providing well over a triple-digit tackle pace in all of them. After making 117 tackles in 999 snaps last year (15 games), his first with Washington, it's safe to say Collins' big numbers with the Giants weren't just the product of the system. His tackle rate from last year would have projected to 125 tackles if he hadn't missed Week 17, and it's probably fair to expect a similar tackle rate going forward. Free-agent signing Sean Davis is more of a free safety, assuring Collins continued quick access to ballcarriers.
It's anyone's guess whether the conditions in Washington will be as favorable as those in New York, where Collins' tackle rate was outrageous to the point that he could withstand a heavy decline and still comfortably rank in the top 5 among DBs. He's been uneven with regard to playmaking stats otherwise, showing high sack and interception upside in 2016 (four and five, respectively) while failing to produce in the categories his other three years. A vicious Washington pass rush figures to give Collins more ballhawking opportunities than he's previously seen.
While Collins checks in at No. 3 on this list, there's not a meaningful distinction between him, Jones and Neal. Collins missed out on a third straight season with 110-plus tackles, only because ankle and forearm injuries knocked down his play count by about 200 from previous years. So long as he's healthy, Collins will be a candidate to surge back toward the 120-tackle threshold, and the arrival of impressive defensive coordinator James Bettcher does nothing to lessen the anticipation.
If Reshad Jones wasn't in the top spot, Collins would be the clear choice. He finished last season as the top IDP scorer among DBs, and likely would have held the distinction even if Jones had been fully healthy. Collins' 125 tackles, four sacks and five interceptions gave him one of the all-time best box scores for a defensive back. Regression is all but assured, and yet Collins could give up a big chunk of last year's production and still contend for the top spot. With 237 tackles in his first two seasons, Collins figures to produce at an elite level for a long time.
The Giants defense was a mess last year and Collins will likely never be an asset in coverage, but his IDP profile heading into Year 2 is very encouraging. His tackle upside is convincing after posting 112 (84 solo) on 1,093 snaps, both because it's consistent with the skill set he showed in college at Alabama, as well as because a similar snap count remains within reach in 2016. The Giants have a pair of youngsters added to their safety rotation in rookie third-round pick Darian Thompson and second-year fifth-round pick Nat Berhe, but neither has seen the field in the NFL.
A second-round draft pick, Collins is all but guaranteed a starting job, making him a much less risky IDP investment than most would assume of a rookie. The Giants were comically thin at safety before trading up to draft Collins and plan to use him immediately. A classic strong safety, Collins' skills fit best in the box, where he should have plenty of tackle opportunities in a division with two of the league's most run-heavy teams (Philadelphia and Dallas). The Giants allowed a league-high 4.9 yards per carry last year, meaning plenty of runners should slip into the secondary.
More Fantasy News