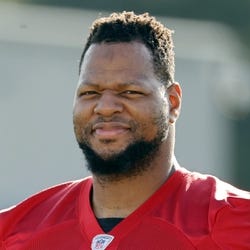 2023 Fantasy Outlook
There was no outlook written for Ndamukong Suh in 2023. Check out the latest news below for more on his current fantasy value.
RANKS
#

IDP
$Signed a one-year, $2 million contract with the Eagles in November of 2022.

In no hurry to sign new deal
ANALYSIS
"I have no desire to be in a training camp," Suh said Monday on NFL Total Access. "I will come in and watch and look and give some advice, but when Week 1 happens, I'll be ready." The 36-year-old was the No. 2 overall pick in 2010 by the Lions and has played for five different teams during his first 13 NFL seasons. He's been to three Super Bowls over the past five seasons and figures to be a luxury depth option for a contending team after appearing in eight games for the Eagles in 2022.
Read More News
NFL Stats
2022
2021
2020
2019
2018
2017
2016
2022 NFL Game Log

Calculate Stats Over Time
Just click on any two dates.
2021 NFL Game Log

Calculate Stats Over Time
Just click on any two dates.
2020 NFL Game Log

Calculate Stats Over Time
Just click on any two dates.
2019 NFL Game Log

Calculate Stats Over Time
Just click on any two dates.
2018 NFL Game Log

Calculate Stats Over Time
Just click on any two dates.
2017 NFL Game Log

Calculate Stats Over Time
Just click on any two dates.
2016 NFL Game Log

Calculate Stats Over Time
Just click on any two dates.
2022 Ndamukong Suh Split Stats
Loading NFL Split Stats...
Measurables Review
How do Ndamukong Suh's measurables compare to other defensive tackles?
This section compares his draft workout metrics with players at the same position. The bar represents the player's percentile rank. For example, if the bar is halfway across, then the player falls into the 50th percentile for that metric and it would be considered average.
Recent RotoWire Articles Featuring Ndamukong Suh
See More
Past Fantasy Outlooks
2021
2020
2019
2018
2017
2016
2015
2014
2013
2012
2011
2010
Suh returned to the Buccaneers on a third straight one-year contract this offseason, following a 2020 campaign in which he posted 43 tackles, six sacks, two pass defenses and a forced fumble. He continued his rock-solid play straight through the Super Bowl LV win over the Chiefs, when he notched 1.5 sacks of Patrick Mahomes. With nine consecutive 16-game seasons on his resume, Suh doesn't have durability issues, and as he demonstrated last year, he still boasts above-average ability to get to the quarterback from his interior line position.
After a mixed bag of a 2019 debut campaign in Tampa, Suh was brought back this offseason on a one-year, $8 million contract. The mammoth veteran offset a career-low 2.5 sacks and the second-sparsest tackle total (41) of his 10 pro seasons with a career-best four fumble recoveries and the first two defensive touchdowns of his decorated NFL tenure. Suh also was a pivotal component of a Buccaneers defense that was tops in the NFL by a comfortable margin in rushing yards allowed per game (75.6). Looking ahead to the coming campaign, he projects to reprise his starting left defensive end role in coordinator Todd Bowles' 3-4 scheme and will aim to bring his sack total back up to his usual standards.
Shortly after the Buccaneers released fellow well-paid lineman Gerald McCoy, the team quickly found a highly capable replacement in Suh. The 32-year-old is coming off a 2018 campaign in which he logged 59 tackles (41 solo) and 4.5 sacks in 16 games for the Rams. Suh will provide Tampa Bay's new defensive coordinator Todd Bowles with a sturdy nose tackle to man the middle of the Bucs' line, though Suh's IDP relevance is limited to deeper formats.
The question with Suh this year is not whether he'll be effective in Wade Phillips' defense. The question is whether there will be enough plunder for everyone. There's also the chance that the suddenly fearsome Rams pull their starters with safe leads in a number of contests. There is next to no chance, however, that Suh shows up and does nothing. With Donald next to him, Suh won't have the spotlight on him for the first time in his career, and we'll finally get to see what happens when you don't double-team him. Even headcases with questionable effort or focus tend to be at their best on a team this fun, and Suh is capable of immense damage.
Suh had one of his more productive IDP seasons in 2016, posting a career-high 72 tackles after surpassing 60 just twice in six seasons. It's probably unfair to expect a repeat this year, but after logging 1,958 snaps the last two years, Suh's shown that he can take on an big workload for a defensive tackle -- especially one that draws as much attention as him. He does not have a season with double-digit sacks since his 2010 rookie year, but Suh's big workload affords him many tackle opportunities on the Dolphins' front line.
Perhaps the most mercurial player on this list, Suh remains an otherworldly talent despite his controversial reputation, and he was a good IDP option last year even as criticism mounted. He played 985 defensive snaps, which is a gigantic workload for a defensive tackle, so perhaps the perception of him lacking a motor in 2015 is a bit unfair. New defensive coordinator Vance Joseph brings a new approach that could help channel Suh's incredible talents better in 2016, giving the hope that he might hit the double-digit sack mark for the first time since his rookie year.
Suh was the crown jewel of the Dolphins offseason, as they signed what may be the best defensive player in the NFL away from the Lions. An accomplished and versatile defensive lineman, Suh can play in the middle and virtually guarantee that opposing teams have to run outside or he can play at end and force teams to pick their poison in choosing whether to double team Suh or Cameron Wake. A sure-fire difference maker on defense, Suh's value can't always be measured in statistics. Not only will other players along the defensive line, like Wake, see less attention from the opposing line, but the safeties can also worry about playing the pass more than the run due to Suh's run-stuffing ability. Suh's only downside is his tendency to walk a fine line between being a tough player and being a dirty one. He has been penalized, fined, and suspended several times and it would seem unlikely that he won't be so again in the future.
Suh will be in a contract year and will be motivated to improve on the 49 tackles and 5.5 sacks he had a year ago. A motivated Suh should be a scary proposition for opposing offenses.
Suh recorded twice as many sacks in 2012 (8) as he did in 2011. He was also able to play in all 16 games.
Aside from his team making the playoffs in 2011, Suh's season was a total disaster. He totaled just 36 tackles (26 solo) and four sacks in 14 games and faced a two-game suspension for an incident where he repeatedly forced the head of Green Bay guard Evan Dietrich-Smith into the ground and then stomped on Dietrich-Smith's arm. Suh is too talented, in any case, not to post numbers more in line with his 66-tackle, 10-sack rookie season from 2010. Expect him to channel his anger in more productive ways in 2012.
In an era when double-digit sack production from defensive tackles is all but extinct, Suh stands out as a rare talent who prompts memories of the days when the likes of John Randle, Warren Sapp and Bryant Young headlined the position. In fact, Suh is the first tackle to post 10 sacks since Sapp in 2006. But as the lone player to break the recent paradigm of disappearing pass rushers at the tackle spot, Suh must also contend with increased attention from opposing offensive lines. Last year's 66-tackle, 10-sack season might therefore be the best-case scenario with Suh, but the odds are he'll remain a top IDP option even he falls short of that mark.
Possessing amazing size and athletic ability, Suh has been projected by many to be a generational talent at tackle. He may not record a ton of tackles or sacks, but he will likely absorb double and triple teams to free up his teammates. He will start from Day 1, and it's worth noting that Albert Haynesworth had his best days under former Titans' defensive coordinator and current Lions' head man Jim Schwartz.
More Fantasy News